Player Stock Ticker
Fantasy Game of Thrones: The Mountain's Stock Profile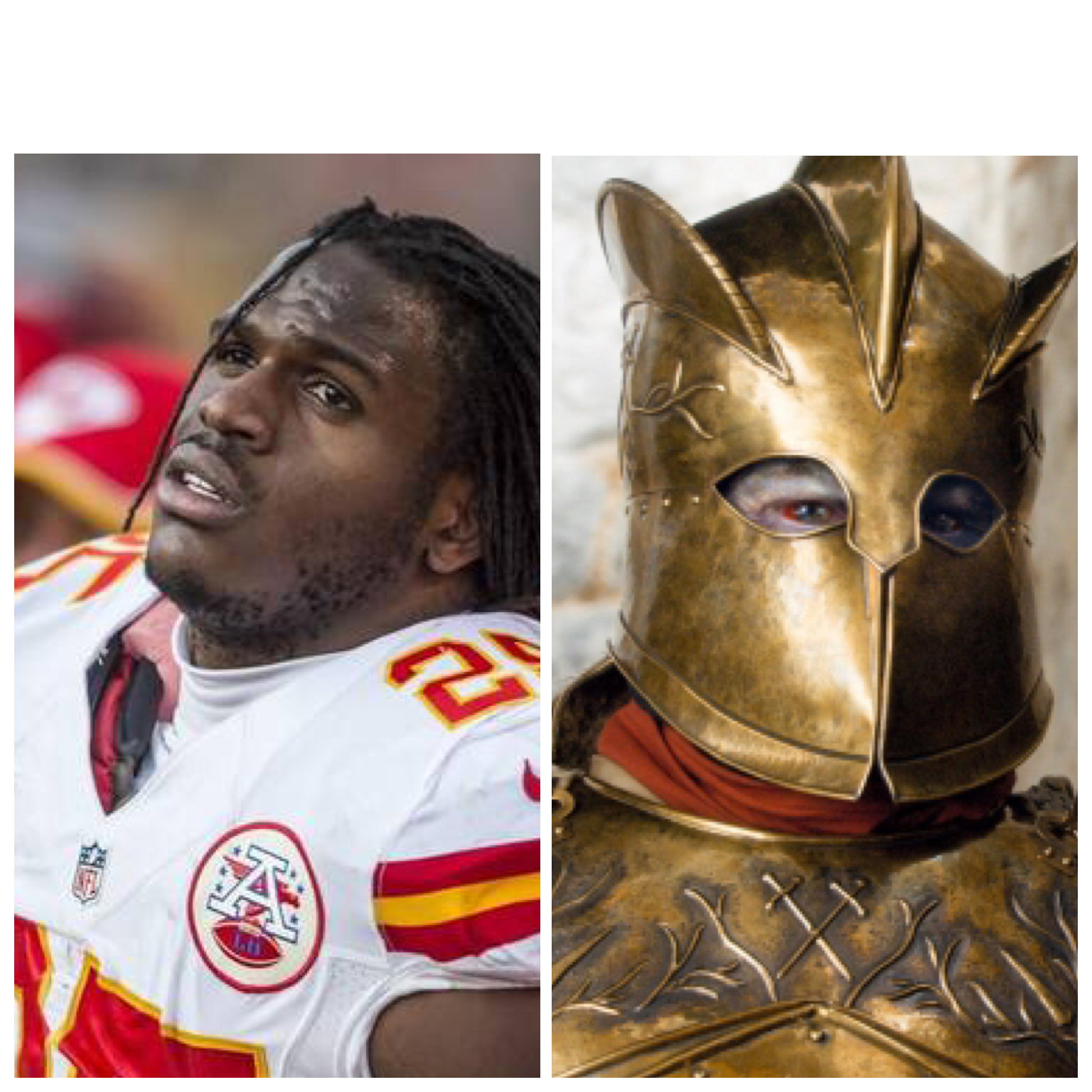 Ensure you understand the Fantasy Game of Thrones scoring system before continuing.
Though his most apt NFL Physical comparison would be a mix between JJ Watt and Godzilla, The Mountain's fantasy stock most accurately resembles that of Jamaal Charles. The two are both coming off major surgeries, though The Mountain's poisonous wounds from Oberyn's spear appeared far more career threatening than the Kansas City Superstar's ACL surgery.
Still, when healthy, both megastars bring massive upside to their respective fantasy games. So far, early reports on both talented players are promising:
Jamal Charles is well ahead of rehab schedule, Dorsey said. But applauded his backups for carrying the load last year.

— Conor Orr (@ConorOrr) February 25, 2016
Additionally, on March 22, Chiefs trainer Rick Burkholder told the Kansas City Star: "We anticipate with no setbacks, they'll be fine by the time we're ready to go in July," said Chiefs trainer Rick Burkholder, referring to Charles and CB Phillip Gaines (ACL).
Finally, on April 18th, Chiefs.com reported Charles has resumed running, while the versatile back commented, "I'll be ready," Charles said of being back out there for training camp. "I can't wait."
Meanwhile, reports on The Mountain's health are more speculation based, but there's some real evidence for equal optimism.
Towards the end of Season 5, the demented Qyburn introduced Cersei to a mammoth knight named "Ser Robert Strong." Given his unparalleled stature and association with the psychotic surgeon, most, including myself, believe this man to be The Mountain in Frankenstein form.
Though it's fair to wonder if he'll ever return to pre-surgery form, brief glimpses in Season 5 provide hope. Check the game tape:
Upper body strength was never a question, and lifting Cersei like a feather just confirmed he's maintained this post surgery. Though lumbering with a slight gate, he appears to also have maintained mobility.
This tape suggests the killing machine could be back in full form, and thus his Murder upside is as high as any in the game. He has proven capable of slaughtering in masses and also eliminating major characters, crunching Oberyn's skull as if a mere grape. Should we see a return to health, you'll be raking in the points for this important category.
Still, The Mountain does present significant risk. Screen time has not always been a guarantee, but this re-branding into Robert Strong could mean a more prominent role and more opportunities for points.
Additionally, Sex upside remains severely limited with The Mountain. It's highly unlikely any activity in this area would be consensual, and depending on your PPR Choices, this could create a very low floor.
Drinking may be an untapped point source. I'm nervous that Ser Robert Strong might not remove his helmet, creating a bleak outlook for alcohol consumption. Yet, if he is to drink, there's a solid chance it'll be a full beer chug, as well as done for intimidation and/or post slaying. You could be looking at 8 points in one mere chug scene.
Yes, both The Mountain and Jamaal Charles come with some question marks. This is no Tyrion. Health, while promising, is no guarantee for either. Additionally, Charcandrick West and Spencer Ware's lingering presence (especially in the red area) do put slight dampers on JaCha's outlook.
But the ceilings are real. The KC stud was on pace for 1,731 yards from scrimmage and 16 TDs, while The Mountain has flashed 40+ seasonal kill upside. As a later round investment, The Mountain (or Ser Robert Strong) could prove huge.