Player Stock Ticker
Fantasy Game of Thrones: Episode 7 Recap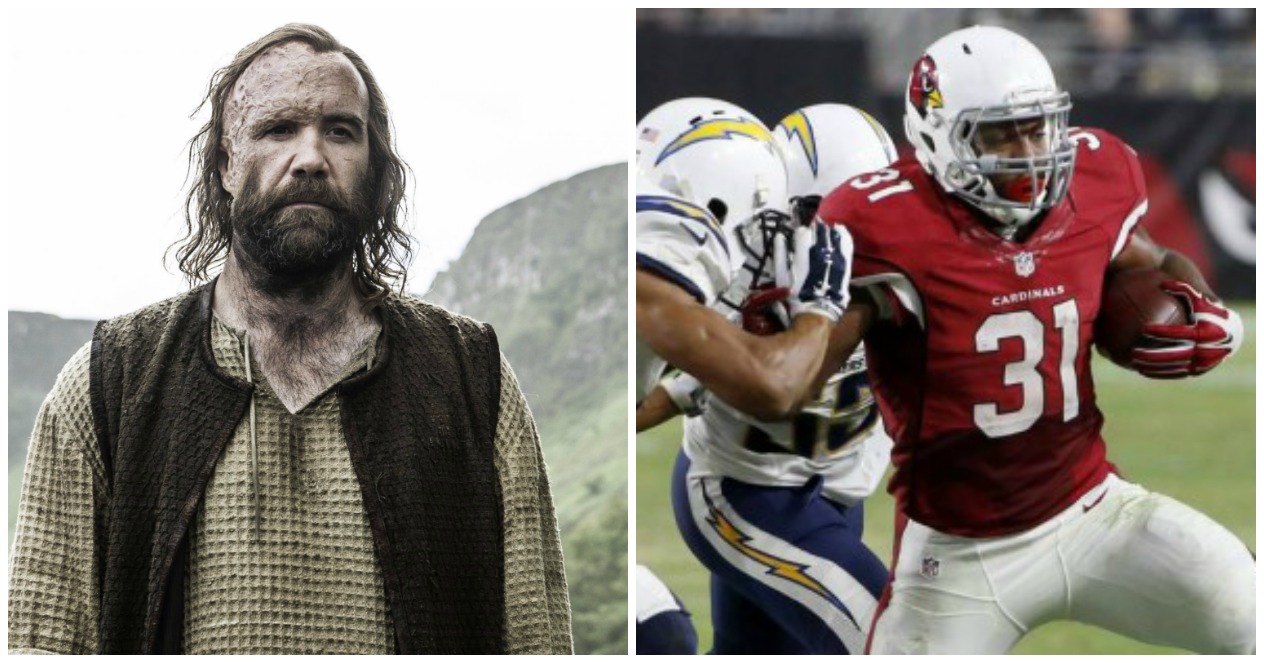 ANOTHER WEEK, ANOTHER GOOSE EGG
June 5th and Episode 7 turned into another frustrating night of flapping gums and bench points for Fantasy Game of Thrones players. Whereas Thrones had previously been raised on killing, sex, and boozing, politicking has become the name of the game for Season 6, and dominated another scoreless episode: the endless wheelings and dealings in King's Landing; the Northern Alliance of Jon and Sansa rallying support against the Bolton camp; Jaime pleading with the Blackfish for Riverrun; the Greyjoys enjoying some shore leave before entreating Dany to a deal. A whole lot of bark, with very little bite.
Episode 7, therefore, continued Season 6's painful tradition of delivering agonizing blue balls. True, the episode seems like a turning point in the arc of many characters ranging from Margaery, Arya, and the fan favorite Sandor Clegane. While the returns on such developments are tantalizing, fans are nonetheless growing impatient with the pace of the action and lack of fantasy scoring. We inexcusably remain completely sexless through seven episodes, while the usual gratuitous violence has been scaled back and often reduced to minor characters.
Luckily, the tail end of the season provides little running room for writers looking to stretch out storylines and historically GOT has always saved its best punches for the later rounds. Let's dive into Episode 7:
THIS HOUND WOULD MAKE DMX PROUD
The biggest payoff of Episode 7 is without a doubt the Hound's retun. The bearded savage is like David Johnson after CJ2K's injury; he steps in as a lock elite male who's going to stack bodies, chug beers, and always be a candidate for a fuck. After quietly retreating to a life of religion and solitude only to be thrust back into a scene of carnage, the hate that helped him survive the beating he took from Brienne is going to be firing on all cylinders. God help any fuckmunch standing in his fiery sword's way. The Hound's numerous enemies make him a fantasy goldmine the next three weeks, essentially the Thrones playoffs given the expected pace pickup. The Lannisters, Brienne, the Brotherhood, or any other snarky twat unlucky enough to run into him on a bad day can count on their faces getting thoroughly fucked.
Hound currently available in 96% of Fantasy #GameofThrones leagues… Sprint to those waiver wires

— Roto Street Journal (@RotoStJournal) June 6, 2016
ANOTHER SNOOZEFEST IN THE CAPITAL
Margaery smoothly saves her grandmother's life in another pacifist, titless scene. The young queen reads into the High Sparrow's words and predicts violence against her family's matriarch. Hopefully this marks the last straw and the Tyrells finish what they could not start last week, causing bodies and fantasy points to stack up in a hurry. A direct threat to the head of the family is a declaration of war and no amount of hanging brain can save the High Sparrow from the kills the Mountain is about to rack up.
We can only hope Cersei swallows her pride and teams up with Margaery, because there is no way they can win divided. While giving orders to decimate their enemies doesn't result in points, Tommen could sneak in a hot beef injection now that the High Sparrow is rooting for some royal children.
Though there's some confusion as to what Margaery's scheming, we know something's brewing that'll ideally lead to some scoring.
THE BEASTLY BITCH OF BEAR ISLAND
As we go on a tour around the North searching desperately for allies, we learn about the different houses and components of the North. The reasonable and brave wildlings; the bitchy and straight forward Mormont; and the Glovers who are sooner or later going to get fucked by the long dick of the North. Overall a quiet week in the wastelands, but the upcoming battle with the Boltons is going to be one that will define the series and fantasy seasons.  Desperate times call for desperate measures, and Sansa inviting the Vale back into the fold certainly strengthens the good guys shot at an ultimate victory.
Vale to the rescue. #GameofThrones pic.twitter.com/VwiWYNIe4g

— Roto Street Journal (@RotoStJournal) June 6, 2016
Of all the chat scenes, Lady Mormont brought the most X Factor. While she continued the theme of all child rulers acting like complete brats (calling Sansa a Lannister or Bolton?!), she also contrastingly displayed solid foresight, backbone, and decision-making abilities. In a house historically full of beasts,  the child ruler continues the thunderous mark of House Mormont, taking no bullshit and thus ultimately signing over her 62 men to Snow's cause thanks to Davos' honesty and reliability.
Does it get more reliable than Davos? A @Edelman11 type of safety blanket. #GameofThrones

— Roto Street Journal (@RotoStJournal) June 6, 2016
Soon enough, the murder points and major character casualties are set to soar. We're predicting a massive Episode 9 that focuses solely on this battle and will result in a volcanic release of this built up fantasy nut.
SCISSORING ON DECK
The next three weeks offer some serious redemption for characters long written off the show and by fantasy owners. Theon storms back into his sister's circle by playing a less than enthusiastic game of "I drink, you drink". Nothing like frat hazing someone into sprouting a pair of balls.  Owners of  The Dickless Wonder had to be pleased with his drinking contributions, and his path to rebecoming a man shows he could be an upside number two or three male option for lineups. True, his fantasy impact is limited to the battlefield and in the bar unless he discovers a passion for pegging, but he offers more ceiling than a weak Baelish.
Yara, on the other hand, emerges as a top female option in a weak field, hinting at and just missing the first fuck of the season while at the brothel in Volantis.
Yara owners praying her "fucking the tits off this one" gets air time and nets First Sex in Fantasy #GameofThrones …

— Roto Street Journal (@RotoStJournal) June 6, 2016
True, this scene came with yet another wasted "N," as the only OSTT belonged to random brothel whores. Yet it established Yara as an elite fantasy option. She scores some drinking points (+2) while ruthlessly hazing her brother back into manhood, while flashing legitimate triple threat potential with known killing prowess and newfound on-screen scissoring upside placing her in First Sex contention. In redraft leagues, she deserves Female #1 consideration as she sets out to convince the "dragon queen" to ally.
Given Daeny's feminist ties, theres no better than someone from the same team to do the talking. Hopefully for the renegade Greyjoys, Yara's silver tongue works better on Khaleesi than those at the Kingsmoot… clearly it's worked wonders on countless females in the bedroom.
BYE BYE BRAAVOS
Arya's passage home was a perfect symbol of this entire storyline. Free from the demands of the Facelees Assassins and seemingly ready to unleash her newfound murder skills, Arya's voyage is hijacked as she is viciously shanked by the Waif. Thus, just like before, something that initially carried significant intrigue gets sidetracked with no apparent conclusion in sight.
This brings to mind Arian Foster's 2015. Owners patiently held the back for his gobs of upside: an elite RB1 with a three down skillset, investors simply needed to stomach a few weeks of rehabbing. Similarly with the youngest Stark, we sat through hours of repetitive half assed Jedi trainings and ass beatings, awaiting the day this killing machine would return to the field.
Given that Foster's ligaments and soft tissues can't withstand a strong gust of wind, he was carted off almost as soon as he returned with an achilles injury. At least he gave owners a game or two of production, as Arya couldn't make it onto the field without getting stabbed in the abdomen multiple times.
True, Arya may find a tampon big enough to stop her bleeding midsection, just as Foster might find the right landing spot for a few games of fantasy relevance (please come to the Patriots). Nonetheless, just as the crowded streets of Braavos ruthlessly ignored a little girl bleeding out of her stomach, fantasy owners are starting to grow eerily careless about this storyline and character.

Ending at 9:52 keeps the balls nice and blue
After another Episode of blabbing, viewers had to be expecting a tantalizing Episode finish. Nope, nothing more than additional "set up" as the Hound discovers his merry band of idiots completely slain. Yes, this adds more fuel to Hound's elite fantasy fire, but again keeps scoring barren another week. Even worse, they cap the night off at 9:52, with eight solid minutes left. Do they not understand our pathetic lives revolve around this night? Stop skimping on the action and air time, HBO.
When thrones ends at 9:52? #GameofThrones pic.twitter.com/QEmR9sptIG

— Roto Street Journal (@RotoStJournal) June 6, 2016
Nonetheless, the stage for an explosive  Season 6 Fantasy Game of Thrones playoffs has been set. The Battle of Bastards is bound to bring heaps of bodies and points for Ramsay, Snow, Davos, and perhaps even Sansa and Littlefinger. Margaery has some scheme up her sleeve, and religious shitheads will have to fall in King's Landing as Cersei pledges "I choose violence," in Episode 8's trailer. Meanwhile, elite waiver options like The Hound and Blackfish (for owners who didn't listen to our previous advice to get him before he debuted) ensure everyone can remain in on the scoring. Our heavy, swollen testis seem bound to finally be released after a preview of epic proprtions.
Scoring Summary and RSJ Expert Standings
Theon (+7) = 2 drinks (4 pts), 1 full chug (3 points)
Yara (+2) = 1 drink. Next year will definitely include bonus points for peer pressure.
Lord Tires nets the only points through Yara's drinking, extending his lead to 49 points and distancing himself by 7 points from the next closest, Grabbeth my Sandsnake (42 points). Despite despite his Aero Hotah blunder, Grabbeth remains highly relevant thanks to  Daenarys' massive OSTT performance.  Both appear primed for strong finishes and may prove tough to catch thanks to The Mountain's storyline in King's Landing and Snow's upcoming battle.
With  Melisandre's melting mammaries thankfully locked away, the King Beyond the Wall remains completely stuck in the mud at 35, notching zero points since his disturbing Week 1 explosion. Nonetheless, this remains good enough for a third place ranking with Tyrion's liver absent for the fourth place Wolf of Westeros (33 points) and Ramsay's psychotic rage missing for fifth place Sailor J's Bastards (23 points).
Meanwhile, in arguably the most embarassing performance in GoT Fantasy  history, Great White Stark's reservations to the league's beasement remain completely cemented as he still sits at a grand total of 2 points with only three episodes left. Just despicable.
With so much action and scoring destined to unfold in the following three weeks, this truly remains anyone's race…except for Great White. Even a herculean Drogon effort won't be enough to save this abysmal performance.
Don't miss out on the insane action about to take place… set up your own Fantasy Game of Thrones league now for what's bound to be an insane playoff run!  If you're just getting caught up, be sure check out the earlier recaps: