Player Stock Ticker
NFL Picks and Predictions for Week 14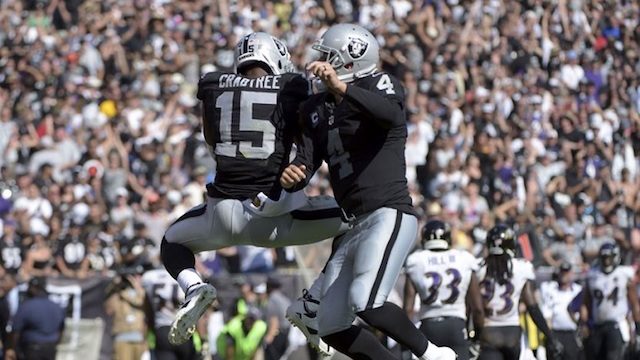 And we're back with my picks for NFL Week 14. Not to toot my own horn or anything, but I did manage to go 6 for 6 last week in my first week on the job, so you may want to hop on this gravy train before someone else does; like Jeff, that annoying dude from the office. That guy sucks.
Anyway, you may have other things on your mind with the fantasy football playoffs starting this week and all, but your boy Keegs managed to miss the playoffs in all 3 of my leagues this year, so I'm fully dedicated to giving you the best picks possible to fund that Christmas shopping this year. You're welcome. Now, let's do this.
Note: The Patriots play on Monday Night Football this week, so see my "Obligatory Patriots Spread" at the end.
Oakland Raiders (+3.5) @ Kansas City Chiefs
In a shocking turn of events, this week features something I thought joined the Dodo bird and Cleveland Brown victories on the "extinct creatures" list long ago: an entertaining, meaningful Thursday night game. Wow! This is the most important game of the season to date for both of these teams, as the 10-2, first place Raiders travel to Arrowhead to take on the Chiefs, who sit just behind them in 2nd place in the AFC West at 9-3. This has all the makings of a regular season classic: two teams fighting for playoff spots in a competitive division, two quarterbacks trying to prove they're top-tier players, and Arrowhead Stadium, arguably the strongest home-field advantage in football. Both teams are coming off big wins in Week 13, but I'm looking at Oakland's 38-24 win over Buffalo as an indicator of how far this team has come; after being down early and facing a 24-9 deficit in the 3rd quarter, they went off for 29 unanswered points against a Rex Ryan defense on the road. Say what you will about the Bills, but that's downright impressive.
KC is favored here, but I like Oakland on the road.
Pittsburgh Steelers (-1.5) @ Buffalo Bills
Speaking of the Bills, they'll stay in Buffalo this week and be visited by the 7-5 Steelers, who're fighting for a playoff spot in the tight AFC North. The Steelers ended the Giants 6-game winning streak at home last week, and they did it the way they've been winning games for years now; a lotta Ben Roethlisberger, Le'Veon Bell, and Antonio Brown, combined with some hard nose defense. They'll look to do the same against a Buffalo defense that's licking its chops after last week's debacle. Now, LeSean McCoy looked strong last week with 130 yards on 17 carries (even if Mike Gillislee poached all his TDs, much to the dismay of fantasy owners everywhere), but he'll find himself up against the 6th best rushing defense in football, and that success will be hard to duplicate.
It could be a close one, but Pittsburgh should pull this one out.
Denver Broncos (+1) @ Tennessee Titans
Now, I understand Tennessee has looked strong this year. I get that Marcus Mariota is becoming a legit option at quarterback, I get they're tied for first in their (terrible) division, and I wouldn't be totally shocked to see the Titans hosting a playoff game in January. But favorites against the defending champs? I think we may be getting ahead of ourselves here. Sure, Denver hasn't exactly duplicated last year's success, but they're 8-4 for God's sake. Hell, 8-4 would have them in at least a 1st place tie in over half the other divisions in football. Trevor Siemian looks set to return after missing last week's win over Jacksonville with a foot injury (although we'll have to monitor his status as Sunday approaches), and the defense is as strong as ever, coming off a 3-turnover performance against Mr. Pick Six himself, Blake Bortles.
Expect a close game, especially with the game in Tennessee, but I don't see the Broncos dropping this one.
Atlanta Falcons (-6) @ Los Angeles Rams
Both teams enter this game coming off losses in Week 13, but two very different losses. While LA was getting pummeled on the way to Tom Brady's 201st career win, Atlanta lost by 1 to the Chiefs after Eric Berry ran back Atlanta's 2-point conversion attempt for 2 points of their own, sealing a shocking 29-28 victory for KC. Atlanta will look to bounce back this week, and luckily they get the Rams, a defense that's giving up almost 22 points a game. The Falcons, meanwhile, boast the 3rd best offensive production in the league, leading me to believe they'll easily be able to hang 40+ on Jeff Fisher's incompetent squad. Look for Julio Jones (7 catches for 113 yards last week) to be even more of a factor this week (if healthy) than usual against LA's weak secondary, and Devonta Freeman should be ready to feast after a frustrating 3.7 yards per carry against Kansas City. Could we see another 300 yard game from Julio? At this point, nothing would shock me.
Falcons by at least a TD.
Dallas Cowboys (-3) @ New York Giants
Sunday Night Football this week brings with it a huge divisional matchup in the NFC East, as the first place Cowboys visit the 2nd place Giants. Dallas won a close one last Thursday in Minnesota, and now have had 10 days to prepare for the beginning of what should be a tough finish to the season. The Cowboys finish the season with New York, Tampa Bay, Detroit, and Philly, teams with a combined 28-20 record, and Sunday will be Dallas' 2nd in a stretch of 4 straight primetime games (after Week 15 against Tampa Bay was flexed to Sunday night). The Giants represent a tough divisional opponent who is still fighting to secure a playoff spot, and they'll be looking to come back strong from last week's loss in Pittsburgh. This seems to have all the makings of a trap game for Dallas… but I'm still picking them. This team is just too good to pick against. Not to mention Eli Manning is 25th in the NFL in QBR at just 55.6, and defensive end Jason Pierre-Paul had surgery on a sports hernia this week that will keep him out at least 6 weeks, which will make it that much easier for Ezekiel Elliot and that monster offensive line to get things going on the ground. That will only open up downfield opportunities for Dak Prescott and his onslaught of weapons.
This'll be a battle, but Dallas covers.
Baltimore Ravens @ New England Patriots (-7)
If you're not from New England or Baltimore, you probably don't think of much of a rivalry when you look at this matchup. But believe me, there's some bad blood here. The Pats got run over in the playoffs in 2013, 28-13, but have won every matchup since. Most recently a 35-31 in the 2015 playoffs, a game that featured 850 yards of total offense, a pissed off Harbaugh that wasn't in khakis in Michigan, and THIS:
Then, you know the story: Pats destroy Indy, people cry about air, Pats win Super Bowl, Tom Brady sits out 4 games, yada yada. Plus factor in Ray Lewis' bullshit, which can be summed up by these 3 search results:
People around here just don't like the Ravens. And it's mutual, I'm sure. So this is gonna be a big game for both teams, despite the lopsided spread. The Pats are coming off of a 26-10 win over LA, while Baltimore pummeled Miami 38-6 on the back of 4 Joe Flacco TDs on Sunday. Joe and his team are gonna feel pretty good heading into this one, but I'm giving the Pats just enough to cover. The 3-headed monster of LeGarrette Blount, James White, and Dion Lewis is coming together very nicely, Brady's riding the high of win #201, and guys just keep stepping up on that defense.
Pats win by 10.
Ok, that concludes this week's picks. Hopefully this week brings as much success as the last one. Stay classy, kids.
Dad Joke of the Week:
*My grandfather has told me this joke 6 or 7 times*
So I was playing golf the other day, and I hit a ball into the sand. When I was raking the trap afterwards, I saw a cat. Well, the damn thing ran right under me while I was raking and I chopped its tail off. Luckily its fine, because I took it right to Wal-Mart.
"…..why Wal-Mart?"
Well, they're the best re-tailer in the country.