Player Stock Ticker
NFL Picks and Predictions for Week 16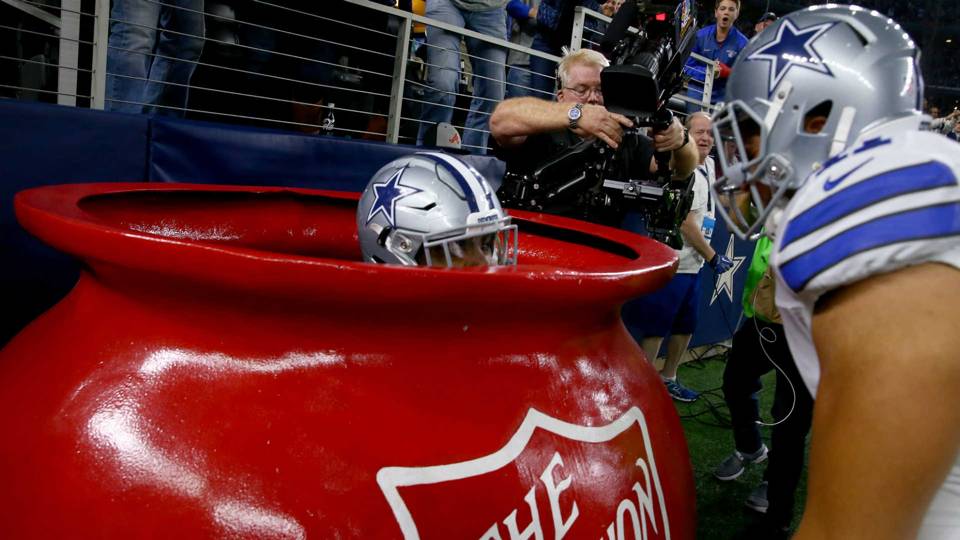 Coming off a 4-2 week that leaves me with a 12-5-1 lifetime record, we're back with my picks for week 16. The playoff races are starting to take shape, but at the same time Week 15 was insanity and we're still really not sure who'll be on the couch in January. We've seen backups lead comebacks off the bench, underachieving players continue to struggle, and of course some coach firings. Then, y'know, some stuff that didn't happen in Houston/Jacksonville.
It's always hard to predict late-season games, with starters resting and whatnot, but I'll give it my best shot.
Obligatory Pats Spread: New York Jets @ New England Patriots (-16.5)
No matter how bad the Jets are, this line still kind of scares me. Divisional games are always a little different, and Pats/Jets games are no stranger to some unorthodox finishes either. So even though the Pats at their best would beat the Jets at their best by a good 20 points, it's hard to tell what we'll get in this game. The Patriots have won 5 in a row, including a 16-3 shutdown of the Denver Broncos last week, and Tom Brady is defying the odds (both for a 39 year old and a guy who missed Weeks 1-4) and forming a solid resume for another MVP award. He was just voted as the starting QB for the AFC Pro Bowl team – not that he'll play in it, but a nice gesture – and he's 3rd in the league in QBR with 22 TDs and just 2 interceptions. The QB situation is a little different for the Jets; as of now, it looks like Bryce Petty will be under center for New York again this week. In limited work this season Petty has been unimpressive, throwing for 3 TDs and 6 interceptions in 5 games. He's obviously a victim of circumstance in a Jets offense that has scored more than 30 points just twice this season, but don't expect his luck to turn around anytime soon, and especially not on Christmas Eve in Foxborough.
The line is steep, but justified; Pats will cover.
New York Giants (-2.5) @ Philadelphia Eagles
Don't look now, but the Giants have been one of the top teams in football lately. They're the only team to beat Dallas – and they've done it twice – and the defense is giving up 17.9 points per game, good for 3rd in football. They're letting up under 100 rushing yards per game, which is forcing teams to throw and allowing talented players in their secondary, like Janoris Jenkins and Landon Collins, to make plays. And although Eli Manning hasn't been incredible, sporting a lower QBR than guys like Brock Osweiler and Ryan Tannehill, he's done enough and commanded the offense well enough to keep this team in contention. They face a division rival in Philly that started the season off real hot behind the play of their rookie QB Carson Wentz, but have had a pretty steady drop since. After a 4-2 start, the Eagles have now dropped 7 of their last 8, while Wentz has thrown for 5 TDs and 10 interceptions in that span. Philly will likely bring the fire for a Thursday Night game to right the ship, but I wouldn't count on it. The line for this game has been all over the place, with some books even having Philly favored, but it'll be all G-Men.
Giants cover easily here.
Tennessee Titans (-5) @ Jacksonville Jaguars
Earlier this year, I found myself betting on the Jaguars as favorites on the road in San Diego. I've been silently rooting for the Jags to turn it around for a couple years now, and I fell for the schtick that this is the year Blake Bortles is gonna become a star and this is the year Allen Robinson will become a legit top receiver. Neither of those things have happened, and that particular game in September had me looking for a chalkboard so I could write "I will never bet on the Jaguars again" over and over as punishment. Anyway, since then the Jags have only gone downhill, currently sitting at 2-12 and having just fired coach Gus Bradley after last week's game, which left him with a record of 14-48 in 4 seasons at the helm. Take all that dysfunction and put it up against a talented Tennessee team led by Marcus Mariota, who has 8 touchdowns and just 1 pick in his last 5 games, and the 4th best running defense in the AFC, and you've got bad news for Jacksonville.
I'm surprised the line isn't larger; Titans cover.
Tampa Bay Buccaneers (+3) @ New Orleans Saints
After winning 5 in a row and starting to look like a division champ in the NFC South, Tampa Bay ran into exactly what it didn't need; the best team in the NFC at home. The Bucs kept it close, losing by 6 at JerryWorld, but still find themselves chasing Atlanta for the division. Jameis Winston looked solid on Sunday night despite a few costly picks, but now he'll get a Christmas gift in the form of the Saints secondary to feast on. At the very least, this line should be a form of bulletin board material for Tampa Bay. They're the ones chasing a division title, not the Saints, and the line doesn't really reflect that. In Tampa's way will be historic Pro Bowl snub Drew Brees* and the high-powered Saints offense that actually got back to being good last week, dropping 48 en route to a win over the Falcons. The Saints are playing well and Brees will want to prove some people wrong, but those things only go so far and Tampa Bay's clearly the better team here.
The New Orleans Kool-Aid is always tempting, but don't buy it; Buccaneers. 
*NFL leader in TDs AND yards? C'mon people, get it right.
Denver Broncos @ Kansas City Chiefs (-3.5)
A huge part of me wants to be positive that the Broncos will bounce back from last week's loss and run over Kansas City at home here on Sunday Night Football. And for the last couple years I would've believed that, but this is just a different Denver team with an untested rookie at quarterback. Trevor Siemian has definitely exceeded some people's expectations, and he's accumulated a better passer rating than guys like Jameis Winston and Cam Newton, but the Denver offense is still very much a work in progress. Wideout Demaryius Thomas is on pace for his lowest yardage total in 5 full seasons as a Bronco, and much of that can be attributed to Siemian's lack of expertise in finding his targets and getting them the ball. The defense is still one of the best in football, led by Pro Bowlers Von Miller, Chris Harris, and Aqib Talib, but Alex Smith has had some success on them already, throwing for 220 yards and a touchdown in a 30-27 win in Denver last month. Kansas City is making a hard push for an AFC playoff spot, and after last week's loss to Tennessee at home they'll be ready for Denver. As fitting as it would be for an Andy Reid team to collapse right around this week, I don't think Denver's defense can keep them in this one for too long.
Chiefs by a TD.
Detroit Lions @ Dallas Cowboys (-7.5)
Monday Night Football in Dallas this week represents the Cowboys' 4th consecutive primetime game, and it brings with it the NFC North-leading Lions. Matthew Stafford is another guy who made a case for a Pro Bowl selection this year, sporting a 66.3% completion rate (10th), 3,720 yards (7th), and a 95.8 passer rating (11th). He was left off the team, and the third spot is occupied by Dak Prescott of the Cowboys, so look for Stafford to maybe have a chip on his shoulder heading into this one. Dallas' offensive strategy this season has been extremely simple but effective; run with Ezekiel Elliot behind the best O-line in football, and when all else fails Dak has to make a play. He's made the plays, as has the rest of the offense, and it's led them to a 12-2 record and a clinched playoff spot. Detroit is 11th in the NFL against the run, so I give them a decent shot to slow Zeke down a little and make this close, but Dallas has been too good to let the Giants start creeping into the picture in the NFC East.
Look for Dallas to make a statement here and win by double digits.
And that's a wrap for Week 16. I hope everyone has a hell of a holiday weekend, and maybe after this set of Christmas Eve/Christmas Day games we can petition the league to always have games on Christmas. Sure, I'll watch the NBA, but something about holidays with football just speaks to the American in me. Just feels right.
Dad Joke of the Week
This graveyard looks overcrowded. People must be dying to get in here.