Player Stock Ticker
NFL Picks and Predictions for Week 17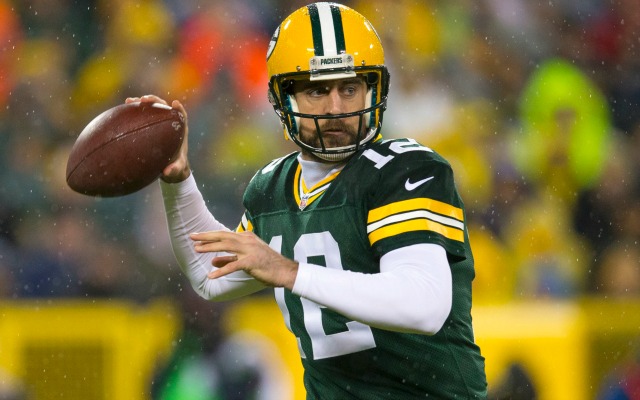 We all knew this day would come, but now it's finally here; the final chapter of the 2016 NFL Regular Season. Yeah the playoffs are always great, and this year projects to be no different, but there's something about watching football for 10 hours every Sunday when there are a million other more productive things you should be doing that just feels right. The day becomes a confusing moshpit of RedZone, fantasy apps, and bookie sites, and by the end you feel like you're stumbling out of a Black Friday sale at 8:00 AM; physically tired, emotionally exhausted, and just hoping you did good enough to survive. It's the perfect way to start the week. And, sadly, these days are numbered.
On a personal note, I squeaked out a 3-3 showing last weekend with the help of Kansas City and Dallas blowouts, and I'm entering the end of the regular season with a 15-9-1 record on the year (62.5% for you math nerds). Obviously not where I gotta be, but as someone who's basically been a September call-up at RSJ, this season was more about showing that I can hold my own and should be up at the majors next year. And in that regard, I think I'm doing ok.
With that said, here are my NFL picks for Week 17.
Obligatory Pats Spread:
New England Patriots (-9.5) @ Miami Dolphins
Now, for those of you who have been keeping track at home throughout my short RSJ career, I've picked the Patriots to cover every single time. And they've come through every time, including covering 13 and 16.5 point spreads against LA and the Jets, respectively. And I understand everything that's factoring into this almost meaningless Week 17 matchup against the Dolphins. The game's in Miami, where the Dolphins are 6-1 this season. Matt Moore, since replacing Ryan Tannehill late in their Week 14 win over the Cardinals, has completed over 58% of his passes to the tune of 6 TDs, 2 INTs, and 3 victories. In total the Dolphins have won 9 of their last 10 after a 1-4 start, and they're a legit playoff team at 10-5. The Patriots have already clinched the AFC East and a 1st-round bye, and would clinch home-field throughout the playoffs with a win or Raiders loss. This game doesn't mean much in the grand scheme of things, and expect to see Jimmy Garoppolo early, possibly even in the first half. Despite all that, I gotta take the Pats here. Maybe it's just because they're my team and they haven't failed me yet, but I'm not gonna fix what isn't broken, especially with what Jimmy G showed us early in the season.
If your fandom lies elsewhere this may not be for you, but I'm not scared; Pats by 10. 
Dallas Cowboys (+4) @ Philadelphia Eagles
Now this line confuses me a little. I honestly did a double take. We likely won't see a lot of Dak Prescott, Ezekiel Elliot, or Dez Bryant in this game, as the Cowboys have already locked up the #1 seed in the NFC and have basically nothing to play for. There's a good chance we see backups for Dallas for the majority of this game, which I guess is what's leading people to lean towards Philly in this one. But people seem to be forgetting how deep the Dallas Cowboys roster is, especially in their skill positions. You don't think Tony Romo (or, as new reports hint at, Mark Sanchez), with help from Darren McFadden, can put up a fight against the 6-9 Eagles? Philadelphia's 18th ranked defense is just going to become the Purple People Eaters because Dak and Zeke are on the sidelines? I don't think so. Dallas still boasts the best offensive line in football, and although McFadden has had limited touches this season he's still a competent back. Philly hasn't exactly been the model of offensive efficiency this year, either, and Dallas' 4th-ranked scoring defense will definitely give them fits, no matter what week it is. I do understand where the line came from, but I'm not buying it.
Dallas should cover here.
Indianapolis Colts (-4.5) @ Jacksonville Jaguars
The old saying goes, great things happen when you least expect them. So by that logic, a Week 17 matchup between two residents of the AFC South basement should be an instant classic. The Jaguars looked great last week in a 38-17 beatdown of the Titans, as Allen Robinson racked up almost 150 receiving yards, Jalen Ramsey ran back a pick, and Blake Bortles threw for 325 yards — his 3rd-highest total of the season. Indy, meanwhile, lost by 8 in Oakland last week despite outscoring the Raiders 11-0 after Derek Carr's season-ending injury early in the 4th quarter. Despite the loss, Andrew Luck still threw for 288 yards, marking 6 straight weeks he's topped 250 through the air. Meanwhile, TY Hilton has quietly had a career year and accumulated 1,353 yards, 30 ahead of Odell Beckham, Jr. for tops in the NFL. Jacksonville's pass defense is a bit of an oxymoron; they're 3rd in the NFL allowing just 210 passing yards per game, but are dead last with just 6 interceptions. I expect Luck to utilize all his options and rack up some yards in this otherwise meaningless game, and Jacksonville is just too inconsistent to trust.
Indy by a touchdown.
Arizona Cardinals (-6) @ Los Angeles Rams
The Cardinals have been arguably the biggest disappointment of the 2016 NFL season. After opening the season at 40-1 odds, the same as NFC Playoff teams Atlanta and Detroit, the Cardinals failed to ever get into a rhythm offensively and the result has been a 6-8-1 season thus far and a long offseason upcoming. Carson Palmer, fresh off a 2015-16 campaign that included 4,671 yards and 1 of just 2 MVP votes that didn't go to Cam Newton, has been much less impressive in 2016. He's completed just 61% of his passes, 20th in football, and he's failed to turn Pro Bowl campaigns from David Johnson and Larry Fitzgerald into a playoff birth for Arizona. Despite all this, the Rams present a much weaker opponent in Week 17. Los Angeles fell to the lowly 49ers last week for the 2nd time this season – and San Francisco only has 2 wins on the year. Do the math there. The Rams have lost 6 straight and have scored just 14.5 points per game this season, dead last in the NFL. Home-field advantage doesn't really exist yet in Los Angeles, and Arizona will take full advantage to end the season on a high note.
The Cardinals haven't looked great, but they'll cover. 
Oakland Raiders @ Denver Broncos (-1)
Ok, let's play a game for this one. Get a piece of paper, and write the following sentences on them. "The Raiders are 12-3." "The Raiders are 6-1 on the road." "The Raiders beat the Broncos 30-20 in Week 9." Got it? Ok, now take that piece of paper, crumple it up, and throw it into the nearest fireplace, because Derek Carr is out for the year, and none of that matters anymore. What matters is now, and now the Raiders have already clinched a playoff spot and they're starting Matt McGloin, who has 55 passing attempts in the last 3 seasons, at quarterback. I don't expect the Raiders to enter this game with a complacent mindset, partially because Jack Del Rio is the most competitive man on the planet, but also because an Oakland loss and a Kansas City win would give the AFC West to the Chiefs and send the Raiders tumbling down to the 5th seed in the AFC. Which, yes, means a trip to Pittsburgh for Wild Card Weekend. Yikes. The Broncos looked all out of sorts in their Christmas Day debacle at Arrowhead, but they'll be back home this week and I expect the entire roster, especially that terrifying defense, to show up ready to play on New Year's Day. I've said just about all I can say about Denver's defense this year, so I'll avoid repetitiveness and just have you take my word for it; they're great.
Expect a low score and a Denver cover.
Green Bay Packers (-3.5) @ Detroit Lions
I've been really back and forth on this one. Sunday Night Football, in Detroit, winner takes the NFC North. And with Washington looming, the loser of this matchup could fall out of the NFC Playoff picture entirely, so a lot's on the line here. The Pack have won 5 straight after a 4-6 start, and Aaron Rodgers has gone from fantasy bust to MVP candidate, rattling off 11 touchdowns and zero interceptions during the team's 5 game winning streak. Detroit, meanwhile, has lost 2 straight, including last week's 42-21 beatdown in Dallas. Last week was also Detroit's first primetime game of the season, hinting that although Matthew Stafford has had a great year and sits 20 yards short of surpassing 4,000 passing yards for the 6th straight season, maybe the young, untested Lions just aren't ready for the big stage just yet. The X Factor in this one is going to be Green Bay's run game; if makeshift RB Ty Montgomery and new acquisition Christine Michael can effectively run the ball early, it'll open up a lot for Rodgers downfield. And once A-A-ron gets hot, Detroit can kiss the division goodbye. I think it'll be tight early and the Lions will surprise some people, but with the way Rodgers and Green Bay's offense has looked lately (scoring over 30 points per game during the win streak), I just can't pick against them.
Packers cover and take the North.
So now, as the regular season wraps up, I'll get all sappy or whatever and thank you guys for reading the last few weeks. I know I'm new and I haven't been perfect, but hopefully I made you guys a couple bucks and made you laugh a little (or just kinda smirk at your computer screen) in the process. I'll still be going strong for the playoffs, and look for some fun stuff when the Super Bowl rolls around because Super Bowl prop bets are a degenerate gambler's Christmas. And with that, on to Week 17!
Dad Joke of the Week
Did you hear about the kidnapping at school today? Yeah, he's fine, he just woke up.