Player Stock Ticker
NFL Picks and Predictions: NFL Conference Championships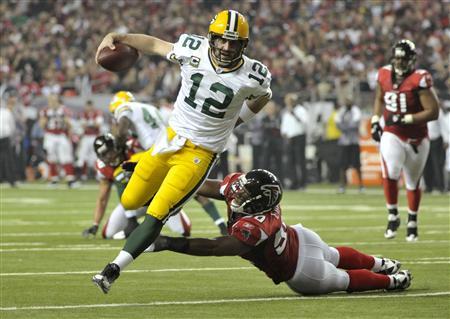 Ladies and gentlemen, NFL Championship Weekend is upon us. A time when we can forget everything that's wrong in the world – poverty, crime, the fact that 2 Broke Girls is still on television – and enjoy the 3rd- and 2nd-to-last games of the NFL season. (Yes, I'm ignoring the Pro Bowl. Doesn't everybody?)
After my 2-2 Wild Card Weekend, I bounced back big time with a 3-1 showing last week that brought my playoff record to 5-3 and overall record to 24-13-1. And what stopped me from the perfection I so badly crave? The goddamn Packers yet again. After two straight weeks of handing me big fat L's, I've now got a hell of a decision on my hands; stick to my instinct that Green Bay isn't a championship-caliber team and risk feeling like the biggest moron in America if they win again, or swallow my pride and take the underdog Pack.
What did I decide? Well, guess you'll have to read on.
Green Bay Packers (+5) @ Atlanta Falcons
Sunday, January 22 @ 3:05 PM
Yup, I did it. Pride = swallowed, Green Bay = picked. I just can't help myself; this team is too damn hot. They've won 8 in a row, Aaron Rodgers has thrown 21 TDs to just 1 INT over that span, and they're the most confident team remaining in the field. They have no business coming into the Georgia Dome and winning to clinch another trip to the Super Bowl, and that's exactly why I think they'll do it.
Of course, this comes down to more than just momentum. This game's going to be an offensive showcase (the over/under is currently set at 61, the highest in NFL Playoff history), so whichever team's defense can uncharacteristically bring the boom in their biggest game of the season will come away with the win. And looking at last week's games, if you had to pick a defense that overperformed, you'd have to say Atlanta. They looked real strong in holding Thomas Rawls to just 34 yards and Russell Wilson to 225 through the air. Inversely, the Packers were roughed up a bit by the rookies Dak Prescott (302 yards, 3 TD) and Ezekiel Elliott (125 yards), and allowed 429 yards of total offense versus 309 surrendered by Atlanta. So why don't I expect that trend to continue? Well, for starters, Green Bay's victory was over the #1 seed in the NFC and a team that sported the 5th best scoring offense in football this year. Seattle, meanwhile, was just 18th in scoring at just over 22 points per game. Also, if you watched the Seahawks/Falcons game, you must've seen multiple long Devin Hester punt returns get called back for dumb penalties, including his 80 yard return that, when called back, directly led to the momentum-swinging safety 2 plays later. The Packers send back the similarly electric Randall Cobb to return punts, and were 24th in the league in penalties this year (Seattle was 7th), so the Falcons can't rely on similar miscues to routinely bail them out throughout the game. And finally, although I know I shouldn't, I'm drawing on a little history in making this pick; the Falcons just choke late-season. It's what they do. How can I look at the franchise that started 2015 6-1 and finished 8-8, or the franchise that led 17-0 in the 2nd quarter of the 2012 NFC Championship and lost 28-24, and trust them in a big game? Yes a lot has changed with this team, but a lot has remained the same, too: Matt Ryan is still the QB, Julio Jones is still the top target, and Dan Quinn is still running the show. Until the Falcons find themselves in a Super Bowl, and until the Packers show some sign of being human and not precision robots sent from space to dominate the NFC, I gotta go with my gut here.
Packers on the road.
Pittsburgh Steelers @ New England Patriots (-6)
Sunday, January 22 @ 6:40 PM
So obviously, if you've followed my picks at all this year, you knew who I was going with here. I took them -15 against Houston, -16.5 against the Jets, and -13 against the Rams; think a 6-point spread scares me just because it's Pittsburgh? For sure not. But don't let my blind loyalty and fandom distract you from the facts; New England is certainly the better team of these two.
Look, I'm far from a Steelers fan, but I respect the talent on the roster. Big Ben is a top 10 NFL QB, Antonio Brown is a top 3 receiver, and if you ask me, Le'Veon Bell is a top 1 back. I've said it all season long, if you give me an NFL team and a running back right now to build it around, I'm taking Bell. David Johnson second, Zeke 3rd, but Le'Veon Bell 10 times out of 10. Nobody in football competes with his combination of speed, strength, and football IQ. You have to live with the off-field stuff, of course, but pure talent he's the best back in the league, period. But he's running into the team that sported the 2nd-best rush defense in the AFC this year, and hasn't allowed a rushing touchdown since Week 8. Yes, EIGHT. The day before Halloween, that's the last time an NFL running back scored on New England. The ESPN talking heads can say whatever they want about how average the Patriots D is, but a defense that allowed 15.6 points per game this year and 6 rushing TDs all season isn't one to take lightly.
Tom Brady didn't play very well last week. There, I said it. But I'm very, very confident he'll be on top of his game against the Steelers. Look for LeGarrette Blount to recapture his role as lead back, and expect aggressive play-calling against Pittsburgh's 16th-ranked secondary.
Don't expect a blowout, but Pats by at least a touchdown.
So if you trust what you've read here (a decision you can make for yourself), let's look ahead a little: Packers vs. Patriots, Super Bowl 51. Rodgers going for No. 2, Brady looking for 5 and to cement GOAT status once and for all. Definitely a best-case scenario for casual fans and offense lovers alike. Look out in the weeks leading up to Super Sunday for all I've got to say about the game, and, of course, a gambler's Christmas: Super Bowl prop bets. I'm getting giddy just thinking about it.
3 games remaining in the NFL season. Two are this Sunday. In the words of the great Billy Madison: