Player Stock Ticker
2017 Super Bowl Picks: Prop Bets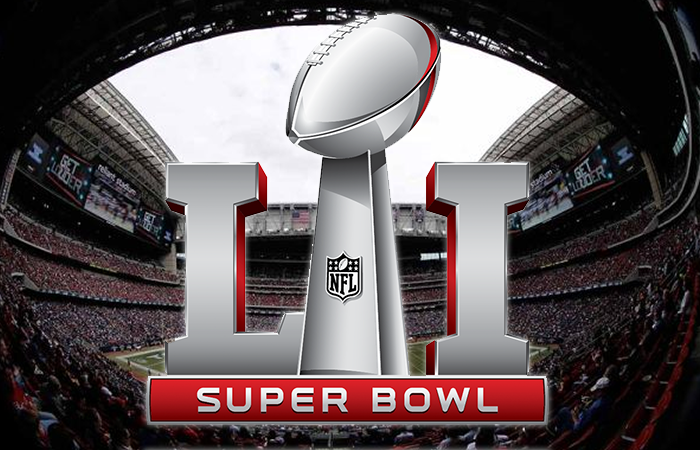 Picture for a second the scene of a kid on Christmas morning. Excited, happy, and full of hope. Now multiply that by 100 and factor in an unhealthy amount of stress with a touch of risking crippling debt, and you've got the ultimate celebration of gambling: Super Bowl prop bets!
The Patriots and Falcons will play in the NFL's 51st Super Bowl this Sunday, and although the game itself has presented us with a hell of a lot to talk about, there's no denying that a good chunk of the game's audience won't know if Tom Brady's passes are being caught by Martellus Bennett and Chris Hogan or Tony Bennett and Hulk Hogan. Between the National Anthem, the commercials, and the ever-disappointing Halftime Show (really? We're gonna pretend Lady Gaga is still relevant?), the Super Bowl has become so much more than the game it was originally meant to represent. And what do true red-blooded Americans do when random, uncontrollable events are unfolding in front of us? We wager money on them, of course!
Personally, due to financial constraints (translation: I'm 20 years old and broke as shit) I won't be able to take full part in every wager I lay out here. But I'm sure you will, and I'll do my best to make sure you're in the best position to put your bookie out of business.
Let's get it.
Coin Toss
Current Odds: Heads -105; Tails -105
Ahhh, the coin toss. It's one thing to bet on a bunch of sports-related crap we have no control over, but the fact we put money on a flip of a coin that literally nobody has any control over is what makes this country great. The last 3 Super Bowls have provided tails tosses, but the previous 5 before that were all heads, so this prop actually says a lot about how you view this game. Are you expecting the trend of dominance to continue, or a new winner to surprisingly emerge? As a Pats fan, and also a lifelong member of the "Tails Never Fails" club, I'm saying the Patriots (who will be the away team Sunday) pick tails and defer to the second half.
National Anthem Props
National Anthem Over/Under
Current Odds: O/U 2:15
Here's one that, surprisingly, led to a little bit of controversy last year. Lady Gaga performed last year's anthem, and finished it up in 2 minutes and 9 seconds, 11 seconds under the O/U of 2:20. She then went back for seconds, unleashing a second "brave" that she held till about the 2:24 mark. Twitter exploded, obviously, and after a few minutes of confusion it was determined that the song was officially over for sportsbooks after the first "brave", and the official time was 2:09. Luke Bryan is set to perform this year's anthem, and the over/under is set at 2:15. Just 1 of the past 11 Super Bowl anthems has gone longer than 2:15, which was Alicia Keys at Super Bowl 47 (maybe that's why the power went out?), and being a real country boy through and through I don't expect Bryan to overdo it even on the big stage, so I'm taking the under here.
Will Luke Bryan be wearing a hat?
Current Odds: Yes -120; No -120
I'm a pretty big country music fan and Luke Bryan fan, but I've yet to see him in concert, so I'm not big on his hat-wearing tendencies while playing live. While a Google Image search of "Luke Bryan in concert" shows a strong tendency towards wearing hats while performing (he's wearing one in 28 of the first 30 pictures that come up), this is the National Anthem we're talking about here. Seems counterproductive to come out in a hat and immediately have to take it off, so I'm gonna go no here.
Will Luke Bryan be wearing blue jeans or some other kind of pants/shorts?
Current Odds: Blue Jeans -200; anything else +150
The same Google search as above shows that, although he's gone the black leather pants route a time or two (respect the hell out of it, LB), Bryan typically performs in jeans. Not gonna overthink it; play it safe here with blue jeans.
Halftime Show Props
What will Lady Gaga's first song be?
 Current Odds: Born This Way +225; Bad Romance +250; Edge of Glory +600; Poker Face +1000; Just Dance +1000; Other +110
So I hinted above at my opinion on Lady Gaga headlining this year's Halftime Show. In summary: yuck. But she's who we got, and I'm really not that worried because they always find a way to mix in other stars here and there (fingers crossed for another Bruno Mars appearance; don't want, NEED to hear 24K Magic live). As far as her first song, a quick search into this reveals her shows lately have centered around "Million Reasons" as the first track. I've never heard that one in my life, and only +110 for "Other" isn't super tempting, so my heart's telling me "Edge of Glory" here. Is that not the perfect Super Bowl Halftime song?
What color will Lady Gaga's hair be?
Current Odds: Blonde -400; Other +250
Lot of uncertainty in this one, but if there's one thing I'm supremely confident in it's that Lady Gaga is a crazy person. Gotta think she brings out the big guns here and at the very least goes jet black for the occasion, if not some crazy shade of red. Feeling the underdog here.
Team Scoring Props
Team to Score First
Current Odds: Patriots -120; Falcons -110
So now we're into the actual game here, finally. In predicting New England to win the toss and defer, you might think I'm all but handing the first points to Atlanta. After all, with everyone on that potent Falcons offense at 100% energy and firing on all cylinders, it's safe to assume they can at least drive down and convert a field goal. But as I've said plenty of times before, it's not a good idea to sleep on New England's D. Matt Patricia is a mastermind at not only stopping an opposing offense's favorite thing to do, but also their 2nd- and 3rd-favorite, forcing even the most advanced offensive units to adjust on the fly to have any success. I wouldn't anticipate either team scoring on their first possession of the game, while defensive gameplans are still fully intact, but I still feel good about the Pats putting up the first points of the contest.
First Score of the Game
Current Odds: Either team touchdown -165; anything else +135
These odds surprise me a bit, to be honest. As great as both these offenses are, a touchdown to start the game certainly isn't a guarantee. As I've stressed plenty already, both defensive units will be prepared for what these offenses are gonna throw at them. And especially under the bright lights, early in the game while nerves are still being settled, I could definitely see an early drive looking good and stalling before the red zone. Especially if Atlanta is in this position, I wouldn't be shocked at all for this game to start at 3-0, and especially at those odds I'd go with it.
Score in the Last 2 Minutes of the First Half
Current Odds: Yes -300; No +240
A score in the final 2 minutes of the first half has occurred in 3 of the last 5 Super Bowls, which explains the heavy line in that favor. It's also important to note that all four postseason games these two teams have played in this year have featured a score in the final 2 minutes of the first half. That being said, with something like this that's virtually a random toss up, it's kind of hard to pass up +240. Maybe play it safe if you're picking and choosing your props in this game, but if you're going hard on a bunch, a no bet here could mean a hell of a payout.
Defensive/Special Teams Touchdown
Current Odds: Yes +150; No -180
Don't count on it. The Patriots not only failed to score a defensive touchdown all year, but they also didn't allow any, either. Atlanta scored 5 on the year and allowed 2, but I don't see that mattering as much. The Patriots are a bend-don't-break defense that forced just 23 turnovers on the year (14th in the NFL; Atlanta is right behind with 22) so a touchdown there is unlikely, and for Atlanta to even have a chance for a pick six they'll need an interception – something both Brady (just 2 picks  in the regular season) and Atlanta (12 INTs this year, 18th in the NFL) rarely take part in. Hold out hope if you think Dion Lewis could break off another return TD or maybe a fluke fumble (both teams combined for just 13 fumbles on the year) could end in a defensive TD, but I'd go no here.
Individual Player Props
First Touchdown Scorer
Current Odds:
Obviously one of the tougher props to hit on, because you're not only guessing which team will be putting up the first touchdown but who exactly will get it. Just to clarify, a Brady or Ryan bet here would hit if they were to score a rushing or receiving TD only, hence why the odds are so large. If you're feeling Patriots here you're probably leaning towards Blount or Edelman, but I love Martellus Bennett on this one. Once New England gets into the red zone, Brady loves going to those tight ends, and you'll rarely see big Martellus on the sidelines when the Pats get close to paydirt. For Atlanta, I love the odds on Mohamed Sanu. Obviously Freeman or Coleman could pound one in from close, and Jones will always be a threat from anywhere on the field, but Sanu is a good sized target at 6'2″ and has become one of Ryan's favorite targets late in the year. +1400 on him is very tempting.
More Rushing Yards: Devonta Freeman vs. LeGarrette Blount
Current Odds: Freeman +2.5 -115; Blount -2.5 -115
Now, this might come off as just bitter from a guy who lost an AFC Championship prop after Blount failed to rush for 60 yards (he had 47), but I'm definitely leaning towards Freeman here. The Patriots haven't exactly been the pass-heavy offense of year's past – they threw on just over 55% of plays this season, 5th-lowest in the NFL – but the development of both Dion Lewis and James White as viable backfield options has lightened Blount's workload a bit. He's averaged just 12 rushing attempts per game in the playoffs, compared to about 18 rushes per game in the regular season. Freeman, on the other hand, has averaged about the same number of attempts per playoff game (14) as he did in the regular season, and although Tevin Coleman will steal some snaps it's safe to say Freeman is the lead back, as he's led the team in carries in all but 1 game this season (including playoffs). I'm going Freeman here, but it'll be close.
More Passing Yards: Tom Brady vs. Matt Ryan
Current Odds: Brady -105; Ryan -125
Short answer: Brady, duh.
Long answer: Tom Brady is the best quarterback in Super Bowl 51. That's because he's the best in the NFL, and possibly to have ever played in the NFL. Yes, Atlanta's offense had a phenomenal year that centered around MVP-candidate Matt Ryan throwing the football. Yes, on paper the Falcons sport a more talented receiving core than New England. And yes, the Falcons threw the ball more often during the regular season than the Patriots did. I really don't care about any of that. Coming off a 384-yard, 3 TD performance against a far better Pittsburgh defense in the AFC Championship, I have full trust that Tommy Touchdowns will outduel Matty Ice in this one.
Super Bowl MVP
Current Odds:
The easy choice here would be "insert winning team's QB here", but when do I ever take the easy way out? (answer: very frequently) Besides, who wants to see another QB take home Super Bowl MVP honors? Booooring. In the last 13 Super Bowls, players from just 3 different positions have taken home the MVP trophy: Quarterback (8), wide receiver (3), and linebacker (2). In knowing that, and in being a self-proclaimed fake expert in all things Patriots, I'm looking mainly at Patriots WRs here. As tempting as someone like Chris Hogan may be at +2500, he peaked too early; his superb AFC Championship performance will only assure that he has a DB glued to him at all times on Sunday. In the end, I like Edelman at +1200. He'll surely attract a lot of defensive attention, but he quietly racked up 118 yards and a TD against the Steelers, and you can never underestimate the value of being Tom Brady's favorite target in a big game.
Miscellaneous
Will the Super Bowl Record of 75 Combined Points be Broken?
Current Odds: Yes +550; No -1000
The over/under for this game is currently set at 58.5, the largest ever for a Super Bowl, so obviously Vegas is expecting a lot of points. But just how many? The Falcons have averaged 40 points per game in their 2 postseason games, and in New England's 2 playoff games, they've averaged 35. I'm no math whizz, but that puts their averages right at the Super Bowl record of 75 points. The stage is huge and nerves will be high, and I'm not saying it's a guarantee by any means, but $55 on a $10 wager just may be worth it to root for history.
Will the Word "lacrosse" be Said on the Broadcast?
Current Odds: Yes -300; No +200
First of all, let me just say that I LOVE that this wager exists. I'm sure the lax bros love it, too. But what I've always wondered is, do you think commentators are aware of stuff like this? Obviously our boy Brent Musburger has always been up-to-date on what the kids are wagering these days, but will Joe Buck and Troy Aikman* have any clue? Do we think there are any people reaching out to them in the days leading up to the game being like "y'know what I really hate? Lacrosse. Please try not to mention that on Sunday." Regardless, with the amount of coverage Chris Hogan's college lacrosse career has gotten since the AFC Championship (including his very own Patriot Profile!) I don't think there's a chance Joe and Troy make it the whole game without mentioning it.
*Say what you will about these guys (Buck has grown on me a bit, and I don't have much of a problem with Aikman, especially since any enemy of Skip Bayless is a friend of mine), but I'm just insanely happy that NBC doesn't have this game. Cris Collinsworth is INSUFFERABLE, especially during Patriots games.
How Many Times will "Gronk" or "Gronkowski" be said on the Broadcast?
Current Odds: O/U 3, -120
The over/under is set relatively high on this one, but I'm still taking the over. We're guaranteed at least one camera shot of Gronk in his luxury box per half, and beyond that a few fleeting mentions are guaranteed. Especially if something happens like Martellus Bennett scoring a touchdown or dropping a big pass.
Who Will the MVP Mention First in the Postgame Interview?
Current Odds: Team/teammates +200; Coach +900; Owner +900; God +200; Family +900; Donald Trump +2000
Hysterical that Trump is an option for this one, but 0% chance that happens. If I'm going by my MVP pick of Julian Edelman, the teammates will definitely come first. It may be Brady specifically, because we all know about Edelman's borderline unhealthy obsession with his quarterback, but Jules has always been a team-first guy and that seems like a no-brainer to me. Otherwise, God is always a safe option, and if Brady takes home the honors for a 4th time it'll be a toss-up between teammates and family.
How Many Times Will "Trump" be said on the Broadcast?
Current Odds: O/U 1.5, -120
If you take the under here, you're…
All kidding aside, regardless of how you feel about his policies, there's no denying Donald Trump has made his mark on this game already. He's been publicly linked to the Patriots a whole bunch of times (see my take on that here), and strictly due to that there's no way he's not mentioned at least twice over the course of the game.
There's also a prop out there on who he'll pick, but that's so obviously New England it's not even worth it's own section.
Will a Player on Either Team be seen Kneeling (Live) During the National Anthem?
Current Odds: Yes +150; No -200
Fittingly after the Trump prop, I'm pretty torn on this one. Nothing puts asses in seats (or generates more clicks, I guess) better than controversy, and what's more controversial than a player kneeling for the National Anthem on the biggest stage on the planet? If you think the reaction to Kaepernick's kneels was crazy, imagine the same thing except with a player on a team that people actually want to watch. That being said, I'm sure guys on both teams will be conscious to not create any unnecessary distractions for their guys, especially so close to game time, so I'm playing it safe with a no here.
What Color Liquid Will be Poured On the Winning Coach?
Current Odds: Clear/Water +300; Lime Green +300; Yellow +300; Orange +300; Red +600; Blue +750; Purple +1200
And finally, the Gatorade dump. A fitting end for both the Super Bowl and this borderline 3,000 word masterpiece in front of your eyes. Orange and clear (aka water) share the all-time titles with 4 dumps apiece, and although the winning team's Gatorade has only been blue one time, that one time was on the New England sideline at Super Bowl XLIX. Bill Belichick is nothing if not consistent, and at +750 odds I like blue. If you're feeling the Falcons on Sunday, however, you may want to go another route: specifically, clear (the drink of choice for 4 straight years from 2007-10) or orange (the most popular color for NFC Super Bowl winners).
************
Whew, there we have it. I'm sure there are some props out there that I didn't include – tweet them at me if you want my advice/wanna show me a funny prop. Keep an eye out for my spread and over/under pick later in the week, and as always good luck to all.