Player Stock Ticker
Heinz Has Started a Campaign to Make The Day After the Super Bowl a National Holiday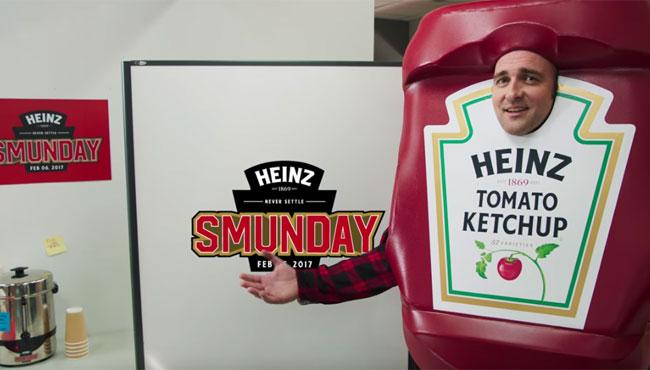 Change.org — At Heinz we believe in never settling. Never settling with food. And never settling in life.
We can all agree that going to work the Monday after the "Big Game" on Sunday is awful. So as far as we're concerned at Heinz, we as a nation should stop settling for it being the worst work day of the year. We don't settle for that awesome football Sunday to be just like every other day of the year. No. We eat. We drink. And we be merry, having the tastiest times of our lives. But then the very next day we settle for that Monday being a terrible work day.
Statistics show over 16 million people call in sick or just don't show up to work. And for those that do, productivity plummets so far that the country loses on average around $1 billion (true story). Enough with the madness. This is where YOU come in.
Sign the petition to make the day after the Big Game a National Holiday. Share it with friends, family and even strangers and get THEM to sign it. If we get over 100,000 signatures, it will be sent to Congress. 
If we can make Big Game Sunday awesome, we can make the Monday after awesome too. Make that Monday more like Sunday. Make it a SMUNDAY and have more Sunday on your Monday than any of us have ever had in our lives. Don't settle. Sign it. For your sanity. For your family. For your country.
Finally, a nationwide movement that anyone, regardless of who you are, can get behind. Look, everyone knows the day after the Super Bowl is one of the shittiest days of the year. Actually, I'd say it's the 3rd worst.
3. Super Bowl Monday
2. First day back at work/school after July 4th
1. First day back at work/school after Christmas/New Year's
So if we can find a way to eliminate #3 on that list, why not do it? Plenty of people have made the argument before that the day after Super Sunday should be a holiday – hell, I voted for Kasich in the primary strictly because he said he'd do it. But Heinz is putting their relish where their mouth is and not only creating a petition to send to Congress, but also pledging to give their own employees February 6th off. Fight the power! I love it.
So now, as the week winds down and Super Bowl Sunday approaches, do your civic duty. Yeah, it'll probably mean you get a bunch of annoying emails about change.org petitions you don't care about. We all have to make sacrifices to make change happen; a couple spam emails about some puppies in Honduras that need air conditioning is just the price we pay for a day of rest following one of the greatest days of the year. So go sign that petition that has to creatively avoid using the words "Super Bowl" for legal reasons and be the change you want to see in the world.
Thank you, and God Bless America.