Player Stock Ticker
Super Bowl 51: Prop Bets Recap
See: 2017 Super Bowl Picks: Prop Bets
So leading up to this past Sunday's Super Bowl, ya boy took the liberty of writing out my picks for some of the many, many prop bets available for the game. Some were typical game-related stuff – MVP, most passing yards, etc. – and some were pretty out there and specific to this game – like if the word "lacrosse" would be said on the broadcast, or how many times Gronk would be shown on screen.
So now, after we've all had some time to recover from the greatest game in the history of sports, let's see how I actually did.
Coin Toss
Call it a push on this one. I correctly picked the flip of tails, but incorrectly picked the Patriots winning the toss and deferring. They chose heads, lost, and got the ball first. But for the first time ever, we had a second coin toss in this Super Bowl as overtime began, and the Patriots won that toss with a heads call. Push
National Anthem Props
Over/Under: I picked the under on this one for a few reasons; I'd heard from a few sources before the game that Luke Bryan would be signing the Anthem a capella, and as a country guy I knew he'd keep it simple. Of course, when the moment came I had my stopwatch out, and when the last "brave" began at about 1:53, I was feeling pretty good. Then, the fucking guy held that note for what seemed like a year. I stood up and ran toward the TV, screaming "Noooooo" at the top of my lungs, but LB came through for me; he cut the last note at about 2:04, securing the under. Win
Other: I also correctly picked that Bryan would come out without a hat on, and in blue jeans. Basically I was killing it before this game even began; a feeling that got me through the god-awful beginning of this game a little easier. Double win
Halftime Props
First song: So even though I didn't exactly get this one "right", I'm counting it as a win. Gaga started out on the roof with a solid rendition of "God Bless America" before belting out just the title line of "Edge of Glory" and transitioning into another song. As someone who had "Edge of Glory" at +600, in my mind it's hard to accept this defeat. So I'm pretending this one didn't happen. Win (loss)
Hair color: I went against blonde, the heavy favorite here, and went with other; to no avail. Thought Gaga would bring the heat with some crazy hair to along with her batshit crazy personality, but she went classic blonde for the occasion; booooring. Loss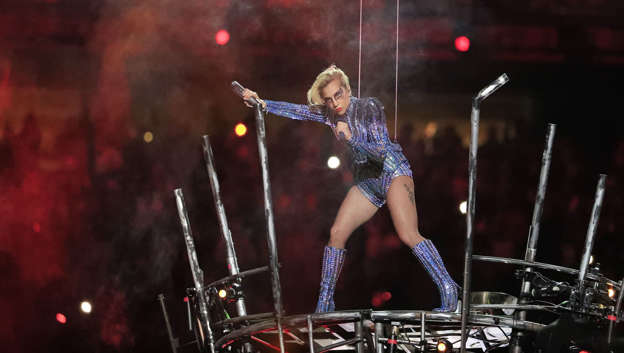 Team Scoring Props
Team to Score First: Went with the Pats here, and we all know how that worked out. Still felt good about it after the scoreless first quarter – even though Brady looked uncomfortable as a Mormon in a strip club and the Pats running game might as well have been on a boat with Odell – but as we all know, Atlanta struck first; and second, and third. Oh well. Loss
First Score of the Game: I liked the first score of the game being a field goal here, especially if it were to be Atlanta scoring first. So, of course, like clockwork here come the Falcons making me look stupid and punching in a TD for the first points of the game. Loss
Score in the last 2 minutes: I was pretty noncommittal on this one (great trick for arguments and any time when you're putting your opinion out there; don't actually decide on any one answer, and you can't be wrong), but basically said "yes" was the safe bet here. And sure enough, New England got its first points of the game in the form of a 41-yard Gostkowski FG with 2 seconds left in the half, making it now 4 of the last 6 Super Bowls that have featured a score in the last 2 minutes of the first half. Win
Defensive/Special Teams TD: I went real hard on no here, mostly looking at the numbers: The Pats hadn't scored or allowed a defensive TD all season long, while Atlanta had scored 5 and allowed 2 on the year. Robert Alford's 82-yard pick six proved me wrong here. Not looking too good here, am I? Loss
Individual Player Props
First touchdown scorer: Devonta Freeman dove in for a 5-yard TD to start the game, so if you took him at +800, kudos. My picks for this one were Martellus Bennett if it was a Patriots score, and Mohamed Sanu if it was a Falcons score. Keeping up the good work, as you can see. Loss
Rushing Yards – Freeman vs. Blount: Blount was favored in this one, and I'm really not sure why; he'd rushed for just 78 yards on 24 attempts in the Patriots' 2 previous playoff games. Freeman won this battle handily, 75-31, although both teams rushed for the same amount of yards (104). Win
Passing Yards – Ryan vs. Brady: Brady came through for me here and won this one handily; his 466 yards topped Ryan's 284 by a wide margin. Even early on, when this game was very ugly and the Pats looked all out of sorts, this bet was always still in play because of the pick six and because of how well the Falcons were running the ball early. In Tom we trust, baby. Win
Super Bowl MVP: I didn't want to go the boring route with Brady or Ryan here, even though odds were that this award was going to whoever came out on top, so I took Julian Edelman at +1200. Although he made the play of the game with his miraculous bobble catch on the game-tying drive, Brady still took home MVP honors. Realistically, if we're being completely honest with ourselves, James White could've easily been the MVP of this game. 14 catches, 110 yards and a TD receiving, combined with another 29 rushing yards and 2 rushing TDs, including the game-winner in OT. Also ran in a huge 2-point conversion on a sweet direct snap play. Brady definitely deserved the honor, but it's good to hear he's giving the truck he was given to White. After all, the Pats couldn't have won without him. Loss
Miscellaneous Props
Record of 75 combined points: This was a long shot, obviously, but we actually got pretty close. If Atlanta's offense hadn't turned to a pathetic pile of mush in the second half and the Pats were able to still keep up the way that they did, they could've given this record a run for its money. Either way, I think enough records were broken on Sunday. Loss
Will "lacrosse" Be Said on the Broadcast: Shockingly, due to a relatively quiet game from Chris Hogan (4 catches, 57 yards) and a pair seemingly pretty aware commentators, "lacrosse" never left the lips of anyone on the broadcast team. They got pretty close after Hogan's first catch, when something along the lines of "what a story this guy has" was uttered from the broadcast booth, but specifics were never delved into, and it goes down as yet another L for lax. Surprisingly, a loss.
How many times will "Gronk" or "Gronkowski" be said – O/U 3: I went with the over here, feeling pretty confident about it, and felt even better during an early possession when Gronk was mentioned twice in the span of about 20 seconds. But he wasn't revisited for the rest of the broadcast, and the under prevailed. Loss
Who will the MVP mention first?: Teammates is always the safest bet on this one, and that was my prediction, especially assuming my MVP pick of Edelman. Even though Brady took home the honor, he still went team/teammates first, which is a bit surprising given his current family situation. What more can we say about Tom; he's the GOAT, and always a team-first guy. Win
How many times will "Trump" be mentioned – O/U 1.5: I felt great about the over here, thinking our controversial new President had to mentioned at least twice during this game especially considering the talk of his ties with prominent members of the Patriots. What I neglected to factor in, however, is the fact that most of America hates him, leading media outlets not directly involved in politics to try to ignore his existence as much as possible. The under wins again. Loss
Will a player kneel during the National Anthem?: This was a pretty easy one; as great as some guys would find it to be able to make a statement on such a big stage, nobody wants to be labelled as a distraction, especially so close to kickoff. No kneeling during this anthem. Win
Gatorade color: Much to America's dismay, Bill Belichick managed to stay dry at the conclusion of the game. This is most likely due to the nature of an overtime touchdown; the second White crossed the plain, the confetti began to rain down and the masses stormed the field in celebration, not exactly leaving anyone on the New England sideline any time to grab the jug. After all, how bad would it have looked if a player had the jug in hand before the final play and the Pats pulled a Seattle and didn't score? Talk about a nightmare scenario. This one ends in a push.
Prop Bet Results: 8-9-2
Final Record ATS: 26-14-1 (7-4 playoffs, including 1-0 in Super Bowl)