Player Stock Ticker
Why the Packers & Raiders will produce fantasy RB1s with the right free agent or rookie running back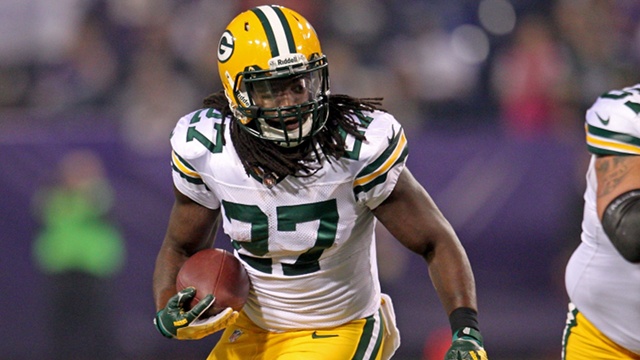 Free Agency is now just a week away, and fantasy values are about to start swinging.  To prepare you for all the player movement, Krall and CJay have been breaking down the top free agents / trade prospects; 2017's top Quarterbacks are linked here, while 2017's premier Running Backs can be found here. Additionally, we've been breaking down the Value Holes, aka ideal landing spots, for said free agents, beginning with Quarterbacks.  
Today, we turn our attention to the Value Holes at Running Back, where, historically, the value gains or drains from Free Agency / the Draft are more extreme than any other  position.  As a reminder, this is not a NSFW post. These are not the fantasy holes you may be reading about on The Bachelor branch of this website. Rather, a "Value Hole" is an expected job opening around the NFL that offers significant fantasy upside. Just look at the Cowboys RB situation last year — a sexy, gaping value hole was ultimately filled by an even sexier talent (Ezekiel Elliott), resulting in an enormous top-three RB campaign.
2017 presents some incredibly attractive situations for free agent and rookie running backs to walk into.  Based off our wildly successful Fantasy Stock Formula from last year (update coming soon), we'll assess these Value Holes by breaking down the team's Coach Scheme and the Surrounding Talent to give a clear picture of why each opening drips in upside.
Though I was planning to address 5-10 Running Back Value Holes, two really stood above the pack and deserved a standalone piece. With their current makeup, both the Packers and the Raiders have the fantasy set up to yield an absolute monster RB1 season if the right talent is added.
Tier One – The Elite Value Holes
1) Green Bay Packers:
The ever-growing Eddie Lacy is set to enter free agency, leaving a mammoth, hallway-sized hole in the backfield of one of the league's most explosive offenses. Despite some sexy flashes, converted wide receiver Ty Montgomery only topped 10 carries once all last season, and the team will surely be looking to add a power complement to his receiving prowess. Whoever enters could be walking into an absolute goldmine:
Coaching Scheme
Dating back to his coordinating days in New Orleans, Mike McCarthy's "team" rushing volume has consistently ranked in the league's bottom half (10/17 times).  These stats, however, are highly deceptive, and overshadow McCarthy's historic wizardry producing monster fantasy workhorses. Take a long stroll down McCarthy's lengthy coordinating career as proof:
2000, Ricky Williams (NO, 10 games): 248 carries, 1000 yards, 8 TDs, 44 catches, 409 yards, 1 TD
*16 game pace = 396 atts, 1600 yds, 13 TDs and  70 catches and 654 yards in the air
2001, Ricky Williams (NO): 313 attempts, 1245 yards, 6 TDs + 60 receptions, 511 yards, 1 TD
2002 Deuce McAllister (NO): 325 att, 1388 yds, 13 TDs + 47 rec, 352 yds, 3 TDs
2003 Deuce McAllister (NO): 351 att, 1641 yds, 8 TDs + 69 rec, 516 yds
2004 Deuce McAllister (NO, 14 games): 269 att, 1074 yds, 9 TDs + 34 rec, 228 yds
2005 = garbage committee in San Fran
2006 Ahman Green (GB): 266 att, 1059 yards, 5 TDs + 46 rec, 373 yds,  1 TD
2007 Ryan Grant (GB, 7 starts): 188 att, 956 yds, 8 TDs + 30 rec, 145 yds
2008 Ryan Grant (GB): 312 att, 1203 yds, 4 TDs + 18 rec, 116 yds, 1 TD
2009 Ryan Grant (GB): 282 att, 1253 yds, 11 TDs + 25 rec, 197 yds
2010 – 2012 = Three vomit spewing committees due to injuries and a lack of talent (Luminaries such as Brandon Jackson, Cedric Benson, and James Starks might bring tears to past owners eyes)
2013 Slim Eddie Lacy (GB): 284 att, 1178 yds, 11 TDs + 35 rec, 257 yds
2014 Growing Eddie Lacy (GB): 246 att, 1139 yds, 9 TDs + 42 rec, 427 yds
2015 and 2016 Fat as fuck Eddie Lacy (GB) = disgusting, sloppy disaster
This was the wind-filled way of proving a key point: in 11 of 17 seasons, a McCarthy-coached back has been a genuine fantasy RB1.  The six misses were clearly a result of injuries, lack of talent, or over-eating at the local China Buffet.  Yes, McCarthy's 2017 Packers will push for the league lead in pass attempts; nonetheless, history suggests that plenty of these looks will go to the backfield.  Regardless of Aaron Rodgers' arm, one fact is clear: McCarthy's offense will feature a bonafide workhorse and be a  goldmine for his RB… if the talent is right.
Score: 9.5/10 (assuming talent)
Surrounding Talent:
With the aforementioned Ty Montgomery, a converted WR, the only "running back" on the roster, this depth chart is wide open for the taking. Whoever claims it will be joining a complete juggernaut that, with Aaron Rodgers chucking the rock, will threaten for 2017's scoring lead. A stacked cast of Jordy Nelson, Davonte Adams, and Randall Cobb will keep boxes light and defenses honest, while also providing plenty of goal-line cap-off chances.  McCarthy does lean on the pass in the red area quite a bit, but double-digit TDs is still a real likelihood for the right RB talent.
The line is also sturdy, though unspectacular. Yes, Pro Football Focus graded GB's maulers #5 in the league in 2016, but this is a bit deceptive regarding the run game.  The big boys were outstanding in pass protection, which buto say than oyed a mediocre run grade. Still, they are certainly capable, which is a lot more than most around the league can say.
All-in-all, with a dynamite skill position cast, a wide open RB depth chart, and a serviceable line, Green Bay's Surrounding Talent should buoy any backs fantasy value. 
Score: 9/10
Total Value Hole Score: 18.5/20
Bottom Line:  65% of McCarthy's offenses have featured bonafide RB1s, and the misses were clearly a lack of talent. In such an explosive offense with a top-half line, a high-talent RB would be a near lock for RB1 numbers.
2) Oakland Raiders
The Raiders had the ultimate Raiders finish to 2016: getting their heart ripped out and watching it slowly stop beating. Entering the offseason, 2016's lead back Latavius Murray is an unrestricted free agent, creating a spread-open, ultra sexy Value Hole in need of filling.
Coaching Scheme:
As a defensive-minded guy who loves controlling the clock, head coach Jack Del Rio's teams have consistently pounded the rock;  in 15 years on the NFL side lines, his offenses have ranked in the top half of in rushing attempts in all but two seasons, including seven top-10 finishes.  Just last year, the Raiders finished sixth in rushing yards and TDs, and even still, Del Rio referenced the need for more "big boy football." Historically, Del Rio coached numerous top five rushing teams with the Jaguars, and the man loves establishing a physical, ground-and-pound approach whenever able.
New offensive coordinator Todd Downing is also fully on board, noting:
"I am as committed to the run game as I am to the pass game," Downing said. "My vision for this offense is right in line with how we see it as a staff and how coach Del Rio sees it as the leader of our staff. I don't anticipate that as a rocky road to walk down."
Equally of note, Downing considers Scott Linehan, who happens to be the coordinator of the dominant Cowboys rushing machine, his main influence: "I've collected a lot of information and learned as much as I could," Downing said.
Though overall volume shouldn't be an issue, the distribution of work could be.  Last season's attack featured a three-headed nightmare, yet, even still, Murray still got enough work to top double digit .5 PPR points in 9 of 14 games. Moreso, Del Rio actually fired the offensive coordinator for not feeding his alpha workhorse more consistently:
Del Rio with a swipe at OC Bill Musgrave: "Latavius has only five carries. How does that happen?"

— Vic Tafur (@VicTafur) January 2, 2017
Despite last season's shared backfield, history suggests Del Rio will ride a horse if provided the right one. Just ask former fantasy God  Maurice Jones-Drew.
Scheme Score: 8.5 /10
Surrounding Talent:
Let's begin with this ridiculous offensive line.  Composed of complete maulers, the Raiders graded out as Pro Football Focus' #4 offensive line, despite rotating four different players at right tackle due to injury.  With full health, they should push for the top spot in 2016, and whoever's blessed with carries behind these behemoths will find lanes for days.
And let's not forget the explosiveness of the skill positions here. With the blossoming Derek Carr under center, and two dangerous wideouts in Amari Cooper and Michael Crabtree, boxes will be light and scoring opportunities will be plentiful (Murray scored a TD in 8 / 14 games). True, DeAndre Washington and Jalen Richard flashed enough in 2016 to maintain a committee, but they could be rendered irrelevant with the right talent.  All-in-all, this is a dreamboat situation for a running back to land into.
Score: 9.5/10
Total Value Hole Score: 18/20
Bottom Line:  Run heavy scheme? Check. Beefy, mauling line? Check. Explosive overall offense for plenty of scoring chances? Big Check.  All the bricks are laid for a monster RB season if the talent is right.
***
Clearly, Monitoring how the Packers and Raiders' backfields shakeout is paramount for 2017 fantasy rankings and success; if the RB talent is high enough, top ten or even top five fantasy finishes are highly likely.
Leading up to Free Agency Frenzy Thursday,  The RSJ will continue releasing our top free agent / trade talents, and the most intriguing values holes to be filled. Be sure to like our Facebook Page, and follow us on Twitter and Instagram to catch all the important developments.