Player Stock Ticker
2017 Free Agency and Trade Market: Wide Receivers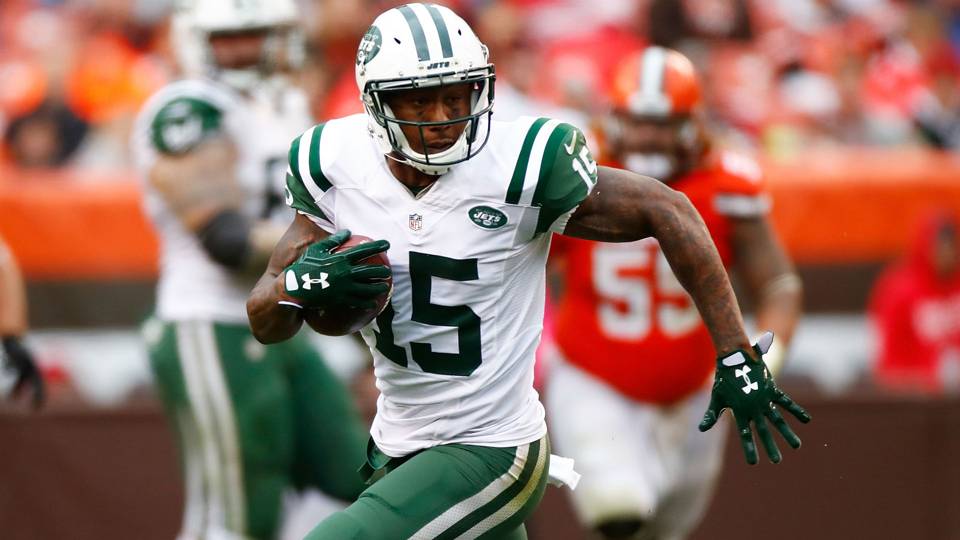 In this installment of Roto Street goodness, we bring to you a myriad of capable wide receivers available to your team via Free Agency in 2017. With National Poetry Month just a month away, I decided to roll out my Shakespearean swag to honor this year's available target monsters.
ehem….
Some are tall, some are fast,
some have been suspended –
for a drug-riddled past.
Whether a DUI or a salsa dance – the song remains the same
These players are free agents – to receive monetary gains
No matter it be – Gordon, Garcon, Pryor or Jackson
The potential for receptions – sends my manhood into action
Two thousand seventeen, a new season is born
Which of these misfits – will your team adorn?
Tier 1: Olivia Munn
I know what she was doing on February 5th 😉
Alshon Jeffery
Grade: 8/10
2016 NFL Team: Chicago Bears
2017 Projection: San Francisco 49ers
The 49ers are the early front runners to land Alshon Jeffery in free agency. Alshon had himself a forgettable year in 2016, landing himself a 4 game suspension for PEDs to couple with a below average stat line. San Francisco was ranked 31st in receiving yardage for the second consecutive season last year, while making Torrey Smith look as though he was about 30 years removed from an 11 touchdown campaign. I expect new head coach Kyle Shanahan to surround his new signal caller (perhaps Kirk Cousins?) with plenty of fire power in 2017. A fresh start in San Fran with an offensive prodigy like Shanahan could be just what Jeffery needs to regain his old form.
Disclaimer: While I don't agree that Alshon Jeffery is quite worthy of Olivia Munn's downright sexiness by any means, please bear with me. I could write a whole column on her majesty.
Terrelle Pryor
Grade: 7.5/10
2016 NFL Team: Cleveland Browns 
2017 Projection: Philadelphia Eagles
The former QB turned WR from Ohio State had himself a nice campaign in 2016 while sustaining his NFL career in a feeble Browns offense. Over 1,000 yards and 75 receptions will get yourself a nice payday in the NFL, and there aren't many teams in need of his services more than the despicable receiving core of the Philadelphia Eagles. For some great coverage on just how butt hurt Eagles fans got in 2016, please refer to the infamous eatdatpussy445 Youtube Channel . There's some great Eagles carnage in there. The only way the birds could gotten out of their own way last year is if their rookie QB pulled a Gisele Bundchen
Debatable.
Landing Pryor would give the Eagles at least one wide receiver whose pregame ritual doesn't involve fully submersing themselves in a tub full of margarine. Getting rid of that bum Agholor wouldn't hurt either.
Brandon Marshall
Grade: 7.5/10
2016 NFL Team: New York Jets
2017 Projection: New England Patriots
Randy Moss, Brandon Lafell, Brandon Marshall?
The Patriots have a desperate need to acquire a big target for GOAT QB Tom Brady. Chris Hogan did a decent job in the deep threat role, but lets face it – the likes of Danny Amendola and Julian Edelman are NOT candidates to haul in jump balls in the end zone. Hoodie has a knack for luring A-list free agents to New England by promising vets an opportunity to play in the promised land in exchange for a rookie contract and a bag of funyuns. A talent like B-Marsh does not become available very often, and I think the former Bear follows in the footsteps of former teammates Martellus Bennett and Darrelle Revis to greener pastures and a ton more TDs in New England.
True Story: Nate Burleson would trade in his wife to play for Pats
Tier 2: Kourtney Kardashian
A fringe WR1, often overshadowed by more capable teammates.
DeSean Jackson
Grade: 7.25/10
2016 NFL Team: Washington Redskins
2017 Projection: Los Angeles Chargers
Nobody really likes DeSean Jackson. Hes kind of a punk ass, and a lot of people take issue to his holier than thou attitude. Coming home to Los Angeles makes a lot of sense as DJax is a pretty flashy guy as it is. The Chargers have also had issues in keeping top option Keenan Allen healthy. Taking out an insurance policy for Allen with a threat like Action Jackson would be a good complement to an already established group of wide receivers for fantasy stud Philip Rivers. The only quandary here would be LA's cap space, but I don't think Jackson will command a huge cap hit given his age and a the expansive market for Tier 2 wide receivers already.
Here he comes LA!
Kenny Britt
Grade: 7/10
2016 NFL Team: Los Angeles Rams
2017 Projection: Los Angeles Rams
One of 2016's biggest surprises was the emergence of LA Rams wide receiver Kenny Britt. In an otherwise pathetic receiving core, Britt proved time and time again to be a reliable option for rookie quarterback Jared Goff. Britt was drafted in 2009 by the Tennessee Titans, and bounced around the league before finally living up to his 1st round selection this past season. The Rams would be wise to re-sign Britt to a 3-4 year deal as they literally have no-one else to pass to (no you can't count Tavon Austin), and a generous amount of cap wiggle room this year (about 37 million). Britt still has one good contract left in him at age 28, and I think the Rams lock him up and keep their highly touted QB happy as he continues to develop.
Pierre Garcon
Grade: 7/10
2016 NFL Team: Washington Redskins
2017 Projection: Minnesota Vikings
Garcon held a similar stat-line to that of Terrelle Pryor in 2016, but remains a Tier 2 option due to his 30 years on this earth vs Pryor's 27. The Redskins have two young studs in Jamison Crowder and 2016 1st Round Pick Josh Doctson, so the chances of re-signing Garcon seem unlikely. Garcon appears to still have some juice left in the tank, but how much juice exactly? The Vikings are in need of a #2 or #3 WR to support starlet Stefon Diggs in their passing game, and I think that Air Pierre will supply QB Sam Bradford with some much needed finesse out wide.
Tier 3: Lady Gaga
Not quite sure how I feel about this.
Josh Gordon
Grade: 6.5/10
2016 NFL Team: Cleveland Browns (at least on paper)
2017 Projection: Baltimore Ravens (if he's reinstated)
The Ravens have a long history of taking thug ass players under their dark mysterious wings. Players like Ray Rice, Jamal Lewis, Ray Lewis, and Jimmy Smith have all managed to simultaneously play football for this team and also incur multiple felonies. Click through the following link for a laundry list of criminals employed by the Steve Biscotti Crime Family over the years. With that being said, if anyone was going to take a gamble on a headcase talent like Josh Gordon, why not the Ravens? Baltimore doesn't have a lot of cap space, so garnering Gordon's services would most likely come quite cheap for a player of his caliber. There is no question that a void exists at WR with the impending departure of free agent Kamar Aiken as well as the now retired Steve Smith. Call me crazy, but do you genuinely believe that the Ravens can sustain themselves with the likes of Mike Wallace, Breshad Perriman and Michael Campanaro to shoulder the load? Thats what I thought.
"Hi, yes I'd like to inquire about prisoner W106228"
Brandon LaFell
Grade: 6/10
2016 NFL Team: Cincinnati Bengals
2017 Projection: Cincinnati Bengals
LaFell took advantage of his opportunity with A.J. Green sidelined, hauling in 64 balls for about 850 yds and 6 TDs in 2016. Surprising right? While he has remained nothing more than a role player for 3 different NFL teams, the former LSU product has grown comfortable in tiger stripes on both a collegiate and profession level. LaFell has publically expressed his desire to remain in Cincinnati in 2017, and we think he has earned that right after a strong performance this season.
Kenny Stills
Grade: 6/10
2016 NFL Team: Miami Dolphins
2017 Projection: Philadelphia Eagles
Kenny Stills possesses both the game breaking speed of a dynamic WR1, and the mitts of a 5 year old fumbling a deck of Pokemon cards. If he could only get that catching the ball part down…
This feels like one of those off-seasons where the Eagles panic and spend all of their cap money on a single position of need. Remember in 2015, when somehow DeMarco Murray, Ryan Mathews, and Darren Sproles all bought into Chip Kelly's idea of a clusterfuck backfield? Yeah, I would love to see that happen again. As I mentioned earlier in this piece, the Eagles wide receivers are trash. With that said, I'm confident that the 16.7 YPC and 9 TDs that Stills posted last year will be enough to convince the Birds' brass to throw a multiyear contract at this clod.

Classic.
Cordarrelle Patterson
Grade: 5/10
2016 NFL Team: Minnesota Vikings 
2017 Projection: Buffalo Bills
While there remains a chance that UFA Robert Woods will return, I think 3 years in Buffalo is enough to drive anyone insane. If Woods does indeed leave, Cordarrelle "The Gazelle" Patterson is a good candidate to replace him. The former Tennessee Volunteer has been adamant discussing his desire for more playing time, and the Bills could certainly give him that. With only one other capable WR on the roster in Sammy Watkins, Patterson may just find himself a home in Buffalo. The serious knock on Ricky Bobby 2.0 is that he remains unpolished as a pass-catcher, which could be worrisome for some of his suitors. On the other hand, having Patterson's speed available to the Bills would be a tremendous asset on the right side of the field as well as on special teams. To put it simply, he's fast as fuck.
Ricky Bobby is Cordarrelle Patterson's Spirit Animal
Restricted Free Agents to Watch
These guys stay put in 2017.
Adam Thielen – Minnesota Vikings
Willie Snead – New Orleans Saints
Dontrelle Inman – Los Angeles Chargers
Taylor Gabriel – Atlanta Falcons
Check out our free agent running backs and quarterback potential landing spot lists, along with our quarterback and running back "Value Holes." Follow us on Twitter, Instagram and Facebook throughout free agency for breaking news and fantasy analysis.