Player Stock Ticker
Report: Adrian Peterson would consider taking a discount to play for the Patriots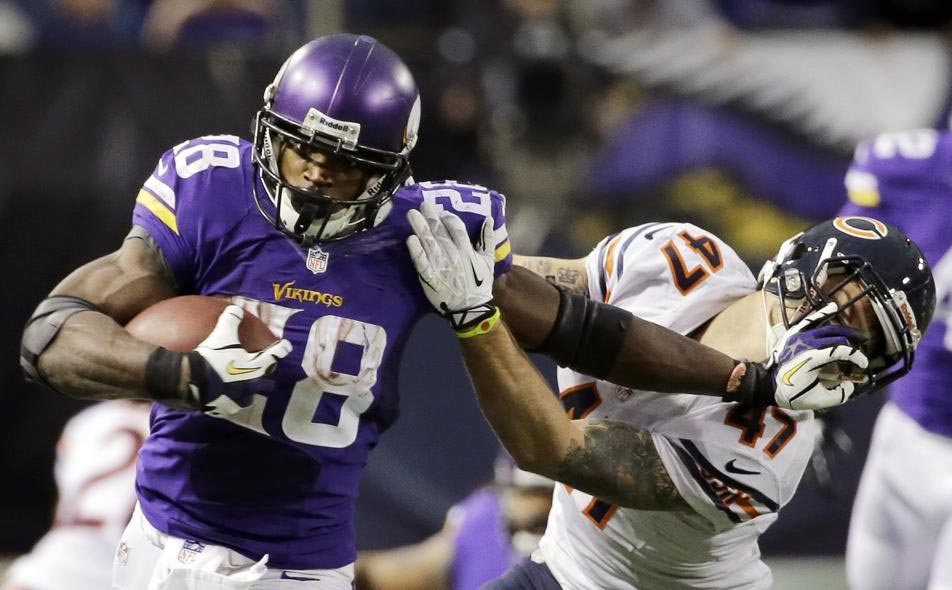 It's been reported lately, originally by the Boston Herald, that free agent running back Adrian Peterson would consider taking a pay cut to join the New England Patriots. First, the obvious: who wouldn't? We hear rumors like this all the time and it's because, realistically, 95% of the NFL would accept less money without question if it meant playing for New England. The success speaks for itself, and especially for guys who've already made a good amount of money in their careers, the rings are much more tempting.
Adrian Peterson to the #Patriots? It could happen. pic.twitter.com/vmzPKcZXUj

— Roto Street Journal (@RotoStJournal) March 7, 2017
And as crazy as this particular rumor may sound, don't dismiss it right away. Yes, as Patriots fans we're programmed to deal with never getting star players and just settling for Bill Belichick and Tom Brady turning water into wine every year, but this situation is a little different. Peterson is 31 years old, the tipping point historically for running backs, and he's dealt with multiple injuries in the past few seasons. A big payday elsewhere isn't exactly a guarantee for AP right now, but if he signs with the Pats, a chance at a Super Bowl certainly is. And as deep as the Patriots are on paper at the running back position, that's subject to change pending LeGarrette Blount's free agency. His future is uncertain, and coupled with Dion Lewis' injury history and the fact that James White is primarily a pass-catching back, it could be the perfect recipe for AP in NE, especially considering how much cap room the Patriots currently have.
And best for both sides is that, ultimately, Peterson won't have to be a workhorse back. He'll play a big role on a great team and have a chance to do something special, but he's not going to have to carry the brunt of the workload like he's done in Minnesota for the past decade. Believe it or not, that's a big draw for some guys to be able to join up with a team where it's not all eyes on them, and they can get the help of other stars and try to dominate the league (just ask Kevin Durant). And as long as both Peterson and the Patriots are clear on his role from the start, we can avoid ugly mid-season locker room issues about touches and playing time that sometimes follow star running backs.
Beyond that, the question now becomes this – would you root for the guy who, as CJay so eloquently put it to me in a text, "smashed his kid's nutsack with a branch"? The short answer is yes, because I'll root for anyone in that red, white, and blue jersey, but it goes farther. The guy made a mistake, definitely, and he served his time because of it. He missed 15 games, managed to do the right things, and got himself back on the field, leading the NFL in rushing the following season. Now I'm certainly not advocating for the guy to run a daycare service in Foxboro anytime soon, but on the football field, I have no qualms with AP.
One mistake, however, that should not be made here is assuming Peterson remains a top fantasy option if he joins the Patriots. Like I've said already, AP would not be a workhorse back in New England. Realistically we're probably looking at 15-20 carries per game, if that. And with Bill Belichick, you never know when a guy just isn't going to see the field at all one game because that's just the gameplan that day, so we'll have to keep that in mind as well. In the end, AP is probably a top 20 running back if he comes to New England, but as long as Tom Brady is playing at the level he's been at, he won't go any higher than that.
So ultimately, as far as rumors go, this one's got a little more substance than some others. Much more believable than Bill giving up the No. 32 pick and more for Brandin Cooks (the LAST thing the Patriots need is another receiver who's under 6 feet). So this will obviously be something we keep an eye on as Free Agency officially kicks off on Thursday, and maybe, when it's all said and done, the Patriots will have yet another future Hall of Famer on the roster for their quest to repeat.
Follow us on Twitter, Instagram and Facebook during free agency for instant fantasy implications and breaking news.