Player Stock Ticker
Five Biggest Fantasy Football Takeaways from Free Agency Day One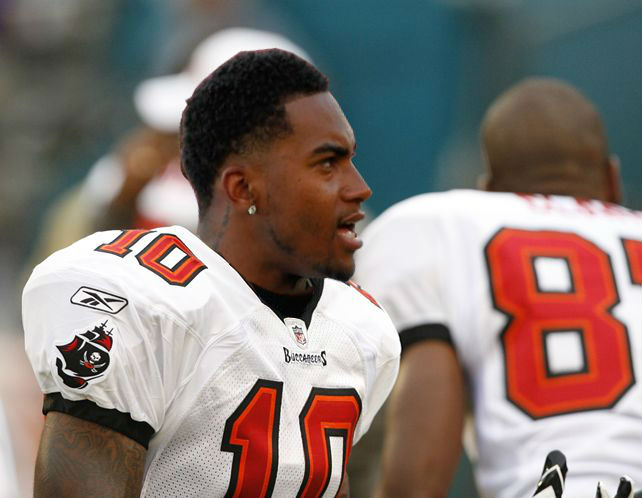 Ever since Super Bowl 51's glorious ending, us football addicts have been wandering around this barren, wasteland world in search for meaning.  Indeed, we know this dark abyss will soon extend even further. But for some brief, tweet-filled moments, we have finally found something real. Something genuinely relevant. Something to desperately cling onto. Free Agency.
As always, the first day of NFL Free Agency was wild, and many of the "big names" have found new homes.  Wide receivers were the featured entree, as Alshon Jeffery, DeSean Jackson, Brandon Marshall and Pierre Garcon are all donning new jerseys after yesterday. We'll be doing more in-depth "Fantasy Stock Profiles" on all the old faces in new places, but first, The Wolf provides a breakdown of the most important takeaways from Day One, in addition to a few rapid reactions. In no particular order…
1. After adding Brandon Marshall, the New York Giants have fantasy juggernaut potential
With an absolutely stacked cabinet of wide receiver weapons & head coach Ben McAdoo's aerial roots from Green Bay, this offense drips with juggernaut potential.  Yet, everyone reaching the maximum ceiling here is dependent on two highly questionable factors:
A) The declining arm of Eli Manning 
B) The balancing of some highly explosive personalities
If the team is winning and everything is humming, look out. The offensive output would undoubtedly be towards the top of the league. Marshall's already saying all the right things, telling reporters he's here for "a real shot at winning a championship," is "No.2 to Odell Beckham," and that he wants "to mentor the young guys."  Talk is easy, however, and whether Marshall actually handles himself this way after the inevitable zero target game remains to be seen; past history doesn't suggest a calm and cool reaction.
Fantasy-wise, Beckham will take a slight hit with a genuine red zone threat now siphoning looks. Still, the decreased attention might actually free Beckham up underneath for those classic eight yard slants that he then takes to the crib. Sterling Shepard, who was among Eli's top red zone targets, has to be dropped quite a bit as the clear number three. He'll still be worth a late round flier in the off chance everything hums perfectly here, but Shepard projects to be even more inconsistent in 2017 with decreased red zone usage. Marshall himself carries a tall ceiling, but whether  his abysmal 2016 was a result of poor motivation or a drop in ability remains to be seen. His WR1 days are almost assuredly gone, but, if he's retained all his skill with age, Marshall could easily provide high-end WR2 numbers with the right usage. For now, he's an intriguing WR3 investment.
Meanwhile, even if his own effectiveness is waning, Manning has to receive a bump up across the board.  Few teams boast a cast as stacked as this, and McAdoo has the creativity to maximize it all. Treat him as a high-end QB2 who'd make a worthy matchup-play rotation piece.
The sneaky biggest benefactor, though, could be Paul Perkins, or whoever ends up the lead back here.  This team should be frequently visiting the red zone with this type of talent, leaving plenty of goal-line capping chances for the taking.  Additionally, boxes will have to be light to account for all these weapons, and a 5+ YPC is a real possibility for whoever's being fed.  Shane Vereen should also find oodles of room underneath, and could haul in 60+ balls with health for those in PPR leagues. Don't forget his name in the late rounds.
2. DeSean Jackson's addition in Tampa makes Jameis Winston a lock QB1, and only helps Mike Evans
Entering last year, head coach Dirk Koetter and offensive coordinator Todd Monken gushed over Winston's arm, and promised a more attacking, vertical, "big play" scheme.  Unfortunately, with Harvard's own Cameron Brate the only semi-viable option behind Mike Evans, this never came into fruition.
Enter DeSean Jackson.  Still one of the NFL's most pure deep-threats, Jackson led the NFL in yards per catch (17.9) in 2016, and has averaged over 15 yards per catch in eight straight years. He was tailor-made for a "vertical, attacking" scheme, and then hand-selected by coaches intent on stretching the defense.  Jackson will certainly see his share of weekly "big play" looks, and maintains sturdy WR3, even low-end WR2 status. Sure, he'll maintain his boom-or-bust ways, but a bevy of deep looks combined with Winston's cannon arm should keep him booming more frequently. Also, with the monstrous Evans opposite him, Jackson will have his one-on-one chances. Don't be surprised when DJax is frequenting the Red Zone channel on deep bombs.
Speaking of Winston, he undoubtedly ascends into the QB1 tier with this acquisition.  Not only will his passing yards and TDs skyrocket with this added  dimension, as Winston will additionally benefit on the ground.  With more space to run underneath and more goalline chances to cap-off, don't be surprised to see the third-year pro replicate his 6 rushing TDs from his rookie season.
Meanwhile, Evans, a constant victim of double (and even triple) teams last year, also gets a sneaky stock up.  As DJax inevitably roasts teams deep to begin 2017, attention will need to shift.  Evans already dominated even with multiple bodies on him, imagine what he'll do with lessened attention.  With a completely different skillset, Jackson shouldn't eat into Evans' midfield and red zone jump ball looks at all, leaving Evans in a prime position to not only replicate, but expand upon, his enormous 2016.
This is a beautiful case of a perfect skillset meeting the perfect vacancy, and all Bucs fantasy ships will rise with DJax's speed.
3. Reunited with Kyle Shanahan in San Francisco, Pierre Garcon should be treated as a surefire top-25 fantasy WR
Death. Taxes. Kyle Shanahan funneling targets to his"X" receiver.
From Andre Johnson in Houston to Julio Jones most recently in Atlanta, Shanahan has produced monstrous seasons out of his alpha WRs.  True, Garcon is a far cry from those talents; yet, he himself rode the Shanahan gravy train in 2013 when he led the league in both targets (181) and receptions (113), ultimately churning out 1,346 yards, and 5 TDs.  Though Garcon is now 30, his possession-type skillset remains in-tact, and receivers don't typically falter until age 35 regardless.  Newly-signed Brian Hoyer is no stranger to Shanahan's system, and historically has aggressively locked in on his #1 guy (just ask Josh Gordon or DeAndre Hopkins). All good news for Garcon's stock.
Though expecting another league-lead in targets would be ambitious, Garcon could very-well enter the top-1o, especially considering the 49ers other receiving options (Vance McDonald & Jeremy Kerley are the next biggest threats for looks…LOL).  The TDs will likely leave owners thirsty, but the yards and receptions should make Garcon a highly viable WR2, and ideal high-floor WR3 to balance out an under-proven corps.
4. With health, Alshon Jeffery will rehabilitate his WR1 status with the Eagles, making Carson Wentz an upside QB2 in the process
With a long-frame, surefire hands, and acrobatic leaping abilities to win the 50/50 jump balls, Jefferey was lauded by many as 2017's premier free agent.  Despite back-to-back, injury-ridden clunkers in 2015 and 2016, Jeffery flashed all the bonafide WR1 tools by topping 85 catches, 1,100 yards, and 7+ TDs in two straight seasons.  On a one-year, "prove-it" type of deal, Jeffery have ample opportunity to prove those '13 and '14 seasons were no fluke.
And I think he very well could. Though young and developing, Carson Wentz is a massive upgrade over the Jay Cutler, Brian Hoyer, and Matt Barkley horror show that Jeffery fought through last season; some of the throws Wentz put on tape were orgasmic, and Alshon's limitless route tree will be fully activated. Additionally, newly signed speedster Torrey Smith and massive slot man Jordan Matthews, despite having minimal value themselves now, should keep coverage honest, allowing Jeffery to do what he does best: dominate one-on-ones.
Speaking of Wentz and all these weapons, the sophomore signal-caller should emerge as a highly viable QB2, with plenty of upside for a QB1 campaign.  The surrounding talent is certainly there, the talent was flashed, and, with a few positive steps forward in his own development, Wentz has the stars aligning for a monstrous statistical leap.  Additionally, whether Ryan Mathews or a fresh face, the "big back" here will have serious TD upside given Doug Pederson's affinity for running at the goalline.
All-in-all, this offense should be a whole lot more fun to watch in 2017; Jeffery, Wentz, and the lead RB all could yield high-end starting numbers by year's end.
5.  After Dwayne Allen's trade to the Patriots, Jack Doyle becomes an instant top-ten tight end
Cover up, league. Jack is set to finally unleash and drape his massive beanstalk all over the place in 2017.
In all seriousness, there's some upside for a huge TE1 season here. Jack's best career game came, unsurprisingly, with Allen removed from the lineup, as the "Beanstalk" doyled the Titans for 9 catches, 78 yards, and TD. Though that reception and yardage output will remain the exception and not the norm, Doyle's TD upside is still mammoth.  Andrew Luck historically LOVES his tight ends in the red zone, and, in his past two healthy season, Luck has tossed 18 and 12 combined TDs to his seam-stretchers. Hauling in 10 by himself is realistic for the new featured tight end.
Additionally, Colts' offensive coordinator Rob Chudzinski has long been regarded as a tight end whisperer.  Under Chud's tutelage, future hall-of-famer Antonio Gates put together some of his most magical campaigns,  Kellen Winslow and Greg Olsen became yardage monsters, while the useless pile of dog mess named Jordan Cameron even posted 80 catches, 917 yards, 7 TDs.  If god-damn Jordan Cameron can be a top-five TE, you better believe the Beanstalk has this ceiling. 
In short, you can't find a better late round TE target, and anyone who has Doyle outside their top-10 TEs should never be trusted.
Rapid Reacts:
Former Chargers RB Danny Woodhead landing with Baltimore makes me want to vomit. Sure, Kenneth Dixon is staring at a four-game suspension, but these two will eat each other's cheese all season. Plus, any rumblings of a "three-down" horse landing here can officially be put to sleep. Shame!
Mark my words, whoever's the featured back in Cleveland next year will be a top-15 RB, thanks to some massive line upgrades. After adding the mauling Kevin Zietler at right guard and sturdy JC Tretter at center, the Browns will rank among the top-five lines in football. Dating back to the days where he made a bonafide RB1 out of Darren McFadden, HC Hue Jackson schemes brilliant run games, and now he finally has the big boys to execute. Check out Pro Football Focus' grades on the new-look offensive line:
The Rams must hate WRs who can catch TDs. Way to remain irrelevant, Robert Woods.
Wondering what the fantasy shakeout is on the teams these guys left behind? Be sure to check back for our Addition by Subtraction piece to find out how guys like Jordan Reed, Eric Decker, Cameron Meredith, Jamison Crowder, and even Josh Docston are impacted by the above moves. 
Plus, with huge running back names like Adrian Peterson, Jamaal Charles, and Latavius Murray still seeking homes, make sure to like our Facebook Page, and follow us on Twitter and Instagram to not miss any developments.