Player Stock Ticker
Dont'a Hightower Re-Signs With The Patriots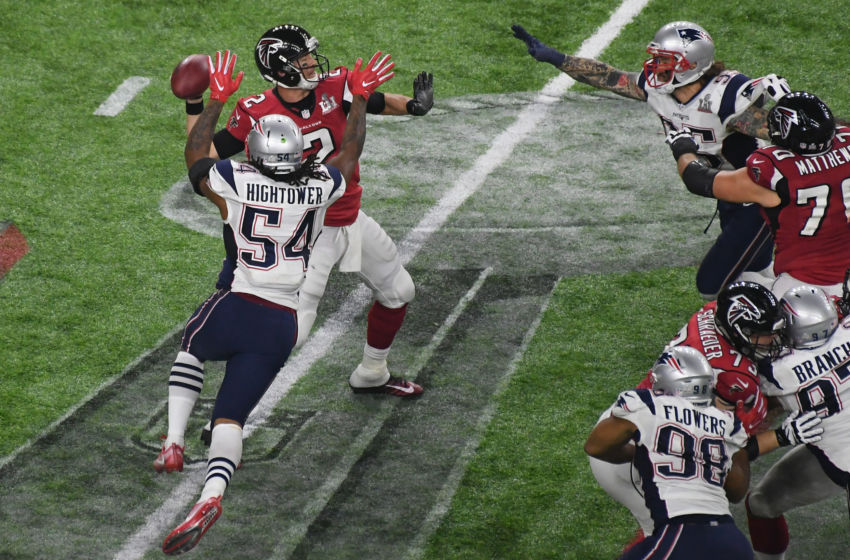 Dont'a Hightower is returning to the New England Patriots, sources tell ESPN. New England's off-season rolls on.

— Adam Schefter (@AdamSchefter) March 15, 2017
I'm writing this just as the news is coming out, so just give me a second to digest, if you will.
YES YES YES YES YES YES YES FUCK YESSSSSSSS!!!!!!!!!!!!!!!!!!!!!!! NEVER DOUBTED IT!!! SUPER BOWL 52!! THE DYNASTY LIVES!!!!!!!
Ok, back to Earth. What a monumentally giant signing here. As great as this offseason so far has been for the defending Super Bowl champions, there's been plenty of talk about what they've done wrong — particularly, letting Martellus Bennett walk without much of a fight and the potential mishandling of  Malcolm Butler. Realistically, the odds of Bennett staying for what the Patriots were able to offer him were on par with the Jets' Super Bowl 51 odds, so that one was pretty easy to stomach — especially after acquiring Dwayne Allen and repeatedly getting good news about the health of Rob Gronkowski. And although I don't fully agree with how things are playing out with Butler, the game's a business, and Bill Belichick is making the decisions that he believes are best for the franchise. Maybe he stays, maybe he doesn't – either way, the Patriots will employ a Pro Bowl CB in Stephon Gilmore next season, and things will work out. But being able to lock down Dont'a Hightower, the quarterback of the defense and one of the many heroes of New England's Super Bowl 51 comeback, is absolutely, unequivocally the most important move the Patriots have made this offseason.
There's a reason Dont'a Hightower plays with the green dot on his helmet, and there's a reason that no true Patriots fan would've been fully content with this offseason if he ended up in another uniform in 2017 — he's a BEAST. Hightower is coming off back-to-back Pro Bowl seasons in which he's averaged 63 tackles and 3 sacks, as well as a 14-tackle postseason in which he also forced the most important fumble in Patriots history — with about 8:30 remaining in a 28-12 game in the Super Bowl. His numbers on paper have dropped a bit in the past couple seasons, but that can be attributed to a number of things — growth of other key players on New England's defense, increased responsibility in play-calling, and a smarter, less risky style of play, just to name a few. Numbers may never lie, but they often don't tell the whole truth especially regarding defensive players, and Hightower is the most important member of the Patriots defense, period.
So now that our month-long heart attack is officially over and #54 will be at the helm of New England's defense once again, there are certainly still issues to be addressed. Three come mind: Butler, Jimmy Garoppolo, and the newfound lack of early draft picks. Problem No. 3 will likely go hand-in-hand with No. 2, as a Jimmy G trade will undoubtedly net New England at least a 1st round pick (@Browns, hmu, that #12 pick is lookin' good), but the Malcolm Butler situation remains to be the biggest question mark for Bill's Boys moving forward. Whether he comes back to finish out his deal, is able to work out one more suitable, or heads to New Orleans or elsewhere, #InBillWeTrust will be in full swing in New England, and I'm supremely confident that the right decision will be made.
The stress is over. Bill got his man. Now let's get to work.