Player Stock Ticker
Fantasy Baseball Sleepers 2017: Reaching for the Stars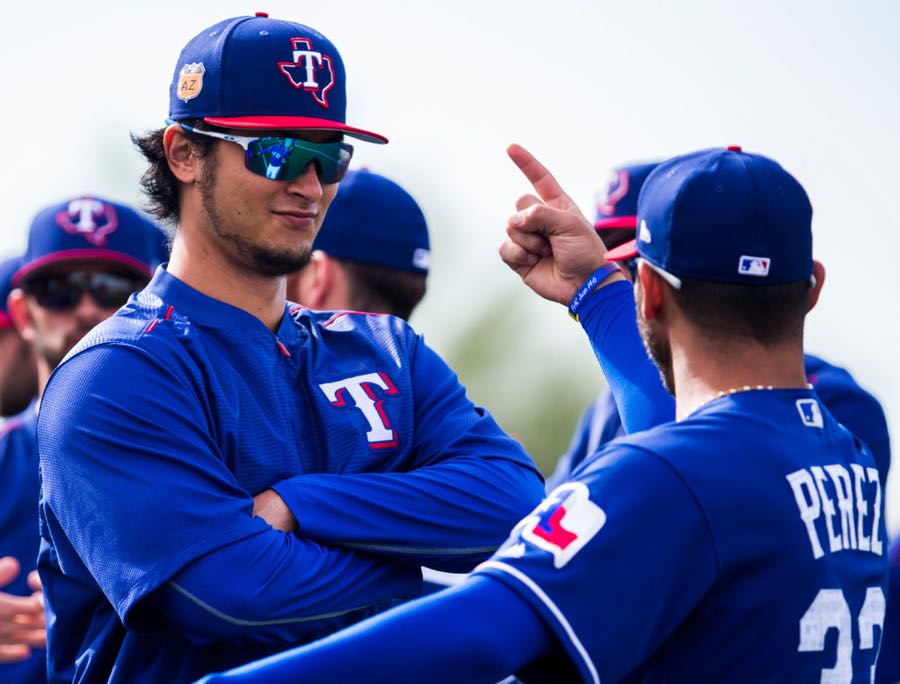 Every year, you look for that bargain player, that DEEP sleeper that no one would ever draft (even though he's currently ranked 578th and has been drafted in 0.0% of leagues). But sometimes, you just need that ole reliable to help you win the title and drink the tears of your whimpering friendrels. While you certainly can't win your draft in the top rounds, you most certainly can lose it. Well, I am here to provide you with a couple of my favorite choices in the first few rounds of your draft who you should be reaching for…maybe a little early…but don't forget to remind your friends of that pick when you're sitting on the Iron Throne.
Yu Darvish
Who has the record for the most strikeouts in his first 100 games started? I don't know how you guys guessed Yu Darvish, but you nailed it. The guy with a 7-pitch repertoire and an electric fastball has been setting people up and sitting people down year after year, but he has gone mostly unnoticed because of his recent injury history. Well my furry little friends, this ace is back with a vengeance, fully healthy, and ready to lead your staff as a bona fide SP1. Currently being drafted around #50 overall and the SP10 overall, Yu profiles more as a top 5 SP overall and is currently second favorite to win the AL Cy Young. Given that his FIP has never been above a 3.30 and he has a career BABIP roughly equal to the league-average .300, Darvish is rock solid, reliable performer bound to give you well over 200 Ks and a low 3 ERA on a great offensive team with World Series aspirations. I'm no doctor, and I can't predict the future, so I'll stay away from calling him a health risk and buy into his 2017 campaign.
Jose Bautista
Currently going in the 8th rounds of drafts as the number 27 OF overall, Jose Bautista would love to forget a rather forgettable 2016 season. A career low in average and a sharp increase in K rate contributed to his pedantic performance, but lets not forget he was battling turf toe and still ended up with an .850 OPS over the final two months of the season after his return to action. With Edwin Encarnacion no longer on the squad (although Kendrys Morales is no slouch), Bautista should move back down from leadoff into his more traditional role as that run-producing number 3 or 4 hitter in one of the more offensive lineups and parks in baseball.  Couple that with a return to norm for his ISO and the fact that he signed a prove-it one-year deal, we could see a return of vintage Bautista, which means a line to the tune of 35/100/90 .880 OPS (and a top 12 OF ranking) is not out of the question.
Craig Kimbrel
I remember the simple times when it was only Craig Kimbrel or Aroldis Chapman vying for best reliever in the game for years. Now? Zach Britton, Edwin Diaz, Kenley Jansen and others are throwing their hat into the mix. But ladies and gentlemen, lets not forget our brethren Mr. Kimbrel and his dominance since he entered the league. For starters, he is still only 28 and plays for the consensus (but now debatable after the elbow of injury of David "I Can't Stop Using Twitter" Price) best team in the American League, the Boston Red Sox. Let us not also forget that his K/9 went UP last year. So what happened?  His career 83% LOB percent dropped to 71% (previous career low of 81%) and his walk rate skyrocketed, leading to a career high in hard hit ball percentage and fly ball percentage, and a career low in ground ball percentage as Kimbrel consistently pitched from behind in counts. What does that mean? Simply, he needs to throw more strikes. His first year in a new league was good, not great, and there might have been some need for him to adjust and get used to the new bright lights in Boston. He still was able to produce a FIP in the high 2's, which, although higher than his norm, still suggest he was a top reliever. Currently drafted as the RP10 off the board, I would not be surprised in the least to see Kimbrel regain confidence and become more comfortable in his uniform this year, leading to a top 3 closer finish.
Adam Jones
We ain't talking football here, so no need to worry about arrests and off-field incidents. This guy is about as consistent as they come. Currently being drafted in the 7th round as the OF25, all the baseball version of Adam Jones has done is play in 95% of his teams games, average 30 HRs (while never hitting less than 27) and average 90 Runs and RBIs (while having less than 80 in either category only once) over the past 5 years. Add in the fact that he bats at the top of a stacked, power hitting, run producing lineup, if his career low BABIP returns to norm, Jones could be due for another stellar 2017 campaign. If you can take the slight hit in average (and OBP if your league accounts for that), you could be looking at a 28/90/90/800OPS guy in the 7th round. Sounds juicy, so I'd bite and keep on with the Joneses.
Chris Archer
Do we all remember the 2015 campaign that saw Archer post 250+ strikeouts with a 3.23 ERA while finishing 5th in the Cy Young voting? Do we also remember his post All-Star break stats last year of a 3.25 ERA and 10.15K/9? Because I do. Listen, I know he plays for Tampa Bay, who may score 15 total runs this year, which will impact his win total. I also know he had a 4.02 ERA last year overall. But I also know his 2016 ERA exceed his xFIP by more than one-half of a run and his HR/fly ball rate was the highest of his career by roughly 5%. Given his BABIP, K/9, GB% and almost all other metrics from his 2016 campaign were in line with his career norms, we can expect his stats in 2017 to go back to their norms as well. Given his durability and reliability, I'd be tuning in to the normally channeled greatness of the Chris Archer Show in 2017.
There you have it . Roto Street Journal is sliding head first into fantasy baseball, so check back throughout the week and beyond for top-tier fantasy baseball coverage.