Player Stock Ticker
2017 Fantasy Baseball Rankings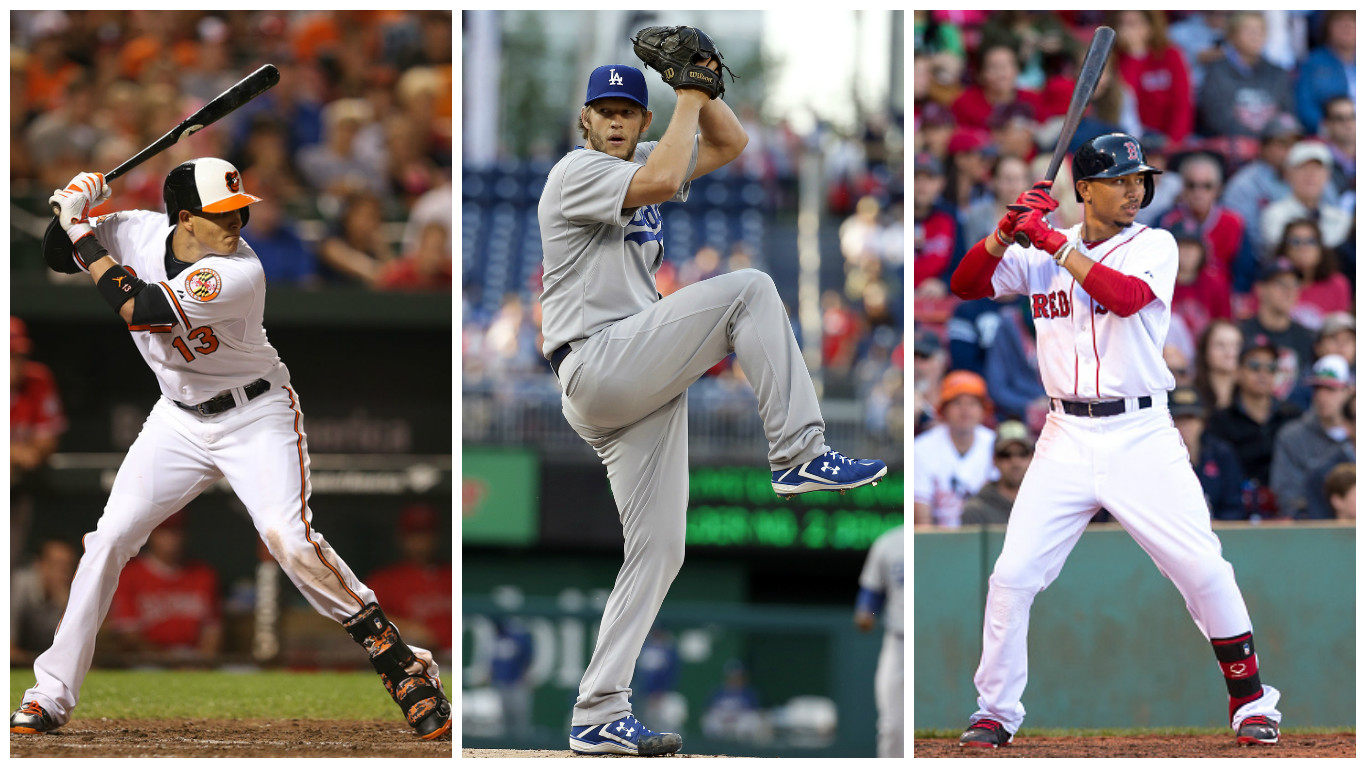 Welcome everyone to the 2017 Fantasy Baseball Rankings for Roto Street Journal. Below you will find our top 10 players ranked at every position (except for OF, SP and RP, which you will find the top 20 ranked). I plan on getting each and every one of these positional rankings perfectly correct, so feel free to verbally abuse me and/or tar and feather me at the end of the 2017 baseball season. As a note, for players who have multi-position status, I will rank said player at the position where he should be rostered / the spot where he is more valued (for example, Kris Bryant will be ranked as a 3B for the purposes of this article, not an OF or 1B).
Catcher Rankings
Buster Posey (SF)
Jonathan Lucroy (TEX)
Gary Sanchez (NYY)
Kyle Schwarber (CHC)
Salvador Perez (KC)
Evan Gattis (HOU)
Wilson Contreras (CHC)
Yasmani Grandal (LAD)
Russell Martin (TOR)
J.T. Realmuto (MIA)
I know Gary Sanchez is the flavor of the month, but no one can take Buster Posey's spot until I see some serious, steady production. The potential breakout of the group is The Yasmanian Devil himself, Yasmani Grandal. If Grandal could learn some plate discipline, he will find himself batting in the middle of a pretty robust Dodgers lineup, a spot ripe for solid year-long production.
*I understand that Kyle Schwarber might not be eligible at Catcher in every league, so if that is the case in your league, move everyone up one spot, and I would add (Beef) Welington Castillo (BAL) at the 10 spot.
First Base Rankings
Paul Goldschmidt (ARI)
Anthony Rizzo (CHC)
Miguel Cabrera (DET)
Joey Votto (CIN)
Freddie Freeman (ATL)
Edwin Encarnacion (CLE)
Chris Davis (BAL)
Hanley Ramirez (BOS)
Jose Abreu (CWS)
Wil Myers (SD)
Hanley Ramirez is the one to keep an eye on in this group. No one can ever take over for the greatest DH that ever lived, David Ortiz (and the most influential Boston athlete of my lifetime that doesn't wear #12), but batting cleanup in the Red Sox lineup will work  wonders for Han-Ram. Also, don't overlook the fact that he will receive more at-bats at DH because of the Red Sox roster flexibility, meaning less likelihood for injuries. Also, Freddie Freeman could surprise everyone in this group. Coming into his age 27 season, Freeman has been on the steady rise for a while now in the dim lights of Atlanta, but now with a longer lineup due to the addition of Brandon Phillips and the protection provided by Matt Kemp (see below), Freeman could break out even more than his eye-popping 2016 season.
Second Base Rankings
Jose Altuve (HOU)
Robinson Cano (SEA)
Brian Dozier (MIN)
Trea Turner (WSH)
Daniel Murphy (WSH)
Jonathan Villar (MIL)
Rougned Odor (TEX)
Ian Kinsler (DET)
Matt Carpenter (STL)
Dee Gordon (MIA)
Washington Nationals second basemen, how you confuse me so — Daniel Murphy and Trea Turner may be the most befuddling players in all the fantasy baseball land. We should all be expecting major regressions from Babe Ruth, I Daniel Murphy, and Turner could be Willie Mays, but are we already at that point? Buyer beware I say. Had we polled people before the start of last season, Jonathan Villar would have easily been the biggest surprise name on this; yet, batting in one of the friendliest parks in the majors, with home run hitters up and down the Brewers lineup, this 60+ base stealer and near 20 home run big bopper is one of the more appealing 5-category studs in 2017.
*I understand that Jonathan Villar might not be eligible at Second Base in every league, so if that is the case in your league, move everyone up one spot, and I would add Dustin Pedroia (BOS) at the 10 spot.
Third Base Rankings
Nolan Arenado (COL)
Kris Bryant (CHC)
Josh Donaldson (TOR)
Kyle Seager (SEA)
Anthony Rendon (WSH)
Adrian Beltre (TEX)
Alex Bregman (HOU)
Justin Turner (LAD)
Todd Frazier (CWS)
Evan Longoria (TB)
I have a confession to make for everyone and I really do not care who knows it: I LOVE Nolan Arenado when it comes to fantasy. His BABIP, ISO and batting average are so consistent. He plays half the time in the launching pad known as Coors Field. His walk rate jut DOUBLED to 9.8%. He is not even 26 yet. Stop me before my heart palpitations lead to cardiac arrest. Alex Bregman is one of the most appealing young studs for fantasy in recent memory. If he can take advantage of that short porch in left field like I think he can (which I believe was recently estimated to be 117 feet away from home plate), he could be driving in runs in droves considering the depth and talent in that Astros lineup.
Shortstop Rankings
Manny Machado (BAL)
Carlos Correa (HOU)
Francisco Lindor (CLE)
Corey Seager (LAD)
Xander Bogaerts (BOS)
Trevor Story (COL)
Addison Russell (CHC)
Jean Segura (SEA)
Aledmys Diaz (STL)
Jose Peraza (CIN)
Come back to Roto Street Journal on Thursday for my thoughts on Jean Segura and Addison Russell, both of whom will be involved in my Bold Predictions article (cheap plug for myself, ah thank you). Also, I see you Francisco Lindor, a true 5 category superstar possessing some of best hitter skills in the game with quick hands, speed and plate discipline. Now he has the lineup to match his own talent with the addition of fantasy ace Edwin Encarnacion.
*I understand that Jonathan Villar might not be eligible at Second Base in every league but would be eligible at Shortstop, so if that is the case in your league, slot Villar at number 6 in front of Trevor Story and move Jose Peraza out of the top 10.
Outfield Rankings
Mike Trout (LAA)
Mookie Betts (BOS)
Bryce Harper (WSH)
Charlie Blackmon (COL)
Ryan Braun (MIL)
George Springer (HOU)
Nelson Cruz (SEA)
Starling Marte (PIT)
Yoenis Cespedes (NYM)
Christian Yelich (MIA)
A.J. Pollock (ARI)
Carlos Gonzalez (COL)
Giancarlo Stanton (MIA)
Gregory Polanco (PIT)
Jose Bautista (TOR)
Justin Upton (DET)
Mark Trumbo (BAL)
Andrew McCutchen (PIT)
Adam Jones (BAL)
Matt Kemp (ATL)
J.D. Martinez and Ian Desmond's family members might not like these rankings, but given the current injury situation of each, I cannot give either the RedSocker certified thumbs up of approval. Conversely, Bautista could finish very high. As you know, I am very high on both Adam Jones, who continues to be one of the most consistent fantasy baseball performers, and Jose Bautista, who after just one down year everyone is avoiding like he has Leprosy or the Black Plague. Given the injury history of those player ranked directly in front of Bautista, I could make the argument a top 10 fantasy OF finish is not out of the question for 2017.
*I understand that Kyle Schwarber might not be eligible at Catcher in every league but would be eligible at OF, so if that is the case in your league, these rankings would not change: I would have Schwarber ranked somewhere in the 21-23 range. Sorry Kyle, but not really.
Starting Pitchers Rankings
Clayton Kershaw (LAD)
Max Scherzer (WSH)
Madison Bumgarner (SF)
Chris Sale (CWS)
Noah Syndergaard (NYM)
Yu Darvish (TEX)
Corey Kluber (CLE)
Johnny Cueto (SF)
Jake Arrieta (CHC)
Jon Lester (CHC)
Chris Archer (TB)
Justin Verlander (DET)
Stephen Strasburg (WSH)
Cole Hamels (TEX)
Carlos Martinez (STL)
Gerrit Cole (PIT)
Carlos Carrasco (CLE)
Kyle Hendricks (CHC)
Jacob DeGrom (NYM)
Masahiro Tanaka (NYY)
My lofty expectations for Chris Archer and Yu Darvish can be found here. Now excuse me while I put down my logic hat and I put on my Red Sox fanboy hat.  I know David Price had a subpar 2016, but it was not entirely miserable like all doom-and-gloom Red Sox fans of the area would love to tell you. Was he great? ABSOLUTELY not. Was he atrocious and did his peripherals indicate he pitched poorly? Nope. So, lets meet in the middle and call his 228 strikeout, 3.60 FIP 2016 campaign an average showing for the near quarter-of-a-billion-dollar man. Unfortunately Dave Dombrowski has bought (or traded for) another injured arm and all my 2017 hopes and dreams have come crashing down with the fury of 1,000,000,000 suns while Price agonizingly puts off the inevitable elbow surgery. (Puts logic hat back on). I fully expect a healthy Gerrit Cole to return to 2015 form where he had a 2.60 ERA (2.66 corroborating FIP) and averaged basically 9K/9IP.
Relievers Rankings
Kenley Jansen (LAD)
Aroldis Chapman (NYY)
Zach Britton (BAL)
Mark Melancon (SF)
Craig Kimbrel (BOS)
Seung-Hwan Oh (STL)
Edwin Diaz (SEA)
Kenneth Giles (HOU)
Roberto Osuna (TOR)
Wade Davis (CHC)
Kelvin Herrera (KC)
David Robertson (CWS)
Cody Allen (CLE)
Jeurys Familia (NYM)
Andrew Miller (CLE)
Cam Bedrosian (LAA)
Sam Dyson (TEX)
Alexander Colome (TB)
Tony Watson (PIT)
Jim Johnson (ATL)
I don't think I am putting my fanboy hat (back) on when I say  Craig Kimbrel is still one of the 3 best closers in the game. Couple that with him playing for one of the favorites to win the 2017 World Series and I see a bargain closer who is currently going 10th off the board for the RP position. I honestly think Dellin Betances is one of the best relievers on the planet, but pitching behind Aroldis Chapman is a fools errand if you're expecting a job promotion in the bullpen any time soon.  Cody Allen and Andrew Miller (similar to the Murphy/Turner debate above) are locked in another befuddling situation: I have no idea who will get the save on a given night, and I do not think Francona does (or even cares for that matter) either, making both players dicey in terms of the save category.
That's a (Bobby Valentine invented) wrap (sandwich). Don't forget to check back in daily for player updates and other information. Also, don't forget to scream at me in the comments for leaving your favorite player off this list / call me an idiot for getting something incorrect…and seriously, if you don't understand the Bobby Valentine wrap sandwich thing, do yourself a favor and Google it.