Player Stock Ticker
Panic in the Den – March Madness for the Boston Bruins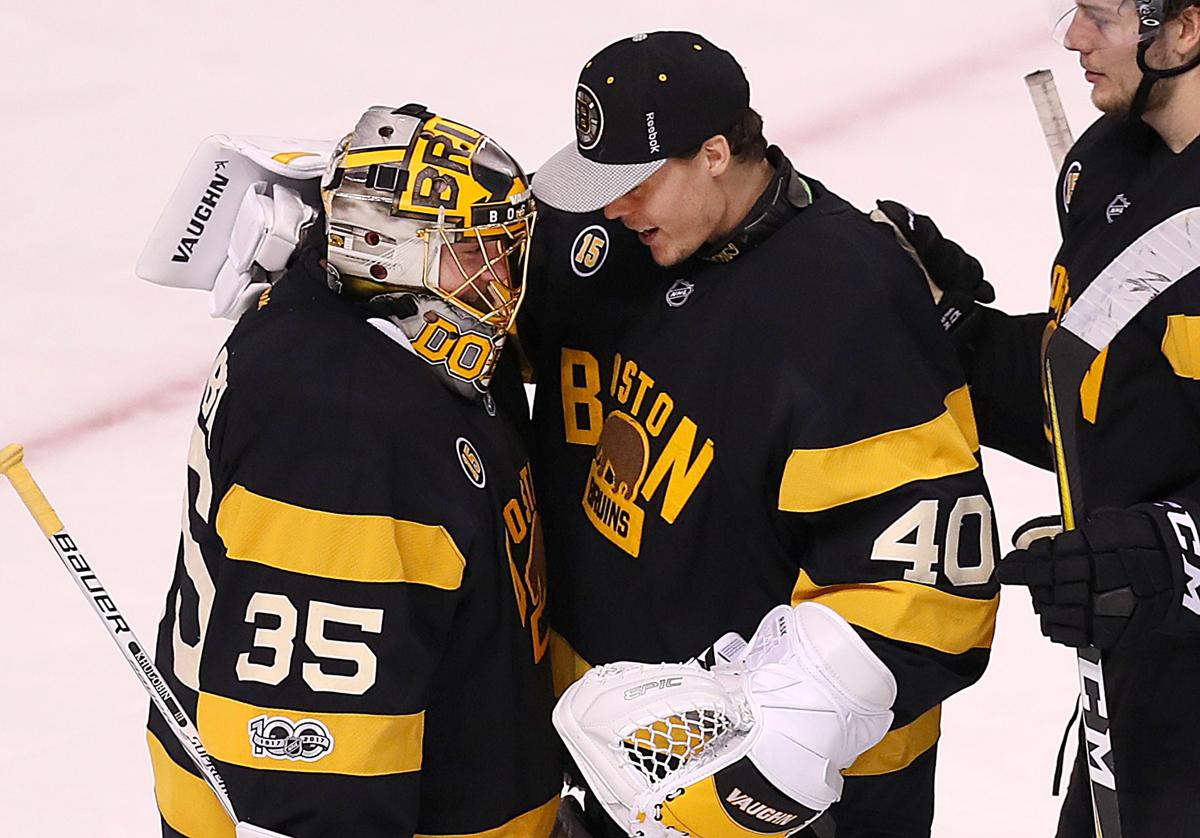 The Boston Bruins have a way of drawing you closer. Like a mosquito drawn towards a charge of electricity, our Beloved B's have that cardiac factor. Whether its losing at home 6-3 in a must-win game to an entertaining gutty victory in the depths of Brooklyn — this is must-see hockey.
Tuukka Rask has shouldered a lot of the blame at the hands of Boston media due to his inconsistent play and even uglier 8 year old boy face. To make matters worse, Tuukka was given a special "maintenance day" to get his head right, and would miss Saturday's game vs. the New York Islanders due to an "undisclosed injury." If there's one thing I can tell you about Boston sports fans, its that big contract princess athletes are not tolerated. Just ask David Price.
Since his recall from Providence on February 23rd, Anton Khudobin has played a solid month of hockey — winning his last 5 starts. One thing I have learned from watching years of NHL hockey is that riding a hot goaltender through the playoffs is vital to a team's chances at Lord Stanley's Cup. While "Dobby" doesn't have the same playoff experience or season-long grit of playing at the professional level as Rask, I wonder if a change at the helm could give the team the necessary spark needed for a playoff run? Rather than speculate, let's breakdown how each goaltender has fared in recent performances:
Tuukka Rask – last 5 starts (was pulled in Edmonton game)
@ Vancouver Canucks (Win) – 3 Goals Allowed – .897 Save %
@ Edmonton Oilers (Loss) – 5 Goals Allowed – .706 Save %
@ Toronto Maple Leafs (Loss) – 2 Goals Allowed – 929. Save %
Ottawa Senators (Loss) – 3 Goals Allowed – .864 Save %
Tampa Bay Lightning (Loss) – 5 Goals Allowed – .821 Save %
With the exception of the Leafs game, Tuukka has not played like a playoff caliber keeper.
Khudobin on the other hand, has looked very sharp serving as Rask's subordinate since returning from the B's AHL affiliate.
Anton Khudobin – last 5 starts (not including EDM substitution)
Vancouver Canucks (Win) – 3 Goals Allowed – .906 Save %
@ LA Kings – 1 Goal Allowed – .964 Save %
NJ Devils – 2 Goals Allowed – .882 Save %
@ Calgary Flames – 2 Goals Allowed – .913 Save %
@ NY Islanders – 1 Goal Allowed – .947 Save %
Ladies and gentleman – the results are in. We have a clear winner – and it's not the former Vezina Trophy winner.
Will 2017 breed the same results as 2015 and 2016 with a huge let down for the Boston faithful?
Will Tuukka Rask rise from the ashes after his 4 day break to reclaim his spot in the crease in tonight's crucial match-up against the Nashville Predators?
With only a handful of games remaining and a playoff berth still to gain in the Eastern Conference, the Bruins need Rask to summon his old self. Bruce Cassidy has made no debate over who the Bruins #1 choice will be down the stretch. It's Tuukka time in Boston, and the Bruins will need the Finnish product to play his best hockey this spring if they want to avoid the franchise's longest playoff drought since the days of Bobby Orr.
Boston Bruins Remaining Schedule:
Tue, Mar 28

vs

Predators

Thu, Mar 30

vs

Stars

Sat, Apr 1

vs

Panthers

Sun, Apr 2

@

Blackhawks

Tue, Apr 4

vs

Lightning

Thu, Apr 6

vs

Senators

Sat, Apr 8

vs

Capitals