Player Stock Ticker
So, You Want to Finish 7th Place in Your Fantasy Baseball League?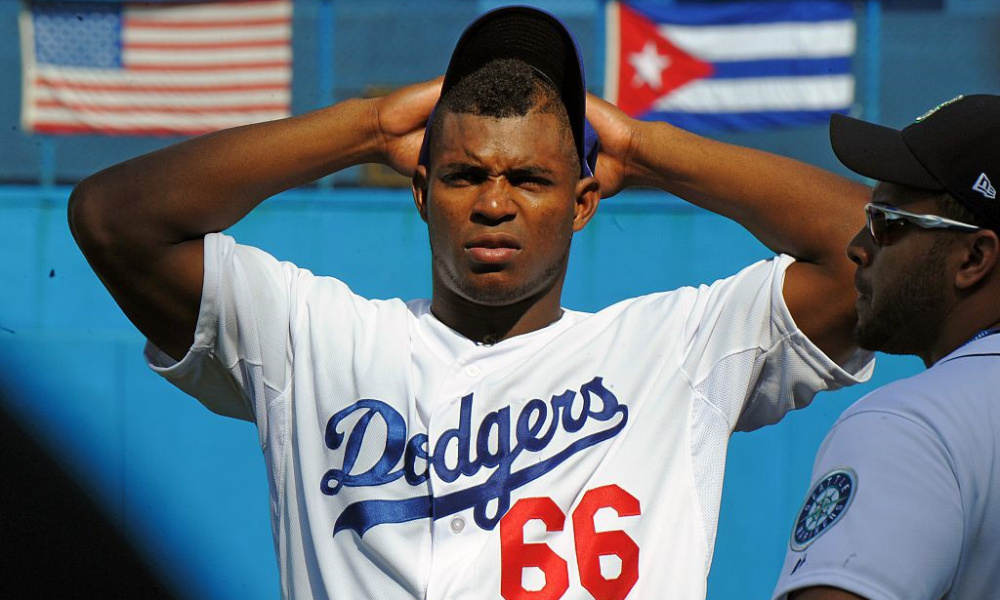 I know what you're thinking. You're thinking, "I want to spend hundreds of hours this summer ignoring my family and fiendishly checking baseball stats in the hopes that my rotisserie fantasy baseball team overcomes the odds and finishes 7th place." Well then you've come to the right place!
My name is Johnny Goodtimes, a friend of The Truth's and I finished 7th place in my fantasy baseball league last year. I'm back at it with my winning ways this year, and after following my advice, you'll be drinking the kind of  champagne people drink after finishing in the top 58% of their leagues! Not everyone can finish 7th out of 12 teams, but after doing that last year, I want to share my success secrets with you.
But enough about my impressive credentials, let's get to the old meat and potatoes. Or, if you're a vegetarian, the old tofu and quinoa. (Wait, vegetarians can eat potatoes, right? Then scratch the quinoa thing.)
First of all, I'm assuming you're playing in a rotisserie league, because what kind of asshole plays head-to-head baseball? If you think that fantasy baseball should be head-to-head,go back to fantasy football, you simpleton clown. You ass. You—wait a second, why am I so angry at you? Sorry. I was out of line.
After extensive studying that took me from the cornfields of Iowa, to the highest peaks of the Himalayas, I have identified five players you should try to snag, and five players you should avoid. And if you take notes, and LISTEN TO EVERYTHING I SAY, I guarantee you finish 7th or higher in your league, or you get your money back**.
OK, here are five sleepers you should snag at your draft:
1. Keon Broxton
I grabbed this dude off of waivers last year, and without his 23 steals, there was no way I could have been the champion I was. The dude can flat out fly, he's having a terrific spring (the guy who actually won my league says "You can't really tell anything from spring training." But what does he know)? And he's probably gonna start the season batting 2nd. What could possibly go wrong? (Guy taps me on the shoulder, reminds me that I took DeLino DeShields way too early last year). Oh, right, that. That could go wrong.
2. Odubel Herrera
I love this dude, and not just because his first name is so much fun to say. Not only did he have a terrific year last year, but he's being moved to 3rd in the lineup, so his RBIs should rise this season — like the tides, as the ice caps melt and CFCs continue to wreak havoc on our environment. When will our political leaders start to…WHOA, sorry! Got a little off topic there.
3. Gerrit Cole
Boy, did he screw me last year. I mean, just put me over a barrel, pulled my pants down, and then–wait, this is getting a little too graphic for a fantasy baseball post. Cole had a ribcage injury the first half of last year, then hurt his arm in the 2nd half, so I'm going to throw those numbers out. He's going to get his groove back. He was unhittable two years ago, and while I don't think he's gonna have a 2.60 ERA again, I think he'll look more like he did two years ago than he did last year, when he forced me to disrobe, then made me put on some assless chaps, and then — nevermind. I'd prefer to not talk about it.
4. Danny Salazar
This guy is ranked 170th by Karabell on ESPN. Just insane. Just two seasons ago, he had 195 Ks, a 3.45 ERA, and a 1.130 WHIP. He was hurt most of last year, but let me share a little fun fact with you: every single pitcher in baseball got hurt last year. It was nuts. Even Kershaw got hurt. And Kershaw never gets hurt. Anyways, grab Salazar earlier than 170, and if he's healthy it's going to pay off huge. YOU CAN TRUST ME. I'M A CHAMPION.
5. Kole Calhoun
Karabell has this dude 146th, 24 spots behind Yasiel Puig. Whaaaaaa? Kole Calhoun (or as I like to call him, Cole Kalhoun), had 7 more HRs, 31 more RBIs, and more than doubled the number of runs Puig scored. Just a travesty of justice. Reminds me a bit of the Scopes Monkey Trial. How can you put the monkeys on trial when they can't even speak english?
Ok, now here are my five guys to avoid like the plague. Speaking of which, the Black Plague killed off over 20% of the world's population. Think about that for a second. 20% of everyone! Dead! And what a terrible way to go. One minute you're fine, then you get a fever with chills, the next thing you know blood is flowing from all of your orifices, and your skin is turning dark and you prepare to meet your maker. On that note, let's talk for a few minutes about Yasiel Puig…
1. Yasiel Puig
This guy blows. People still overrate him because he's a "name" with "potential". He stinks! Avoid at all costs.
YOU: But his numbers after he came back from injury last year… (smack)
ME: Shut your mouth! When you've finished 7th in a 12 team league then you can talk back to me!
2. Giancarlo Stanton
Abort! Abort! As recently as last year, he was still a first rounder because of all the potential. "What if he could just stay healthy for a season", you thought as you made the decision that ruined your season. Well now we've got our answer. He can't stay healthy. Relatively speaking. As far as we know, he's not bleeding out of his orifices.
3. Starling Marte
This isn't a guy to completely avoid, but I just see no reason why he's so highly ranked. Starling Marte (Latin for "Sparrow of the morning")** is good at everything, but not great at anything. Compare his numbers last year to Odubel Herrera's — especially if you're in an OBP league…like you should be, unless you're some sort of imbecile. Odubel scored more runs (87-71) and hit more homers (15-9), while Marte had more steals (47-25). They were basically even in OBP and RBIs. Now, Herrera did have over 100 more at bats, but that's another problem with Marte; he's missed 27 or more games in 3 of the past 4 years. If he slips in your draft, sure, take him. But a draft ADP of #20 when a guy like Herrera can be had in most leagues after pick #100 is just crazy to me. You know what else is crazy to me? Donkey basketball.
4. Buster Posey
Listen, I loved the Extinction Level Event album as much as anybody, and Woo-Hah! Got You All in Checkis a great tune. But I haven't heard much from him lately that…Wait, what? Oh, my bad, I got Buster Posey confused with Busta Rhymes. Common mistake. Anyways, don't draft Posey. You don't want to grab a catcher that early in the draft. Get somebody like Salvador Perez or Russel Martin later in the draft, then pass the Courvoisier.
5. Zach Greinke
Yeah, he's a big name and you might be viewing him as a prime bounce back candidate. Don't! Greinke is done. His velocity is way down in spring training. He pitches in a hitters park. He doesn't floss regularly. He screams at old people. There's just nothing to like about Greinke heading into this fantasy season.
**Not true.
Well there you have it. Just grab the first five guys, avoid the 2nd five guys, and start spending that championship money that you're going to win come October. Go ahead! Get yourself something nice. I GUARANTEE you'll be winning all of that money back in a few months, so spend liberally and with confidence!