Player Stock Ticker
Daily Fantasy Baseball Picks- Opening Day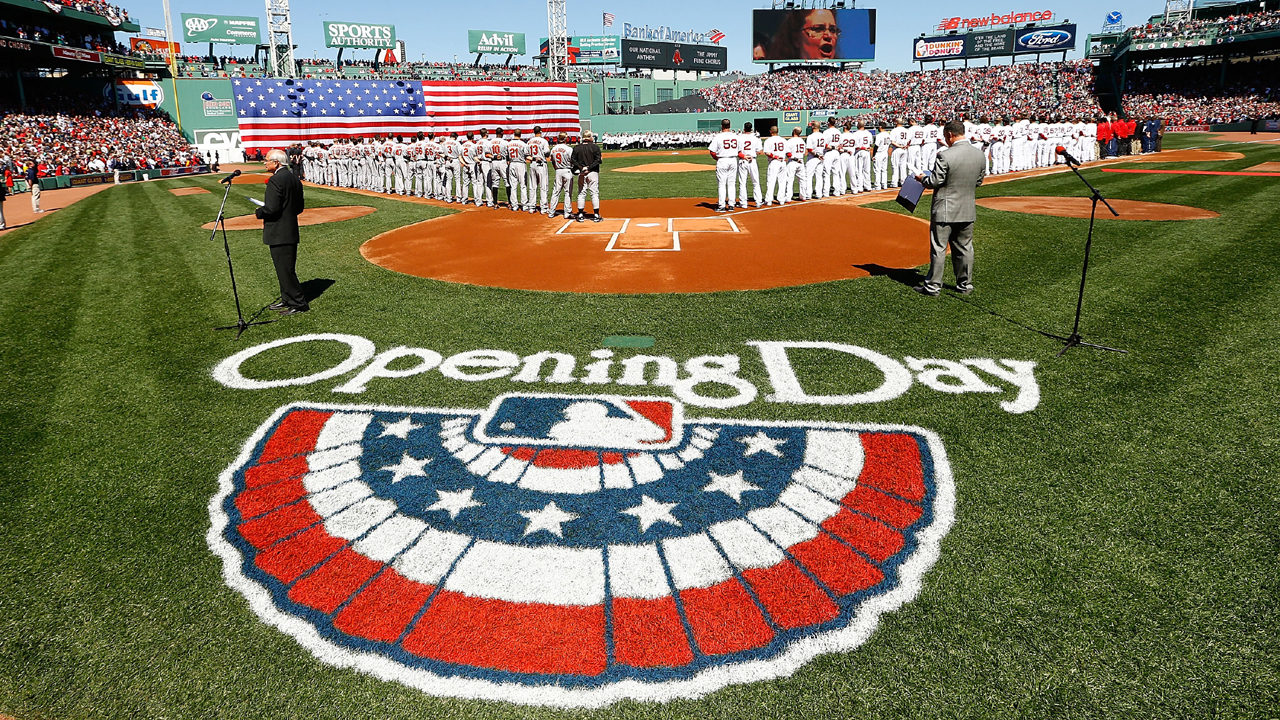 It's been a long, loooooong winter, but the day we thought may never arrive is finally here. Yes, it's Opening Day. I know yesterday was technically Opening Day, but that's kind of like how the play-in games for the NCAA Tournament are technically the first round — yeah, yesterday was fun, but today's the real deal. 24 teams will be in action today, with first pitches from 1:05 p.m. to 10:00 p.m.. Baseball's back, baby, and I couldn't be happier.
The return of baseball also means the return of baseball DFS, so here are my picks for today to help you maybe make a few bucks while you enjoy the green grass, crack of the bats, and the unofficial beginning of spring.
Pitchers
Stephen Strasburg vs. Miami ($9,900)
Coming off a solid 15-4, 3.60 ERA season in 2016, Stephen Strasburg is back starting Opening Day for the Nationals in 2017. Stras began last season by signing a 7-year, $175 million deal, and followed that up by winning his first 16 decisions of the season. He did make a few appearances on the 15-day disable list with back and elbow injuries, but managed to make 24 starts and throw almost 150 innings. It's unfortunate that those numbers are acceptable for a guy with Strasburg's talent, but with his injury history we'll take what we can get. Strasburg turned in a 6 inning, 1 ER, 3 BB, 4 K performance in his first start last year, and historically does alright in his first start of the season, never allowing more than 4 earned runs in his season debuts to date. He'll face a Marlins offense that ranked 27th in the majors in runs scored a season ago and made no major additions to that lineup for 2017. He's pretty pricey at almost $10,000, but it's always worth it to reach for a major pitcher, and Stras is set up for a nice Opening Day performance.
Danny Duffy @ Minnesota ($8,600)
After starting last season in the bullpen and gradually becoming one of the team's best starters, Danny Duffy will make his first Opening Day start against the Twins in Minneapolis today. The 28 year old is coming off of arguably his best season as a pro, racking up a career-high 12 wins in 26 starts and finishing with an ERA of 3.51. Now Duffy will take over as the ace of the Royals staff, a role he seems more than capable of holding down over the course of the season. He also signed a 5-year extension this past offseason, so he'll likely be eager to prove his worth to the organization as soon as possible. Like Strasburg, Duffy faces an unimpressive offense in the Twins. Minnesota was 21st in the majors in team batting average a season ago and finished dead last in the AL Central, a whopping 35.5 games back of the AL Champion Indians. Duffy is due for a breakout year in 2017, and today will likely be a step in the right direction.
Infield
Catcher – Sandy Leon ($2,900)
Sandy Leon earned his spot as Boston's Opening Day catcher, hitting .310 in 78 games a season ago. He's certainly not the best defensive catcher that the Red Sox have in their system – that honor belongs to Christian Vazquez – but Leon's bat was enough to make him irreplaceable for Boston. Leon started the season hot, and although he cooled off as the season progressed, certainly had his best season as a pro in 2016. It should also be noted that the Red Sox will face Pittsburgh at home today, where Leon hit .325 in 2016, compared to ,295 away from Fenway. They'll also face Gerrit Cole, who's coming off a disappointing season in which he won just 7 games and turned in a 3.88 ERA. Leon's a cheap option at just $2,900, and always liable for a big game on any given day.
First Base – Chris Davis ($4,300)
Chris Davis is a tough one to gauge for DFS, because you're just as likely to get 2 homers as you are to get 3 strikeouts. Davis' hitting numbers dropping across the board last year, with homers falling from 47 to 38 and RBIs from 117 to 84. Meanwhile, Davis struck out 219 times last season, a career high for the guy who basically invented the strikeout. I know I'm not making a convincing case for Crush here, but I happen to think he's a great candidate to turn it around in 2017. He's entering the 2nd year of his 7-year, $161 million contract, and historically players tend to struggle in the first year of giant deals, as we all know. The O's face Marco Estrada and the Blue Jays at home today, and I expect Davis to have himself a decent Opening Day.
Second Base – Dustin Pedroia ($4,100)
With David Ortiz chilling on a beach in the Dominican somewhere, Dustin Pedroia now becomes the unofficial captain of the Red Sox. He's certainly ready to take on the role, as he's been a vocal force in the Boston clubhouse virtually since his rookie year in '07, but now he's needed more than ever. And as a relatively cheap 2nd base option who hit .318 last season and a ridiculous .334 at Fenway Park, he makes a lot of sense for today.
Third Base – Nick Castellanos ($3,600)
2016 was a breakout year for Nick Castellanos, setting career highs in batting average (.285) and homers (18). He started the season on fire, hitting .363 in April, but predictably cooled off as the season progressed. He also saw some time on the disabled list late in the year, and his return from the DL brought with it a slow second half of the year. He's back and healthy and starting at 3B again for Detroit, who'll face off against Jose Quintana and the White Sox today in Chicago. Castellanos is a .281 lifetime hitter against Quintana, but something tells me Detroit could chase him early in this one, opening up some ABs against Chicago's unimpressive bullpen.
Shortstop – Asdrubal Cabrera ($3,500)
Picking Mets always worries me to a point. I like the Mets, mostly because Mets fans hate the Yankees almost as much as Sox fans do, but injury-wise and otherwise they just worry me. But Asdrubal Cabrera is a cheap SS option at just $3,500, and as we know, it's typically the veterans who can downplay the nerves on Opening Day and have some success. And, of course, Cabrera is very well-rested, having not expended too much energy during spring training. Cabrera is 4 for 12 lifetime against Julio Teheran, Atlanta's starter vs. the Mets today, and I think a multi-hit Opening Day is in the works for Asdrubal.
Outfield
Giancarlo Stanton ($4,600)
Coming off an injury-shortened 2016 in which he still mashed 27 homers, Giancarlo Stanton begins 2017 as arguably the only bright spot in Miami's dismal offense. He'll face off against Washington's Stephen Strasburg, which now takes me to my next point — yes, I understand the logic of not wanting to play a batter who's going up against one of your pitchers. I typically follow it, too, but as with most rules of baseball and basic physics, Stanton is the exception. He knocked in 74 runs in just 119 games a season ago, a 100 RBI pace for a full season, and that's with his teammates very rarely getting on base to start with. Stanton is 14 for 38 (.368) lifetime against Strasburg, and I expect that trend to continue to start 2017.
Adam Jones ($4,300)
After helping the USA to its first-ever victory in the World Baseball Classic last month, Adam Jones is back to help the Orioles contend in the always-competitive AL East. Jones is coming off what could be considered a down year in 2016, playing 152 games but hitting just .265 with 83 RBI. Jones is still considered one of the best defensive outfielders in baseball but, of course, in DFS we're really only concerned with what he can do with the bat. Jones' batting average jumps about 30 points when he's at Camden Yards, and he has the potential to pace Baltimore's offense, so at $4,300 he's a reasonable pick for today.
Yoenis Cespedes ($4,200)
After Yoenis Cespedes opted out of his contract following the 2016 season, some Mets fans — as they always do – expected the worst. But La Potencia made his triumphant return, inking a 4-year deal worth $110 million that includes a no-trade clause, which ensures Mets fans that even their grossly incompetent front office can't screw this up. Now, the 2-time All Star and 2-time Home Run Derby champ represents the main power source on a Mets roster that features a hell of a lot of pitching and not all that much else. Yo is 3 for 12 lifetime against Teheran but is also a much better hitter at Citi Field than away from it, making him a smart pick for Opening Day, especially at just $4,200.
Fantasy Baseball is finally back! Follow us on Twitter, Facebook, and Instagram to keep up on the latest that the RSJ has to offer, and check back every day for our world-class fantasy analysis.