Player Stock Ticker
Fantasy Baseball 2017: Hitter Streamers 4/2-4/9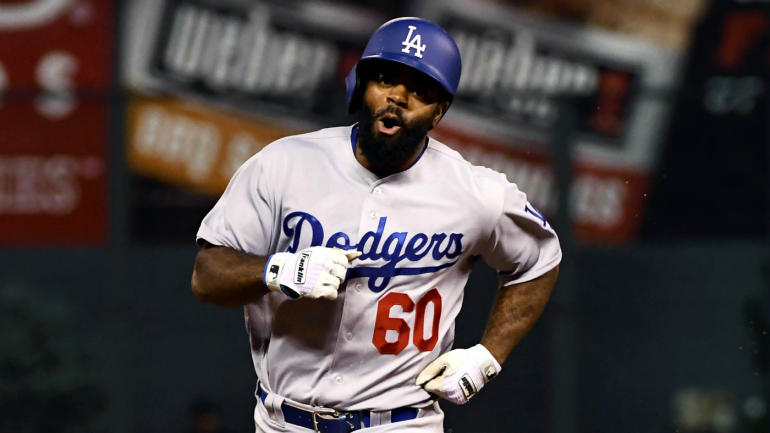 Hitter Streamers: Week 1, April 2nd-9th
After reading the title of this article, you may have asked yourself one question: "Is this real?". Is it really possible to stream hitters who can provide you with plus stats in a one-week pickup role? Well friends, I am here to tell you this is a very real phenomenon that I have utilized for years. Do you remember that one random week in early May last year that Brandon Phillips hit 5 (of his 11 total) home runs in one week? I certainly do, because I picked him up that Monday and rode him just for that week, then cut bait the following Monday. He probably felt used and abused, but that's the harsh life of fantasy baseball. C'ya never Brandon! To steal a great quote from a world-renowned philosopher,  "Anything is possssibbbbbblllllle" (Love you Kevin Garnett), and the theory and logic used in picking up hitter streamers is no different than streaming pitchers, which almost every does. As a disclaimer, this can be difficult. Not everyone will be a Brandon Phillips monster-type play. But what you will basically be looking at with these hitter streamers are (1) the right/left split stats, (2) the opposing pitchers, and (3) the stadium(s) the player will be playing in the week. If you do your homework, and understand the above checklist, you can find that extra Run or RBI to take the week from your opponent.
Andrew Toles, OF (LAD)
When your team's number one, opening day starter is Jhoulys Chacin, you know your rotation is not your strong point. The Dodgers begin their season at home with 4 games against the worst pitching staff in baseball, the San Diego Padres, and then visit the launching pad in Coors for a three game set. In total, the Dodgers will face 5 righties. Enter scene lefty Andrew Toles. Last year in limited action with the Dodgers, Toles produced an excellent .326 batting average and near .900 OPS against righties. Batting (potentially leadoff) in a pretty deep Dodger lineup against two of the worst pitching teams in the league, the Dodgers will likely be large favorites in every game with healthy projected run totals in Vegas, making Toles a sneaky great play for the first week of the season.
Joe Panik, 2B (SF)
The Giants will be travelling to hitter-friendly Chase Field for a 4 game set before settling down against those same San Diego Padres I just crucified in the prior player review. Joe Panik is one of my favorite deep-sleeper bounce back candidates for this year. Bad luck contributed most to his down year in 2016: his BABIP dropped to .245 while his career average prior to 2016 hover just above  the league-average BABIP of .300. Over his career, Panik doesn't really project better against lefties or righties (.282 average against lefties, .278 against righties), but he does display more power against righties (.759 OPS against righties, .707 against lefties). Luckily, we get four right hand starters for Panik this week and the three lefties he will be facing (Patrick Corbin, Robbie Ray and Clayton Richard) won't be setting the world ablaze any time soon.
Gerardo Parra,1B/ OF (COL)
With David Dahl sidelined for the first few weeks of the season, Gerardo Parra figures to be the main beneficiary of the last Rockies outfield position. Parra has always been a productive major leaguer, sporting a career .274 average, and is just one season removed from a near .800 OPS campaign. This week, Parra will show off his talents in Miller Park, one of the best hitter environments in all of baseball, against four right-handed Brewers starters. Parra, a lefty, follows the normal splits  (.279/.740 average/OPS against righties, .235/.619 average OPS against lefties) over the past three years, and figures to be apart of one of the highest scoring series in the opening week. Thereafter, Parra and the Rockies travel back to the friendly confines of Coors Field to take on two more righties in Brandon McCarthy and Kenta Maeda…just don't forget to bench Parra on Saturday against that Clayton Kershaw guy.
Tony Wolters, C (COL)
I am double dipping this Colorado Rockies chip and looking to stack all their lefties against the four Milwaukee Brewers right handers. Tony Wolters batted .267 against righties with a .757 OPS. For a catcher, those stat lines are very solid. Add in that he will be playing 7 games in Miller Park and Coors Field against 6 righties in one of the deepest lineups in baseball, and you've got yourself a waiver pickup steal. I hope you (like me) waited until the final rounds of the draft to take your catcher. If you did, your catcher is imminently droppable, and you might benefit from streaming at catcher all season long. Wolters is a great plug and play for this Week 1 and you should start him with confidence.
Come back to Roto Street Journal every weekend to check out my top hitter streamers and how to build your best lineup for success. Good luck navigating Week 1 everyone, and happy streaming! 
To contact me with any questions or general fantasy baseball discussion, please email me at redsocker45@gmail.com or tweet me ‪@AJGamballer‪.