Player Stock Ticker
Fantasy Baseball Waiver Adds Week 1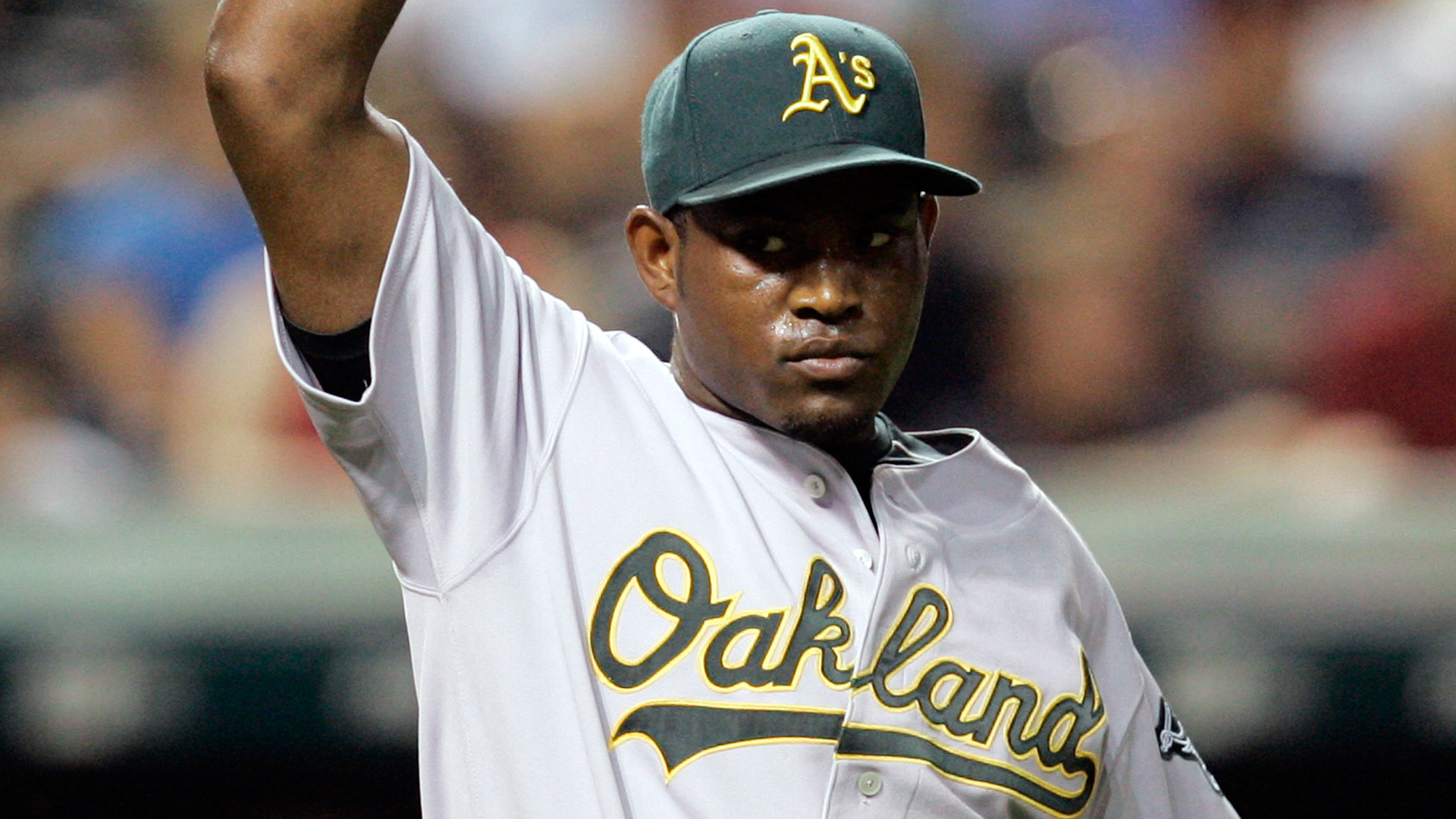 It's a few days into the season and you're already ready to drop your whole team for new guys right? I always suggest patience and caution when it comes to waiver adds and drops in the first 3-4 weeks of the season. You picked your players for a reason and you need a sample size of at least 100 at bats for the hitters and 5 or 6 starts for the starting pitchers to really get a handle on where your team is at and where it is moving forward. That being said, injuries have hit early this year for some and others may not have earned the starting job you were hoping for, so there are certainly some players you should be moving on from in search of the golden ticket.
For this week, I'm going to recommend three players to add for right now and three players to add for the future (since we're so early in the season). I may eventually blend these two categories together as we get further along in the year, but at least right now you should strongly consider picking up the "now" guys right away  and stash the "later" players away on your bench for the immediate future as they can, and will, make a big splash for you this year.
Three For Now
Santiago Casilla, RP, Oakland A's (31% owned on Yahoo); Jason Grilli, RP, Toronto Blue Jays (38% owned on Yahoo); Hector Neris, RP, Philadelphia Phillies (40% owned on Yahoo)
Okay, so my first of the guys to get now is actually three dudes not one. The reason I lump these guys together is that they are the latest in the closer carousel that just never ends every season. Santiago Casilla got the first save for Oakland, so while his manager proclaimed a timeshare in the Oakland bullpen, Casilla's Opening Day save provides us with some evidence that he may receive the bulk of those opportunities going forward. Jason Grilli will take over for the injured Roberto Osuna at closer for the Blue Jays while he recovers from neck spasms. View Grilli as a much more short-term option as Osuna should return after the minimum DL stay of 10 days, but Grilli can give you a few days of saves if needed. Hector Neris has not actually received the Phillies closer job but Jeanmar Gomez predictably played like trash on opening day and his manager already dropped hints that Gomez might not retain the role much longer. Add Neris as I expect he'll start collecting the saves as soon as Gomez has one more bad day (which may have already happened by the time you read this – Gomez sucks).
Danny Valencia, 1B/OF, Seattle Mariners (30% owed on Yahoo)
Many expected Dan Vogelbach to make the opening day roster for the Mariners and play 1B most of the time with Danny Valencia receiving the occasional at bats. Instead, Vogelbach got sent down to AAA while Valencia is getting all of the first base playing time. This may well change in the not too distant future, but for now, Valencia is a capable hitter with 17 home runs and a .287 batting average over only 471 at bats last year. If he takes this job and runs with it, he could put up 20 or more home runs while maintaining a good average and decent run and RBI totals. If you're looking for a utility man or bench depth, you could do much worse than a guy like Valencia.
Gerardo Parra, OF, Colorado Rockies (7% owned on Yahoo)
David Dahl is a future stud hitter for the Colorado Rockies. However, Dahl currently finds himself on the disabled list and I don't expect to see him back for most of April (if not the whole month). While Dahl is out, Gerardo Parra gets the opportunity to play outfield full time for the Rockies. I don't love Parra, but anytime a player with a modicum of talent gets the chance to play in Colorado it is important that we take notice. Parra can provide some homers and steals for the month of April, so if some of your players currently occupy that unsightly DL spot, look to Parra to provided some solid numbers in a great offense. If Dahl remains sidelined even longer, then you might hit on a bargain here and, at worst, you get a hitter in Colorado's lineup for a while. I assume everybody is well aware of this but if you aren't – playing in Colorado is basically equivalent to using aluminum bats while the rest of the league uses wood. A popular fantasy strategy is to get as many Rockies hitters as you can and play them when they have home games. This actually works! Do this!
Three For Later
Julio Urias, SP, Los Angeles Dodgers (70% owned on Yahoo)
I normally would not consider talking about a guy as a waiver add with a 70% ownership rate in leagues, but Julio Urias is a special case. He was just send down to the minors for the start of the season in an effort to limit his innings. As such, I expect that the ownership on Urias is going to drop as people start getting antsy to use that bench spot for a guy who is already playing in the majors. This kid is going to be a great pitcher and the Dodgers have a friendly home park for pitching, so I expect Urias to be a quality fantasy contributor as soon as he gets the call back up to the majors (which may be as early as 2 weeks from now). He is definitely worth the wait and you should be ready to pounce if his current owner gets impatient and drops him. 2018 is likely the breakout year when he becomes a top tier pitcher but he should show enough signs of greatness this season to keep owners happy.
Yoan Moncada, 3B, Chicago White Sox (37% owned on Yahoo)
Yoan Moncada is another guy who is ready to play in the majors but was sent to AAA for the start of the season. Unlike the Dodgers sending Urias to the minors to limit his innings, the White Sox sent Moncada down to delay his arbitration clock. This means we are not likely to see Moncada until late May, early June; Moncada, however, still will have the ability to make a Trea Turner like impact on your fantasy rosters this year. He will quickly earn eligibility at second base while already having third base eligibility right from the start. I never like to say that prospects are can't miss because anybody can end up as a disappointment, but I would be extremely surprised if Moncada doesn't end up being an All Star player sooner rather than later. He is well worth the bench stash until he comes up for good in early summer. Unlike the short fantasy football where you must act quickly and relentlessly, patience and forethought rule the land of fantasy baseball. In the case of Moncada, he should be owned in any league that has bench spots and if you are in one of the many leagues where he is currently not owned, grab him now and wait. Also, because the White Sox will likely not call up Moncada for at least 6 weeks, an owner will likely get tired of waiting, or get hit with injuries and need that bench spot, so watch for Moncada's name on the waiver wire and scoop him immediately.
Chris Carter, 1B, New York Yankees (30% owned on Yahoo)
If you read my bust article last week, you already know that I don't care much for Greg Bird this year. For all of the reasons that I mentioned last week, I don't have confidence in Greg Bird to keep the starting 1B job for the Yankees this season. Inevitably, when Bird loses his spot, Chris Carter take over the first base duties. Carter hit 41 home runs last year for Milwaukee and is capable of doing the same for New York with regular playing time. He won't help in batting average but that's an okay trade off for tons of bombs and RBI. It is rare to find a potential 40 home run guy just sitting on the waiver wire. While I don't suggest watching the awful Stallone movie from 2000, I do recommend that you Get Carter!
That's all for this week everybody. Are you feeling some of these waiver guys too? Think I'm crazy? Just want to ask a question or two? Holler at me in the comments below!