Player Stock Ticker
Fantasy Football Rankings 2017: Post-Free Agency Quarterbacks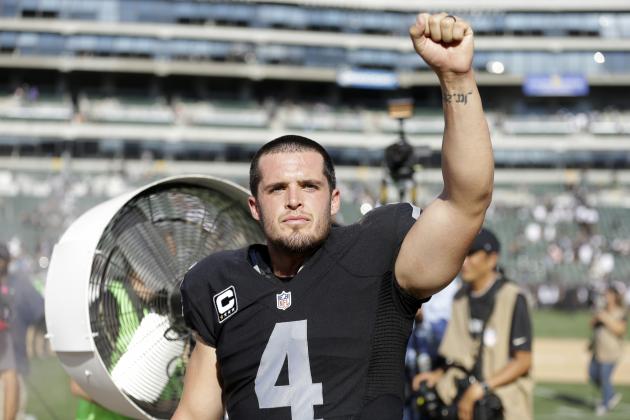 Tier Two – High-End QB1s
While not quite as week-swinging as the four above, the following QBs are general locks for 18-20 points.  They also all come with the ceiling to join those above, but have a few more questions to answer before joining The Elite.
5) Andrew Luck (IND)💩
While I would love to bump Luck into the elite — and most other experts will — I simply cannot justify it until the Colts sign him some legitimate protection. If that happens, he'll be welcomed with open-arms, as Luck trailed only Tom "Our Savior" Brady in passer rating when not under pressure; he simply had defenders in his face and was taking hits on nearly every drop back.  A full season of Donte Moncrief and his red zone wizardry would also boost Luck's 2017 outlook, especially with the speedy T.Y. Hilton back.  Should the seemingly ageless Frank Gore finally hit a cliff or retire, Luck would be relied on even further ala his 2014 which yielded 4,761 passing yards, 40 TDs as well as three rushing scores.  Simply put, the ceiling to match those above him has never been in question, Luck's floor is just a bit more scary with his team's current makeup.
6) Derek Carr (OAK)🔥
After posting 20 or more fantasy points in 8 of 15 games in 2016, Carr should be a shoe-in for top-10 status… assuming he's fully recovered from his fibula surgery.  That, of course, is the crucial information to track, but all signs point to a full recovery that won't linger at all. When he returns, Carr will step behind the AFC's premier line, with the beastly Amari Cooper and Michael Crabtree at his disposal.  Additionally, new offensive coordinator Todd Downing has already stated Carr will have both more control at the line of scrimmage as well as input into the weekly game plans, noting: "There's been a lot made about his command at the line of scrimmage. There's certainly going to be opportunities for Derek to do that…Where I see him needing a little bit more command is just being able to share his thoughts of gameplans. Being a student of the game, as he already is, but vocalize what he likes and doesn't like."
All signs point to another leap forward from a quarterback that was already trending towards the elite.
7. Kirk Cousins (WAS) ↗ (Previously QB9)🔥
Stock Up Update: Though the loss of DeSean Jackson and Pierre Garcon would seem to sting, Terrelle Pryor brings more to the table than either. If Josh Doctson can stay on the field and Jamison Crowder continues on his upwards trajectory, this offense should be even more dangerous than the one Cousins nearly tossed 5,000 yards in. He's a high floor, high-ceiling investment.
Previous Assessment: A yardage monster in his second starting season, Cousins just barely fell short of throwing for 5,000, averaging over 307 per contest.  This facilitated a QB5 finish and made Cousins one of only five signal callers to top 300 FPs in 2016. If all things were locked in place for next season, Cousins would be right up with the High-End QB1s.
Alas, there's the rub. Pierre Garcon and DeSean Jackson (as mentioned, both departed, but were replaced with arguably more explosive pieces) two of Cousins' top weapons, are set to depart in free agency.  Even more concerning, Cousins is part of trade speculation and might be on a new team and in an entirely new system all together. If he remains a Redskin, Cousins will jump a few spots even if he loses those two wideouts; Jamison Crowder is set to explode, Jordan Reed remains a monster, and the physically imposing Josh Doctson could be a difference maker with health. Regardless, Cousins will be one of this offseason's most interesting story lines to monitor.
8) Dak Prescott (DAL)
Behind the league's top offensive line and with a pressure-relieving running game that kept Dallas constantly in scoring range, Prescott was as sturdy as they come; the undeniably poised rookie dipped below 17 points only four times in his impossibly impressive debut season (one such performance was Week 17 when he was yanked very early). Given his extreme work ethic and love for film, Dak should easily be expected to take another leap forward in his sophomore campaign, especially considering Dez Bryant's health was a major question mark throughout 2016.  Everything that facilitated Dak's QB6 finish remains in place or will be upgraded, making him a juicy middle round quarterback to target.  Sure, team's will have film and will game plan appropriately, but there's an even greater chance Dak's own abilities ascend.
9) Marcus Mariota (TEN)🔥
Mariota should be one of the most exciting QB selections for 2016. This offense began really clicking in Week 5, and between that point and their Week 13 bye, Mariota was fantasy's top scoring QB, averaging over 24 points per game. He was using his athleticism and gaining chunk plays on the ground, while displaying tremendous command and accuracy through the air, and the Titans were a mini offensive juggernaut.
Unfortunately, an injury and difficult matchups derailed Mariota's torrid pace, thus creating a sneaky low floor to go with his tremendous upside.  Injury-wise, the news has been nothing but positive:
Mike Mularkey said QB Marcus Mariota is "doing very well." @Titans

— Jim Wyatt (@jwyattsports) February 23, 2017
Additionally, Mariota comes with a beefy, arguably top-three line that'll only gel further in 2017. If the team adds additional weapons, his already-elite ceiling will be raised even further, and he remains in one of the league's softest divisions. Still, Mariota's not a "draft and start every week" starter quite yet, but he's knocking on the door.
10. Ben Roethlisberger (PIT) ↗ (Previously QB13)
Stock Up Update:  All the latest news suggests Martavis Bryant's return is "expected" and "imminent."
Martavis Bryant not reinstated from NFL suspension yet, per NFL sources. No indication of when reinstatement will occur; expected eventually

— Aaron Wilson (@AaronWilson_NFL) March 29, 2017
The fantasy impact of Bryant's return on Big Ben's value cannot be overstated. In 22 games when both he and Bryant are on the field together, Roethlisberger has thrown for 7,287 yards (331 avg) and 43 TDs (1.95 avg).  Additionally, Roethlisberger had a passer rating of 126.5 when targeting Bryant, along with a 11:1 touchdown to interception ratio. A 16 game pace would yield 5,299 yards and 31 TDs… a shoe-in top-three campaign.
Of course, both of them staying on the field is the major rub here, and the reason Ben's so low despite his mammoth ceiling. Due to off-field concerns, Bryant has only played 22 games (including playoffs) through three seasons, while Roethlisberger has missed time in all but three of his 13 seasons. Additionally, Pittsburgh's 2016 team was at it's best when powered behind Le'Veon Bell.  Regardless, this is a huge development for Roethlisberger regaining every-week, high-end QB1 status.
Previous Assessment: Did you know Roethlisberger has only one top-10 fantasy finish over the past seven years? Indeed, he's one of the most accomplished real quarterbacks still active today, but fantasy-wise, the guy is severely overrated. Granted, injuries have played a massive role in this, but Big Ben's "never surrender" style of play almost assures he'll miss at least a handful of games in a given season. He also just looked flat out bad, especially on the road, on multiple occasions in 2016, and ultimately Roethlisberger was too inconsistent to ever feel comfortable rolling out.
On the plus side, the freakish Martavis Bryant could be returning, which would definitely yield a "Stock Up" for Ben. Additionally, Ben is one season removed from averaging an absurd 328 yards per game (5,248 yard pace) and had his best stats the year prior with 4,952 yards and 32 scores; Todd Haley's offense had indeed been a true juggernaut leading into 2016.  However, a run-heavier approach centered around superstar Le'Veon Bell yielded some serious success for this team, and might be the approach again in 2017. When you throw to Antonio Brown, arguably the game's top wideout, there'll always be value. But, with his motivation in question to enter the season, Roethlisberger may be on the downward fantasy spiral.
Continue on to Page 3 to see our Lower-End QB1s