Player Stock Ticker
Fantasy Baseball 2017: Hitter Streamers Week 3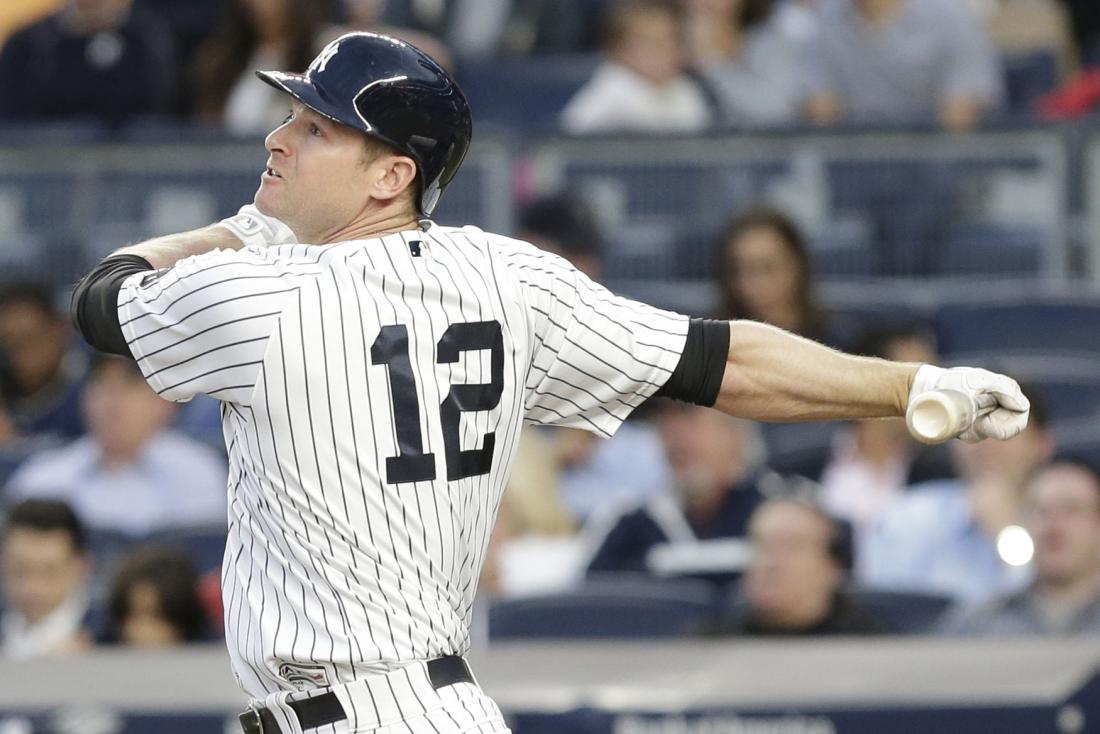 I nailed my hitter streamers Week 1. They combined to go 27/74 (a .365 batting average), and helped out in counting stats across the board. Last week…let's just pretend that didn't happen. The streamers hit .146 for the week, but did provide 4 home runs, 10 runs and 8 RBI, so all was not completely lost. Overall, my streamers are batting .267, which is better than league average and very respectable for your team, especially considering the counting stats they have contributed.
So onto the hitter streamers for Week 3. The pickings are rather slim as there are not many good teams with eye-popping schedules for us to take advantage of; however, through my scouring and endless research, I have found a few options who have playable weeks and will give you good production when used in the right spots. Just remember to cut them immediately thereafter, no notice, email or pink slip required.
Chase Headley, 3B (NYY)
The switch-hitting Chase Headley is off to a torrid start to his 2017 campaign, batting a cool .410 with a .531 on-base percentage and an 1.146 slugging percentage. Let's not forget before his troubles in New York, experts considered Headley one of the better young, all-around third basemen in the league. In 2012 he broke out in San Diego for a 31 homer, 115 RBI season, but Headley never capitalized on that season or grew as a player thereafter. This may be his year and, more importantly for us, this could be his week to further pile on his blistering start. Headley gets 6 games this week: 5 against righties (who he is batting .430 against with a .1200+ OPS), and the one lefty he faces this week (Derek Holland) Headley is 2/2 lifetime against. He should be able to take advantage of that short right field this week in Yankee Stadium against 3 below average White Sox pitchers before turning his attention to Pittsburgh in PNC Park, where Headley owns a career .300 average and near 1.000 OPS.
Lonnie Chisenhall, OF (CLE)
Lonnie Chisehall just returned to the Cleveland Indians roster late last week, but he did not waste any time re-adjusting to big league pitching. Chisenhall has only started two games in his short season thus far, but he homered in one start and in one game he did not start, he hit a pinch hit, ninth inning grand slam. In conjunction with Chisenhall's promotion to the big-league club, the Indians optioned Tyler Naquin to the minors. Chisenhall will not have to compete for playing time for the time being in the outfield, so he should see the lion's share of the starts in centerfield. Chisenhall is your classic platoon player as a lefty, batting .270 against righties as opposed to .237 against lefties for his career. Luckily, the Indians get a full slate of 7 games this week, 4 against righties, all of which (except Ervin Santana) are against below average pitchers ,and he has one home run against one of the White Sox lefties he faces later in the week. This is a low-volume, high value play as the Indians will likely be favorites in all 7 road games in hitter friendly parks.
Ryan Schimpf, 2B/3B (SD)
So we meet again Ryan Schimpf. Yes, it is true, I chose Schimpf as one of my streamers last week. It is also true that he forsook me, going 2/16 on the week. However, those 2 hits were both home runs and he added 4 runs and 4 RBIs on the week, so Schimpf's counting stats really contributed to my lineup. Schimpf, like Chisenhall, is a platoon-style lefty but does not receive regularly scheduled days off against lefties (and in a actuality, this year, Schimpf is hitting lefties pretty well with 2 home runs and an 1.108 OPS against). In Schimpf's first true series of the week, he faces 3 Arizona Diamondbacks who he has enjoyed great success against, batting 4/12 with 2 home runs in his career. In the second half of his week, he faces 3 middle of the road Marlins pitchers with no prior experience against this powerful San Diego lefty. Expect similar results to last week from the power perspective and a few extra hits as well, or this will create a permanent, irreparable divide between my and Ryan Schimpf's non-existent relationship.
Marwin Gonzalez, 1B,2B,3B,SS,OF (HOU)
With so many injuries popping up around the league, you need to have roster flexibility. You need people who can fill in multiple positions in order to get the most at-bats out your lineup. Well, welcome Marwin Gonzalez to your lineup, a true switch-hitting Swiss Army Man who has eligibility all over the baseball diamond except Catcher and Team Janitor. Not only will he provide you the necessary flexibility, Marwin enjoys an easy Week 3 schedule facing the Los Angeles Angels and the Tampa Bay Rays. Considering Houston's current offensive barrage, we can expect more of the same against two middling teams that will be massive underdogs against the American League's newest juggernaut. Although one cannot predict his position on a given day, A.J. Hinch always finds a spot for Gonzalez who finds himself with 3 Home Runs in the early part of the 2017 season to go along with an .869 OPS.
Come back to Roto Street Journal every weekend to check out my top hitter streamers and build your best lineup for success. Good luck navigating Week 3 everyone, and happy streaming!
To contact me with any questions or general fantasy baseball discussion, please email me at redsocker45@gmail.com or tweet me ‪@AJGamballer‪.