Player Stock Ticker
Fantasy Baseball Waiver Wire Adds Week 3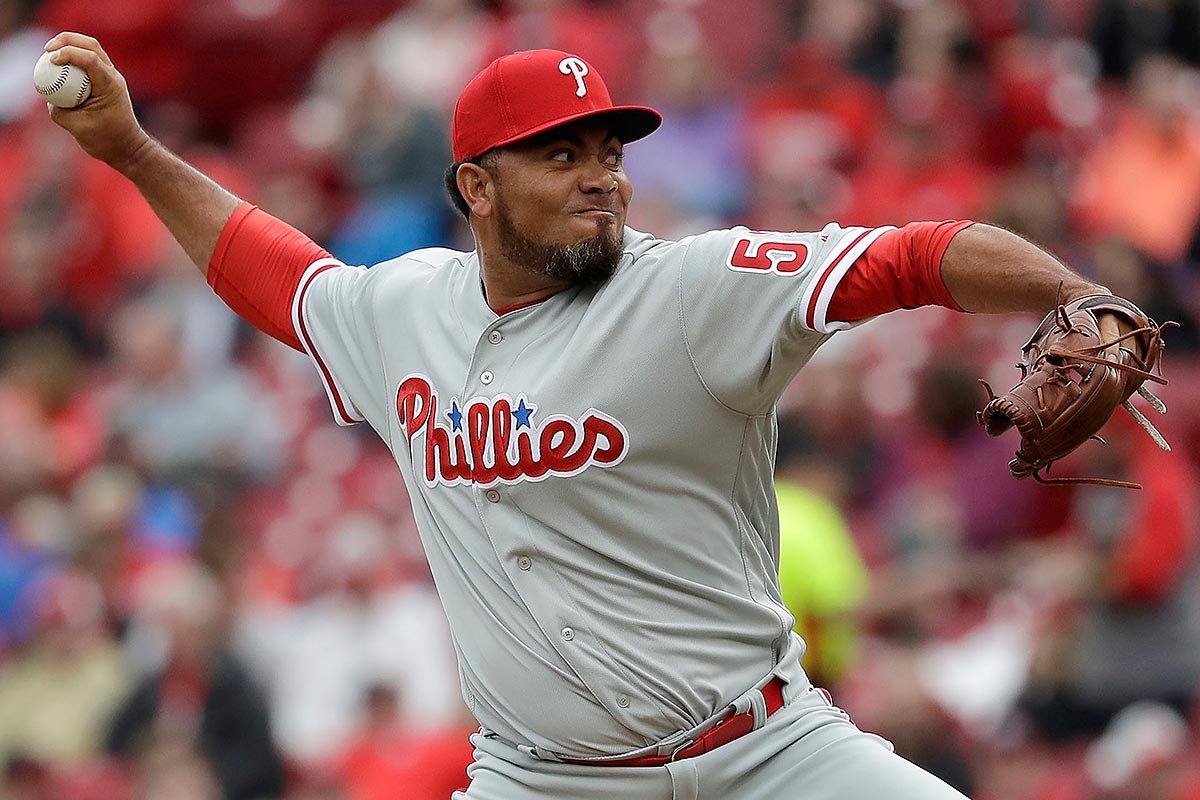 Hello again it's your neighborhood friendly RotoDragon welcoming you back for waiver wire adds to start week 3 of the baseball season. Two weeks is still too early to panic (or to gloat) about how your players are doing. We really need another week or two of games to get a solid picture of where our strengths and weaknesses are this season. That being said, injuries are starting to mount up and GMs are not afraid of using their new 10 day DL so there are plenty of waiver needs to go around.
Three for now
Eugenio Suarez, 3B, Cincinnati Reds (67% ownership on Yahoo)
Eugenio Suarez has been tearing the cover off the ball this year. With an average above .300, 3 HR and 10 RBI already he has been a steady presence in the Reds lineup. Last year he hit 21 HR and stole 11 bases while also putting up solid RBI and Run totals. He won't hit over .300 forever but with solid power and speed numbers and decent production everywhere else, he is a great Corner Infielder for any team and really should be owned in almost every league not just 70% of them. If you had Adrian Beltre or Josh Donaldson, you should already have added this guy and if you are still looking for a 3B and he's there, go get him. I think he has real potential to be a top 10 3B option this year and I'm as certain that he'll be top 15 this year as I am that an African will win the Boston Marathon (24 out of the last 26 years have been Ethiopian or Kenyan). I'd even suggest trading for Suarez if the owner in your league doesn't believe he's real. As a side note, if you did have Donaldson or Beltre and Suarez is unobtainable, Joey Gallo looks like he'll be around for a bit and he's only 12% owned in Yahoo leagues. Gallo will swing and miss more than I did in Little League (which was a metric shit ton for those of you wondering) but when he does make contact, the ball never lands. You could do worse in a pinch.
Joaquin Benoit, RP, Philadelphia Phillies (48% ownership on Yahoo)
Okay so I told you Jeanmar Gomez sucked a few weeks ago here. Hector Neris seemed like the next guy up (and he may still get his shot) but for now the Phillies are preferring to roll with the old and reliable Joaquin Benoit which actually makes sense because he's the kind of guy that can get saves for a few months, increase his value and become a trade chip to a contender at the All Star Break. At least in the meantime, Benoit can be useful for your team and provide the elusive saves that everyone needs. Don't hesitate to scoop him up if you're looking for a closer (and who isn't).
Asdrubal Cabrera, SS, New York Mets (43% ownership on Yahoo)
Asdrubal Cabrera is not flashy. He doesn't do anything particularly exciting. However, he is fairly consistent and capable of hitting 20+ HR at a position which doesn't usually get as much power production. If you are in search of a shortstop who won't hurt you in any categories but can contribute a little across the board with above average power and contact then Asdrubal is your guy. He gets forgotten because he's not young and fancy but he hits in a decent spot in a solid Mets lineup and is probably better than half of the scrubs that your league mates are using at Middle Infielder. Sometimes you need guys like this to bring consistency to your team and mitigate your risk. He also has a first name that you can manipulate into a great dirty team name if you're into that sort of thing (yes, I'm absolutely into that sort of thing).
Three for later
Tyler Naquin, OF, Cleveland Indians (8% ownership on Yahoo)
Tyler Naquin just got sent to AAA by the Indians. I fully expect Naquin to be back up with the big club within a month and I think he can be helpful when he comes back up. The Indians have a bunch of blah options at OF with Lonnie Chisenhall, Abraham Almonte and Austin Jackson. In addition to not being all that great, each of those guys has a lengthy injury history and that isn't including Michael Brantley who essentially missed all of last year and half of the year before. Odds are good one of those guys sucks or gets hurt soon enough and Naquin finds himself back in the lineup. Naquin finished 3rd in AL Rookie of the Year balloting last year because he offers a solid batting average and decent numbers across the board. This is a guy to keep an eye on for when he gets called back up or to stash on a bench in a deep league if you have multiple bench spots. He definitely has the talent to reward your patience.
Jesse Winker, OF, Cincinnati Reds (1% ownership on Yahoo)
Jesse Winker just got called up to the Reds for two games and subsequently shipped back to the minors (otherwise I would have suggested him as one to get now). He is considered a top outfield prospect because he can flat out hit. He's more of a doubles kind of guy than a pure power hitter but he should have at least middling HR numbers while putting up above average contact rates with an ability to score and drive in runs depending on where he ends up in the lineup. He could put up Tyler Naquin like numbers from last year when he gets the call up for good and I expect that will happen sometime in late May or early June. Much like Naquin, he's one to keep an eye on for OF help and one to stash if your roster space allows.
Dan Altavilla, RP, Seattle Mariners (1% ownership on Yahoo)
Fantasy baseball players are very reactive as a general rule. A guy gets hurt or loses their role and owners drop that guy and scramble to pick up the next in line. With Dan Altavilla, I'm urging you to be proactive and pick him up now before he becomes the hot add. Edwin Diaz became a fantasy darling last year and was a very popular pick as a closer entering into this year because his K rates are off the charts. Everybody is enamored with his strikeouts because frankly, high K rates are the things that move ordinary closers into elite status. However, Diaz has a very big issue. He doesn't know where the ball is going to go when he throws it. He throws hard but he's a thrower not a pitcher. For anybody old enough to remember this, it's like early Randy Johnson when he was the scariest pitcher on Earth because he could land a perfect strike or hit you in the head (for evidence watch John Kruk shit his pants against Randy at the 1993 All Star game). Diaz is like early Randy – he could strike you out or kill you. This kind of thing works for a starting pitcher because they have more innings to work through their control issues, but it does not work for a closer. All it takes is a few games of walking batter after batter and a closer will not keep their gig, trust me on this. Diaz just does not have the command necessary to retain the closer role all year and he's already had one complete meltdown against the Angels. Altavilla is not amazing, but he has control of his pitches and he seems set to be next in line when Diaz fails. It may not be this week or the next, but at some point over the next month, I expect Diaz to drop his closer role to Altavilla and you should have Altavilla on your team before that happens.
That's all for today my friends. Keep hitting the waivers hard and setting those lineups! If you want to agree, disagree or ask something random don't be afraid to holler at me below!