Player Stock Ticker
The Fantasy Baseball Impact of Starling Marte's Suspension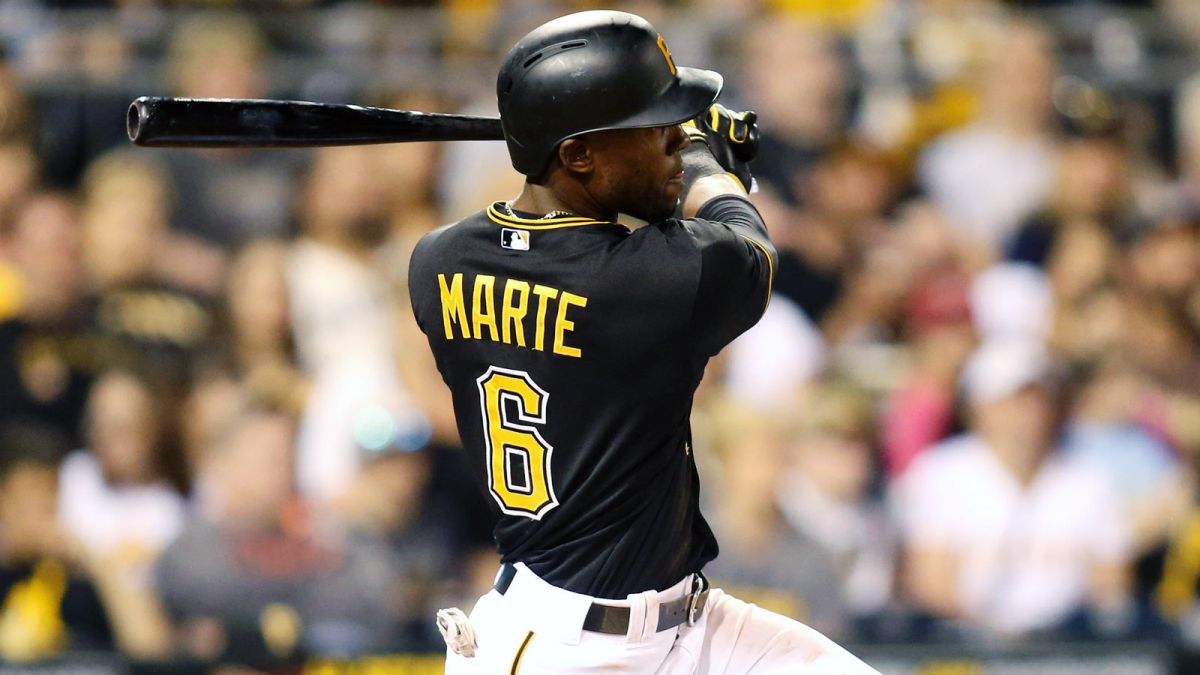 Starling Marte is a douchebag. Steroid users in the 90's were not douchebags, they were just taking advantage of a loose set of rules and made decisions that resulted in more money for them and their families. Players who use steroids in 2017 are dumb asses and douchebags because it is so tightly regulated you have to be an idiot to do it. Make no bones about it, by ignoring the rules, Marte just stuck his middle finger up at all the people who drafted him and any Pittsburgh Pirates fans who depended on him to help their team win games. Now that I'm done hating on Marte, I'll move on to what you should do if Marte is on your fantasy team.
Unfortunately, Marte is a stud and you're really not going to be able to replace his production for the 80 games he'll miss. Even more annoying is the fact that a suspended player cannot go on your DL so he will eat a spot on your roster for the next 3 1/2 months until he's off suspension. If you are in a league with very few bench spots and you desperately need the roster spot, you can maybe consider cutting Marte; otherwise, in every other league he's just too valuable to drop and you'll be pissed if you drop him only to see someone else in the league ride your 2nd/3rd round pick into victory in August and September. The best move, if you need the roster spot, is to see if you can trade Marte to somebody else who is willing to take the empty roster spot. You obviously can't ask for much in return for him but a serviceable player that is a notch better than waiver wire fodder may be a possible get.
Now that you've dealt with whether to keep Marte, you need to make a plan to replace as much of his production as possible over the next 80 games. First, you can look to the Pirates and see how they go about replacing him. Right now it looks most likely that Adam Frazier will get first crack at every day playing time. Frazier is a decent batting average guy who will provide some power and some speed but is overall pretty pedestrian at best. I wouldn't be satisfied with Frazier as my replacement. More intriguing is the prospect of Austin Meadows getting the call up from AAA. I do not expect Meadows to get the call in the near future though, as I think the Pirates will wait until late May/early June at the earliest to bring Meadows up. I will discuss Meadows in more depth in next week's Waiver Adds article, but for now what you need to know is that Meadows is unlikely to help you replace Marte for now (and if he does get called up, jump on him immediately).
Marte offers a decent amount of power with his best asset being speed. I already detailed some available power hitting outfielders here about a week and a half ago and it's possible one of them is still available if you aren't worried about the loss in stolen bases from Marte going down.
If you would like to try to replace Marte's speed at the outfield position, I would suggest the following options:
Keon Broxton, OF, Milwaukee Brewers:
I ranted and raved about Keon Broxton here before the season started. He has been cold to start the season but I felt like he was a poor man's Starling Marte coming into the year and I still feel strongly that he'll turn it around and have a great power-speed year. He's currently owned in 50% of Yahoo leagues so if he's out there, don't hesitate to grab him.
Jacoby Ellsbury, OF, New York Yankees:
Jacoby Ellsbury is 64% owned in Yahoo leagues so there's a good chance that somebody in your league already has him. However, if he's still out there you should be happy to grab him. He already has 4 steals and he has shown the ability to produce moderate power with great speed in the past. His big issue is always health but for now he's healthy and playing well so don't be afraid to ride it for as long as you can. Ellsbury's teammate Brett Gardner is also a reasonable power-speed choice and he's only owned in 43% of Yahoo leagues, you could do worse than Gardner as well here.
Jarrod Dyson, OF, Seattle Mariners:
Jarrod Dyson is strictly a speed play. He won't help in batting average or power but he already has 4 steals and he has the wheels to put up 35-40 stolen bases over the course of the season. If you already feel like you were strong in the other hitting categories but you were relying on Marte completely for your steals, Dyson can at least provide that for you. He is only owned in 23% of fantasy leagues, so at a minimum he should be out there for you.
It sucks to get hit with a huge blow to one of your top picks so early in the season. It sucks even more when that player didn't even get injured but rather made the conscious choice to break the rules. Last year I made a trade for Dee Gordon and 12 hours later the news came out that he was suspended for half the season for PEDs. I went through all of the stages of grief: I was shocked, then I tried to pretend I had never traded for him, then I got pissed, then I got sad. It's all perfectly reasonable to feel any of those emotions if you have Marte, just remember, keep your eye on the prize. Despite losing Gordon last year, I was still able to pull off enough clever trades and shrewd waiver adds and won the league by a mile. You can still take down the league title, you just have to work a little harder and myself and the rest of the Roto Street crew will help you get there. If you want advice or just want to bitch about how much you hate Starling Marte, don't be afraid to hit me up in the comments below!