Player Stock Ticker
Fantasy Football Rankings 2017: Post-Free Agency Tight Ends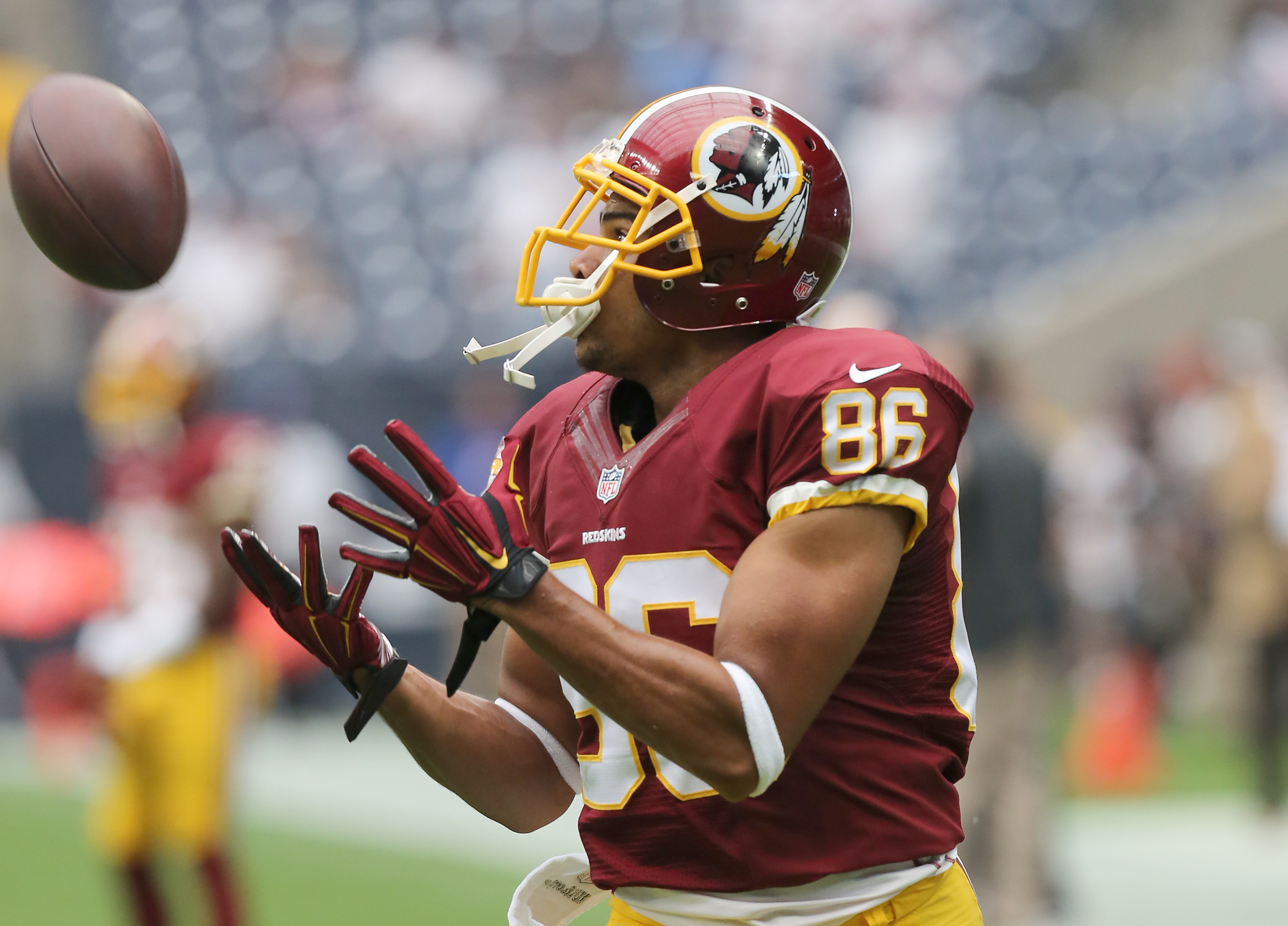 Tier 3 – Sturdy TE1s
7) Hunter Henry (LAC)
Hunter will undoubtedly be one of 2017's most popular breakout tight end candidate, and, ranking him up at seven, I'm clearly buying. From a talent standpoint, I loved Hunter's early NFL tape — his size / speed combination jumped off the page as he burst past linebackers and safeties alike, and his leaping abilities were equally impressive. Henry has the complete skill set to both shred seams and dominate red zones, and, as evidenced by Antonio Gates' Hall of Fame career, Phillip Rivers absolutely thrives with this mold.
Of course, Gates already announced he plans to return for a 15th season, which might slightly stall Henry's truest breakout; nonetheless, the team reportedly informed Gates "Henry will be the featured tight end." Others might point to new head coach Anthony Lynn and his run-centric game plans as a detriment, but this may actually help Henry thrive: a strong run game will keep safeties low, and the play action, chunk play upside will be immense.  Over 900 yards and 7-8 TDs isn't impossible.
8) Martellus Bennett (GB)
Stock Up Update:  Generally, leaving the Patriots and Tom Brady's side is an automatic downgrade, especially for tight ends. Aaron Rodgers, however, might be the lone exception, especially considering the gaping hole the Packers had at tight end.
Bennett should absolutely flourish in Green Bay. True, tight end production has been quite inconsistent in Mike McCarthy's offenses, but he's also never had a weapon like The Black Unicorn at his disposal (all you Jermichael Finley garglers, quiet down).  As evidenced by the less-talented Jared Cook's postseason run of 18 catches, 229 yards, and 2 TDs in a three games, Rodgers and McCarthy aren't afraid to stretch seams when provided the talent. Consider Bennett the best they've had yet.
Rodgers himself is excited for the mismatches Bennett can bring, telling the Milwaukee Journal Sentinel:
"I think we're going to have a lot more flexibility in that package… '12' personnel is more of a run-pass balanced personnel and it has been throughout the league and for us the past few years. The opportunity to put two guys on the line of scrimmage and have an opportunity to run right, run left and then run all of our vertical passing game is going to be something that could definitely change and be more difficult to stop."
Surrounded by so many weapons and with a quarterback that'll spread the wealth based on matchups, Bennett will have his disappearing acts. Still, his tremendous blocking ability will keep him active on all three downs, and really open up play action potential this offense hasn't yet seen. Double-digit TDs are well-within reach, and Bennett has the set up for a career year.  The lone concern is the team signed the athletic, but oft under-utilized Lance Kendricks, who's a sneaky threat to eat into Bennett's load.
9) Delanie Walker (TEN)
After a 2015 in which he lead all tight ends in targets (133) and receptions (94), Walker followed up with a second top-five fantasy campaign in 2016.  His yardage (800) and catches (65) inevitably dropped, but Walker remained a weekly force, scoring 9.8 FPs or higher in 50% of his contests while upping his TDs to seven.
Unfortunately, Walker finished slowly, especially amidst Rishard Matthews emergence, with Walker topping double digit FPs just once in his final six weeks. At age 33 and after taking a beating throughout his career, this indeed could've been a warning sign for his future.  Still, Walker has a strong play action game, his own freakish athleticism, and a strong rapport working in his favor for 2017.  Just be wary of a breakdown at any point.
10) Jack Doyle (IND)
Stock Up Update: Cover up, league. After Dwayne Allen was traded away to the Patriots, Jack has sole possession of the TE1 role here and is finally set to drape his massive beanstalk all over the league in 2017.
In all seriousness, there's some upside for a huge TE1 season here. Jack's best career game came, unsurprisingly, with Allen removed from the lineup, as the "Beanstalk" doyled the Titans for 9 catches, 78 yards, and a TD. Though that reception and yardage output will remain the exception and not the norm, Doyle's TD upside is still mammoth.  Andrew Luck historically LOVES his tight ends in the red zone, and, in his past two healthy season, Luck has tossed 18 and 12 combined TDs to his seam-stretchers. Hauling in 10 by himself is realistic for the new featured tight end.
Additionally, Colts' offensive coordinator Rob Chudzinski has long been regarded as a tight end whisperer.  Under Chud's tutelage, future hall-of-famer Antonio Gates put together some of his most magical campaigns,  Kellen Winslow and Greg Olsen became yardage monsters, while the useless pile of dog mess named Jordan Cameron even posted 80 catches, 917 yards, 7 TDs.  If god-damn Jordan Cameron can be a top-five TE, you better believe the Beanstalk has this ceiling.
In short, you can't find a better late round TE target, and anyone who has Doyle outside their top-10 TEs should never be trusted.
11) Kyle Rudolph (MIN)
2016's #2 or #3 TE (depending on your scoring format), Rudolph's 83 catches, 840 yards, and 7 TDs were shocking.  He scored double digit FPs in over 50% of weeks thanks to a position-leading 132 targets, thanks to running by far the most routes of his career. Via ESPN Stats:
He ran routes on 58 percent of his snaps and was targeted on a career-high 23.7 percent of his routes, as quarterback Sam Bradford sought him out to continue drives. Fifty of Rudolph's 83 catches went for first downs, accounting for nearly a quarter of the Vikings' 210 first downs through the air.
Rudolph believes this was just a launching point for his career, stating: "This season was more along the lines of what I expect for myself, and what I expect moving forward, to kind of be a springboard and a baseline for the rest of my career."  If the running game struggles as mightily as 2016, despite the addition of Latavius Murray, Rudolph might not be far off.  Pop-gun arm Sam Bradford clearly loves the short-to-intermediate & middle-of-the-field game, which plays right into Rudolph's route tree. If you're seeking a high floor, Rudolph's is arguably higher than anyone in this tier; however, 2016 feels like his absolute ceiling, and anyone else in this tier feels capable of topping.
Tier 4 – Last TE1 Options
Though one of the top-11 is a far surer bet for weekly production, the following options have flashed for stretches in their careers, but never consistently. Should they put it all together for a full season, any of the below options would be useful, if not spectacular, TE1 options. Nonetheless, they'll all thrive in the right matchups, and make for solid committee selections. 
12) Zach Ertz (PHI)
Stock Down Update: Yuck. While a pass-catcher move was expected, the additions of Alshon Jeffery AND Torrey Smith seriously dent Ertz's 2017 target outlook.  No way he gets the volume that facilitated his burning end to 2016.
Previous Assessment: Ertz was borderline unusable to begin 2016, scoring single digits in all but one contest leading into Week 11 (four of these games were week-losers at under 5 FPs).  Nonetheless, Ertz finished 2017 on a torrid blaze, topping double digits in 5 of 7 contests, including a 30+ FP Week 17, emerging as Carson Wentz's clear go-to guy.  The Eagles seem destined to make a free agency and/or draft day splash, which leaves Ertz's #1 role in serious doubt. Still, he flashed enough chemistry to maintain a top-10 spot with upside.
13) Jared Cook (OAK)
Cook's 2016 was a microcosm of his entire career: flashes of brilliance, marred by inconsistency and injury.  Yet, when he hit, especially during the playoff stretch run (18 catches, 229 yards, and 2 TDs in a three games, PFF's second highest tight end grade from Week 14 on), Cook was a monster.  He joins a team devoid of any reliable seam-stretcher, and both a quarterback and offensive coordinator who are thrilled to use their new toy.  OC Todd Downing told local papers:
"He's got a skill set that's going to be fun to play with so we're excited to see what he can do and I know Derek (Carr) is excited to add him. He's got a history of  making plays in this league and it's something we're excited to have."
Though the competition for targets is fairly fierce, with stalwart receivers Amari Cooper and Michael Crabtree commanding the lions share of work, defensive attention will be sparse for Cook.  Moreover, this explosive offense keeps the team in the red zone, where Cooks could do some serious 2017 damage. Though he'll be too inconsistent to rely on as an every-week starter, Cook will be carry a huge weekly ceiling, especially when the match up is right.
14) Cameron Brate (TB)
After being outscored by only five other tight ends in 2016 FPs, Brate panned out huge as our "Next Gary Barnidge." As predicted, Brate's red zone presence was heavily felt, and his eight receiving TDs led all seam-stretchers.  At such an unpredictable position with only six truly reliable season-long options, Brate's waiver wire value was tough to match.
Topping, or even matching, his 2016 stat line (57 catches, 660 yards, and 8 TDs) would be generous, especially in the yardage department following DeSean Jackson's addition. Yet, with this overall offense improved with the newfound vertical threat, Brate could easily match, or even improve, his steady  TD supply; his red zone chemistry with Jameis Winston is unparalleled. Thus, he'll likely be a TD-or-bust option most of 2017, but hit at least 50% of the time.
15) Eric Ebron (DET)
Sure, Ebron's 61 catches and 711 yards were all career highs, but there was little room to travel but up.  Moreover, his one receiving TD was abysmal for a player of his size, and Ebron only scored double digit FPs five times in 2016.  He was held within 5 FPs for four straight weeks during an abysmal stretch, and his disappearing acts have grown old. Ebron's also prone to drops, and his five mishaps were third among tight ends.
Still, Ebron remains a 6'4″, 253 lb mammoth who can run. The mismatch potential has been flashed, but not nearly enough in the red area.  He also was battling a knee injury all season, and a clean bill of health should help.  In a contract year, Ebron has set a lofty 1,000 yard goal, which isn't impossible with his makeup and skillset.  But a lot of factors, such as fixing the dropsies, staying healthy, and carving out a meaningful red zone role, will need to come into fruition if Ebron is to come close.  Possible, sure. Likely, no.
Read on for a final list of the TEs who should round out your bench.