Player Stock Ticker
Alshon Jeffery Fantasy Football Stock Profile: Will a Change of Scenery Make Jeffery Fantasy-Relevant Again?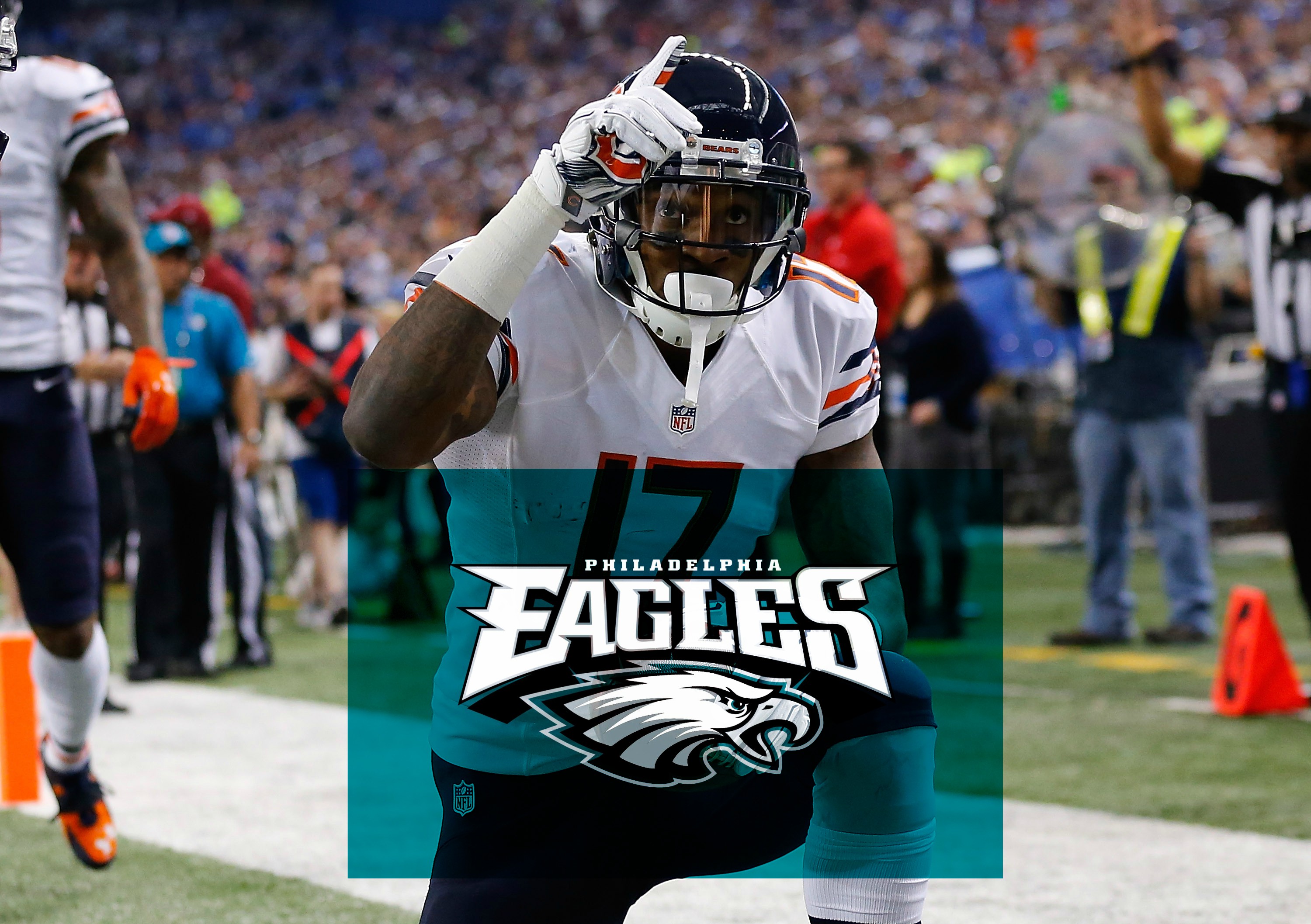 Alshon Jeffery
Position: Wide Receiver
Former Team: Chicago Bears
New Team: Philadelphia Eagles
Movement Summary
Alshon Jeffery was one of the biggest free agent acquisitions this offseason, signing with Philadelphia on a one-year, $14 million deal. The Eagles had been saying all season that new franchise QB Carson Wentz needed more weapons around him to properly grow, so they went out and signed the talented Jeffery to be Wentz's No. 1 wide receiver. Alshon was injury plagued and didn't see as many targets as we expected once Brandon Marshall departed from Chicago, resulting unspectacular fantasy seasons. Jeffery bet on himself by signing a one-year deal with Philly, so should we double down with him? Check out his Fantasy Stock Profile for more:
Talent: 8.5/10
Few NFL receivers possess the downfield and jump ball skills that Jeffery has. What makes him special is his ability to go up and grab the ball at its highest point over smaller defenders. Standing at 6-foot-3, Jeffery is a nightmare for opposing corners. Secondaries are forced to provide safety help over the top otherwise he'll just use his size to feast. To pair with his length, Jeffery also has massive hands — measuring at 10 1/4″. Those large pair of mitts allow him to suffocate the ball and act as a huge target for his quarterback.
While Jeffery possesses all the tools needed in the deep/jump ball game, what he's missing is elite vertical speed. Brandin Cooks is a player with elite speed who creates separation downfield to dust his opponents. Jeffery won't be doing that to secondaries, therefore he utilizes his size to manhandle opposing cornerbacks downfield. Jeffery is one of the bigger physical specimens in the NFL, he just needs to add consistency to his game.
Opportunity + Usage: 7/10
The Eagles signed Jeffery this offseason with the intention of making him the primary weapon of the offense. Philadelphia hasn't had the most dynamic offense in years past, but you don't sign a highly touted free agent if you don't plan on utilizing him heavily. With all the drops from Eagles receivers last season, Jeffery will be a sight for Wentz' sore eyes.
The concerning aspect though is Philadelphia's lacking passing game. In 2016, Wentz averaged 236.4 yards per game while throwing only 16 touchdowns (1 per game average). Hopefully the addition of Jeffery will add to Wentz' totals, but there is concern about how much this offense can produce. Granted it was the rookie's first year in the NFL, but can we expect that big of a jump from year one to year two? The 37 passing attempts per game though is an encouraging sign that Wentz is looking to throw. There's no stud running back on the Eagles' roster, so Wentz and Alshon are likely to be the new face of Philadelphia's offense.
Coaching Scheme: 6/10
Doug Pederson's offense is quite different than what we saw under Chip Kelly, but more similar to what Andy Reid runs in Kansas City. It's not a flashy offense, but more efficient and methodically moving downfield. Peterson likes to utilize the tight end  and running backs, as you can see by his time in Kansas City and how the Eagles played last season. This philosophy isn't a perfect fit for Jeffery's skill set, as it's not a big play offense and they don't take a lot of shots downfield. The Eagles won't spread receivers four or five wide and rain fire on opposing secondaries. Unless things drastically change, we don't love the fit from a schematic standpoint.
Surrounding Talent: 6.5/10
This is a very close second of the biggest weakness of Jeffery landing with the Eagles. Last year, Jordan Matthews was their best receiver. Matthews looked solid during the first few weeks of the season, but quickly regressed as his drops continued to pile up. The supporting cast of Nelson Agholor and Dorial Green-Beckham was pretty terrible and couldn't be relied upon. Tight end Zach Ertz ended up leading the team in receiving yards and touchdowns, which shows how bad the receiving core was last season.
The backfield isn't anything to write home about either. Led by Mr. Glass himself Ryan Mathews, the Eagles failed to record a 1,000 yard rusher. It was predominately a three-headed attack consisting of Mathews, Darren Sproles and Wendell Smallwood. None of these backs are real threats or studs, so defenses don't have to worry about putting more defenders up front. I would expect the Eagles to add a RB in this year's draft, but even with that addition the surrounding cast around Jeffery is mediocre at best.
Risk: 7/10
Jeffery is far from a sure lock in terms of fantasy receivers. He was a risk in Chicago because he wasn't always used properly, there was always inconsistency at quarterback and he was not always on the field — playing only 63 games in five seasons. As mentioned in his usage section, his targets should go up in Philadelphia's offense. But just because they should, it doesn't always mean that they will. There's also the factor of having a young QB in Wentz who will be looking to avoid a sophomore slump. Another year in Pederson's offense should give him more familiarity to go with his shiny new toy out wide.
Jeffery himself also comes with off the field risk, as he was suspended four games last season for PED use. As much as a risk as he can be on the field with his inconsistent play, the PED use and injuries have made him unavailable at times.
Overall Stock Score: 35 / 50, C- 
Ceiling Projection: 90 Receptions – 1,100 yds – 11 TDs
Floor Projection: 65 Receptions – 790 Yards – 6 TDs
Bottom Line: The change of scenery from deep dish to cheesesteaks will help to boost Jeffery's value,  but his surroundings aren't enough to propel him back to WR1 territory.
2017 Predicted Stat Line: 78 Receptions – 850 Yards – 8 TDs
We used this formula to nail David Johnson and Ezekiel Elliott in 2016. Check back for more Fantasy Stock Profiles throughout the off-season to stay ahead of your fantasy football league.