Player Stock Ticker
Fantasy Baseball 2017: Hitter Streamers Week 4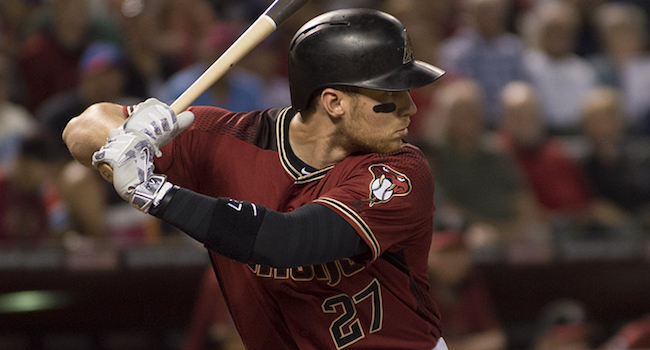 Besides my top Week 3 hitter stream suggestion Chase Headley (4/14, 1 home run, 3 RBI, 3 runs), the rest of my group of streamers failed miserably. After a torrid Week 1 start, my hitter streamers have cooled off considerably. I never said this would be easy. Actually, to the contrary, it is quite difficult to find four waiver batters who will put up solid numbers in a week. However, I do not back away from a challenge and that will not stop me from suggesting good hitters with really good schedules in the upcoming weeks. Hopefully we can capitalize on my courageous efforts and a better slate of hitter streamer games this upcoming Week 4.
Ryan Zimmerman, 1B (WSH, 66% Yahoo ownership)
Is it possible Ryan Zimmerman will stay healthy all season long and play at least 145 games for the first time since 2013? The answer to that question is almost certainly no, but a boy can dream. Either way, no one can deny Zimmerman's start to his 2017 season and, considering the front end of his schedule this upcoming Week 4, we can expect his stats to continue to pile up. He first travels to the lunar launching pad in Coors Field for 4 games. In his career, Zimmerman owns a lifetime .359 batting average and 1.090 OPS in 152 at bats. Very impressive to say the least. Then, Zimmerman and the Nationals welcome opposing pitchers Jacob deGrom, Zack Wheeler and Robert Gsellman to their home at Nationals Park. And wouldn't you know, Zimmerman's career stats against those 3 Mets pitchers are equally as impressive as his Coors stats: 11/26 (.423 average) and 3 home runs. Add in the fact that he currently owns an OPS over 1.100 and an average bordering .400, fire Zimmerman up with confidence and ride his wave until it breaks in the shall end of the ocean, aka he goes down with an injury.
Brandon Drury, 2B, 3B, OF (ARI, 53% Yahoo ownership)
The award for easiest schedule of the week goes to the Arizona Diamondbacks! Brandon Drury's position eligibility and flexibility makes him a premium hitter streamer for this upcoming week. First, not only does Drury have a full slate of 7 games, he will play all 7 in the hitter-friendly confines of Chase Field against two of the worst staffs in baseball, the San Diego Padres and the Colorado Rockies. Drury also hits both lefties and righties well, although he hits lefties a tad better and with more pop (.284 average and .820 OPS) than righties (.271 average and .747 OPS). Look for Drury to find at bats all over the field this week against 7 subpar opponents and look for the Diamondbacks to be heavy favorites all week in games involving high run totals.
Joey Gallo, 3B (TEX, 20% Yahoo ownership)
Let's get a little bold with this next one and see if we can steal a long-term sleeper in the process. Untouchable, blue chip prospect Joey Gallo finds himself with an extended stay in the Rangers lineup due to Adrian Beltre's extended absence. Beltre still is one of the better, more consistent hitters and fantasy performers in all the baseball and fantasy baseball land, but Rangers management and Gallo owners certainly don't mind seeing what their young budding prospect can bring to the table. As a lefty, Gallo exhibits true righty/lefty splits against opposing pitchers, in which (you guessed it) Gallo, in his career, performs much better versus righties (.727 OPS) than lefties (.472 OPS). Even his batting average has increased this year against righties, albeit still an Adam Dunn-esque .231. However, he has 4 home runs in 39 at bats against righties and maintains a healthy .963 OPS in the early going of his 2017 season. Luckily, Gallo gets to play in his hitter-friendly home park at Globe Life Park and will welcome 5 righties, only one of whom owns an ERA better than 4.75 on the year. Expect quite a few streikiuts this week, but also a few 450 foot, game chaning and week-winning bombs this upcoming Week 4.
Travis Shaw, 1B, 3B (MIL, 62% Yahoo ownership)
The ex-Mayor of Ding Dong City Travis Shaw seems to like his newfound him in Miller Park. Batting fourth behind struggling, yet ever-dangerous, speedster Jonathan Villar, Eric "Babe Ruth" Thames and perennial superstar Ryan Braun, Shaw seems to have an oppoirunity to drive in runs and do significant damage every time he comes to the plate. And this year, he is cashing in and his stats show it. 13 of his 17 hits have gone for extra bases and he sports a .917 OPS on the year. More importantly, Shaw exhibits the reverse splits of his 2015 rookie season as he has a 1.242 OPS against lefties thus far in 2017. Obviously Shaw will not be able to sustain those numbers against lefties, but it still proves the point that he can hit lefties, so seeing a few this week in his schedule should not scare us off. As I recommended a few weeks ago, Shaw might be a candidate to roster the rest of this season, especially if he continues to bat cleanup in such a diverse, dangerous lineup in that Mickey Mouse launching pad of a baseball park.
Come back to Roto Street Journal every weekend to check out my top hitter streamers and build your best lineup for success. Good luck navigating Week 4 everyone, and happy streaming!
To contact me with any questions or general fantasy baseball discussion, please email me at redsocker45@gmail.com or tweet me ‪@AJGamballer‪.