Player Stock Ticker
Fantasy Baseball 2017: Two Start Pitchers Week 6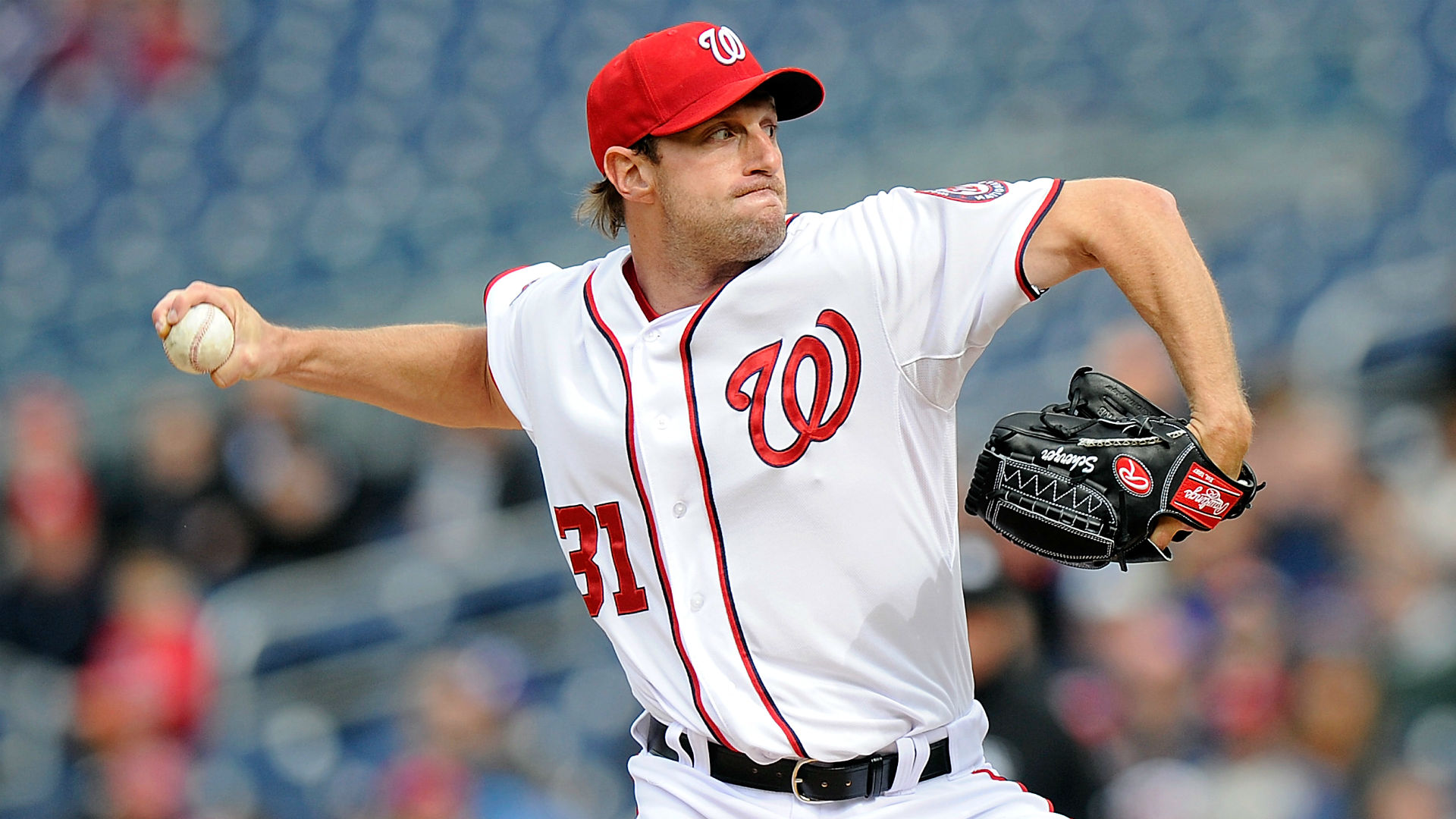 Welcome to Two Start Pitchers Week 6, where we breakdown the two start pitchers from May 8th-May 14th. The upcoming week does not showcase a lot of high end, ace level starting pitchers, but there is a large grab bag of good to very good starters with solid two start matchups. As usual, the two start rankings are based mostly off the matchups, so prepare yourselves for some surprises. Everyone likes surprises, right? To the rankings we go!
Never a Doubt
Max Scherzer, WSH (@BAL, vs. PHI)
Carlos Carrasco, CLE (@TOR, vs. MIN)
Jacob deGrom, NYM (vs. SF, @MIL)
Ranking Max Scherzer as the number one overall this week does not qualify as surprising. Neither does his 2.66 ERA, 11.29 K/9 or his 0.91 WHIP. Just another year and another great start for this perennial ace. The last obstacle for Scherzer will be to rally his troops in Washington together for postseason play, who always seem to disappoint, and to improve upon his career 3.74 postseason ERA. Besides that, there are no blemishes on this gem. Are we finally seeing the real Carlos Carrasco? If so, I am excited. From a talent perspective, Carrasco may be one of the most skilled starting pitchers in the game, boasting a career 3.50 FIP and 3.27 xFIP and averaging almost a strikeout per inning (8.58 K/9). The Indians have not provided Carrasco the requisite run support (they average scoring 3 runs per game) to help out his record (3-2), but with two games against subpar offenses where the Indians will assuredly be heavy favorites, I expect Carrasco to capitalize on this week's festivities and bolster his case as a leading Cy Young contender in the American League.
Borderline Aces
Jake Arrieta, CHC (@COL, @STL)
Masahiro Tanaka, NYY (@CIN, vs. HOU)
Only a pair of starters make the Borderline Ace designation this week. First we have Jake Arrieta. Much like his team the Chicago Cubs, Arrieta is off to a rather underwhelming start to his 2017 season, owning a 4.63 ERA and 1.29 WHIP in six starts. His elevated home run per fly ball rate (currently 17.6%, compared to his career mark of 10.6%) is the culprit for his rather poor ERA to begin the year, and I fully expect that number to regress as the season progresses. Be advised, he does have a start in the Coors launching pad this week, where he boasts a career 16.20 ERA in one career start. Since his Opening Day start, Masahiro Tanaka looks like the front-end starter the Yankees expected to lead their rotation coming into this year, going 4-0 with a 2.94 ERA. In his first start this week, Tanaka travels to Cincinnati to face a struggling, middle of the road Reds squad. In his second start, Tanaka welcomes the offensive-minded Houston Astros to Yankee Stadium where he boasts a perfect 3-0 record and 3.66 ERA.
Very Good
Robbie Ray, ARI (vs. DET, vs. PIT)
Gio Gonzalez, WSH (@BAL, vs. PHI)
Drew Pomeranz, BOS (@MIL, vs. TB)
Ian Kennedy, KC (@TB, vs. BAL)
Jeff Samardzija, SF (@NYM, vs. CIN)
Julio Urias, LAD (vs. PIT, @COL)
Hisashi Iwakuma, SEA (@PHI, @TOR)
Jameson Taillon, PIT (@LAD, @ARI)
Marcus Stroman, TOR (vs. CLE, vs. SEA)
Ivan Nova, PIT (@LAD, @ARI)
You can rub your eyes all you want but Robbie Ray's name will not disappear from the #6 spot as the leader of the Very Good designation. Personally, I loved Robbie Ray coming into this year, mostly because he pitched for a team that could a lot of runs for him, he struck out 11.25 batters per 9 innings pitched in 2016 and his 2016 FIP (3.76) and xFIP (3.45) showcased the potential brilliance from this young stud. This year, those peripheral stats lower than last year's (3.26 and 3.03, respectively) and his ERA has finally normalized: last year, Ray had a 4.90 ERA with somewhat similar FIP and xFIP ratings, while this year he has a 3.47 ERA, numbers much more in line with his peripheral statistics. Now his walks are a MAJOR concern (4.46 BB/9 is borderline crazy town), but Ray has put-away stuff and can slither his way out of jams as evidenced by his lofty 76.7% left-on-base percentage. Couple these beautiful stats with two home matchups against mediocre offenses and you have yourself a sleeper waiting in the wings. One of my favorite outlier performers on the year, Jeff Samardzija, gets two starts this week against scuffling offenses. How can someone with a 5.03 ERA and 0-4 record be rated so high you ask? Well, normalizing for home runs, his xFIP is only 2.97. Also, he boasts an impressive 10.53 K/9. Once he gets his home runs under control (his season average is almost double his career average) we can expect to see results akin to a SP3 instead of the SP23 he is now. Hisashi Iwakuma is not turning any heads this year with his 4.65 K/9 and pedestrian 4.35 ERA. So what gives? Well, two starts against very poor offenses in games in which the Mariners will be favorites definitely helps. But they are on the road! Well, funny you should bring that up, Iwakuma has a 2.35 ERA and .182 batting average against on the road. I believe in the Mariners this 2017 season and there is no better time than the present to turn the ship around and succeed.
Some Upside Here
A.J. Griffin, TEX (@SD, vs. OAK)
Sonny Gray, OAK (vs. LAA, @TEX)
Hector Santiago, MIN (@CWS, @CLE)
Matt Moore, SF (@NYM, vs. CIN)
Adam Wainwright, STL (@MIA, vs. CHC)
Zack Wheeler, NYM (vs. SF, @MIL)
Nick Martinez, TEX (@SD, vs. OAK)
Chase Anderson, MIL (vs. BOS, vs. NYM)
Charlie Morton, HOU (vs. ATL, @NYY)
Blake Snell, TB (vs. KC, @BOS)
Kevin Gausman, BAL (vs. WSH, @KC)
Matt Andriese, TB (vs. KC, @BOS)
Adam Conley, MIA (vs. STL, vs. ATL)
Ricky Nolasco, LAA (@OAK, vs. DET)
Nathan Karns, KC (@TB, vs. BAL)
Kyle Freeland, COL (vs. CHC, vs. LAD)
Antonio Senzatela, COL (vs. CHC, vs. LAD)
With Cole Hamels sidelined roughly 8 weeks with a strained oblique, the Texas Rangers will turn to A.J. Griffin (who himself just came off the disabled list with an ankle injury). Now A.J. Griffin is no Cole Hamels, but really who is? For seven consecutive years Hamels pitched at least 200 innings, striking out at least 200 in 5 of those 7 years (and in those two years, he had 194 and 198 strikeouts, so he has been the definition of a 200+/200+ starting pitcher for 7 straight years). This consistency lead drafters (including myself) to use a top 7 round pick on him. While Griffin may have big shoes to fill, he is off to a solid start this year (3.78 ERA, 0.96 WHIP, 9.39 K/9) and gets two cupcakes matchups to ease him into his new role. Sonny Gray's first start went roughly as expected for someone coming off an injury: a couple walks, a couple strikeouts and a general lack of command and control as he gave up three home runs. Gray typically does an excellent job at keeping the ball in the park, so that should not be a concern going forward. We all know the 2016 year he had, but let me remind you of his three years prior to last year (2.88 ERA from 2013-2015), specifically his 2015 season in which he finished third in the Cy Young voting. The upside is obvious here, so I am banking on his natural ability to come forth with each successive start. If healthy, look for this rocketship to take off in the next month. I am lumping the two Colorado Rockies pitchers together for this discussion. Antonio Senzatela and Kyle Freeland are surprising everyone to start the 2017 season, boasting a 2.84 ERA and 2.93 ERA, respectively. Sure, these young bucks could have bright futures ahead of themselves, but there is something that I cannot put my finger on that makes me not trust them. Both their peripherals hover around the 4.00 mark, but it is not even that. In the end, for me, if you pitch in Coors you are just bound to fail as there really are not that many examples of consistent, long term success in that ballpark (see Tyler Anderson from last year to this year). So two home starts against plus offense in that cupcake ballpark should spell trouble for each of these young whippersnappers.
Cross Your Fingers and Pray
Matthew Boyd, DET (@ARI, @LAA)
Luis Perdomo, SD (vs. TEX, @CWS)
Mike Pelfrey, CWS (vs. MIN, vs. SD)
Jered Weaver, SD (vs. TEX, @CWS)
The hairs on these players heads separate them from the bottom grouping. San Diego starting pitchers are very familiar with the bottom designation, but Jered Weaver and Luis Perdomo find themselves a cut above due to one plus matchup against the lackluster Chicago White Sox for each. Mike Pelfrey would find himself much higher on this list as he faces two offenses ranked in the bottom third of the league in runs scored, but he really is not any good and plays for the aforementioned feeble White Sox.
Please No
Ubaldo Jimenez, BAL (vs. WSH, @KC)
Daniel Wright, LAA (@OAK, vs. DET)
Rookie Davis, CIN (vs. NYY, @SF)
I used to like Ubaldo Jimenez in the right spot. And by like I mean how I like riding public transportation. There is some upside to taking public transportation (you do not have to drive and it is very convenient), but for the most part you are doing it because you HAVE to do it, because really who loves being surrounded by a bunch of strangers in a tight space with no oxygen while claustrophobia sets in. Jimenez no longer has potential to make a surprise good start any more, having walked 18 batters and giving up 6 home runs in just 26 innings on the year. Where there once may have been decent strikeout upside (and always gigantic walk potential), there just seems to be just walk potential and disaster now. Stay away and don't think twice.
Come back to Roto Street Journal every Friday to see the two start ranks and how to best build your rotation for success. Good luck navigating the week, and happy streaming!
To contact me with any questions or general fantasy baseball discussion, please email me at redsocker45@gmail.com or tweet me ‪@AJGamballer‪.