Player Stock Ticker
Fantasy Baseball Waiver Wire Adds Week 6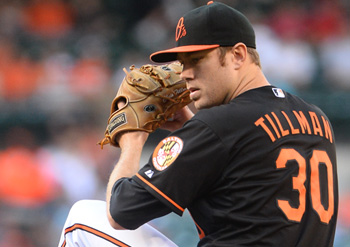 Welcome back everybody to another week of waiver wire adds! This has been the week of the pitcher as many quality starters have gone down due to injury with Noah Syndergaard and Corey Kluber being the most notable (and of course I have both in the same league). Since I know I'm not alone in my pitching woes, I'm going to put an extra focus on pitching this week. I'll also throw in a few outfielders because many of you are likely looking for short-term fixes if you had Stephen Piscotty or Dexter Fowler go down or you're waiting for Bryce Harper and Mike Trout to return from their minor injuries.
Chris Tillman, SP, Baltimore Orioles (35% Owned on Yahoo):
Chris Tillman has been on the DL all season with a shoulder issue. It is always a concern when a pitcher has had a shoulder injury and that concern is exacerbated by the fact that he didn't look all that sharp in his rehab starts. That being said, Tillman is a pitcher who just knows how to win. He has had 16 wins in two of the past four seasons and he is capable of providing at least an average ERA and WHIP. He won't help much in strikeouts but you can't have everything when picking off the wire. By the time you read this, you'll have the benefit of knowing how Tillman performed in his start on Sunday – if he looked decent, don't hesitate to grab him.
Charlie Morton, SP, Houston Astros (19% Owned on Yahoo):
Charlie Morton got a bit of hype coming into the season because his fastball velocity was up in the spring and he seemed to missing more bats than usual. So far this season it has been up and down for Morton, allowing two or less runs in three starts while allowing four or more runs in two starts. While he's been a bit of a mixed bag in the ERA and WHIP department, he has earned 3 wins and more than a K/9 so he at least should be a solid source of wins and strikeouts with the possibility that he can string together more good outings than bad and potentially help you in ERA as well.
Trevor Cahill, SP, San Diego Padres (19% Owned on Yahoo):
Trevor Cahill is the pitcher I feel least confident about of the three I'm suggesting today. First the bad, he hasn't come close to 200 innings in a season since 2012 and he has never been a very good source for strikeouts, ERA or WHIP. Also, he plays for the Padres who are only a chest hair away from being a minor league team so wins can't be counted on. Now the good, last year he showed some growth in K rate averaging a K/9 and so far this year that K rate has actually increased a bit. Additionally, the ballpark in San Diego plays well for pitchers and can mute some of the damage that usually befalls pitchers who are prone to giving up the long ball. Bottom line, I don't think Cahill is a long-term solution for anybody's team but if you need to ride him for a week or two until one of your other starters returns, you're getting him while he's pitching well so it may be worth the shot.
Jorge Soler, OF, Kansas City Royals (16% Owned on Yahoo):
Back in 2014, Jorge Soler made a splash with the Chicago Cubs, hitting .292 and 5 home runs in only 89 at bats. Entering the following season, he was heralded as one of the great young outfielders in the game and expectations were high that he could be a 25+ home run guy. Obviously, Soler never reached those heights in Chicago and he basically struggled in part time stints with the Cubs over the past two seasons. The Royals, however, do not have the depth that the Cubs do and so they will likely be using Soler every day rather than in a limited capacity. Some guys come alive when given regular at bats and there is still pop in Soler's bat. I wouldn't expect a great batting average and right now he's hitting 7th in the batting order which limits his runs and RBI but if he starts to heat up, there is no reason he can't climb higher in the order. He is coming off a strong performance in his rehab starts and if you need some pop out of your last outfield spot, there are certainly worse places to start than here.
Aaron Altherr, OF, Philadelphia Phillies (15% Owned on Yahoo):
For some reason the Phillies have been hesitant to give Aaron Altherr an extended look. My guess is because the Phillies are a crap organization that can't get out of their own way (sorry Phillies fans, but you live through it, you know I'm right). With Howie Kendrick sidelined, the Phillies have finally been forced to give Altherr regular at bats and he has responded with a .328 average and 3 home runs and 3 steals in 64 at bats. The average will obviously come down because it always does, but the power-speed combo that Altherr offers is legitimate. Howie Kendrick is a marginal player at this point in his career and he has capable of playing many positions so it would stand to reason that Kendrick would be more valuable as a super utility player upon his return while Altherr holds down a full time spot in the outfield. I can't promise that will happen, but this kid has enough talent that I think it's worth it to take the chance.
Thank you for another great week folks! Keep working the add/drops and grind out that winner. As always, don't be afraid to leave any comments or ask any questions, I'm a friendly dragon and I won't bite (unless the ladies ask me to).