Player Stock Ticker
Fantasy Baseball 2017: Two Start Pitchers Week 8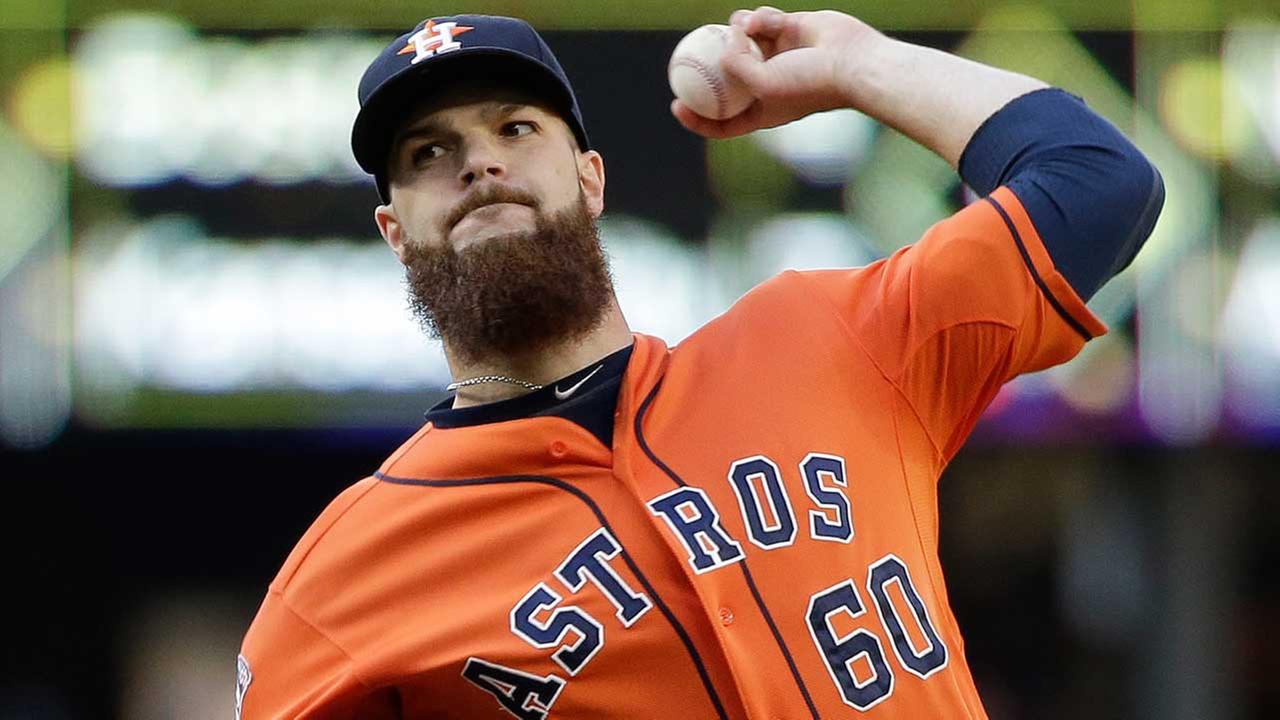 Welcome to Two Start Pitchers Week 8, where we will breakdown the two start pitchers from May 22nd-May 28th. As opposed to last week, we are overflowing with aces and front-end starters this upcoming Week 8. For those of you who spent top-of-the-line draft capital on starting pitching, you'll likely see a few of your guys here. As always, there are a few diamonds in the rough, so for those of you spending the majority of your time knee deep in the waiver wire look out for some of the names below.
As an aside, I will be travelling to Italy from May 19th to May 28th. While I will not be there to guide you through the two start pitchers for Week 9, I hope that I have taught you all well. I have faith that you can navigate these muddy waters and find those beacons of light that can provide 2 wins and low WHIP and ERAs. Always remember, matchups are key. To the rankings!
Never a Doubt
Dallas Keuchel, HOU (vs. DET, vs. BAL)
Carlos Carrasco, CLE (@CIN, vs. KC)
Jon Lester, CHC (vs. SF, @LAD)
I do not think anyone can deny that Dallas Keuchel is not only back to 2015 Cy Young form but also he has been the best starting pitcher in fantasy baseball this year. First off, in 9 starts, he is 7-0 with a 1.84 ERA and 0.86 WHIP. Not bad. Also, he has 8 quality starts on the year, allowing 2 runs or less in all 8 of those starts. In his lone non-quality start he allowed 2 runs through 8 innings but Astros Manager A.J. Hinch inconceivably brought Keuchel in to pitch the ninth where he allowed 3 earned runs in that inning along. This week, Keuchel gets two home matchups in Minute Maid Park where he holds a 0.94 ERA and a .156 batting average against. Good luck Detroit and Baltimore. Injury woes are once again popping up for always maligned superstar Carlos Carrasco. Carrasco did not look right in his last start and left after just 3.2IP with pectoral tightness. Cleveland told us he just needs a few extra days of rest, so they pushed his start back to this upcoming Tuesday, and another start Sunday should follow. Kansas City has scored the fewest runs in baseball this year and the Reds are currently skidding. This should be easy sledding for Carrasco who owns a cool 2.60 ERA, 0.88 WHIP and 9K/9 ratio…as long as the injury does not pop back up.
Borderline Aces
Tanner Roark, WSH (vs. SEA, vs. SD)
Lance McCullers Jr., HOU (vs. DET, vs. BAL)
Matt Harvey, NYM (vs. SD, @PIT)
Kyle Hendricks, CHC (vs. SF, @LAD)
Zack Greinke, ARI (vs. CWS, @MIL)
Rick Porcello, BOS (vs. TEX, vs. SEA)
Johnny Cueto, SF (@CHC, vs. ATL)
Ervin Santana, MIL (@BAL, vs. TB)
Michael Fulmer, DET (@HOU, @CWS)
Lance McCullers Jr. is a very special pitcher. I am not sure if he is as good as his aforementioned Astro counterpart Dallas Keuchel, but he's damn close and I would not fight an argument putting him ahead of Keuchel. Since he joined the Astros rotation in 2015, McCulllers has 45 starts under his belt. In those starts, he sports a 3.10 ERA (supported by a 3.14 FIP and 3.19 xFIP) and 10.17 K/9, and induces way more ground balls than fly balls, so he keeps his home runs in check and line drive rate down. He does struggle with walks, but once he gets those under control (like this year) you will see his ERA and peripherals slowly drop. With two home starts where McCullers is undefeated with a  2.08 ERA on the year, I expect more of the same from this ace in the making. Why can't you just stop partying Matt Harvey? As one of the more highly touted pitching prospect over the past decade, Harvey recently has been known more for his off-field antics than his on-field performance. And rightfully so after posting a 4.86 ERA last year and 5.56 ERA (so far) this year. However, two starts against the 27th and 28th ranked teams in runs scored might provide the boost he needs going forward. Across 88.1 post All Star break innings pitched last year Ervin Santana posted a 2.65 ERA, .224 batting average against and an 8.25 K/9. This year, across his first 61 innings and 9 starts, Santana maintains a 2.07 ERA, .143 batting average against and 0.89 WHIP. In 7 of his nine starts, he has allowed 1 runs or less, 4 of which he allowed 0 runs. If we could somehow erase his two bad starts, Santana has allowed 3 earned runs in 48 innings over 7 starts. That's good for a pretty decent 0.56 ERA.  I am sorry, but I cannot turn a blind eye to those numbers. 23 starts since last year is a decent enough sample size for me to buy into the idea that Santana is a good pitcher. I am still somewhat wary of his high FIP, inordinately low BABIP, and nearly perfect, magician-like left-on-base percentage. But even after regression in those categories, I think you still have a solid pitcher pitching on a rising team. He is a great sell high candidate right now, but even if you can't sell him he should produce solid SP4 numbers going forward.
Very Good
Danny Duffy, KC (@NYY, @CLE)
Jake Odorizzi, TB (vs. LAA, @MIN)
Jose Berrios, MIL (@BAL, vs. TB)
Julio Teheran, ATL (vs. PIT, @SF)
Welcome back to the Major Leagues Jose Berrios! I usually do not buy into prospects so early in their careers, but some exceptions need to be made for young phenoms. Last year in his first taste in the big leagues Berrios struggled with his command (5.40 BB/9) and the long ball (16.2% HR/FB ratio). So let's fast forward to his first two starts in 2017: 15.1IP, 4 hits, just two walks and no home runs allowed. He went 7.2IP in both starts and gave up two hits in both. It was like deja vu all over again! And he needed only 104 and 106 pitches to mow down the Cleveland Indians in Cleveland and the potent Colorado Rockies offense, respectively. This guy is a rocketship heading to the far reaches of outer space. If he is available, pick him up now as the Minnesota Twins (currently in first place) seem to have some magic cooking behind Manager Paul Molitor.
 Some Upside Here
Jason Vargas, KC (@NYY, @CLE)
Alex Cobb, TB (vs. LAA, @MIN)
JC Ramirez, LAA (@TB, @MIA)
Lance Lynn, STL (@LAD, @COL)
Patrick Corbin, ARI (vs. CWS, @MIL)
Matt Shoemaker, LAA (@TB, @MIA)
Amir Garrett, CIN (vs. CLE, @PHI)
Mike Foltynewicz, ATL (vs. PIT, @SF)
Jason Vargas' ERA doubled after his last performance at home against the Yankees, ballooning from 1.01 to 2.03. First world pitcher problems like you read about. However, I am not too keen on this pitcher going forward. You may look at his 2.49 FIP and say that corroborates his dynamite start. But then you look at his unsustainable 3.4% HR/FB ratio (he has a career 8.7% ratio) and 3.96 xFIP and you can see a clear path towards regression. While pitching pretty well, two roads starts, one against a team that just clobbered (now in their minuscule home park) and the other against a team with offensive fire power, I would be wary of his double start this week. JC Ramirez find himself on quite a little roll right now with quality starts in 4 of his last 5 starts, giving up 2 runs or less in those 4 starts and going 7 innings strong 3 times. While he does not maintain the highest strikeout rates, he has struck out at least 7 three times in seven starts and struck out nine twice, so he does have some strikeout upside with the right matchup. This week Ramirez squares off against the number one strikeout team in baseball the Tampa Bay Rays and the number 24 ranked offense by runs scored, the Miami Marlins. While the Angels will hamstring him in the wins department, I expect solid ratios and good to very good performances (given the right matchup) going forward.
Cross Your Fingers and Pray
Tyler Chatwood, COL (@PHI, vs. STL)
Ty Blach, SF (@CHC, vs. ATL)
Josh Tomlin, CLE (@CIN, vs. KC)
German Marquez, COL (@PHI, vs. STL)
Jordan Zimmermann, DET (@HOU, @CWS)
Scott Feldman, CIN (vs. CLE, @PHI)
Miguel Gonzalez, CWS (@ARI, vs. DET)
Andrew Cashner, TEX (@BOS, @TOR)
Remember Jordan Zimmermann's April last year when he posted a 5-0 record with a 0.55 ERA? Well since that time Zimmermann has pitched in 22 games (21 starts) and has allowed 86 earned runs and 24 home runs in just 117 innings pitched. That's a 6.62 ERA. Holy molly is that atrocious. Maybe one day he can get back to the pitcher he once was with the Washington Nationals, but for now this guy is a skull and crossbones on a pill bottle. Don't be fooled by Andrew Cashner's 2.45 ERA. He also has a 5.10 FIP, 5.48 xFIP, sub-five K/9 and an absurd 85.3% left-on-base rate. Be extremely cautious with his two road starts with Boston and Toronto.
Please No
Matt Garza, MIL (vs. TOR, vs. ARI)
Ubaldo Jimenez, BAL (vs. MIN, @HOU)
Jhoulys Chacin, SD (@NYM, @WSH)
Dylan Covey, CWS (@ARI, vs. DET)
Christian Bergman, SEA (@WSH, @BOS)
Matt Garza is enjoying a career resurgence in Milwaukee, posting a 2.43 ERA over his first 29.2 innings of work. Even his peripherals show a solid pitcher on the year with a 3.48 FIP and 3.81 xFIP. However, Garza has not been relevant in years, strikes out less than 7 batters per 9 innings pitcher and is stranding an unsustainable 76.4% of runners on base. Couple that with starts against a red-hot Blue Jays team (who may be getting Josh Donaldson back) and a high-octane Arizona offense and we could see a very quick fall to grace for this veteran starter.
Come back to Roto Street Journal every Friday to see the two start ranks and how to best build your rotation for success. Good luck navigating the week, and happy streaming!
To contact me with any questions or general fantasy baseball discussion, please email me at redsocker45@gmail.com or tweet me ‪@AJGamballer‪.