Player Stock Ticker
RSJ's Official 2017 Fantasy Football Mock Draft Vol. 1: Round 1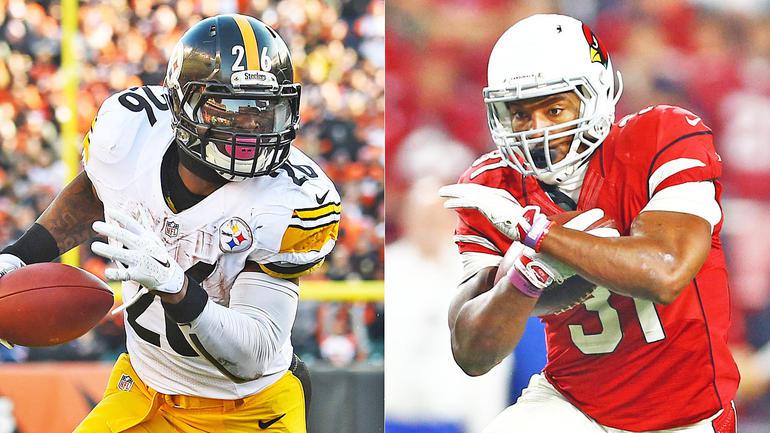 The NFL draft has come and gone, while nearly all impact free agents (about time, LeGarrette Blount) have signed their deals. Yes, dominant fantasy football minds (re: addicts) have already been long at work, but the the time has never been riper for the "normal" fans to start researching. Training Camp battles and developments aside, player values are as firm as they've ever been, and, with our newfound and refocused mission, our game-changing football content will begin pouring down. Don't miss a single beat, beginning with the first round of our official 2017 1/2 PPR Fantasy Football Mock Draft.
Since we're all about revolutionizing fantasy football content, both to win you titles and to also separate from the abysmal  fantasy pack (puke Matthew Berry), our mock draft will unfold differently than most. For one, everyone in the industry seems to be doing JV 10 team mocks right now… convenient, given that any "real" league contains a minimum of 12 owners, and anything below this should be locked into the fantasy dumpster and set ablaze.
Second, we'll be taking a more "slow draft" approach, releasing Round One today, before drafting the next two rounds for each week thereafter (15 rounds total). This will allow us to provide more in-depth analysis of each pick, and also factor in any OTA, and eventually Training Camp news and any future player movement. Thus, while every other mock drafts grows stale, ours will be constantly evolving with the most up-to-date coverage and best-informed picks. Without further adieu:
Scoring and Roster Settings
Scoring= 1/2 PPR, 4 pt. passing TDs and -1 interceptions, whatever defensive and scoring settings people use (re: who cares)
Roster Makeup (15 total)
QB
RB
RB
WR
WR
WR
TE
Flex (W/R/TE)
K
Def
Bench x 5
RSJ Expert Draft: Round One
1. RB Le'Veon Bell (PIT), Team Chubbs
Why I took Le'Veon: 
I've owned the guy two straight years, and he's been nothing but a beast. Bell has consistently been a top-three RB every single week he plays thanks to a massive running and catching workload every week —  last year he missed four games AND STILL racked up 1,884 total yards, 9 total TDs, and 75 catches (full season RB1 numbers, again in only 12 games). This equaled 280 half PPR points, let me remind you in only 12 games – – good for a 23 per game average (18+ PPR points in 11/12 weeks to show consistency). Sure, he got caught burning (respect), and needed groin surgery this offseason, but he's not expected to miss time and the only thing he'll be blazing is the field in 2017. He's been too good to me, can't pass him up at #1.
-Chubbs
One pick in, and The Wolf is already unleashing the wrath: 
It feels wrong to bash a talent as versatile and game-changing as Bell. He's an absolute fantasy cheat code with such heavy rushing and receiving work in a creative scheme behind a top-7 line and with explosive surrounding talent — the guy is going to top 20 points nearly every week he's on the field.  But that's the main rub here, and why only a moron passes up on David Johnson for Bell.  Whether for off-field concerns or injuries, Bell's only played 16 games once in his four-year career, and he's ended nearly every professional season with some kind of ding he needs to recover from. Meanwhile, Johnson carries the same incredibly high ceiling / floor combo, but is squeaky clean off the filed and feels sturdier on it, especially after being minimally injured when bent in weird ways during Week 17. To me, there's only one pick at the top, and Chubbs made the wrong one.
2. RB David Johnson (ARI), The Intern
Why I took David Johnson:  
David Johnson, aka the Human Cheatcode. Do I need say more? Not only does he have the skill to be the best running back in the league, but he plays under a scheme where he can run the ball +25 times per game. On top of this, he is a better wide receiver than all but one player on his team, making him the perfect candidate for another monstrous season. I beg of you, never let David Johnson's name be left on the board after your pick (and yes that means even if you are picking first).
Look at these stats:
293 Rushing Attempts for 1,239 yards and 16 touchdowns
80 Receptions for 879 yards and 4 touchdowns
That's right; he had more receptions than Brandin Cooks, DeAndre Hopkins, and tied Greg Olsen with 80 catches. All of this was done on a team that didn't look "right" the entire season. With an upgrade in production, we may be looking at a player with 300+ rushes, 1300+ yards on the ground along with 100+ receptions and 1000+ yards in the air. David Johnson is a lock at #1 and a steal at #2.
-The Intern
Even The Intern couldn't fuck this up, says The Wolf:  
Arguably my finest prediction of 2016 was calling Johnson worthy of the #2 overall pick; turns out I was too low. As incredible as Le'Veon Bell is on a game-to-game basis, he's easily a bigger risk to miss time with his injury and weed history.  Give me the guy with an equally versatile and explosive skillset, who's also being straddled for 30 touches a week in a creative scheme, but, as mentioned above, then comes with far less risk as a cleaner, sturdier product. His gaudy 2,000 total yards and 20 TDs of 2016 seems easily repeatable, if not surpassable. For the first time since you've been hired, I can say, "Well done Intern." Now get to work massaging these fingers.
3. WR Julio Jones (ATL), Simply Shamus
Why I took Julio Jones:  
Although my main expertise is in Quickstepping across a ballroom floor, I know a thing or two about dancing across some turf. (And am a reigning Fantasy Football champion thanks to the help of the RSJ) So why Julio Jones in the first round? One word – stability! Although you never know the amount of TD throws a receiver will get necessarily, the yardage he can guarantee you is not to be missed. Coming off a season with an average catch of 17 yards – his highest in years – you can count on him for big plays. Which we all know means BIG points in fantasy. Fresh off an appearance in the Super Bowl, there's no doubt Atlanta will once again be red hot and that's why I've chosen Julio Jones as my pick 1! BONUS: He's got a mean touchdown dance!
-Simply_Shamus
After throwing up for a solid 20 minutes, The Wolf is clearly disgusted: 
I'm glad we helped you to a title in 2016, Shamus, because if you draft this way in 2017, there'll be no saving you. In my eyes, any top-three pick that's not one of the "Big Three" RBs is boneheaded, but if you really felt the need for a WR, Antonio Brown has to be the pick. (Heaves into toilet again). Since 2014, Antonio has finished as the #1, #1, and #3 fantasy wideout, topping 320 half ppr points in 2 of those 3 seasons; these rank as the fourth, eighth, and 22nd-best fantasy seasons by a wide receiver all-time.  As incredible as Julio is, Brown's  floor / ceiling combination is simply unparalleled, as he hasn't dipped below 100 catches, 1,200 yards, or double digit TDs in a single season over that span, nor has he missed a game.
Yes, as you wisely point out, Julio Jones is a yardage monster — he's topped 1,400 yards in three straight years despite missing time. From a physical, natural skillset perspective Jones is the top WR talent in the entire league. But he just lost OC Kyle Shanahan, who loves peppering his X-Receivers with targets, and Jones has missed time nearly every season. Julio can rarely be considered a bad selection, but, by picking him over Ezekiel Elliott and Brown, you've accomplished the near-impossible Shamus. Congrats.
4. RB Ezekiel Elliott (DAL), Keegs
Why I took Zeke:  
I definitely wanted to go with a RB in the first round, especially with a pick so early where the three-down workhorses in explosive offenses are available. Even so, I considered guys like OBJ and Antonio Brown, given the year-to-year consistency, but I don't expect any sophomore slump out of Zeke, and he'll definitely get a healthy amount of touches on a competitive team with a great O-line. Seemed like a no-brainer at 4, given he should be at in the Top Three of every draft in every format. And yes, shouts to Shamus for inexplicably going with Julio Jones there and leaving Zeke up for grabs.
–Keegs 
The Wolf is envious (and thinks Santa Shamus is an appropriate name change): 
Zeke going anywhere outside of the top-three is a complete steal, so thank Shamus for the gift Keegs.  After leading the league in yardage as a rookie, Zeke is focused on improving his second-level running, plus the team lost Lance Dunbar, which could allow Zeke to flash his underutilized receiving game prowess even more. Behind the mauling Cowboys line and with minimal injury history, Zeke arguably carries a higher floor than #1 pick Le'Veon Bell, which is fantastic considering his ceiling hasn't even been reached yet.  Even as high as four, this is highway robbery.
5. Antonio Brown, The Truth
Why I took Antonio:  
Of course I would've enjoyed getting any of the big 3 RBs, but if that wasn't going to be in the cards snagging Antonio Brown here was an absolute no brainer.  Even with the great pool of WRs available, if I had to bet on one guy to be a consistent monster all season Brown is still the guy.  Bank on him being at or near the top of the target, reception, and TD leaderboards (again) when it's all said and done.
– The Truth
Though he hates The Truth, The Wolf loves this pick: 
See my bashing of Shamus for every reason why I love this pick. I'll spill no words giving The Truth any direct love.
6. WR Odell Beckham Jr. (NYG), Jimbo Slice
Why I took Odell:
Beckham is an elite NFL talent and is as consistent a player as you will find at the receiver position. With the top 3 RBs gone and AB off the board, Odell made perfect sense. He's the top dog in a pass heavy offense whose best RB ended up on Dancing With The Stars. The addition of Brandon Marshall doesn't scare me at all. He's old and washed. Get Beckham in space and he can't be stopped. He's good for 90-plus catches, 1,000-plus yards and close to 10 scores a year. Yes please, thank you very much
– Jimbo Slice
The Wolf sees no reason to argue: 
Though I personally go Mike Evans over OBJ, I see no reason to argue too heavily. In my eyes, both wideouts are freakish monsters, but Evans is the one with the ascending QB and who's new wideout partner (DeSean Jackson) will only benefit him by taking away attention but not the most valuable red zone targets. Conversely, Beckham has the declining QB, and both Brandon Marshall and Evan Engram, and their far bigger frames, seem like far greater threats to Beckham's TD total — who knows how the volatile Beckham will handle a lesser target share. All-in-all though, Beckham's ceiling will always be one of the highest in the league, and there's a chance the added weapons free him up and facilitate his best season yet.
7. WR Mike Evans (TB), The Wolf
Why I took Mike Evans:  
Though DeSean Jackson and OJ Howard will likely keep Evans from leading the league in targets for a second season (175 last year), they'll command far greater defensive attention than trash heaps like Adam Humphries and Cameron Brate, thus maximizing the the targets Evans does receive. The massive Evans is an absolute terror, consistently making plays in traffic, after the catch, and especially in the red zone. Though I am very wary of the running back drop off after the top-seven, there's simply no greater guarantee for production than the core four #1 WRs. Lock me up a 90 catch, 1,200 yards, and double digit TD floor, especially when it comes with a ceiling that hasn't even been realized yet.
– The Wolf
8. RB LeSean McCoy (BUF), CJay
Why I took Shady:  
Though I was really hoping for Evans, I knew deep down The Wolf would take Mike Evans… still, I was hoping he'd fall into my lap. With the "Big Four" WRs gone, I decided to dip into the RB1 pool and grab a headline for my stable of backs, given I'll likely follow up with back-to-back wideouts. Enter Shady McCoy.
McCoy is coming off a 1,267 yard, 13 touchdown season on the ground, while adding 50 receptions on only 57 targets. I had him on almost every team I ran last season, and he was the consistent engine for my two championship runs. Playing in 15 games last season, I thought he was as healthy as he could be, but I checked into the statistics. McCoy has actually played in 15-plus games in six of his eight professional seasons, while playing in 12 the other two seasons. Following his rookie season where he was not the featured back, he has cracked 1,000 yards in all but those two seasons where he only played 12 games — too much is made of him being "injury" prone.
Overall, if McCoy gets 200-plus carries, he'll put up RB1 numbers given his incredible consistency. Despite ranking 17th in carries per game and 20th in targets per game at the position in 2016, McCoy still racked up the fourth most FPs, and now he loses goal line vulture Mike Gillislee. He's the most historically consistent and the most talented running back available at this point in the mock draft and, although I wanted Evans to fall into my lap, I'm happy with getting a high-end RB1 who carried me last season.
–CJay
The Wolf is skeptical, but understanding: 
CJay's thought-process in securing a top-end RB1 is not wrong, and most experts will agree with his selection of the ankle-breaking McCoy. Still, I prefer a few other names before him (chiefly DeMarco Murray and Melvin Gordon) because McCoy feels a bit riskier. Yes, CJay highlights McCoy's injury history tends to be overblown, but I still have a bad feeling in my pit after he was constantly dinged up in 2016.  Sure, losing Gillislee increases McCoy's TD upside, but also increases the risk — who's even the handcuff now if he breaks down? Overall, I can't hate the pick — this is one of the best RB talents in the game, slated for massive workloads, behind one of the best run-blocking lines in the game; I'd simply prefer the greater insurance policy that comes with Murray, or the higher ultimate ceiling of Gordon.
9. WR A.J. Green (CIN), The RotoDragon
Why I took Green:
In my eyes, there are really only six elite players in the draft this year (Le'Veon Bell, David Johnson, Ezekiel Elliott, Antonio Brown, Julio Jones, and Odell Beckham) so if you have a pick outside of the top six, you really have a lot of options to choose from, each with varying levels of upside and risk. As a general rule, I like to take steady, known producers in the first two rounds and then start swinging for the fences afterwards. Shady McCoy is really the only RB that I like outside of the top 3, so I was definitely looking at WR for this pick.
The main three options were AJ Green, Jordy Nelson and Michael Thomas. Thomas may offer the highest upside, but he also comes with the greatest risk,  as we have only seen him for one season and we don't know how he'll perform when he doesn't have Brandin Cooks to draw some coverage. Nelson is a TD machine, but he looked a little slower last year coming off of the knee injury and he's injured often enough that I have an uneasy feeling about taking him quite this early (although I really considered it). Ultimately, I feel that Green offers the best upside while also offering the best floor. He now has John Ross to keep defenses honest, and, traditionally, speedsters like Ross are good for big plays with limited targets, which shouldn't keep Green from being somewhere in the area of 100 receptions this year. A potential top 5 WR is about the best you can ask for in a 1/2 point PPR league at pick 9.
– The Roto Dragon
Wolf's Take: 
I love RotoDragon's strategy of maximizing the floor in the early rounds, and Green certainly does just that. But he fails to acknowledge just how high Green's ceiling is as well: before going down in Week 11, Green led all wide receivers in fantasy points per game thanks to averaging 11 looks per game in his nine full contests (his 176 target pace would've indeed topped Mike Evans).  Moreover, he's already fully cleared for offseason activities following 2016's hamstring injury, and Green has historically been durable and dominant. Though I personally would go RB here, given the drop-off after the top-seven, I have no complaints with the floor Green brings at pick nine.
10. RB Melvin Gordon (LAC), Krall
Why I took Gordon:
With the other premium options off the board (as well as a shady pick by CJay taking a senile and broken LeSean McCoy), going with "Flash" was a relatively easy choice. As reflected in our stock ticker, Gordon received an uptick in value with the departure of Danny Woodhead to the Ravens. While DeMarco Murray was still available for the plucking — you have to wonder how many miles he's got left in the tank (29 yrs old) after the Cowboys hossed him while in his prime. I think the Wisconsin product has an opportunity to take another major step towards solidifying consistent RB1 status as a ball hog for the newly reborn Los Angeles Chargers.
2016 Stats: 3.9 YPC – 997 Yds – 10 TDs
2017 Projected Stats: 4.3 YPC – 1,250 Yds – 12 TDs
-Krall
Wolf's Take: 
I'm a huge Gordon fan, who was the #3 PPR back in 2016 before succumbing to injury. He's locked into the true, three-down horse role in Anthony Lynn's historically run-dominant attack, and plays in an offense that'll frequent the red zone with some explosive surrounding talent. Mix in some beefy line additions to the draft, and you've got yourself a high-end RB1 that should be a sturdy bet for 15+ points a week. Personally, I go DeMarco Murray given he's similarly locked into three-down duties, but comes with a safer insurance policy (Derrick Henry), as well as a beefier line. But Gordon is certainly justifiable, and if Henry appears to threaten Murray's goal line work, I'll certainly reevaluate. Overall, Krall secures a sturdy RB1 centerpiece for his squad.
11. WR Jordy Nelson (GB), DHoff
Why I took Jordy:  
I picked Jordy here mostly out of shock that he was still lingering around, as  I did not expect him to still be on the board.  If he can put up  97/1,257/14 line and finish as 2016's #1 fantasy wideout, despite coming off a brutal ACL injury, what can he do with a fully healthy offseason?  Nelson will head up a stable of wideout horses, which is crucial with this format forcing three WRs minimum each week, with a potential fourth in the flex.   Last but not least he does have that "baaaaad man" Aaron Rodgers getting him the rock, and their connection is nearly unmatched in today's NFL.
–DHoff
Wolf's Take: 
Similar to RotoDragon at #9, I prefer a RB here given the steep drop off after the top-seven. Nonetheless, DHoff is wise to consider the three WR roster settings, and Jordy was my next highest wideout on the board, so I have no true issues with this — especially if he can pair Nelson up with Murray or Ajayi in Round Two. The Packers failed to make any huge RB moves, leaving some serious red zone work for Nelson to continue dominating.
12. RB Jay Ajayi (MIA), RedSocker45
Why I took Ajayi:  
As the resident baseball expert, I think The Wolf stacked the deck against me here in this "random" draft order. Yeah, OK Wolf, the baseball guru "randomly" got 12. Whatever, the wrap arounds are a delicious way to scoop up back-to-back picks that people somehow forgot about.
I fancy myself more of a wide receiver guy than a running back guy, so I had my eyes set on A.J. Green or Jordy Nelson. Unfortunately, with those two gone baby gone, I was left with a slew of RB1.5s to choose from. After much deliberation and painstaking thought, I went with the only clear bell cow of the group Jay Ajayi. Yes, I know that he rushed for triple-digit yards only 4 times last year and his final rushing total may have been skewed by three 200+ rushing yard games (impressive, and only the fourth RB in NFL history to do that in a single season). However, also remember he was only the true lead starter in 12 of the Dolphins 16 games last year. In those 12 games, he compiled 1,197 yards (basically 100 rushing yards per game, equaled last year ONLY by the #1 and #4 picks of this Mock Draft, generational and all-world runner Le'Veon Bell and rookie sensation Ezekiel Elliott), had less than 18 total touches only once (his first start in the lead role) and had 20+ six times (and more than 25 touches 4 times). The main concern will be ceding receptions and third down duties to Damien Williams. However, Miami has no other running back to compete for carries with Ajayi and, in his third year in the league, he still has time to develop his pass-catching abilities and improve upon his 27 receptions and 34 targets. Also, Miami has a fairly soft run-defense schedule this upcoming 2017 season, so add that to the list. Given that Ajayi is a true workhorse, I see Miami riding him all year in a diverse offense and talented, which should open up running lanes all day. As he develops, Miami will have less incentive to take him off the field and will use him more as a pass catcher, only increasing his value.
– RedSocker45
Wolf's Take: 
First off RedSocker, I fear no one fantasy-wise, especially not someone who considers the horrendously boring game of baseball as their top sport. That being said, I love your usage of RB1.5, and feel Ajayi is a fine selection here. If it helps you sleep at night, I also think your main concern of Willaims stealing third down work is a nonissue, as every report this offseason suggests Ajayi is "200 percent" improved in the passing game and slated for a far expanded receiving role.  Though I still value Murray higher for the many reasons mentioned throughout this article, Ajayi comes with a huge ceiling, especially if he maintains his incredible rushing efficiency (led the league in yards after contact per attempt and forced missed tackles per attempt) to go with a healthy target boost and a beefed up line. A great RB1 to build around, but, with only 12 games of quality tape, I'd be sure to go RB early again in case Ajayi suddenly slumps.
This is just the beginning — be sure to tune in every Monday as our draft unfolds and carries you into the summer.  In the meantime, be on the lookout for our Rankings, Stock Profiles, and everything in between. Don't miss the piece of advice that swings you a championship — follow our Facebook, Twitter and Instagram pages and make sure to subscribe (and rate us 5 stars) to the Fantasy Fullback Dive on iTunes or Stitcher.