Player Stock Ticker
Fantasy Baseball Waiver Wire Adds Week 8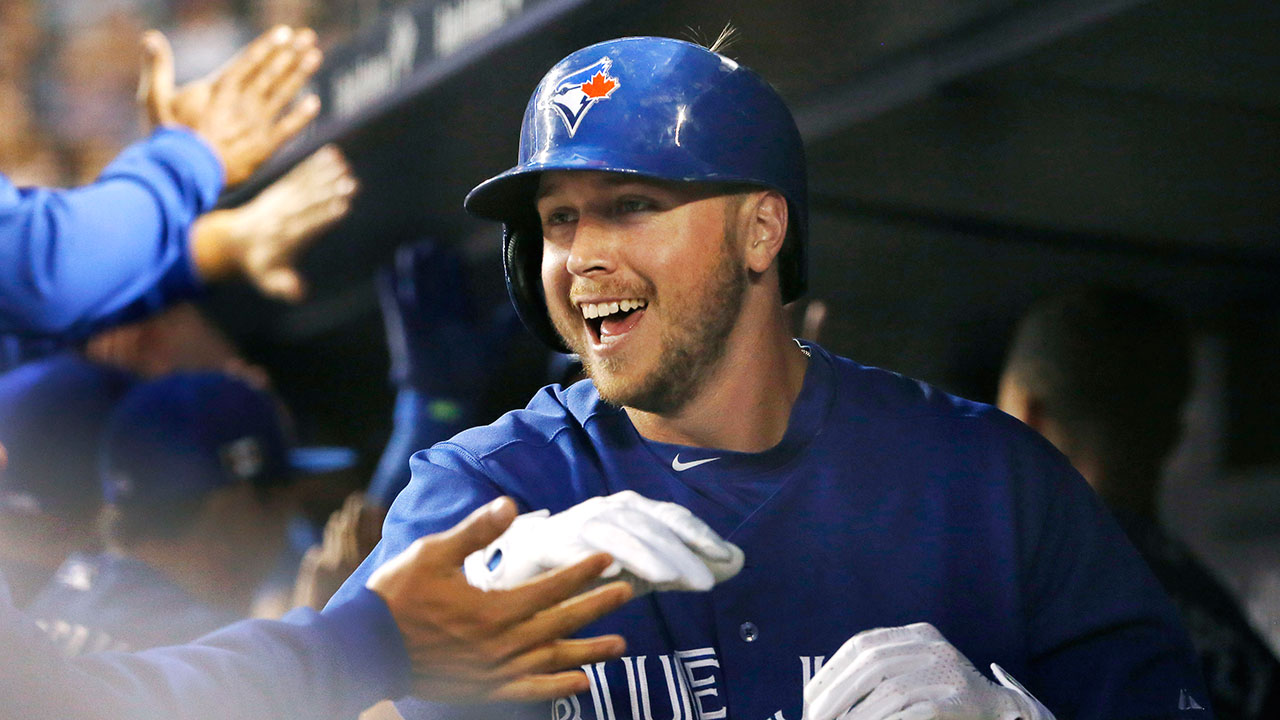 Welcome back everybody to yet another week of waiver wire advice. As has been the case lately, we have the misfortune of dealing with another major injury to a top star. Freddie Freeman is down and out for upwards of two months. Of course, we can't directly replace the kind of production that Freeman can deliver but I'm going to give you some ideas of first basemen that may be available in your league to help you get over your loss (if you had Freeman).
Justin Smoak, 1B, Toronto Blue Jays (42% Owned on Yahoo):
Justin Smoak was a highly touted prospect coming up through the Rangers farm system. He has obviously failed to live up to his potential for a number of reasons, not the least of which has been an inconsistent role and lack of playing time. The Blue Jays finally committed to giving Smoak a solid role this season and it has been paying dividends. Smoak now has 10 home runs on the season along with a .279 average and 29 RBI. Additionally, 5 of those home runs have come overAd the past two weeks. Make no mistake, Smoak still has a bit of a hole in his swing so that .279 average is going to steadily creep closer to .250 but there is definitely power to be had here if you are looking to replace some of Freeman's homers and he may actually maintain a higher RBI pace than Freeman would have because of the surrounding talent in Toronto. Also, there are so many great things you can do with the name Smoak if you are looking to rename your fantasy team – just saying…
Justin Bour, 1B, Miami Marlins (20% Owned on Yahoo):
Justin Bour is a young first baseman with plenty of power who just needed a chance at a full time job. The Marlins have committed to giving him more playing time than he had previously gotten and much like Smoak, he has rewarded them with 10 home runs and 27 RBI. He is currently batting .262 and that's after hitting .350 over the past two weeks, so this is another high power, low average type of 1B. That being said, he's available in many places and should be a good bet to keep the power going. If you are deciding between Smoak and Bour, I'd say that Bour is likely to have more power with a lower average while Smoak is likely to have a bit better of an average with less power. Neither will hit for a high average so you won't be able to replace that piece of Freeman here, but at least you can preserve some of the home runs and RBI.
Matt Adams, 1B, Atlanta Braves (3% Owned on Yahoo):
You may be noticing a common theme here with these first basemen, they are all power hitting guys, with low averages that have found their way into some playing time. Matt Adams is more of the same. He showed some promise in St. Louis a few years ago but has not been able to get any real playing time over the past few years. He has not helped his own cause with his lack of contact either. Adams is a player that I was actually very high on coming into this year if he could just get some at bats because it looked like he may have improved his approach a bit over the spring. Now he has been traded to Atlanta in the wake of the Freeman injury and while we still don't know what kind of role he is going to have, it is highly likely that he may finally get enough playing time to put him back on our radar. If Smoak and Bour are already owned in your league, there is at least a good chance that Adams is not, and he could end up being every bit as productive as those two will be. He also qualifies at OF in Yahoo leagues which never hurts.
Ian Happ, OF, Chicago Cubs (38% Owned on Yahoo):
Full disclosure, I'm a Cleveland Indians fan,so based on how last year ended, the Cubs can kiss my big, scaly tail. That being said, the Chicago Cubs have been known to bring youngsters up from the minors and immediately hit gold and Ian Happ looks to be no different. Happ profiles as a decent all around hitter with some power and a minor speed. He has been up from the minors for only about a week and has been hitting cleanup for most of that time. The big caveat with Happ is that he was only supposed to be up for a few days to mitigate injuries and now that Jason Heyward is back, it is highly possible that Happ gets sent back to the minors because there's no room for him to play. However, if Happ keeps hitting, he may be able to luck into an extended stay and injuries happen often enough, that he may be able to settle into a regular role. He can play any outfield spot and he also qualifies at 2B on Yahoo which is clutch. Don't expect him to change your season but he's worth riding out until he gets sent down or stops hitting (which will likely be at the same time).
Chris Taylor, 2B/3B, Los Angeles Dodgers (32% Owned on Yahoo):
The Dodgers invested in Logan Forsythe over the winter to improve their lackluster 2B production. As is often the way, their new acquisition got hurt rather promptly and left the Dodgers staring at the old as hell Chase Utley or a chance call-up. The Dodgers opted to give Chris Taylor the call from the minors and see what he could do. All the dude has done is mash, batting .338 with 5 home runs over 77 at bats. Forsythe is close to returning, but the Dodgers just lost Justin Turner to the DL with a hamstring injury so Taylor still has a place to play for the short term. Taylor will slow down, they always do, and he will also eventually find himself without a place to play. However, if you are dealing with a short term DL issue (and at this point, with what seems like 100 guys on the DL – who isn't), then Taylor could be a solid fill in while he's hitting and has a place to play. He has the added benefit of playing SS in Yahoo leagues as well.
That's it for this week everybody, I hope you got some good ideas to help with injuries and ineffective players. As always, don't be shy in the comments below, even if you're a Cubs fan.