Player Stock Ticker
Joe Mixon Fantasy Football Stock Profile: The Bengals Add Punch to Run Game With Mixon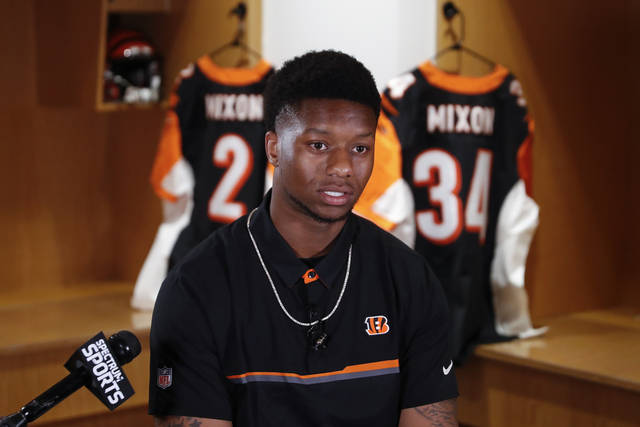 The Cincinnati Bengals are another one of those teams that could care less how many women's faces will never look the same after a merciless beat down from one of their players. That's exactly why they decided to forego all liability and select thug running back Joe Mixon from the Oklahoma Sooners in the 2017 NFL Draft.
The first rule of NFL Top Prospect fight club is…YOU DO NOT TALK ABOUT FIGHT CLUB.  The second rule of NFL Top Prospect Fight Club is….YOU DO NOT PUNCH A WOMAN UNDER ANY CIRCUMSTANCES, BUT ESPECIALLY IN PUBLIC, ON CAMERA, WITH SEVERAL WITNESSES. Fight Club was a movie that Joe Mixon clearly did not get around to watching during his youth, but that's a different story. Before we dive into the undeniable talent that Mixon has been blessed with, let's take a minute to acknowledge the ugly truth that he literally knocked the 4Loko out of some sorority chick that weighs no more than half of what he can bench on a bad day:
Not a good look.
Considering the shit storm that Ray Rice endured, its amazing to consider how Mixon has bounced back from this major obstruction of justice to still be selected as a 2nd round pick — just three years removed from assaulting a woman in public. Fracturing four bones in a woman's face is nothing a few hours of community service can't fix right? Unbelievable, but there still lies truth in the phrase that "time heals all wounds" especially if you're a stud running back playing college ball in the Big 12.
Talent: 8.5/10
"On talent, he's the best running back in the draft. On talent, and on ability, the kid averaged over 6 yards a carry in 9 games this year, he averaged almost 15 yards a catch, he had a 97-yard kickoff return against Ohio State, he's 228 pounds and he ran 4.43. He was a top kid coming out of high school, so he's an elite–like [Leonard] Fournette–to me he's a better back than Fournette, on talent." – Mel Kiper Jr.
Despite completely hating myself for actually agreeing with Mel Kiper – the guy is spewing facts when it comes to Mixon. Mixon's collegiate statline is impressive, racking up 15 all-purpose TDs, and almost 1,300 rushing yards in a top notch conference is no joke.
Opportunity  + Usage: 6.5/10
Opportunity is a major question in the Bengals backfield, and I expect there to be a lot of confusion among Bengals beat writers as to who will get the largest share of attempts out of the backfield. My guess is that Jeremy Hill will begin the season as the feature back, with Giovani Bernard playing a bigger role on 3rd down. With Hill on a contract year, and Bernard coming off of an ACL tear — it's not so much a matter of "if" as much as it is "when" Mixon will over take lead-back duties. In my opinion, the rookie wins the opportunities of the starter early on in the season, regardless of whether or not he is on the field for the Bengals first offensive snap of the game.
"I think he (Mixon) is immediately the most talented and versatile back on their roster." – Field Yates
Coaching Scheme: 7.5/10
Cincinnati were very much a run-heavy team last season as they pounded the rock 44% of the time, which ranked 8th in the NFL. With that said, they haven't exactly prepared themselves for greatness in the coming season with a porous and unheralded offensive line. While the Bengals will probably want to continue to run the ball in 2017, I wouldn't be surprised to see Marvin Lewis implement more of a "west coast" type of offense (think New York Giants) which would focus more on quick throws to protect Andy Dalton. Drafting the fastest collegiate prospect in the draft will help, as John Ross can definitely run after the catch. Having a healthy A.J. Green around can't hurt either, but how much success can a team have that can't protect its QB or even create space for it's three-headed ball carrying monster?
Surrounding Talent: 7.5/10
Dalton, Green, Tyler Eifert, Brandon LaFell, Ross, and the other two capable Bengals backs (Hill & Bernard) lead an impressive supporting cast of offensive weapons for Marvin Lewis to choose from. What the Bengals are lacking however, is a stable and trustworthy offensive line after losing Pro Bowl tackle Andrew Whitworth to the LA Rams, and former guard Kevin Zeitler (a former 1st round pick), to the Cleveland Browns in the off season. I'm wondering how the Bengals plan to address these two major gaps in their O-line, seeing as they didn't do so via free agency or the draft. All of the firepower they possess could go to waste if they can't protect the Red Rifle and create gaps for talented new running back Joe Mixon.
Risk: 6/10
Reference the beginning of the piece in case you missed it. On the plus side, we now know that Mixon made nice with the woman he assaulted, and it seems as though the incident is now behind him. Regardless, the Oklahoma product needs to keep his temper (and moral compass) in check if he wants to have any sniff of NFL glory.
Overall Stock Score: 36/50 = 72, C-
Ceiling Projection: 4.1 YPC – 1,050 Yds – 10 TDs
Floor Projection: 3.6 YPC – 420 Yds –4 TDs
Bottom Line: A crowded backfield in Cincy will make it difficult for Mixon to separate himself from the pack in the short term, but the talent is there to assume an alpha role if either incumbent is cut or becomes injured. Mixon is a legit 6th to 8th round fantasy option with a bright future if he can manage to stay out of trouble.
2017 Predicted Stat Line: 3.9 YPC – 810 Yds – 8 TDs
We used this formula to nail David Johnson and Ezekiel Elliott in 2016. Check back for more Fantasy Stock Profiles throughout the off-season to stay ahead of your fantasy football league.