Player Stock Ticker
Fantasy Baseball 2017: Hitter Streamers Week 10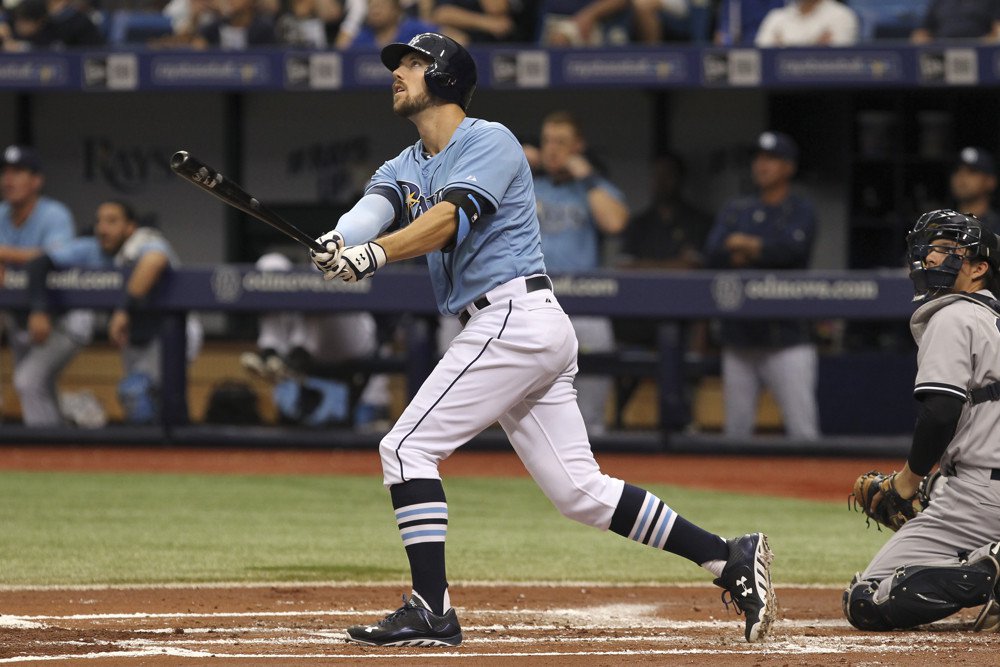 After what seems like forever since we have done one of these, we are back with a vengeance for the Hitter Streamers Week 10. Actually, Week 7 was the last time I wrote a streamers article, so with two more weeks of statistical accumulation and analysis I plan on being on point this week. For Week 7, we were able to improve our overall batting average to .257 by batting .274 and we also added two home runs, giving us 21 total home runs between the 24 total streamers suggested. Sprinkle in 60 plus runs and RBIs and my streamers are averaging about a home run and 3 runs and RBI per week. While nothing too sexy, that is still decent production. If I could ever stop picking Ryan Schimpf my average could be close to .400. Let's see who is available this week and who has an easy schedule.
Steven Souza Jr., OF (TB, 46% Yahoo ownership)
Maybe the biggest surprise this year has been the relative effectiveness of the Tampa Bay Rays offense and their ability to stay competitive, as they are one game above .500 as we enter June. And a big part of that is their big bat in the middle of the lineup, Steven Souza Jr. Besides the Evan Longoria spot (the 3 hole which he has occupied all year), Souza has batted all over the top part of the Rays lineup, from leadoff and second to fourth and fifth. His diverse skill set, raw power and ability to get on base make him a matchup nightmare for pitchers and a dream flexibility guy for managers. On the year Souza boasts a solid .272 batting average but a very impressive .384 OBP, good for 10th in the American League. While he does not steal bases at the same rate as he did in year prior (he averaged over 13 per year over the last 2 years per 162 games played) he has more than made up for that with his ability to get on the bases and produce in the middle of this new and improved Rays offense. With 6 games at home against mediocre pitching staffs where Souza has a .313 average and 1.043 OPS, expect Souza to hit a couple home runs and give the Rays the offensive boost he has all year long.
Josh Reddick, OF (HOU, 21% Yahoo ownership)
Josh Reddick's ownership is WAY too low. Reddick bats second for the team with the best record in baseball, a team that is currently tied for first in the Major leagues in runs scored. Oh and he bats between George Springer and Jose Altuve. Ever heard of them? On the year, record owns a very respectable .272 batting average, .778 OPS and is on pace for 18 home runs and 91 runs. That would be a pretty good pick in the 15th round of drafts, but you can get him for free as he is available in 80% of leagues. Not too shabby. Reddick's only downfall this year has been his continuing career-long struggles against lefties (.631 OPS, even though he is batting .269 against lefties), but he maintains great production against righties (.802 OPS). Luckily, Reddick and the Astros get a full slate of games this week, 6 of which come against righties on two middling staffs, the Kansas City Royals and Los Angeles Angels. Look for Houston to continue its scorched earth policy this year and light those two teams up on the scoreboard, with Reddick right at the top and in the middle doing his part.
Brandon Crawford, SS (SF, 46% Yahoo ownership)
Admittedly this pick has more of a gut feel to it than the others. On the year, the San Francisco Giants rank dead last in baseball in slugging percentage and OPS, second to last in runs scored and average, and third to last in OBP. They have basically been the worst offensive team in baseball the first tow months of the season, and that is with Buster Posey batting .344 with a .960 OPS. So why stream a Giant? Well this week Brandon Crawford and the Giants will be able to escape the caverns of AT&T Park and visit the hitter-friendly confines of Miller Park against a quartet of mediocre right handers. Then San Fran will travel back home to welcome a trio of Minnesota Twins righties, who, as a staff, have the 25th ranked team ERA. As a lefty, Crawford fares a little better against right handers, so he will benefit from the splits this week. With a handful of professional hitters on their squad used to getting on base at a good clip, I expect the Giants to heat up as they so often do, and I expect Crawford to be a big part of their resurgence batting in the five hole behind Posey.
Dexter Fowler, OF (STL, 54% Yahoo ownership)
After winning a World Series ring in 2016 with the Chicago Cubs, Dexter Fowler probably did not foresee such an extended adjustment period with his old team's most fierce rival, the St. Louis Cardinals. Unfortunately, as the calendar just turned to June, Fowler is batting what would be a career low .232 in his new red and white uniform. However there are still some positives signs, suggesting an imminent turnaround. First, he still bats leadoff, so he should still maintain solid run production (as evidence by his projected 90 runs even with his .232 average). Second, he is on pace for 56 extra base hits this year (which would be the most in his career) and the third highest slugging total of his career. If his BABIP (.260) can regress towards his career mean (.338) then Fowler should see his average steadily climb until seasons end. This upcoming Week 10, Fowler plays a full slat of 7 games against the 28th (Cincinnati Reds) and 30th (Philadelphia Phillies) ranked staff by ERA. Expect Fowler to begin his ascent this week and to produce great numbers across the board.
Come back to Roto Street Journal every weekend to check out my top hitter streamers and build your best lineup for success. Good luck navigating Week 10 everyone, and happy streaming!
To contact me with any questions or general fantasy baseball discussion, please email me at redsocker45@gmail.com or tweet me ‪@AJGamballer‪.