Player Stock Ticker
Melvin Gordon Fantasy Football Stock Profile: Lightning to strike twice in Chargers backfield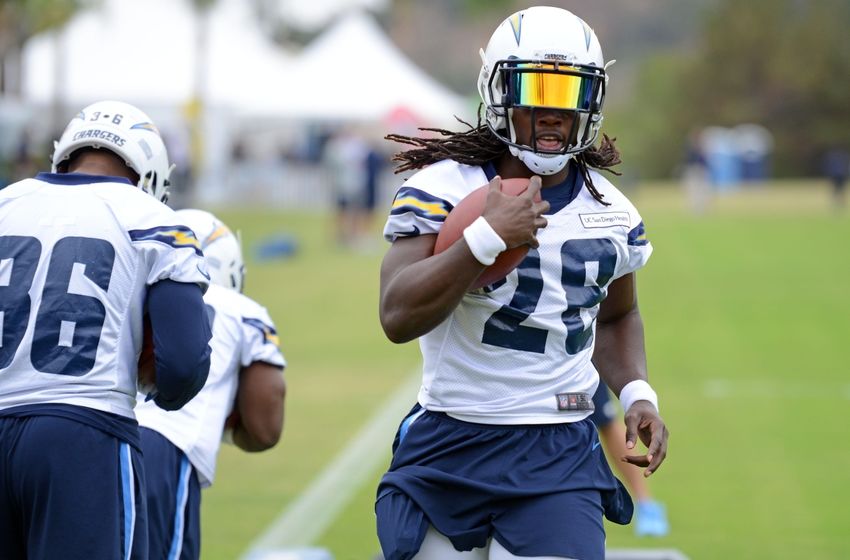 Melvin Gordon
Position: Running Back
Team: Los Angeles Chargers
Talent: 9/10
After a disappointing rookie year in 2015, Melvin Gordon showed the NFL and fantasy owners just how good he can be and that he was worthy of a first round pick in the 2015 draft. Now Gordon finds himself in first round territory for fantasy owners in 2017 after a Pro Bowl worthy season. He is a solid runner both in-between the tackles and outside, which makes him valuable. His plus burst allows him to shoot through said inside gaps, and he's tough to bring down with a shredded frame. Gordon boasts great agility and the ability to blow by his defenders. He's built on his receiving game as he more than doubled his receiving yardage from the prior season.
Opportunity + Usage: 10/10
Gordon's most appetizing portion of the stock formula falls here under Opportunity + Usage. Last year Gordon handled 254 carries in 13 games after Danny Woodhead went down for the year with a torn ACL. He was the lone back in the offense and was properly fed like one. The result: 997 yards and 10 touchdowns that left owners who invested a middle round pick on him harder than a diamond in an ice storm. Woodhead left to join the Ravens in the offseason, leaving the backfield entirely to Gordon. The Chargers didn't add any notable backs in the draft or through free agency, so it's just Gordon and Branden Oliver, who is returning from a ruptured Achilles and fits more of a third down/passing role. New running backs coach Alfredo Roberts said that Gordon can be "one of the elite backs," and all signs point to another heavy workload in 2017.
Coaching Scheme: 10/10
New Los Angeles Chargers coach Anthony Lynn is a blessing for Gordon and the running game. Lynn started as a special teams coach in Denver before becoming the running back coach in Jacksonville in 2003. Fred Taylor was running rampant at that time for Lynn before the coach bounced around to Dallas, Cleveland, the New York Jets and then Buffalo. Initially the running back coach for the Bills, Lynn was promoted to the offensive coordinator after Week 1 last year. What ensued from that was LeSean McCoy having a monster year being featured as the workhorse back who was also involved in the passing game.
Now Lynn will shift his focus to Gordon being a three-down feature back in the offense coming off an equally impressive season. There's no reason to doubt Gordon's involvement in the offense, and if any coach can get the most out of his running back, Lynn appears to be the guy. Offensive coordinator Ken Whisenhunt remains on staff so it's hard to believe that any drastic shift in play calling will occur in 2017.
Surrounding Talent: 9.5/10
There's no denying the abundance of talent that the Chargers offense possesses. All-pro QB Phillip Rivers has a plethora or receiving weapons at his disposal that can easily move the ball downfield. The potent passing attack keeps defenses from stacking the box against Gordon and the run game. The lack of other running back depth also helps Gordon's surrounding talent score as funny as that may sound. You don't want a monster backup like Derrick Henry in your backfield, so the stable of Oliver and Kenneth Farrow is a major plus for Gordon.
Last year the Chargers had one of the NFL's worst offensive lines, so it was encouraging to see Gordon still have great success in 2016. The team certainly addressed the glaring issue by signing left tackle Russell Okung from Denver and then drafting arguably the two best guards in the draft with Forrest Lamp and Dan Feeney. An improved line could mean even more success for the Chargers offense in 2017, particularly Gordon.
Risk: 8/10
Gordon's lowest score reasonably comes from the risk attached to the third year back. First off, Gordon had such a bad first year (zero touchdowns) that it's sure to still creep into the back of some owners minds. Not sure if they are able to trust Gordon to repeat what was such a stellar 2016 season. The other risk associated with Gordon is that he's coming off an injury that led to micro-fracture knee surgery. He missed the last three games of the season from the knee injury as well as hip issues. The injury history lowers Gordon's risk score, but still an 8 is a good score to have as he should be all set and ready to go in 2017.
Overall Stock Score: 46.5/50 = 93 A
Ceiling Projection / Scenario: Under new HC Anthony Lynn, Gordon has an even better 2017 than his 2016 breakout year. The enhanced offensive line pays off for San Diego as Gordon sets new highs in rushing yards and touchdowns. He's just as dependable as he was in the prior year while cementing his status as an RB1. Gordon finishes the year as a top five back.
290 carries, 1,400 yards, 12 TDs; 35 catches, 375 yards
Floor Projection/Scenario (excluding injury):  Gordon puts up a rather mediocre season based off his lofty expectations. He still generates enough points to remain in lineups, but he's not putting up the high end RB1 numbers you expect consistently. His yardage totals take a hit to the point where he really needs to find the end zone to have himself a solid day.
210 carries, 850 yards, 8 TDs; 25 catches, 215 yards
Bottom Line: Gordon has all the tools and surrounding setups to repeat on his 2016 success. With the backfield all to himself and new coach Anthony Lynn at the helm, Gordon should once again be a very big piece to this offense. They see a big future for this player in Los Angeles and he should come through for both the team and fantasy owners who invest a first round pick in him.
2017 Predicted Stat Line: 280 carries, 1,200 yards, 11 TDs; 35 catches, 345 yards
We used this formula to nail David Johnson and Ezekiel Elliott in 2016. Check back for more Fantasy Stock Profiles throughout the off-season to stay ahead of your fantasy football league.