Player Stock Ticker
Fantasy Baseball 2017: Closer Depth Chart Week 11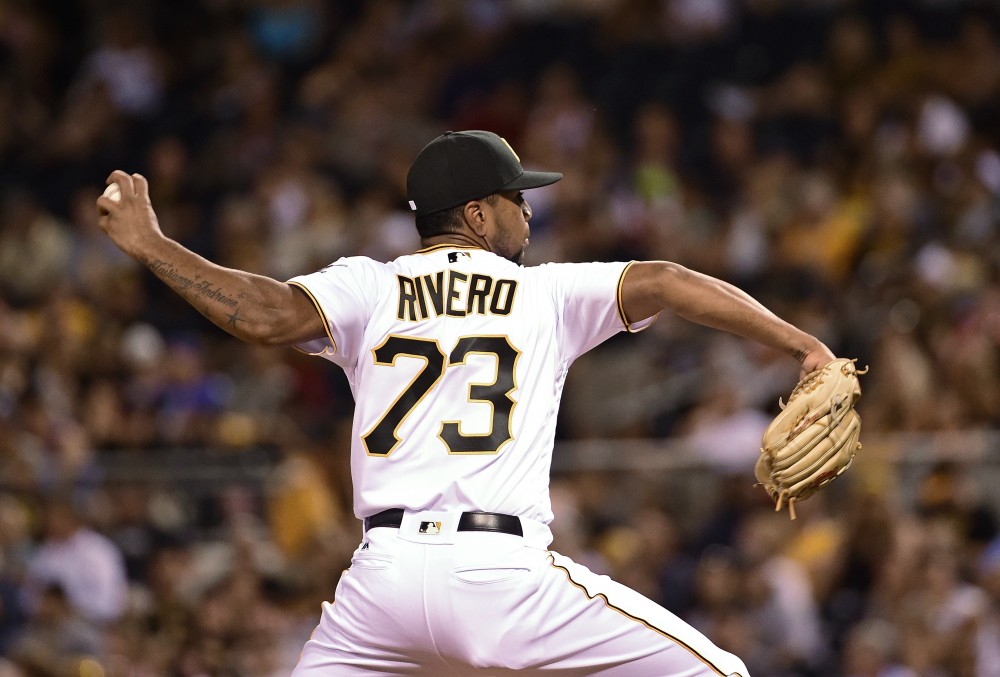 Welcome back to the Wednesday Weekly Closer Report where I will break down and rate each team's bullpen situation. Somehow my favorite storyline of the year pulled an Undertaker and came back from the dead. Luckily for you guys, the Nationals bullpen continues to be a laughing stock and I have an endless supply of jokes to entertain you throughout the year. As always, do not forget to check out the rankings of the 'Immediate Waiver Pickups' at the end of the article to see who has the most upside going forward for his team's closer job.
American League East
| RSJ Rating | Team | Current Closer | Handcuff | Immediate Waiver Pickup |
| --- | --- | --- | --- | --- |
| Confident | BOS | Craig Kimbrel | Joe Kelly | |
| Unstable | NYY | Dellin Betances | Tyler Clippard | |
| Confident | BAL | Brad Brach | Darren O'Day (INJ) | |
| Confident | TOR | Roberto Osuna | Joe Smith | |
| Confident | TB | Alexander Colome | Tommy Hunter | |
You'll note that the New York Yankees bullpen situation has gone from "Confident" to "Unstable" within a week. How can that be you ask? Well obviously it has to do with the reported return of all-world closer Aroldis Chapman. The Yankees expect to activate him sometime between June 16 and June 18, so with a return imminent Dellin Betances will (unwillingly) hand over the reigns of that bullpen. Since the Yankees placed Chapman on the disabled list on May 14, Betances appeared in 9 games. In that timeframe, he pitched 8.1 scoreless innings, going 6/6 in save opportunities and striking out 16. On the year, Betances has a microscopic 0.45 ERA and 17.10 K/9. Not bad for a mere backup. Let me briefly discuss my thoughts on Betances moving forward. Because Chapman will serve almnosmt exclusively as the Yankees closer from here on out (barring injury or setback), Betances' value obviously takes a gigantic hit. Personally, I never see the value in holding onto a reliever that does not get saves (he had 0 while Chapman was healthy) unless you are in a league that accounts for "Holds". Now there are exceptions: mainly this beast of a man and Andrew Miller. These guys will give you 2+ clean sheets per week and strikeout roughly 3 batters per week. For me, I would try and sell him high, preferably to the owner of Chapman, and try and combine him in my patented 2-for-1 deal where you get the horse and give away two ponies. I get it, Betances is great. I have always loved him and think it was somewhat of a mistake to spend all that money on Chapman (although I understand the logic using the 2014/2015 Royals and 2016 Indians blueprint). But for fantasy purposes, he lacks real value that is critical to the large majority of leagues. Do not drop him as he performs too well. But if someone comes knocking, or the Chapman owner wants an insurance policy, pull the trigger.
American League Central
| RSJ Rating | Team | Current Closer | Handcuff | Immediate Waiver Pickup |
| --- | --- | --- | --- | --- |
| Confident | CWS | David Robertson | Tommy Kahnle | |
| Confident | KC | Kelvin Herrera | Joakim Soria | Joakim Soria |
| Confident | MIN | Brandon Kintzler | Taylor Rogers | |
| Comfortable | DET | Justin Wilson | Alex Wilson | |
| Confident | CLE | Cody Allen | Andrew Miller | |
This is not what the Kansas City Royals wanted to see a month out from the trade deadline. Over his last 11 appearances, Kelvin Herrera has allowed 10 earned runs in 10.1 innings pitched, blowing one save, taking one loss and allowing 18 hits. Yikes, that happened quickly. We all know the Royals will move Herrera to a contender for a pretty penny, but a few more appearances like this and maybe backup Joacim Soria starts gaining more traction as trade bait. While Soria maintains a 3.81 ERA, his FIP (1.80) tells the story of a man who is suffering mostly from bad luck (.391 BABIP on the year, over .100 points higher than his career average). While I would be shocked and appalled if the Royals made the move and diminished Herrera's value in the meantime, I think it may be a good idea to pick up Soria just in case they do the unexpected. Also, Soria (unless traded too) should take over the Royals job once Herrera leaves town, so you should have a  future closer on your hands. If you are desperate and the waiver wire is slim pickings, he may be a nice prospective add with good long term gains.
American League West
| RSJ Rating | Team | Current Closer | Handcuff | Immediate Waiver Pickup |
| --- | --- | --- | --- | --- |
| Comfortable | LAA | Bud Norris | Blake Parker | |
| Confident | SEA | Edwin Diaz | James Pazos | |
| Confident | TEX | Matt Bush | Keone Kela | |
| Unstable | OAK | Santiago Casilla | Ryan Madson | Ryan Madson |
| Confident | HOU | Ken Giles | Will Harris | |
Last week I reported Cam Bedrosian would be making his triumphant return to the Los Angeles Angels last Thursday only to let me down and be shut down due to groin discomfort. Sad! I still like Bedrosian but his timetable for return is getting murkier by the report. Add to that Bud Norris's continued dominance and Blake Parker's nightly dominance, and we will just have to stay the course for right now. We are all used to this story by now. Ken Giles seemingly every year goes through short-lived stints of struggles. And it usually happens on more than one occasion, causing you to frantically scour the waiver wire for Will Harris, Luke Gregerson or Chris Devenski, all of which are more than capable arms in that potent Astros bullpen. Recently, Giles gave up runs in 3 consecutive appearances, blowing one save and taking one loss, upping his yearly total to 2 for each on the year. Fortunately, Giles still maintains an 11.37 K/9, 2.79 FIP and in the good graces of Manager A. J. Hinch. Less of these roller coaster rides would be nice, but given the Astros seemingly insurmountable lead with a little less than 100 games left, I expect the Astros to stay the course with their young hired gun and continue building his confidence.
National League East
| RSJ Rating | Team | Current Closer | Handcuff | Immediate Waiver Pickup |
| --- | --- | --- | --- | --- |
| Unknown | WSH | Matt Albers | Enny Romero | Matt Albers, Enny Romero |
| Unstable | PHI | Hector Neris | Pat Neshek | Pat Neshek |
| Comfortable | ATL | Jim Johnson | Arodys Vizcaino | Arodys Vizcaino |
| Comfortable | MIA | A.J. Ramos | David Phelps | |
| Confident | NYM | Addison Reed | Jerry Blevins | |
It happened in April. It happened in May. It is happening now in June. And I promise it will happen again. Dusty Baker seems to be the exact opposite of King Midas when it comes to the Nationals bullpen and picking a closer. Everything he touches turns to rubbish, garbage, a steaming pile of crap (See the 0:28 second mark in the clip below for a funny cultural reference in one of my favorite movies). So let's see. Koda Glover goes on the disabled list with lower back stiffness after allowing 5 runs in .1 innings pitched and then 2 more in .2 innings pitched a few days later. Sooooooo Dusty Baker turns to Matt Albers. Let's give him another try. I mean he only blew one save on the year, what could possibly go wrong? In his first appearance called upon, Albers tosses up a cookie three run home run to Tyler Flowers, blowing the save and taking the loss. At this point I am lost. Maybe Enny Romero will get the next shot. Maybe back to Shawn Kelley or Blake Treinen? No idea. I just know that they need to make a move, and have needed to make one for months. But I am sure that will just blow up in Dusty's face too, just like King Midas' idiot brother.
National League Central
| RSJ Rating | Team | Current Closer | Handcuff | Immediate Waiver Pickup |
| --- | --- | --- | --- | --- |
| Confident | CHC | Wade Davis | Carl Edwards Jr. | |
| Confident | CIN | Rasiel Iglesias | Drew Storen | |
| Confident | MIL | Corey Knebel | Jacob Barnes | |
| Confident | STL | Seung-Hwan Oh | Trevor Rosenthal | |
| Comfortable | PIT | Felipe Rivero | Juan Nicasio | Felipe Rivero, Juan Nicasio |
My magical powers worked again! First I called for Justin Wilson to replace Francisco Rodriguez and then I moved Tony Watson out the door for Felipe Rivero. Ask and I shall receive! The Pirates had to make this move. Watson all but left his glove on the mound and did a tip-of-the-cap on his way out of the closer's role. And definitely for the best too. On the year, Rivero has a sublime 0.53 ERA, 0.68 WHIP and almost 10 K/9. Now there will be some regression as his BABIP is abnormally low (.190) but even still his FIP (2.40) and xFIP (2.66) are still in line with some of the better relievers in the game. Clint Hurdle originally reported a timeshare may ensue between Rivero and Juan Nicasio, but I am not buying that at all. Do not be foolish Clint, Nicasio is a long guy with very little upside and appeal. And while the Pittsburgh Pirates may not be any good, Rivero is a young, talented arm that I am sure the Pirates will want to explore, develop and exploit for the remainder of this 2017 season and beyond. If he somehow is still available in your league, pick him up immediately and enjoy the fruits of his labor.
National League West
| RSJ Rating | Team | Current Closer | Handcuff | Immediate Waiver Pickup |
| --- | --- | --- | --- | --- |
| Confident | LAD | Kenley Jansen | Pedro Baez | |
| Confident | SF | Mark Melancon | Derek Law | |
| Unstable | SD | Brandon Maurer | Brad Hand | Brandon Maurer, Brad Hand |
| Unstable | ARI | Fernando Rodney | Archie Bradley | Archie Bradley |
| Confident | COL | Greg Holland | Adam Ottavino | |
I am happy to have nailed the Colorado Rockies closing job out of the gates. I am a little upset at myself for not going out on a limb with my prediction for Greg Holland and following up on all the beautiful stats I laid out, but at least I was 80% of the way there. Holland currently leads baseball in saves with a 5 save margin over the best reliever in baseball Craig Kimbrel and fellow American League East-er Alexander Colome. And this is not one of those situations where Holland is racking up tons of saves but pitching mediocre. No. Holland has been downright filthy and dominant. He is 23/23 in saves. I am great at math, so I know that is a 100% conversion percentage. He also has a 12.17 K/9, a cool 5% HR/FB ratio and 2.35 FIP. Now, his BABIP (100 points less than his career average) should return closer to his career averages and maybe that Coors air catches up to him at some point and the home run Kraken is released. But none of that scares me. Holland is healthy and, as I pointed out in my article, when healthy the list of closers above him is very, very short. This year, the Rockies are a scoring machine and its not just a home-field thing as they have the most road wins (24) in baseball. If the Rockies young core of rookie starters holds up (big "if") and their offense continues playing well (more than likely), Holland and the Rockies should find themselves leading quite a few ballgames going forward. As I stated months ago, consider me a buyer on this very low risk and high reward investment.
Ranking of the Immediate Waiver Pickups
Felipe Rivero (PIT, 31% Yahoo ownership)
Brandon Maurer (SD, 59% Yahoo ownership)
Matt Albers (WSH, 32% Yahoo ownership)
Ryan Madson (OAK, 36% Yahoo ownership)
Archie Bradley (ARI, 20% Yahoo ownership)
Brad Hand (SD, 19% Yahoo ownership)
Arodys Vizcaino (ATL, 14% Yahoo ownership)
Pat Neshek (PHI, 21% Yahoo ownership)
Juan Nicasio (PIT, 24% Yahoo ownership)
Enny Romero (WSH, 1% Yahoo ownership)
Joakim Soria (KC, 6% Yahoo ownership)
And that's a wrap for the Closer Depth Chart Week 11. Be sure to scour the waiver wire for all these relievers and check back every Wednesday for the latest updates regarding the closer jobs around the league. Until we meet again, keep your eyes open and your nose to the ground.
To contact me with any questions or general fantasy baseball discussion, please email me at redsocker45@gmail.com or tweet me ‪@AJGamballer‪.