Player Stock Ticker
Fantasy Baseball 2017: Two Start Pitchers Week 12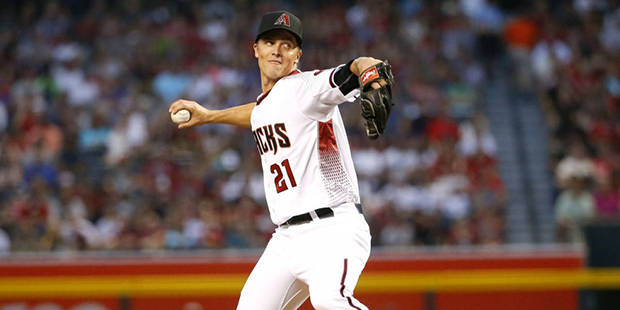 Welcome to Two Start Pitchers Week 12, where we will breakdown the two start pitchers from June 19-June 25. With a few top names filling up the top two tiers, the "Very Good" designation is a giambotta (a delicious Italian pizza but also a way of saying grab-bag) of names ranging from the usual to the quite unusual and unexpected. It's possible you may find some of these highly ranked two starters on your waivers wires, so if in dire need of streamers, gobble them up quickly. Let's rank 'em!
Never a Doubt
Jon Lester, CHC (vs. SD, @MIA)
Corey Kluber, CLE (@BAL, vs. MIN)
My biggest gripe with Red Sox management since I became a fan out of the womb back in 1989 was their handling of the Jon Lester contract situation after winning the 2013 World Series. I still do not know how that happened to this day. Anyway, coming off their miraculous victory the Red Sox, flying high and feeling mighty, lowballed Lester and forced him out of Boston. Only to thereafter sign a comparable lefty that never pitched in a big market without the postseason success and resume of Lester, costing far more money (Hello David Price). And of course, need I mention that the team which acquired Lester won the 2016 World Series. If the Sox had just offered Lester a decent salary around 5/$100 million maybe the Sox wouldn't be so financially constrained and would have enjoyed more success since 2013. But I digress. Lester is not having his best year but his 3.51 FIP and 9+ K/9 demonstrate a pitcher capable of dominating the opposition. The Cubs should start rolling soon, so consider me all-in on Lester and the other underperforming Cubs for the remainder of the 2017 season.
Borderline Aces
Justin Verlander, DET (@SEA, @SD)
Zack Greinke, ARI (@COL, vs. PHI)
Michael Pineda, NYY (vs. LAA, vs. TEX)
Tanner Roark, WSH (@MIA, vs. CIN)
Johnny Cueto, SF (@ATL, vs. NYM)
I think we all need to welcome Zack Greinke back to the MLB. Coming off his worst statistical season in a decade, most people wrote off the former #6 overall pick. But with his strikeouts back up, his peripheral stats this year are more or less in line with his dominant Dodger days from a few years back.  And while one start in Coors Field can usually turn me off a two starter, he pitched very well there once already this year (7 innings, 7 strikeouts, 2 runs and the win) and has a date with the lifeless Philadelphia Phillies in the other.
Very Good
Mike Leake, STL (@PHI, vs. PIT)
Marco Estrada, TOR (@TEX, @KC)
Mike Montgomery, (vs. SD, @MIA)
Brad Peacock, HOU (@OAK, @SEA)
Jake Odorizzi, TB (vs. CIN, vs. BAL)
Ervin Santana, MIN (vs. CWS, @CLE)
Dylan Bundy, BAL (vs. CLE, @TB)
Gerrit Cole, PIT (@MIL, @STL)
Brandon McCarthy, LAD (vs. NYM, vs. COL)
Sonny Gray, OAK (vs. HOU, @CWS)
Julio Teheran, ATL (vs. SF, vs. MIL)
I do not really like Mike Leake all that much. Nothing personal, I am sure he is a great guy. But from a fantasy baseball perspective he is just rather blah. He maintains a far below league average 6.38 K/9 and plays for a team that struggles to score runs. Also, Leake holds a rather pedestrian 3.73 FIP and a matching 3.72 xFIP. However, as a numbers guy, I need to point out that the Phillies and Pirates both rank in the bottom third in the league in runs scored per game and are both bottom five in home runs and slugging percentage this year. While his stats won't sparkle this week in the box score, you can rely on two quality starts and potentially 2 wins from Mr. Leake. Maybe one of the most frustrating pitchers and fantasy players over the past two years is Gerrit Cole. We were all dazzled by his 3.12 ERA and 40-20 record after 73 starts spanning 3 season. But since the start of last year, Cole has made 35 starts, going 11-16 with a 4.15 ERA. Those seem like two totally different pitchers. I partly blame the Pirates organization for reverting to the pre-2013 ways of losing, hindering Cole's growth. But also, from a numbers perspective, his strikeouts are considerably down and his contact rate is up, so he just is not missing bats at the same rate any more. For his career, Cole maintains a 3.40 ERA and supporting 3.18 FIP and 3.43 xFIP, so there is no doubting his talent or his career success so far. This could be the time to strike and snatch Cole from a disgruntled owner at a low price. Just do not expect a lot in the wins department.
Some Upside Here
Rich Hill, LAD (vs. NYM, vs. COL)
Ariel Miranda, SEA (vs. DET, vs. HOU)
Francisco Liriano, TOR (@TEX, @KC)
Alex Cobb, TB (vs. CIN, vs. BAL)
Zack Wheeler, NYM (@LAD, @SF)
Matt Shoemaker, LAA (@NYY, @BOS)
Matt Garza, MIL (vs. PIT, @ATL)
Matt Moore, SF (@ATL, vs. NYM)
Zach Davies, MIL (vs. PIT, @ATL)
R.A. Dickey, ATL (vs. SF, vs. MIL)
Edinson Volquez, MIA (vs. WSH, vs. CHC)
Sam Gaviglio, SEA (vs. DET, vs. HOU)
Jeremy Hellickson, PHI (vs. STL, @ARI)
Jordan Zimmermann, DET (@SEA, @SD)
James Shields, CWS (@MIN, vs. OAK)
Ariel Miranda just looked flat out UGLY pitching against the Minnesota Twins in Minnesota, surrounding 6 runs and 3 home runs over only four innings pitched. So how does he find himself so high up on this list, especially with a start against league juggernaut, the Houston Astros? Well, Miranda's starts this week both come at home where Miranda currently sports a beautiful 3-1 record, 2.14 ERA and .185 batting average against. Nothing like home cooking in a pitcher-friendly park. Edinson Volquez followed up his 98 pitch, 10 strikeout no-hit performance with 7 cleaning innings and 8 strikeouts, and suddenly the veteran's stock went soaring through the roof. Then came the crash against Oakland where he allowed 4 runs in 4 innings, walking 4 and surrendering (you guessed it) 4 hits. Pitching on his 7th different team in his career, Volquez actually is performing pretty well, seeing his strikeout rate creep over 8 per nine innings pitched. He still cannot keep the ball in the park or command his pitches, issues which have plagued him over the course of his career. So be careful this week as he welcomes two of the more patient and powerful teams, the Cubs and Nationals, to Marlins Park.
Cross Your Fingers and Pray
Josh Tomlin, CLE (@BAL, vs. MIN)
Andrew Cashner, TEX (vs. TOR, @NYY)
Scott Feldman, CIN (@TB, @WSH)
Chris Tillman, BAL (vs. CLE, @TB)
Clayton Richard, SD (@CHC, vs. DET)
Chad Kuhl, PIT (@MIL, @STL)
Amir Garrett, CIN (@TB, @WSH)
I cannot trust Chris Tillman until I see results. Yes, everyone knows Tillman was their most reliable starter for the past 4 years, making at least 30 starts in each year and going 56-30 over that timeframe. Although never a true ace, Tillman took the ball and lead that Orioles staff as far as his talents would allow. But this year has been rather unsightly so far. Only twice has Tillman pitched into the 6th this year and in 3 of his 8 starts he has allowed at least 5 earned runs. Couple that with a declining strikeout and increasing walk and home run rates and this is one guy to stay far away from. For as high as I was on Amir Garrett after his first few starts, I am lower than that on him now. Sure he recently pitched well, striking out 8 over six innings, allowing two runs. But in his 4 starts prior (his first 4 starts after rejoining the Reds from AAA), Garrett pitched to the tune of a 16.34 ERA. My gosh that is high. I will let him find his groove again before entertaining the idea of confidently starting him (especially in Washington).
Please No
Austin Bibens-Dirkx, TEX (vs. TOR, @NYY)
Jason Hammel, KC (vs. BOS, vs. TOR)
German Marquez, COL (vs. ARI, @LAD)
Vance Worley, MIA (vs. WSH, vs. CHC)
Matt Strahm, KC (vs. BOS, vs. TOR)
We usually do not see a lot of names in this bottom-feeding designation, but with these names and their matchups, I cannot doctor the truth. For example, what is an Austin Bibens-Dirkx? I do not know, but I am sure the Blue Jays and Yankees will find out and tee off on it. And German "3" Marquez probably will not survive his first home start against the Diamondbacks, but if he does the Dodgers and their second best home record at Dodger Stadium will be awaiting. Just be careful to use the correct German 3 around Major Hellstrom.
Come back to Roto Street Journal every Friday to see the two start ranks and how to best build your rotation for success. Good luck navigating the week, and happy streaming!
To contact me with any questions or general fantasy baseball discussion, please email me at redsocker45@gmail.com or tweet me ‪@AJGamballer‪.