Player Stock Ticker
Fantasy Baseball Waiver Wire Adds Week 12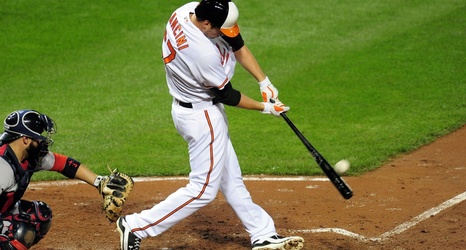 Okay, you may have noticed there was a change in the author name for this article. I have been going by the moniker of RotoDragon for the past 11 weeks but, full disclosure, I'm not actually a dragon. My actual name is Tim and since that seemed a little boring I was trying to add some excitement to my pen name and RotoNinja and RotoBarbarian were already taken (seriously, there is already somebody out there calling themselves these things). I will soon be starting to add some fantasy football insights in addition to my baseball work and the main theme of my weekly fantasy football article is going to be… trading. For that reason, I am opting to change my name now ahead of the football season so that all of my writing has the same author and everybody knows what to expect when they see my name. Now on to the real reason you all came here today.
Trey Mancini, 1B/OF, Baltimore Orioles (23% Owned on Yahoo):
By now many unfortunate owners are probably aware that Chris Davis has gone down with a lat injury. He is not expected to miss a ridiculous amount of time, but sometimes lat injuries can linger and sap some power so we may find that Chris Davis won't be back quite as early as hoped. In the meantime, Davis's absence should mean more playing time for Trey Mancini who has quietly put up 11 HR and 37 RBI with a .306 average this season. Additionally, with full playing time over the past two weeks, Mancini has hit .333 with 4 HR and 12 RBI. There is some definite sleeper power here and even when Davis returns, there is no reason that Mancini can't play himself into an everyday role. Definitely worth the add if you need some pop.
Derek Fisher, OF, Houston Astros (22% Owned on Yahoo):
Derek Fisher is a highly touted prospect for the Astros and, at the minimum, this Derek Fisher isn't known to bang his teammates wives. He hit .335 with 16 HR and 13 SB in AAA this season and the power-speed combo is definitely for real with Fisher. He profiles as a 20-25 HR guy with 15 SB ability. I don't expect he will hit those kinds of numbers this year and there is always the high possibility that he'll be sent back down to the minors when Josh Reddick is cleared of his concussion, but there is a lot of talent here. Last week the youth movement started with the call up of Lewis Brinson and I told you there'd be more to come. Fisher represents one of three recent call ups that I'll recommend this week and probably is the most well-rounded talent albeit with the most tenuous hold on playing time. He's worth adding if you have space, just don't give up a solid full timer for him as he may be back down too soon to realize his full potential.
Enny Romero, RP, Washington Nationals (6% Owned on Yahoo):
A quick story about my friend here, we'll call him John (because why not). John is that guy who I used to go to parties with and girls would be eye-screwing him all night long while he just stood around with the boys and completely missed the signs. All of us would be telling John that he had an easy path to poonani if he just, you know, spoke to a chick. He was either too stupid or too lazy to get laid (I'm still not sure which). The Washington Nationals are officially the "John" of the MLB. Everybody on the planet is aware that the Nationals are a World Series caliber team if they just trade for a damn closer. The Nationals themselves have to know this. Yet, somehow, here we are in mid-June and the Nationals are still running out scrub after scrub at the closer position to the same shit results. David Robertson, Kelvin Herrera, Justin Wilson, etc. are all out there giving the Nationals the sex eye, but they'd apparently rather just go home alone and get friendly with themselves. Either way, until the Nationals finally do what is necessary, we need to keep picking up their scrubs until one sticks for a bit. Koda Glover was that guy but he got hurt tickling himself in the shower and didn't tell the manager so he's gone, Matt Albers was that guy (for a day) until he got lit the hell up, so now our guy is Enny Romero. He was able to get through a game without coughing up the lead so pick him up and enjoy him for now, I guess.
Matt Chapman, 3B, Oakland Athletics (4% Owned on Yahoo):
Another of our young, hopeful studs has arrived. Matt Chapman has the capability to be a big power source with 16 HR and 30 RBI at AAA this year. He also seems to have 3B to himself in Oakland as the Athletics just dropped Trevor Plouffe when they called Chapman up so it would appear that Chapman is here to stay. While I am still patiently waiting for the A's to bring up Franklin Barreto, as I think he has all-world talent, Chapman is certainly a nice consolation prize. He likely won't hit for a great average but if you need a 3B that can put up some power and won't kill you anywhere else, you could do a lot worse than Chapman.
Austin Slater, OF, San Francisco Giants (1% Owned on Yahoo):
Austin Slater is a guy that I'm only suggesting in certain circumstances. He is not going to do enough to help most teams where he only qualifies at OF. However, in ESPN leagues, because he played 2B in the minors, he also qualifies as a second baseman. If you can get Slater as a second baseman, he's infinitely more valuable because his skills translate better to that position. Basically, he is the kind of player who will hit for a high average but not much else. I'd say he's likely to be a .300+ hitter with 10 HR and 10 SB over a season. This isn't world changing production but in a league where you are desperate for a 2B that won't kill you, he's worth the add. If he only has OF eligibility in your league then there's likely to be a better solution available, still, maybe all your team needs is guy who just adds to your batting average while not tanking your other stats and Slater should fit that bill. As a point of reference, he's batting .386 over 12 games this season.
That's it for today my friends. Have fun and keep hitting the wire for the next great gem. As always, don't be afraid to holler at me in the message board below!