Player Stock Ticker
Fantasy Baseball 2017: Two Start Pitchers Week 13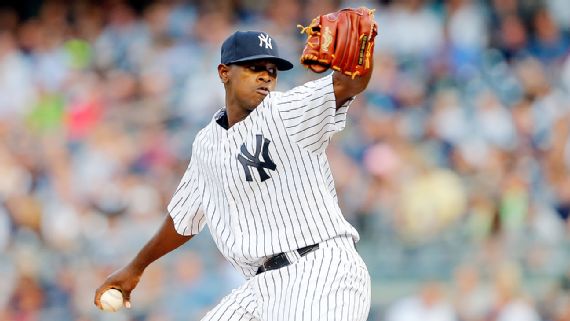 Welcome to Two Start Pitchers Week 13, where we will breakdown the two start pitchers from June 26-July 2. This week, there is an all out brawl for the top spot on this list, squaring off two of the most competitive, talented and frightening starters in today's game. Could it be an All Star Game preview? I think so. Let's get right to the main event and see how the rest of the field shapes out.
Never a Doubt
Chris Sale, BOS (vs. MIN, @TOR)
Max Scherzer, WSH (vs. CHC, @STL)
This is like picking between my two unborn children. Chris Sale. Max Scherzer. Maybe the two biggest pitcher names on the planet outside of Clayton Kershaw. But, without a doubt, these are the two craziest pitchers on the planet. First we have Max talking to himself like a psychopath on the mound, seemingly muttering to himself all the nasty things he plans on doing to the hitter up at the plate. And then we have Chris Sale throwing temper tantrums after giving up a home run in an 8-3 blowout masterpiece where he struck out 10 and walked 1. Did I make the right call here with Sale? I don't know honestly. Was it a homer pick? Maybe. Each have one easy-type start (Minnesota for Sale and St. Louis for Scherzer) and one tougher start (the Blue Jays and the Cubs, respectively). But while Scherzer's last 6 starts have been downright sublime (0.94 ERA, 0.58 WHIP, 69 strikeouts and 8 walks in 48 innings), Chris Sale still carries the better K/9, walk rate, home run rate, FIP, xFIP and contact rate on the year. Ultimately, this first-tier designation is named strictly for people like these two gentlemen. The opponents do not matter, the venue does not matter. Just give these guys a baseball and let them throw until they tell you they are done. Just keep the scissors away from Chris Sale.
Borderline Aces
Carlos Carrasco, CLE (vs. TEX, @DET)
Luis Severino, NYY (@CWS, @HOU)
Jake Arrieta, CHC (@WSH, @CIN)
Justin Verlander, DET (vs. KC, vs. CLE)
The man is just filthy. And that is from a die hard Red Sox fan. But at this point you cannot ignore the dominance, promise and endless upside that flows from Luis Severino on a nightly basis. On the year Severino carries a near 10 K/9 and 4 K/BB ratio, eye popping numbers from a young kid in his age 23 season. And while home runs have been somewhat tough to control (he is on pace to allow 23 this year), he still holds opponents to a .332 slugging percentage (7th in the MLB), .602 OPS (6th) and .211 batting average (12th, right behind that Clayton Kershaw guy). This week, Severino travels to face the White Sox and Astros, the latter start seeming quite troublesome. However, Severino performs better away from he bright lights of Yankee Stadium as Severino sports an undefeated 2-0 record with a 2.70 ERA and a home run rate that is less than half of his Yankee Stadium home run rate. Fire up this flamethrower with confidence.
Very Good
Carlos Martinez, STL (@ARI, vs. WSH)
Rich Hill, LAD (vs. LAA, @SD)
Hyun-Jin Ryu, LAD (vs. LAA, @SD)
Sean Manaea, OAK (@HOU, vs. ATL)
Jose Berrios, MIN (@BOS, @KC)
Gio Gonzalez, WSH (vs. CHC, @STL)
Jose Quintana, CWS (vs. NYY, vs. TEX)
Jaime Garcia, ATL (@SD, @OAK)
Junior Guerra, MIL (@CIN, vs. MIA)
I have led the Carlos Martinez charge for a while now, so I am well versed in this beast's stats. Since entering the big leagues in 2013, Martinez's highest FIP is 3.61, a year in which he pitched to a 3.04 ERA, going 16-9. For his career he roughly average a strikeout an inning and maintains such a steady ERA/FIP/xFIP (all in the low 3's) that his end-of-season results seem almost predictable. But this year, it seems as though Martinez has found another level. After a slow April (0-3, 4.71 ERA), Martinez has been moving and grooving like a superstar, going 6-2 with a 2.06 ERA, 0.87 WHIP and 9.32 K/9. He is also 10/10 in quality starts in that span. Some may call that a heater. Unfortunately, with starts against 2 of the top 3 scoring offenses in the National League, I just cannot place him in either of the top two exclusive categories. He does have the talent to pitch his way into a great week, but matchups do not lie and his two are as tough as they come. My love for Jose Berrios is well chronicled. And since I wrote those words, Berrios has only improved and impressed with each successive start. I do not think second year starters at 23 are supposed to have figured out Major League hitting by now, but this animal is well ahead of the curve. How else can you explain a 2.67 ERA, 0.91 WHIP, .181 batting average against or .549 OPS? And he strikes out basically a batter per inning. Great command and great stuff/talent is few and far between, but at 23 Berrios seems to possess all the skills necessary to become a dominant force in baseball for the next decade plus.
Some Upside Here
Taijuan Walker, ARI (vs. PHI, vs. COL)
Zach Godley, ARI (vs. STL, vs. COL)
Jordan Montgomery, NYY (@CWS, @HOU)
Jeff Hoffman, COL (@SF, @ARI)
Tyson Ross, TEX (@CLE, @CWS)
Mike Fiers, HOU (vs. OAK, vs. NYY)
Alex Cobb, TB (@PIT, @BAL)
Dan Straily, MIA (vs. NYM, @MIL)
Jeff Samardzija, SF (vs. COL, @PIT)
Drew Pomeranz, BOS (vs. MIN, @TOR)
Eddie Butler, CHC (@WSH, @CIN)
Michael Wacha, STL (vs. CIN, vs. WSH)
Mike Clevinger, CLE (vs. TEX, @DET)
Joe Biagini, TOR (vs. BAL, vs. BOS)
Robert Gsellman, NYM (@MIA, vs. PHI)
Trevor Williams, PIT (vs. TB, vs. SF)
I think people forgot just how good Tyson Ross was once upon a time. Did you know he sports a career 3.39 FIP and 3.49 xFIP, averaging nearly 9 strikeouts per 9 innings pitched? Pretty impressive for a guy no one really remembers. Also, from 2013-2015, Ross maintained a 3.07 ERA across 500+ innings pitched. So why do we forget all of this? Well, it is easy to forget someone who pitched for San Diego, never seemed to be healthy and threw a combined 14 innings since the start of the 2016 season. But he is back (for now) and he deserves the benefit of the doubt. Sure his second start left plenty to be desired, but in his first start back he allowed just 2 hits across 5.2 innings pitched, striking out 5. While there is a good amount of risk here, you will likely find just as much, if not more, with any other middle-tier pitcher with debatable startability (yup, made up that word). The main difference is they will lack Ross's upside. So take a chance, it could really pay off.  What did the Arizona Diamondbacks do with the body of Zach Godley? Is this an Invasion of the Body Snatchers type switch? Because the pitcher I see on the mound for Arizona does not resemble the man of a few year's past. His home run rate, contact rate, WHIP, ERA, walks and OPS are all down and his strikeouts are up. You do not have to be a statistician to know those are all good things. In nine starts on the year, Godley has not allowed more than 3 runs in any start and has struck out at least 6 in all but two starts. That is the type of consistency I can get down with. While I do not believe he is quite this good (his strand percentage is quite high and BABIP quite low), his FIP and xFIP indicate a very good pitcher capable of providing a low 3 ERA. If he can do that, Godley becomes an attractive long term plan in front of arguably the best offense in baseball.
Cross Your Fingers and Pray
Nick Pivetta, PHI (@ARI, @NYM)
Tim Adleman, CIN (vs. MIL, vs. CHC)
Jhoulys Chacin, SD (vs. ATL, vs. LAD)
Martin Perez, TEX (@CLE, @CWS)
David Holmberg, CWS (vs. NYY, vs. TEX)
Jesse Chavez, LAA (@LAD, vs. SEA)
Kevin Gausman, BAL (@TOR, vs. TB)
Amir Garrett, CIN (@STL, vs. CHC)
Ricky Nolasco, LAA (@LAD, vs. SEA)
Matt Strahm, KC (@DET, vs. MIN)
Nick Pivetta's start against the Red Sox reminded me of the good ole days of being a Red Sox fan. You long timers know what I am talking about. Just one of those games where a no-name starter absolutely stifles and befuddles the lineup, causing you to pull most, if not all, of your hair out. I feel like that was commonplace back in the late 1990's and early 2000's. Well some things just never change, and this time the aforementioned Chris Sale once again suffered from a lack of run support, this time taking a loss at the hands of this Phillies rookies. And while impressive (7 shutout and 9 strikeouts) against the Red Sox, Pivetta turned in an equally impressive start his next turn going six and striking out 10, allowing just four hits. However, two road starts, one of which comes against a team scoring runs by the dozen, will likely spell trouble for the young righty. Oh, and did I mention he pitches for the Phillies. Enough said.
Please No
Nik Turley, MIN (@BOS, @KC)
Nik Turley would sure like to use that mind eraser machine used in Eternal Sunshine of the Spotless Mind right about now. Through three starts, Turley has allowed 12 runs on 17 hits in 8.2IP, good for a 12.46 ERA, .489 batting average against and 1.232 OPS. While things can only get better from here on out, I am not sure if he will live to fight both (or either of his) battles this upcoming week 13. A trip back to the minors might be exactly what he needs to put his mind at rest.
Come back to Roto Street Journal every Friday to see the two start ranks and how to best build your rotation for success. Good luck navigating the week, and happy streaming!
To contact me with any questions or general fantasy baseball discussion, please email me at redsocker45@gmail.com or tweet me ‪@AJGamballer‪.