Player Stock Ticker
2017 Fantasy Baseball Midseason Rankings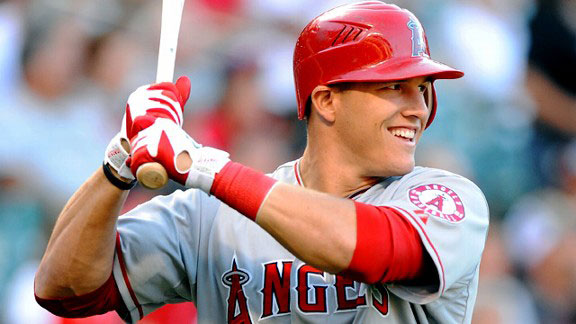 As we enter the unofficial halfway mark of the 2017 fantasy baseball season, now is the time to not only reflect on the season so far, but also project going forward. And what better way to do that than with an official midseason ranking of each position for the rest of the season.
I feel as though a few clarifications are in order first. Does prior performance matter for midseason rankings? Yes, to a certain extent it does. As I am sure you noticed, this year, just like every other year, there are numerous names atop the overall rankings that are, to say the least, shocking, eye popping and head scratching. And sometimes players do have career years where they just seem to be on point every game, regardless of their metrics or peripheral stats.
But does that mean I have to believe in them and rank them highly the rest of the season? Absolutely not. While prior performance does matter, a half season's worth of statistical abnormality usually is not a great indicator of future performance. I'd much rather look at a full career that helps pinpoint the outlier stats in a given year as that will be more helpful in projecting performance from here on out. In summation, these rankings are more of a probabilistic outlook regarding what is most likely to happen going forward. I guess what I am telling you is that Jason Vargas (and his 4.77 xFIP (AL leading 2.62 ERA), 6.60 K/9 and absurdly high strand rate) and Marwin Gonzalez (and his career high BABIP, ISO, walk rate and wOBA) will not be making the cut.
As a note, for players who have multi-position status, I will rank those players at the position where they should be rostered / the spot where they are more valued (Miguel Sano will be ranked as a 3B for the purposes of this article, not an OF or 1B).
Catcher Rankings
Buster Posey (SF)
Gary Sanchez (NYY)
Salvador Perez (KC)
Jonathan Lucroy (TEX)
J.T. Realmuto (MIA)
Yasmani Grandal (LAD)
Brian McCann (HOU)
Wilson Contreras (CHC)
Evan Gattis (HOU)
Wilson Ramos (TB)
As I stated in my first go around, I cannot remove Buster Posey (.324 batting average, 4th in the National League) from the atop the catcher rankings. But watching the Home Run Derby gave me chills. Gary Sanchez is the real deal and will replace Posey as the new number one in the next year or two…if he stays healthy. As a long time believer in Wilson Ramos (I rode him the entire 2016 season until that unfortunate ACL injury), I am buying his second half surge. In only nine games played so far this year, Ramos has hit 3 home runs and has an .873 OPS. From the upside standpoint alone, Ramos should be scooped up and rostered over the likes of Yadier Molina and Matt Wieters.
First Base Rankings
Paul Goldschmidt (ARI)
Joey Votto (CIN)
Anthony Rizzo (CHC)
Edwin Encarnacion (CLE)
Miguel Cabrera (DET)
Cody Bellinger (LAD)
Jose Abreu (CWS)
Hanley Ramirez (BOS)
Ryan Zimmerman (WSH)
Justin Bour (MIA)
I think something has to be said about what rookie sensation Cody Bellinger is doing in the Los Angeles this year. And who would've thunk an injury to Adrian Gonzalez would determine the fate of so many fantasy leagues this year. In a mere 70 games, Bellinger has mashed 25 home runs already. Sure, his .358 ISO should plummet back to planet earth in the second half and his contact rate leaves much to be desired, but on sheer upside alone this kid is easily a top 10 first baseman the rest of the year. Add in a couple very good surrounding pieces in Justin Turner and Corey Seager and I expect Bellinger to continue to produce the rest of the year. Speaking of mashing, Justin Bour finally got to show the world what he can do if he could figure out how to hit lefties. And the results have been extremely impressive. Last year Bour slashed .233/.233/.300/.533 in 30 (THIRTY) at bats against lefties with ZERO home runs for the entire season. The Marlins basically made him a platoon player in 2016. And his 2015 stats (0 home runs, .572 OPS across 68 at bats) were not much better. This year? In 60 at bats already this year, Bour has 6 home runs to go along with a .333 batting average and an 1.079 OPS. Unsustainable? You betcha. But his ISO and BABIP are not so outlandish that they scream for negative regression. With a trio of slugging and very talented outfielders in front of him (all appearing on the outfield list below), Bour will have plenty of opportunities to produce in the second half.
Second Base Rankings
Jose Altuve (HOU)
Daniel Murphy (WSH)
Robinson Cano (SEA)
Brian Dozier (MIN)
Jose Ramirez (CLE)
Rougned Odor (TEX)
Matt Carpenter (STL)
Dee Gordon (MIA)
Ian Kinsler (DET)
Jonathan Schoop (BAL)
It almost hurts my head looking at Jose Altuve's numbers and how he fills up the stat sheet. Doubles, triples, home runs, stolen bases, RBIs, it does not matter to him. Any and everything is obtainable for this 5'6" five-tool second baseman. What once looked more like a poor man's Ichiro Suzuki, Altuve is turning into prime time Roberto Alomar. And as a quick aside, I love Roberto Alomar with an undying passion. Speaking of Cleveland Indians, Jose Ramirez seems to be impersonating the two second basemen just mentioned. And he is doing a pretty good job of it. Ramirez is projected for 32 HRs, 89 RBI, 115 runs, 19 SBs, a .332 batting average and .988 OPS. You know how many people had at least 32 homers and 19 stolen bases last year? None. By increasing his fly ball and hard hit percentage, Ramirez has experienced a power surge this year, making him one of the best power/speed combination guys over the past two years. So why is he not higher? That .268 ISO just is not sustainable. But even if he experiences a power outage he still bats fifth in one of the more talented lineups in the game and should continue providing good speed and a lot runs / RBIs.
Third Base Rankings
Nolan Arenado (COL)
Kris Bryant (CHC)
Freddie Freeman (ATL)
Josh Donaldson (TOR)
Jake Lamb (ARI)
Antony Rendon (WSH)
Miguel Sano (MIN)
Adrian Beltre (TEX)
Travis Shaw (MIL)
Justin Turner (LAD)
I was quite bullish on Freddie Freeman entering the 2017 season, and but for the early season injury I could have made MILLIONS off the prediction. Now fully healthy (hopefully) Freeman should continue to thrive in the middle of a solid top half of the Braves offense. Let's take a quick peek at his per 162 game averages, using his 43 games played this season as his baseline: 60 HRs, 124 RBIs, 154 runs, 109 walks, 15 SBs, .348 average and 1.201 OPS. With third base eligibility lurking, Freeman's value is sky high in the second half. Way back before Week 2 of the fantasy season began I stated Travis Shaw would be worth rostering for the rest of the season. That's a BINNNNNNGGOOOOOOO! Or is it just bingo? Either way, my rationale still holds true: that lineup and ballpark is a perfect mix for Shaw. If Ryan Braun could ever figure out the key to health, Shaw could be in line for an improvement in the second half with more ducks on the pond and opportunities every at bat. Hopefully you scooped him many moons ago, and reaped the benefits ever since.
Shortstop Rankings
Manny Machado (BAL)
Carlos Correa (HOU)
Corey Seager (LAD)
Francisco Lindor (CLE)
Xander Bogaerts (BOS)
Jean Segura (SEA)
Elvis Andrus (TEX)
Jonathan Villar (MIL)
Trevor Story (COL)
Addison Russell (CHC)
Upset alert! Carlos Correa is not number 1 here (and if you have been following all year you know I love me some Astros baseball). I understand the disappointment with Manny Machado, but can we all relax on the "bust" word. You do realize he is still on pace for a 30 homer, 30 double season, right? Yup, that is not all you want from an elite, all-world fantasy player picked in the first round, but its a respectable floor given his extended struggles. Also note his .215 ISO is in line with his 2015 and 2016 power surges. Also note his .239 BABIP, about .70 points lower than his career norm. Talk about a buy low candidate due for a bounce back second half. If you can fleece someone for Machado, buy now, before he takes off like the perennial rocket ship he is (.333 average, .965 OPS in 9 July games). Another big letdown candidate this year, the supposed five-category Jonathan Villar certainly has not come close to matching his 2016 campaign (although how could he really). But even still, Villar should have been able to provide solid production, especially considering the way those Brewer bats have been swinging this year (See Shaw, Travis above). Villar somewhat began heating up with a couple home runs and multi-hit games right before the break, so maybe a surge is coming. Given the other shortstops below him really do not have a ton of upside, I would take the gamble on him and hope he can find that power speed stroke from last year.
Outfield Rankings
Mike Trout (LAA)
Bryce Harper (WSH)
Mookie Betts (BOS)
Charle Blackmon (COL)
George Springer (HOU)
Giancarlo Stanton (MIA)
Aaron Judge (NYY)
Nelson Cruz (SEA)
J.D. Martinez (DET)
Andrew McCutchen (PIT)
Yoenis Cespedes (NYM)
A.J. Pollock (ARI)
Christian Yelich (MIA)
Ryan Braun (MIL)
Marcel Ozuna (MIA)
Justin Upton (DET)
Adam Duvall (CIN)
Andrew Benintendi (BOS)
Matt Kemp (ATL)
Corey Dickerson (TB)
I liked George Springer a lot more than most preseason, and I'd say that worked out well considering he is on pace for 49/111/138 and a .993 OPS. Yeah, I heard everyone preseason clamoring about his decreasing (or near nonexistent) stolen base numbers. But I saw an elite power source entering the prime of his career coming off back-to-back near 30 home runs seasons and batting leadoff in that stacked lineup, so I could not resist. While his power and slugging will likely taper off somewhat in the second, I would still expect steady production from the table setter on the best team in the game. Aaron Judge might be the most powerful, impressive and freakish player I have ever seen. What he did at the Home Run Derby was nothing short of jaw dropping. But I have a problem with his metrics. First, his BABIP sits at an absurd .426. Also, his .ISO is at an absurd .362. And then there is his 49% hard hit average, .691 slugging percentage and 24.5% line drive rate. Listen, I have talked to my New York Yankee friends and we agree that there can only be one way Judge can keep this up: he is an absolute monster with a physique never before seen in the game who tears the cover off the ball every time he drops the barrel of the bat. But you know what, I am just not willing to drop years of statistical analysis and logic and over 100 years of baseball numbers for a 25 year old rookie and his breathtaking first half. Everything about him screams regression. I am not saying he will suck. And nor am I saying his numbers will regress to that of the average baseball player. Heck all I am saying is that his numbers from here on out should resemble something to that of a human from this planet. In all seriousness, I like this guy and his ballpark will only help him. He is a freak, generational talent. But he is not the exception to the rule and the game of baseball. Or at least I do not think he is.
Starting Pitcher Rankings
Clayton Kershaw (LAD)
Max Scherzer (WSH)
Chris Sale (BOS)
Corey Kluber (CLE)
Yu Darvish (TEX)
Zack Greinke (ARI)
Stephen Strasburg (WSH)
Jon Lester (CHC)
Jacob Degrom (NYM)
Chris Archer (TB)
Carlos Martinez (STL)
Jake Arrieta (CHC)
Carlos Carrasco (CLE)
Madison Bumgarner (SF)
Robbie Ray (ARI)
James Paxton (SEA)
David Price (BOS)
Johnny Cueto (SF)
Luis Severino (NYY)
Lance McCullers (HOU)
There are a clear top 4 starters here and they are only separated by the leagues they pitch in. Each are elite, world-class and bona fide aces, not only for the rest of this year but for all years they pitch in. The Cy Young in each league should come down to these two-man matchups, and it should be a hell of a vote. A couple struggling Chicago Cubs find themselves ranked highly on this list. Jon Lester just gave up 10 runs (4 earned) in .2 innings pitched and Jake Arrieta has a 4.35 ERA and 4.17 FIP to go along with a very poor 1.30 WHIP. However, put this one in the "I can feel it coming" category. The Cubs are bound to bounce back. This team is too talented to struggle all year. Did Lester (2.44 ERA in 2016) severely outperform his 3.41 FIP? Sure, but a 3.41 FIP is still indicative of a fantasy SP2 starting pitcher. And Lester's 2017 FIP and xFIP are currently above his career norms, while his strikeout rate has actually increased. Almost the exact same arguments can be said for Arrieta. I do not believe these two gamers in their early thirties are ready to fade into the back nine of their career, so I am buying both pitchers and the story of the second half resurgent Cubs. Lance McCullers appears so low on this list and Dallas Keuchel not at all for one reason: rest. With a 10 game lead over the second place Boston Red Sox, I see the American League as a runaway. And that could be problematic for Astros fantasy baseball owners. While I do not think all-out rest is the way A.J. Hinch will play his hand, the oft-injured Astro ace duo of Keuchel and McCullers could be limited in their innings down the stretch, which is not something you are looking for come playoff and championship time.
Closer Rankings
Kenley Jansen (LAD)
Craig Kimbrel (BOS)
Aroldis Chapman (NYY)
Roberto Osuna (TOR)
Wade Davis (CHC)
Zach Britton (BAL)
Greg Holland (COL)
Edwin Diaz (SEA)
Corey Knebel (MIL)
Ken Giles (HOU)
David Robertson (CWS)
Alexander Colome (TB)
Andrew Miller (CLE)
Cody Allen (CLE)
Felipe Rivero (PIT)
Seung-Hwan Oh (STL)
Brandon Kintzler (MIN)
Kelvin Herrera (KC)
Rasiel Iglesias (CIN)
Addison Reed (NYM)
With the trade deadline looming, this section may be tough to project going forward. For example, I fully expect Dave Robertson, Kelvin Herrera and/or Alexander Colome to be traded by July 31st just to name a few guys. And depending on the teams each current closer is traded to (and also who takes over for them) this list could look vastly different on August 1st. But I have sworn a life of loyalty to my readers, so I will embark on this daring venture. Someone unaffected by the trade deadline should be Roberto Osuna. I don't know how many times I can pump his tires, but boy is Osuna electric. Just look at his 12.09 K/9 and 1.46 FIP on the year, or his 1.00 ERA, 100% save conversion percentage (19/19) and .56 WHIP since the calendar turned May. I also have a sinking feeling that the Blue Jays will play a lot better in the second half, giving him more save opportunities than most people think. Just a hunch. We knew Corey Knebel could strike out guys, but not at a 15.94 K/9 rate. My lord! Sure his 5.53 BB/9 needs a lot of improvement but when you can put away guys at the rate Knebel can, walks affect the outcome much less. And the outcome this year has been a whole lot of converted saves and a .163 batting average against. Backed by a high powered offense and leading the Brewers to a 5.5 game lead in the NL Central, Knebel should see his fair share of opportunities the rest of the year.
And that's a wrap for the RSJ 2017 Midseason Fantasy Baseball Rankings. Be sure to share your opinion, yell at me or contact me with any questions at redsocker45@gmail.com or tweet me ‪@AJGamballer‪.