Player Stock Ticker
Fantasy Baseball Waiver Wire Adds Week 19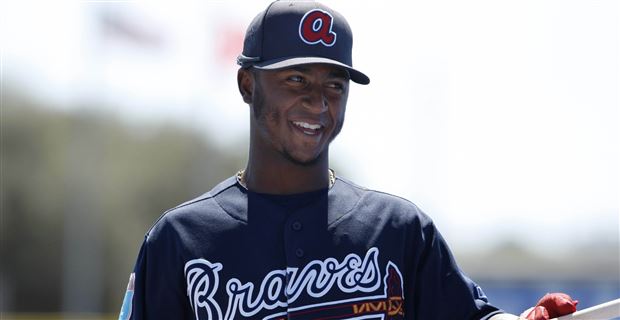 Hello everybody and welcome back to another exciting week of Waiver Wire Adds. This week there was one exciting call up and a few other recent performances that we should take advantage of. Beyond that, it has been a pretty quiet and uneventful week in fantasy baseball land (which is good because there's been plenty of drama in the NFL to go around).
Blake Treinen, RP, Oakland Athletics (27% Owned On Yahoo):
Since being traded to the Athletics by the Nationals a few weeks ago, Blake Treinen has emerged as the leading candidate for saves. To be clear, the Athletics bullpen is hardly settled and it's likely to remain at least something of a committee for the remainder of the year. However, Treinen has 3 saves over the past 2 weeks and as the main contributor to the 9th inning in Oakland right now, he's very much worth picking up.
Jose Pirela, 2B/OF, San Diego Padres (11% Owned On Yahoo):
As a general rule I don't advocate for running too many Padres out on your team as I think they are pretty much a lost franchise. However, in baseball, even crap teams can provide some sneaky fantasy value if you keep expectations realistic. As a low scoring offense, you shouldn't expect crazy numbers in the runs and RBI categories and Petco Park dampens home runs as well. That being said, Jose Pirela is hitting .333 with 4 home runs over the past two weeks and .300 with 8 home runs on the season. He isn't going to provide Earth shattering numbers but as a second basemen, you'll be happy with his moderate power and solid batting average numbers.
Ozzie Albies, 2B/SS, Atlanta Braves (9% Owned On Yahoo):
Ozzie Albies is an exciting young prospect that I'm frankly a little surprised to see called up so soon. It's not that he didn't deserve the call up, just that he's only 20 years old and usually players at his age get more seasoning at the minor league level before being thrown to the wolves. Obviously, he's a supreme talent, that's why he's in the majors now. In his first week he has 2 home runs but that should be an aberration. Albies hallmarks are average and speed. There's a chance that he uses this season as a tune up and really delivers next season, but the talent is definitely worth taking a chance on as best case scenario you get an Elvis Andrus type player the rest of the way.
Kolten Wong, 2B/OF, St. Louis Cardinals (9% Owned On Yahoo):
Admittedly, I've had a lot of team names based around Kolten Wong and his last name but I've rarely owned the player. He's always had some talent but he has generally been inconsistent and has had a tenuous hold on his job at best. It appears that Wong has now finally earned full time work this season and he has been responding by hitting .356 over the past two weeks. Wong certainly has the ability to hit for a decent average, provide some stolen bases and hit the occasional home run. You could definitely do worse at middle infield and it could pay off big if Wong has the type of year he's capable of.
Eddie Rosario, OF, Minnesota Twins (9% Owned On Yahoo):
Eddie Rosario has been lighting it up over the past two weeks with a .295 average and 4 home runs. It's always good to grab a player on a hot streak and he certainly qualifies. Beyond the past two weeks, Rosario hasn't exactly been a slouch all season with a quiet 15 home runs on the year. Rosario has shown some ability to put up fantasy relevant numbers in the past and it would seem that he is back to being a useful 4th outfielder for those that could use one.
That's it for this week my friends. Go out, bolster your roster with some of these great options and prepare yourself for the stretch run. There's still plenty of baseball to be enjoyed! As usual, don't be afraid to holler at me in the message board!