Player Stock Ticker
NFL Week 2: Fantasy Football Front 7 Matchups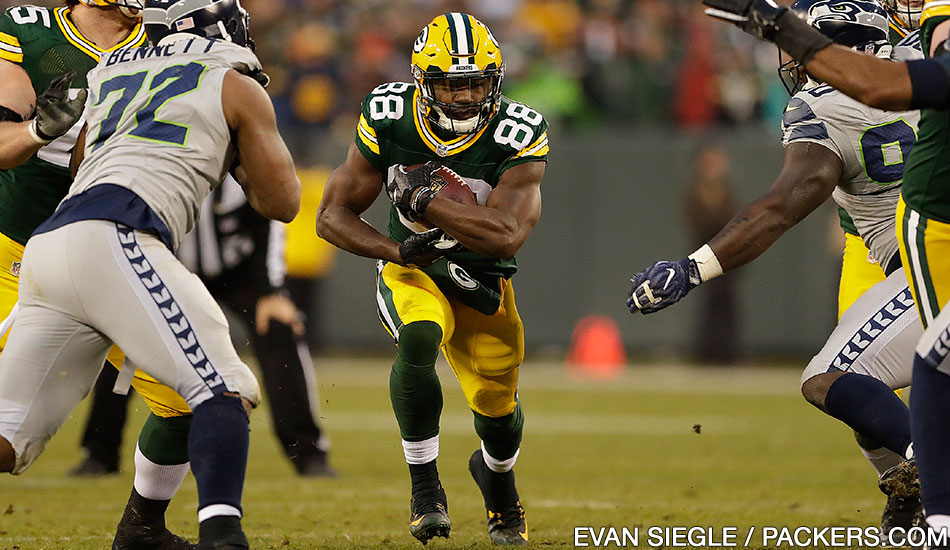 Every week we will throw on the helmet and take a look across the line to see what the running back sees… the front seven. We will avoid talking about the studs at the position and instead focus on the (comparatively) lesser talked about RB's that have a favorable matchup with the defensive linemen and linebackers that oppose them. We will crack into two tiers of picks, starting with players who are all systems go in the "SIC 'EM Squad," and then dive into lesser known/riskier plays that could pop-off some big plays due to sub-par front sevens across the way in the "Truck Stick Picks."
SIC 'EM Squad
Marshawn Lynch
J-E-T-S, Jets Jets Jets! What else needs to be said? In Week 1, we saw LeSean McCoy do what he was supposed to do in rushing 22 times for 110 yards. Buffalo's O-line is strong and their scheme (and overall team makeup) is designed to slow down the game with the ground and pound style, but Oakland may be in an even better situation this week for Lynch. Derek Carr will be able to throw all over the field to his many weapons, which will force the Jets to sag off (something they could do last week against the Bills and their lack of downfield weapons) and have more redzone appearances than the Bills had, so we may see more opportunities for Lynch to truck his way to the endzone. Last week, Charles Clay scored on a one yard touchdown pass and Mike Tolbert was able to get a touchdown early in the 4th while McCoy attended a minor injury, therefore McCoy missed out on two touchdowns which would've led to a massive Week 1 performance. It shouldn't be a surprise that if Lynch gets a similar workload as Week 1 (18 carries for 76 yards against a tough Titans run defense), he could see his total yardage inch closer to the century mark, and perhaps one of those failed Amari Cooper redzone targets turns into a Lynch touchdown or two. In Week 1, the Jets were susceptible to rushes directly up the middle, allowing 13 carries amount to 60 yards. This is where Lynch is known to run.
Mike Gillislee
It's safe to say the Pats will not be happy coming into Week 2. The last two times the Patriots lost their Week 1 matchup, their next week's performances were dominant (2014 – Defeated Vikings 30-7; 2003 – Defeated Eagles 31-10). What does that tell you? Large leads are run script heavy games. Expect the Pats to assert their dominance early against the Saints. Much of the field will be open (also expect a Brandin Cooks bomb or two), so many redzone trips = Gillislee opportunities. Maybe you aren't expecting much yardage, but it shouldn't be shocking to see Gillislee still holding the league lead in rushing touchdowns into Week 3. He led the patriots in carries with 15, and for the Pats to control the game, look for them to establish a consistent run game against a team that is known to struggle bottling up the position (gave up 129 yards on the ground to the Vikings in Week 1).
Ty Montgomery
Green Bay looked pretty bad offensively in Week 1, but perhaps we should give the credit where it's due to the Seahawks D. Last week also saw Atlanta look sub-par in their matchup, however they didn't play the Seahawks… they played the Bears who no one expected to put up much of a fight. Part of the reason behind this may be due to the fact that the Linebackers couldn't bottle up the middle of the field to stop rookie Tarik Cohen, who is perhaps the poor man's version of… say Ty Montgomery? Also, the Falcons allowed 6.6 yards per carry to a team that seemingly has no other option but to run. A Green Bay offense that is still beaming to get going offensively since their low scoring tilt in Week 1, expect Ty Montgomery to blow past the Linebackers with his converted receiver skills, while also capitalizing on a massive workload (19 carries for 54 yards and a touchdown + 4 catches for 39 yards). This SHOULD be a high scoring affair, and you should want a piece of the matchup anyway you can. In Week 1, the Falcons were extremely easy to attack in terms of short completions, and a large portion of Aaron Rodgers Week 1 passes were completed in these areas. This is Ty Montgomery's game.
Truck Stick Picks
Alvin Kamara
The Pats go from seeing one dynamic rookie to another. As previously stated, the Saints could find themselves utilizing a lot of their passing game early on. Mark Ingram should play a big role, but expect Drew Brees to find the rookie for a lot of quick slants or bubble screens to move the chains in a fast paced game. Kamara even led the team in carries Week 1, which could've also been due to game script with the Vikings leading from the second quarter on. A PPR scoring format is preferred, but the Patriots front seven proved to be susceptible play after play in Week 1 to quick running back action (we don't have to tell you how good Kareem Hunt was yet again). Finally, it's likely that Dont'a Hightower will miss Week 2 with a knee injury.
Kerwynn Williams
As much as the Fantasy world mourns the injury of David Johnson, Kerwynn Williams in the real winner this week. The Colts have the least daunting defense in the league, and it starts up front. Yes, they did somewhat stop the Rams rushing attack, but with how unreal the Rams defense was playing, there was no real need to up the efforts on offense. We should expect the Cardinals to bounce back against a horrible looking Colts D, and they will try to see what they have with Williams. Also, it is important to note that NT Al Woods who was signed in the offseason to help improve the D-line suffered a knee injury in Sunday's game. What better week to play the Colts?