Player Stock Ticker
Fantasy Football Strategy: Buy Low, Sell High Week 3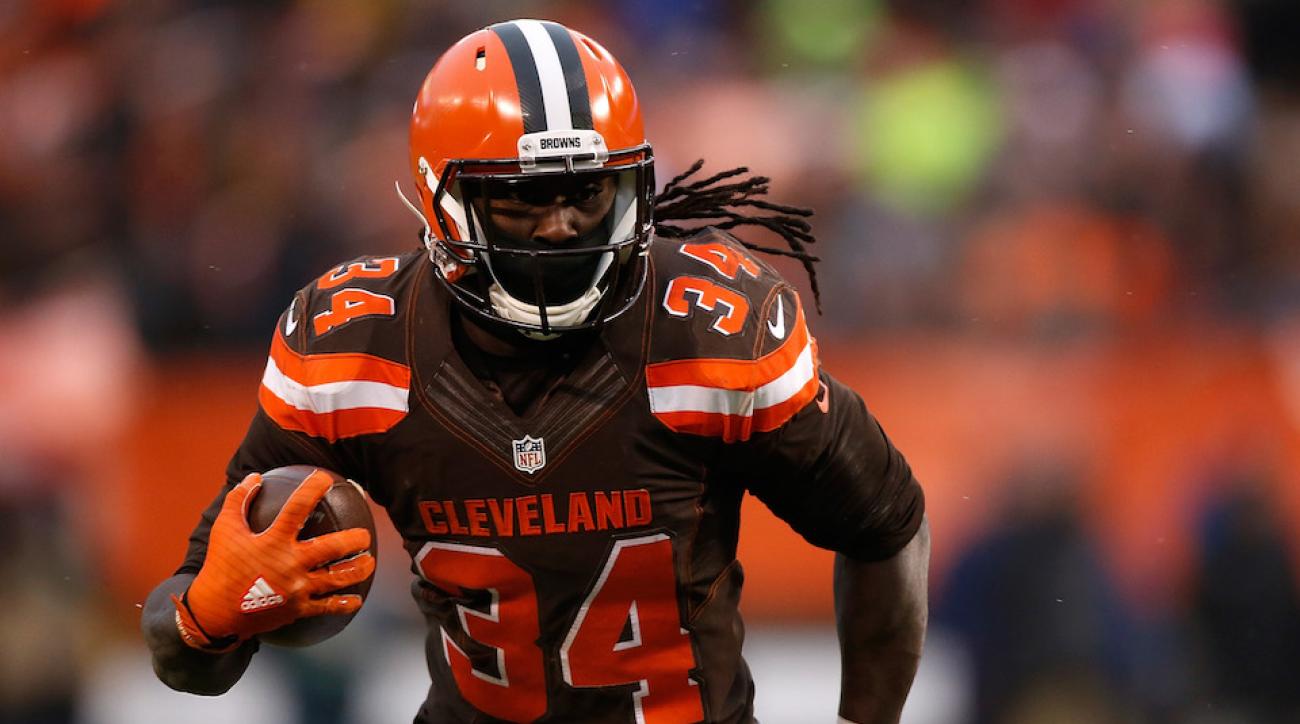 Hi everybody, welcome to Buy Low, Sell High for week 3 of the fantasy season. For many players it was another tough week and we can use that to our advantage by buying low on some players who are sure to have an uptick in value. There were also a ton of injuries so that always makes the landscape ripe for a two for one deal (which you should look to do if you have strong depth on your team). As usual I will give you my game by game thoughts (if there are any) of who you should look to grab or move.
Players to Sell
I'm not sure if there is going to be huge interest in Lamar Miller at this point but if somebody still thinks he's a quality workhorse, you should try to move him. I love D'Onta Foreman and the Texans made a conscious effort to get the ball into his hands on Thursday. I expect at least a committee for a while and I'd certainly be looking to bite if somebody was willing to pay close to draft price in a trade for Miller.
I doubt anybody believes that Emmanuel Sanders is going to score at the clip in which he did Sunday evening, but if you can find somebody who thinks he's a top end WR2 then you shouldn't hesitate in moving him. He will offer sporadic value every week and there will certainly be some weeks where he plays like a WR2 and others where he plays like a WR3 or worse. If you can get a more solid and consistent performer for him now, do it.
LeSean McCoy had a tough day and as such, I would say he'd be hard to sell. However, Shady still comes with a high level pedigree and was a top pick this year so on name recognition, you may be able to still get full value in a trade for him. McCoy is already having issues with his wrist and the Bills are a dumpster fire. If you can get two top 20 talents for him or something close, you should highly consider it.
The window to move on from DeMarco Murray may also be rapidly approaching but inevitably there is almost always somebody in every league who is willing to take a chance on a fading star. I know Murray was dealing with a sore hamstring and that's why Derrick Henry took over running duties in the second half of the game, but the fact remains that Henry looked better than Murray. There's no reason why the Titans wouldn't start sharing the ball more evenly between the two backs and lean towards Henry for the bruising goal line work. DeMarco Murray should still be a top 12-15 running back this year but you likely paid more for him. If you can swing a deal that still values him as a top 8-10 guy, I'd take it.
I'm going to reiterate my thoughts from last week here on Kareem Hunt. Despite Wolf's objections to the contrary – I'm still willing to sell on Kareem Hunt. Right now Hunt is on pace for 40 TDs. Spoiler alert, Kareem Hunt is not going to score 40 times this year. If you just look at Hunt's numbers from this week they look great but if you watched the game, he had one huge run for 50 yards and a score that made his day. It was the same thing in the game against New England. Make no mistake, Hunt is going to find some holes this year and take the ball a long way when he does, but that won't happen every single week. Again, we're dealing with a top 6-8 RB here so you shouldn't be giving him away but if somebody is going to treat him like he's at the same level as LeVeon Bell or pre-injury David Johnson then don't be afraid to move him.
Matt Forte had a nice game for the Jets. If anybody noticed and thinks that he'll be the man all year sell right away. I still think Bilal Powell takes over sooner than later and any lasting value you can get for Forte will be worth your while.
Obviously kick the tires on Michael Crabtree. He's a quality #2 WR but if somebody saw the 3 TDs and thinks he's worth more, it's okay to sell.
Ty Montgomery has been looking like a great running back over the first two weeks but I don't buy it for a full season. He's still too fragile for me and I think Jamaal Williams eventually gets the early down carries here when Montgomery starts breaking down a bit. It isn't a priority to move him but if you can find a buyer who believes in him, I would be on board with entertaining offers.
Players to Buy
I talked about Joe Mixon last week and his continued struggles make him an even easier piece to trade for this week. Again though, you have to be patient and see how the new OC uses his players while having Mixon sit on your bench as a potential help down the stretch. This is strictly a long-term hold and you should only target Mixon if you don't need to rely on him for now. Obviously, AJ Green in the same game would be great to get on the cheap but he hasn't been so bad that people are likely willing to take a discount for him yet.
People seem to be down on DeAndre Hopkins but I don't fully understand why. The Texans won't score a ton of touchdowns and, as such, the upside is not sky high. However, DeShaun Watson only seems to recognize Hopkins on the field which is good for his chances of getting 90+ catches this season. If somebody is overreacting about how shitty the Texans offense has been looking – try to buy Hopkins on the cheap.
Nobody is likely selling low on Ezekiel Elliott after just one bad game (and in light of the fact that the NFL's emergency appeal to remove the injunction was denied) but it's obviously worth asking around if the Zeke owner in your league is skittish.
The Browns have been predictably mediocre and Isaiah Crowell hasn't gotten going yet but to be fair he's faced a couple of tough defenses. I think things will turn around for Crowell in the near future and he can probably be had for cheap right now with owners panicking that they overspent on drafting him.
Many people were expecting a huge revenge game for Brandin Cooks this week against the Saints and it didn't happen that way. Tom Brady is still getting his bearings with Cooks but I expect the two to click soon enough. If somebody is starting to question their faith in Cooks, you should look to add him in a deal.
Another weak effort from LeVeon Bell, still probably can't get a discount but…
Last week didn't work out so well but F it – I'm doubling down on Jordan Howard. Now he was seen with a sling on his arm on the sidelines and as of this writing no word has come out about the severity of injury. If Howard is hurt, I'm obviously not advocating that you trade for him but if word comes out that the injury is minor and he's not going to miss time, then I still believe in the talent here. He should come cheap as dirt now also.
As I said with Forte above, I think Bilal Powell takes this job over eventually. Powell owners are likely ripping their hair out right now and an offer of any warm blooded player should be enough to pry Powell away from many owners.
Terrelle Pryor and Doug Baldwin feel similar to me right now so I'll talk about them together. Basically, these are both talented WR who just haven't gotten going yet this season because of fairly rough QB play. I think the offenses turn it around pretty soon and along with that you should start to see top end WR2 production from Baldwin and mid level WR2 production from Pryor with neither costing that in return in a trade right now.
Trade Analysis
I made two trades this week (after the week 2 games) in separate leagues and I'm going to share my thought processes on them here:
Trade 1 – DeMaryius Thomas and DeAndre Hopkins for Julio Jones in a ppr league.
Trade 2 – Davante Adams for Terrelle Pryor and Jordan Howard in a different ppr league.
I made two trades and was on a different end of a 2 for 1 in each. In the first trade I felt like trading two low end WR1/high end WR2 for Julio Jones (who I ranked as the top WR coming into the season) made a lot of sense for my team. The other owner lost Allen Robinson and needed to try to replace that production by having a solid second wide receiver so he was willing to take the drop from Jones to Thomas in order to add Hopkins. On my end, I have AJ Green as well as Devante Parker, Brandon Marshall and Adam Thielen on my team so I felt like going from Hopkins to Parker as my 3rd receiver was worth it because of the big jump up to Julio Jones over DeMaryius.
In the second trade I felt like I was buying low on both Pryor and Howard and while I like Davante Adams, I don't think there's a huge drop (if at all) between Adams and Pryor and to get a guy like Jordan Howard thrown in, I'm more than happy to make that deal. Even if Howard is a little banged up, I don't need to rely on him.
That's all for this week! Go find a team that started out 0-2 and see if they're already sweating. Some great bargains can be had at this time of the season and really lead your team. Don't be afraid to trust your instincts and the values you had for your players a few weeks ago and don't let one or two bad games steer you away from your own talented players. As always, holler at me in the comments below!