Player Stock Ticker
NFL Week 3: Fantasy Football Front 7 Matchups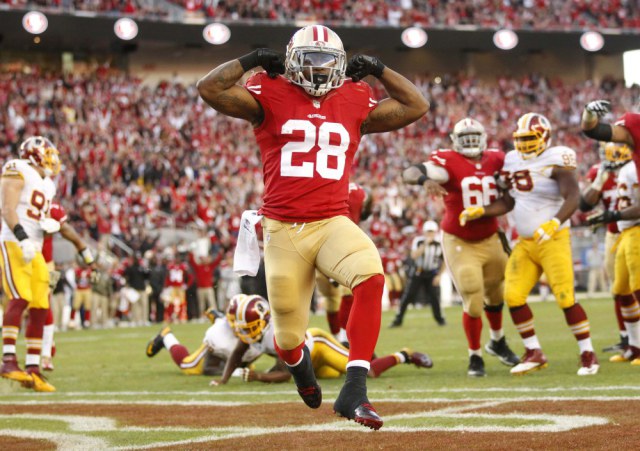 Every week we will throw on the helmet and take a look across the line to see what the running back sees… the front seven. We will avoid talking about the studs at the position and instead focus on the (comparatively) lesser talked about RB's that have a favorable matchup with the defensive linemen and linebackers that oppose them. We will crack into two tiers of picks, starting with players who are all systems go in the "SIC 'EM Squad," and then dive into lesser known/riskier plays that could pop-off some big plays due to sub-par front sevens across the way in the "Truck Stick Picks."
Week 2 Assessment: 4/5
Marshawn Lynch – Didn't exactly get the workload we expected due to a large lead, but was still a solid RB2
Mike Gillislee – Did what was expected and scored his touchdown
Ty Montgomery – GOLD!
Alvin Kamara – Great sleeper play, huge play ability was on display. Excited for more.
Kerwynn Williams – Almost went 5/5… somehow Indy's run defense is good.
On to Week 3…
SIC 'EM SQUAD
Carlos Hyde
The Rams have been playing unbelievable defense as a whole, but they have yet to face a back as dynamic as Hyde through the first two weeks. Also, don't be afraid of a team that is garnering a lot of hype from their Week 1 slaughter of the lowly Colts, against Washington they looked more like what we can expect. Rob Kelley, Samaje Perine, and Chris Thompson BLEW UP. These three running backs combined for: 36 carries, 222 yards, and 2 touchdowns on the ground… And that's not really the Redskins play style. On a team where the focus should be placed on the run, in a slow paced (semi-boring) Thursday nighter, Hyde is going to get a large workload. The Rams front 7 is all shifted around, and possibly undergoing some growing pains. Robert Quinn has never played outside linebacker, while Alec Ogletree and Mark Barron are playing inside linebacker, although Barron was drafted to be a safety and Ogletree's natural position is on the outside. A short week presents a challenge for those still learning a new position. Hyde should see a lot of volume, and that will equal high yardage totals.
Jay Ajayi
Until the Jets can stop anything, we will continue to pick on them. They gave up 180 yards and 3 touchdowns to the Raiders (who field a superior offensive line, but it could've been a lot more had the Raiders not seemingly scored on every single drive. Until teams find themselves in a hole against the Jets (which will likely not happen anytime soon), they will rush to run out the clock and maintain their offensive drives. Perhaps the difference between a mediocre offensive line in Miami is enough to sway you slightly, but Ajayi's big play ability and proven potential to have monstrous games may have him having one of those 200 yard games we saw a few times last year. Jay thrives on big play ability, and that's why you drafted him. Last week, Oakland had two massive plays on defensive collapses: Cordarrelle Patteron ran for 43 yards off confusion by the (extremely suspect) inside linebackers, as well as being the issue during Jalen Richard's 52 yard scamper. This is the week to be licking your chops if you own Ajayi.
Buck Allen
The Baltimore Ravens are seeing a changing of the guard. A once pass happy team at 42 attempts per game in 2016 has since changed it's course to 25 attempts per game through two. Although this is only a two week sample, they didn't even play stingy corner backs on the teams they've faced. Which leads us to the realization that slowing the game down with their defense and running is now their aim, and it's worked beautifully through two. A Sunday breakfast in bed game will see the Ravens take on the Jags. While some will wonder if waking up this early is even worth it, others will be reaping the benefits of rolling out Glorious Javorius "Buck" Allen. Don't be afraid of Terrence West. Remember when West was cut by the 0-16 Browns? Ya… you're afraid of that guy… Roll out Buck and reap the benefits of a bruising/pass catching back that goes up against a team that will likely commit a few turnovers and be playing from behind. It's been a little while since the Ravens have had something to cheer for in the backfield, so don't pass the Buck, cash the Buck. The Jags let Derrick Henry bully them in Week 2 to the tune of 14 carries for 92 yards, and he doesn't catch.
Truck Stick Picks
Christian McCaffrey
This will be the week we have been waiting for, but before we continue, let's be weary of the fact Jonathan Stewart may vulture a few goal-line looks. Otherwise, this will likely be a massive total yardage game from McCaffrey. Take a look at the game James White had last week against New Orleans: 2 carries, 11 yards and 8 catches for 85 yards. Oh, and he still shared that workload with 3 other backfield mates. Stewart's usage has been trending in the wrong direction, and Cam Newton just lost his favorite weapon ever. New Orleans is questionably the worst overall defense, so expect McCaffrey to yield some big plays in the run game and/or the pass game similarly to White. The Saints just signed three new linemen and the majority of tackles during the last two weeks have been made by defensive backs, which tells us a lot in the sense that the Saints defense is having a hard time breaking through and are looking for answers.
Ameer Abdullah and Theo Riddick
Let's just start off by saying the Atlanta Falcons have been very kind to pass catching, versatile backs though two weeks. First, Tarik Cohen burst onto the fantasy scene. Next, Ty Montgomery demolished the Falcons. Next up, a Detroit Lions backfield that has looked solid and can be labelled as one of the trickiest combos to figure out. Abdullah had a solid game last week against a tough Giants front, while Riddick was quiet as the game script just wasn't in his favor. It may be one of those weeks where playing either, or, and possibly even both could pay dividends. The Lions look like a solid overall team, and this should be a close and high scoring affair. Don't put it past Riddick showing up big time in the passing game this week, much like Cohen and Montgomery. On the flip side, Abdullah should be able to break through a defense that is without stud Vic Beasley.