Player Stock Ticker
Fantasy Football Week 3 Mailbag (Sunday Update)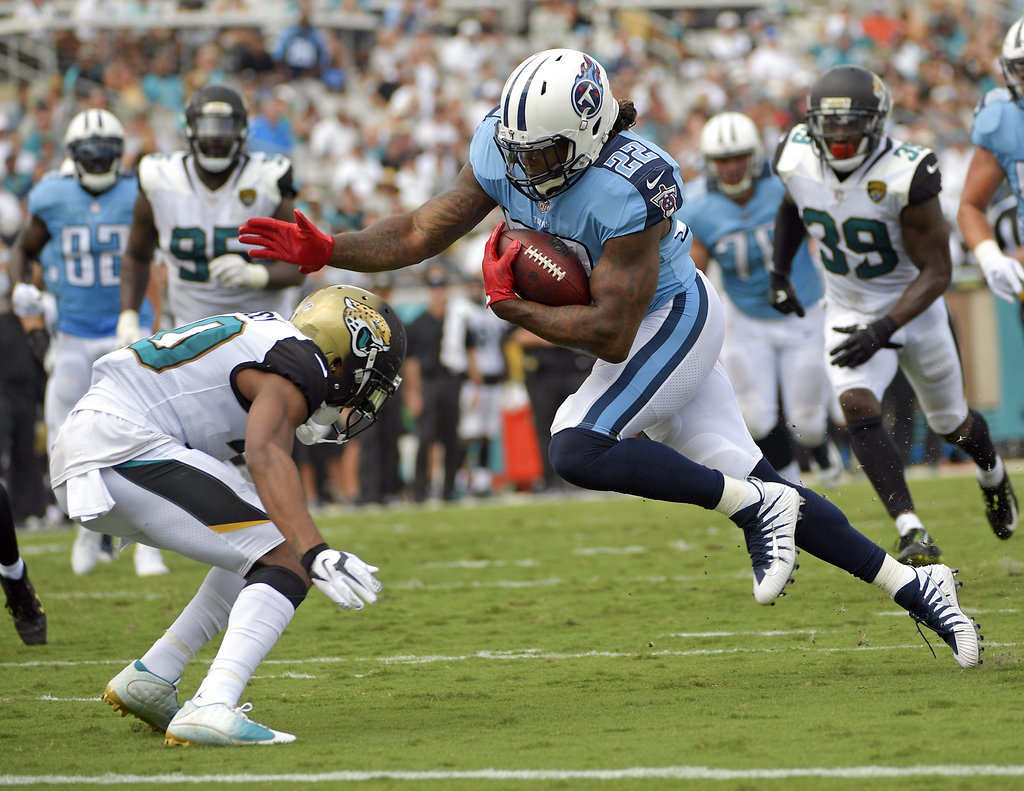 This is a "must-win" Week 3 to either keep your lead or start clawing out of a hole. Make sure you get all the insight needed to make the best decision possible. Or, set your team up for long – term success by asking The Wolf for his thoughts on a specific trade. The Fantasy Football Week 3 Mailbag is officially open.
Last week I went 19-10 (66%), while securing owners 121.66 points on right calls versus losing owners 61.28 on the wrong ones. This left me at a solid +60.38 for Week 2, and For the season, this places me at a respectable 32-18 (64%) and a whopping +173.36 point differential. Let's keep the good times rolling with another jam-packed mailbag. As a quick preface / reminder on how to submit your inquiry:
Though a solid rankings list is the backbone for lineup decisions, they rarely tell the full story. Sometimes, you might be the vehement underdog and need an upside play. Maybe you're gut is screaming against your head. Plus, trade offers are flying all over the place, with people in panic mode wondering who's the magic fix, and savvy owners figuring out who to capitalize on. Whatever the case may be, The Wolf is here to help answer any and all questions he receives in our running Fantasy Football Mailbag.
Questions will be answered and published on a rolling basis in the order they were received. To submit, you can:
A) Use our Submit a Question Form
B) Hit The Wolf up on SnapChat or Twitter (@RotoStreetWolf)
C) DM our other Social Channels (Facebook here, Instagram here).
D) Tune in to our Fantasy Football Week 2 Sit / Start Show, live on Facebook this Sunday @ 11:30am EST.
Fantasy Football Week 3 Mailbag
Weekend Update
Fitz, Javorius Allen (assuming no West), Parker, Gillislee. Who's sitting?
-AJ 
Sunday Update: With Terrance West active, I have changed my answer (including this one on Twitter) to Larry Fitzgerald over Buck Allen. The lone appeal of Allen was immense volume, and that's no lock any longer. The matchup is tough and the talent is getting vastly overrated right now.
Fitz should be finding his ass on pine. All the others seem locks for volume, and make safe bets for double-digit points. Fitz has been too inconsistent to trust, and I need to see it first before I'm comfortable rolling him out compared to these enticing options.
Buck Allen vs. Larry Fitzgerald
Funchess or Amendola
Jameis or Russell
Stafford or A Rodgers
Cutler Mariota Wilson
Funchess or Amendola
Stafford Rodgers
Cutler Mariota Wilson
Higgins or Diggs
Higgins vs. JJ Nelson
Prater vs. Tavecchio 
Crowell or McCaffrey
Hunter Henry vs. Jared Cook
Ok, devonta Freeman, KreemKunt, or Ty Montgomery, pick 2
D Parker over D Henry still? 
Tyrell Williams or Eric Decker 
Higgins, JJ Nelson, and Chris Thompson. Which two do I play in standard?
Thielen vs. DJax
Crowell or Perine
Sanu, Golladay, Agholor, or Marshall 0.5 PPR
Kirk Cousins or Carson Wentz? 
-Craig
I know Wentz has been red hot while Cousins has been a major disappointment, but I really like Sunday's Prime Time matchup versus the Raiders to turn into a shoot out. He's still clearly developing his rapport with his WRs, but this should be locked down soon. Wentz has a tough matchup with a rough Giants defense, and I could see the Eagles D making a bunch of big plays and building an early lead here. I'm going Cousins.
Theo Riddick or Tarik Cohen? Full PPR
This is a BRUTAL one. I really love both — Riddick gets an Atlanta team that's been demolished by pass-catching RBs, while Cohen should again benefit from catch-up mode and see another 8+ targets. In a true coin flip, my gut screams Riddick.
Thursday:
Philip Rivers or Jameis Winston 
-Justin C
Rivers, and it's not too close for me. Last week, Carson Wentz bombed the Eric Berry-less Chiefs for a robust 25+ FPs, and I think Rivers matches or exceeds this in a tight divisional contest that could turn into a shoot-out.  Stir in a tougher matchup versus Minnesota's stingy D for Winston, and this one's a no brainer.
Pierre Garcon or Sammy Watkins for TNF?
Good ?. I like Garcon in most situations. If you're feeling lucky / need 🌋, Watkins has the matchup for it.. but haven't 👀anything yet. https://t.co/ybuUdLpg29

— Wolf of Roto Street (@RotoStreetWolf) September 21, 2017
Pick 2, half ppr: Crowell, Tarik Cohen, Buck Allen (no West), Abdullah 
Lots of juicy matchups here, and I think all four are in for some decent days. However, I love Crowell to finally breakout for at least one, if not two, TDs against the notoriously soft Colts run defense. Oddly, the Browns will likely be in a position to bleed some clock.
From here, I go Allen on sheer volume. The matchup is the least appealing, but he should be in line for 25+ touches if West sits, and should be a great bet for at least 70 total yards and a TD on this type of work.
Indeed, Atlanta has been getting dismantled by RBs all season, but I could see Riddick being the main beneficiary here, as much of this damage has come via the pass. Yes, Cohen should be seeing tons of dump offs after this game gets out of hand in the first 10 minutes. Still, the other two feel safer bets at double digit FPs.
Standard League: Derrick Henry, Mark Ingram, or Theo Riddick
-Scott B
PPR, Riddick would be getting the nod — Atlanta has gotten absolutely destroyed in back-to-back weeks via pass-catching backs (Tarik Cohen then Ty Montgomery). However, Henry should absolutely feast with his cage door finally being unlocked:
With news #TitanUp RB D.Murray could miss Week 3 with hamstring tightness, here's a live look at D.Henry's #FantasyFootball value awakening: pic.twitter.com/hQ7CvODYCw

— Wolf of Roto Street (@RotoStreetWolf) September 18, 2017
This of course assumes Murray is out, or at least playing a clear second fiddle to Henry. If reports emerge otherwise, I would roll with RIddick in a fantastic matchup. But I think this is the week Henry establishes himself as "the man" in Tennessee, and wouldn't be surprised to see over 100 yards and a TD en route to RB1 numbers the rest of 2017. Sell Murray and buy Henry wherever possible.
In a must-win situation. Matthew Stafford or Cam Newton? I'm early favorite, and he has Golden Tate if that helps 
–Scals
If it's a must-win and you're in a better position, Stafford has to be the guy, especially considering this Tate situation. At worst, Tate has a big day and you partially benefit. However, Stafford could heave three TDs that don't even sniff Tate's direction, and thus it's a win-win for you. Obviously the matchup with New Orleans couldn't be juicier for Cam, but Stafford has been on fire and a shootout with Atlanta seems due. Go with the guy who's getting it done, especially when you need sure points.
Pick 3 of the 4 guys to start in a ppr league (with/without jordy) Doyle, Marty B, Jacquizz, Cohen?
-Steven
For the tight end question, it's Doyle and it's not even close. He already showed he's Jacoby Brissett's top weapon of choice, and now gets a matchup with the laughably bad Browns who cannot defend TEs in the least. Doyle's going to drape his massive beanstalk all over Cleveland.
With or without Jordy, I still think the two RBs are the play here. The matchup isn't great for Jacquizz, but he's a lock for 15+ touches, so you can count on a 8ish point floor. Cohen, meanwhile, should get mop up duty and pile on late receptions (as has become the trend with him). Another 8+ catch day is totally feasible. Meanwhile, Bennett faces a team that's given up the fewest points to tight ends in the league — yes, they've faced shit bums, but they still defend the position well. Side with the sure volume of the other two.
Flex spot in a .5 ppr… D. Parker at NYJ or Derrick Henry vs Seattle
–Meat Sweats
As much as I love Henry this week, even in a tough matchup, I'm going Parker. I have a feeling he pops at least one, if not two, in on the hapless Jets. Henry's feasting will still be nice, but Parker will outproduce it.
Derrick Henry or Tyreek Hill, full PPR?
–Katie G
Especially in full PPR, I have to go Hill here. Jarvis Landry just hauled in 13 balls against this same Chargers defense, and I could see Andy Reid modeling his game after this. Hill should return to his WR1 ways, giving you a chance to scout Henry while reaping Hill's points this week.
Dalvin Cook, James White, DJax, or JJ Nelson on MNF. Full PPR flex
Dalvin Cook, definitely.
Trade Advice
Do I trade away Tevin Coleman and James White to get Martavis Bryant (1/2 PPR, start 2 WRs + Flex)? My team is:
RBs = Le'Veon Bell, Kareem Hunt, Dalvin Cook, those 2 + Shane Vereen
WRs = Kelvin, Devante Parker, Desean Jackson
As much as I love White this year, I feel like your deep stable of backs + pretty abysmal WR corps make this a must-deal. Bryant would arguably be your top guy, particularly with Kelvin's (re: Cam Newton's) early-season struggles, and this adds necessary depth in case anything catastrophic happens (Parker has historically struggled maintaining his health). Accept and don't look back.
Trade Devonta Freeman for Shady with Tevin Coleman locked up?
-Grant
Normally I'd say Shady, but he seems like a big risk to breakdown, so with Coleman's handcuff by your side, ride out that RB1 all year. https://t.co/oz4mDhKr1h

— Wolf of Roto Street (@RotoStreetWolf) September 21, 2017
Should I trade away Hunt and Crowell to get Ezekiel Elliott and D.Henry?
-Drank
This is a really hard one, but I'm a believer in Hunt. I think he's a gift from the Fantasy Gods, and they'd smite you for handing him over. That being said, I do think Henry could really emerge as a bonafide RB1 and outscore Crowell easily, but this is far from a guarantee. Your team is fine, your not a clear winner in this deal, so I say hold off and spare yourself the Fantasy God's vengeance.
I have Ertz at TE, so Reed is very expendable. Would you trade Cook, Reed, and Martin for Zeke and Maclin or Duke J? 
-Chris
Indeed, Zeke is a studly RB1, and I like the idea of buying low on him. Here, however, I don't think you're buying low. I like both Cook and Martin to be RB1s, albeit below Zeke, for the rest of season. Depth is paramount as byes hit, and unless you have the deepest stable of backs on that bench, I don't see any reason to play with a damn good squad. The Fantasy Gods hate owners fixing what ain't broke.
Have a burning Sit/Start or Trade Question? Get The Wolf's insight now by: 
A) Using our Submit a Question Form
B) Hitting The Wolf up on SnapChat or Twitter (@RotoStreetWolf)
C) DMing our other Social Channels (Facebook here, Instagram here).
D) Tuning in to our Fantasy Football Week 2 Sit / Start Show, live on Facebook this Sunday @ 11:30am EST.