Player Stock Ticker
Fantasy Football Strategy: Buy Low, Sell High Week 4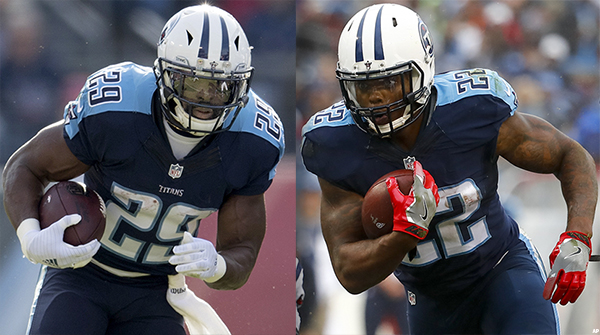 Hi everybody, welcome back to Buy Low, Sell High for Week 4 of the fantasy season. In fantasy football we have a tendency to overreact. Much like the Geico commercials — it's what we do! As a fantasy player who is looking to manipulate the market and buy low and sell high, we need to determine which players are actually under performing vs. players who are just toast (and obviously we need to be clear on the opposite as well. The key is recognizing where we were wrong about role and ability and adjusting faster than the next guy. Let's look at some candidates from this week as well as a quick trade analysis at the end.
Players to Sell
I am not a big Sammy Watkins fan because the dude just always gets hurt. I also question why Buffalo was willing to just toss him aside so easily unless they had knowledge that we don't have. I think Watkins is in for an up and down year and I'd rather let somebody else deal with that headache. If you find a believer in your league who is on Watkins after the 2 TD game, you shouldn't shy away from moving him. Todd Gurley on the other hand, looks every bit as good as everybody thought he would be last year. Gurley is definitely a top 10 RB every week and has a good chance to end the season as a top 5. If somebody is willing to pay you top dollar on Gurley, you can consider moving him, otherwise, I wouldn't look to sell even after his obviously unsustainable 3 TD performance.
Okay so I've been banging the drum for you to acquire Jordan Howard for the past few weeks, now I'm saying you should be willing to sell this week. Wait, what? I still like Howard's skill set and I still think he's in for a season as a top 10 RB. However, in some cases Jordan Howard was drafted as a top 5 RB and I don't think he's going to quite produce at that level. He's going to get carries and he's probably going to be good when he does, but there will also be times when he gets taken out of the game because the Bears are just losing too badly. He is also dealing with a sprained AC joint. Again, I love Howard and I'm not actively looking to get rid of him by any means but if somebody saw the big output this week and is back on the bandwagon as thinking that he's a first rounder again – you may be able to score a top talent player with less risk going forward.
Frank Gore is coming off of a second straight game with a TD. Gore is fine but the Colts are sub-par and I think they'll mix Marlon Mack in more over the course of the season. Gore really offers no upside. You might be able to find a buying partner if somebody in your league has been hit by injuries and because Gore has been scoring, you can sell him as the RB2 that he's always been even though he's much more likely to perform at low end flex level for the remainder of the year.
Stefon Diggs is another player that I personally like but can't possibly keep up the ridiculous pace. He's going to be up and down all season with decent numbers by the end of the year, but you won't always know when the good game is coming vs. the bad one. Since he put up huge points twice in the first three weeks (and did so with two different QBs), you are likely to find somebody who's hot and heavy for Diggs and treats him as a WR1. I think Diggs is more like a mid level WR2 so you should jump at moving him for a top end RB or an under producing WR1.
I'm still looking to move DeMarco Murray. It may be a bit easier after he had a solid week. DeMarco isn't going to disappear but it's clear from usage that Derrick Henry is going to have a real role this year which should limit the upside for Murray. He has a history as a top back and he had a big game this week so try to use that to your advantage.
Players to Buy
The running narrative is that CJ Anderson played over his head for the first two weeks and that this past week was more indicative of his talents. I just don't think that's necessarily true. He had the same number of snaps this week as the previous two weeks, the Broncos just happened to focus more on the pass than the run and Anderson got half of the carries as he had before. There was no meaningful shift in Anderson's role but the outward appearance of a shift may help you acquire him on the cheap.
Julio Jones has a big game coming. He hasn't been bad but he hasn't lit the world on fire yet either. If somebody is getting frustrated and tired of waiting for the big performances, jump on it.
Last week I went in on Jordan Howard for the second time and it worked out. This week I'm making another stand, this time for Isaiah Crowell. I still believe Crowell can be a solid RB2 and he should be cheap with Duke Johnson's big game. Johnson is a factor, but he is essentially a receiver, Crowell is still the back to own in Cleveland.
There is some risk here but I think it's worth it to try to get Jay Ajayi on the cheap if you can. He is dealing with a knee issue that won't likely ever get better but that's not anything new. He had a horrible game this week but the Dolphins were never in it and had to throw a ton late. Ajayi will have much better days and if you're okay with the risk of possible missed games, he could pay solid dividends.
As I was saying with DeMarco Murray earlier, I think Derrick Henry has earned a real role in Tennessee. If DeMarco gets hurt and actually misses games, Henry could be a league winning player for your team. Grab him now that the hype has died down a bit over last week.
May be last call on Joe Mixon with the new OC…
The whole Raiders team will rebound. Don't be afraid to go after any Raiders player with confidence this week after their stinkfest.
Trade Analysis
I made one trade this week in a ppr league. Here it is:
Darren Sproles and Brandon Marshall for Derrick Henry and Sterling Shepard
This trade took place before Sproles got injured (obviously it looks a lot worse now). As I said above, I think Henry can be a league changing player while it is clear that Sproles would not have been and Brandon Marshall just doesn't look like the right fit in New York. I'll admit I was wrong about Marshall, he looked fine in the preseason but I didn't think that the Giants were going to spread the ball around as much as they seem to be doing.
That's all for this week! Good luck grabbing some league winning bargains this week. Focus on the talent, the results will eventually follow. As always, holler at me in the comments below!