Player Stock Ticker
Fantasy Football Week 4: Stream Team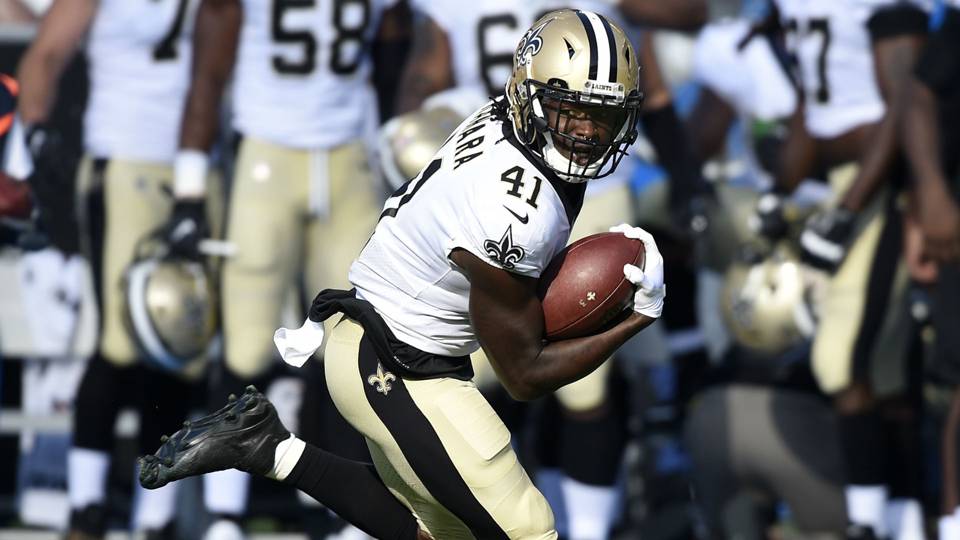 Welcome back to the Stream Team where we attempt to do the impossible and field an entire roster made of players owned in under 50% of leagues. Week 3's team showed us the good, the bad and the ugly side of streaming, showing that even the best matchups and plays on paper sometimes do not translate into fantasy success. Chris Thompson, my number one streamer target of last week, scored 27.80 half point PPR points and demonstrated to us further that he is the back to own in Washington. Mohamed Sanu also put up a respectable 10.80 out of the WR2 spot thanks to an early touchdown grab from Matt Ryan. The rest of the team? Ehhhhhh. Rashard Higgins and J.J. Nelson combined to catch 2 balls for 10 yards. Excellent output there. And Darren Sproles broke his arm and tore his ACL on the same play. Needless to say Sproles was a non-factor Sunday. But we had some solid success we can build off of, and as the ever fantasy optimist we learn from our mistakes and plug forward. So let's take a look at those diamonds in the fantasy league waiver wire rough that can help you win this upcoming Week 4.
Quarterback
QB: Tyrod Taylor, QB, Buffalo Bills (41% Yahoo ownership)
In 4 point passing touchdown leagues, a quarterback's legs can sometimes be a manager's best friend. Especially if you happen to own one of those elite runners that can consistently scoot for 30-40 yards per week. Well, Tyrod Taylor might have the best pair of fantasy football quarterback legs, and looks for him to use them in a Week 4 battle in Atlanta. With the Falcons projected as an early touchdown favorite, Taylor should be in passing formations all day, which can lead to big gainers on the ground. With 106 yards already on the ground this year and a 99.2 passer rating, Taylor looks to be developing into the versatile quarterback we all expected these past few years. With Atlanta's defense expect to hone in on stopping all world runner LeSean McCoy, I expect the Bills to take the reigns off Taylor. 250 passing yards and another 50 on the ground, with a few touchdowns mixed in, seems more than likely.
Running Back
RB1: Alvin Kamara, RB, New Orleans Saints (40% Yahoo ownership)
Alvin Kamara should be 100% owned. Not sure how owners can pass up such solid production, especially in a Drew Brees/Sean Payton offense so focused on getting their pass catch running back the ball. And in a game with the highest projected game total of 49.5 points, the Dolphins and Saints should be locked in an up-and-down shootout. Through 3 games, Kamara is third on the Saints in receptions and second in targets. Also, his fantasy number have increased each week from 5.80 to 6.90 to 11.70. With the Dolphins profiling more as a run stoping defense (5th in the league in rushing yards allowed per game) look for Brees to do what he does best and throw 40+ times, targeting Kamara early and often on a pass-happy Sunday.
RB2: Wendell Smallwood, RB, Philadelphia Eagles (6% Yahoo ownership)
Well thanks for playing Darren Sproles. Expected to retire after the 207 season, Sproles' career more than likely unfortunately ended abruptly Sunday when he broke his arm and tore his ACL on the same play. As one of the most versatile and electric running back/returns in the history of the game, I for one am sad to see him go. Speedy recovery my brother. But in fantasy we all know it is the next man up, and on the Philadelphia Eagles that man is Wendell Smallwood. Is Smallwood likely to split time for the time being? Probably. With LeGarette Blount and Corey Clement in the backfield as well, the Eagles have a plethora of middling options, none of which appear too appealing. However, Smallwood played 43 of 76 total snaps and saw 12 carries for 71 yards, adding one 9 yard reception. On the year, the Chargers have allowed the second most rushing yards per game (146.7) and have been gashed on the ground and through air by running backs each week. Smallwood projects as the best running back/receving back combination among the three, so if Smallwood can separate himself this Sunday he could be in for a big workload and Flex+ type play.
Wide Receiver
WR1: Sterling Shepard, WR, New York Giants (35% Yahoo ownership)
As Brandon Marshall continues to to work with Eli Manning, Sterling Shepard decided to make a celebrity guest appearance this last Sunday. And he did so in a big way catching 7 of 10 yards for 133 yards and a touchdown. A healthy Odell Beckham Jr. will only open up passing lanes for other Giant receivers, and as the third option Shepard looks like he could be a mismatch nightmare for opposing defenses. Through two weeks this year, the Buccaneers allow the second most passing yards per game (330). Yeah, but at least that has been against stiff quarterback competition. Right? Wrong! Case Keenum (369) and Mike Glennon (301) have done the damage so far this year. With Eli coming off a great game, look for Manning to throw a lot against a porous secondary, with Shepard being a primary beneficiary, and disregard his non-existent, shameful running game.
WR2: Marqise Lee, WR, Jacksonville Jaguars (47% Yahoo ownership)
Is Blake Bortles back to being fantasy relevant after a 4 touchdown game against a stingy Raven defense? No, sorry. But that does not mean we still cannot cherry pick solid players around him and, when the opportunity presents itself, rely on his teammates for solid production. And Week 4 presents such an opportunity. The Jaguars travel to New York Week 4 to face the inept New York Jets (don't tell the Dolphins that!) in what should be a rousing affair. And while this is surely a Leonard Fournette game, Bortles will at some point throw the football, and who else would he target but his security blanket Marqise Lee. On the year, Lee ranks second in receptions (11) but first in targets (23) but quite a margin (9 to be exact over Allen Hurns). With back-to-back 65+ yard games, Lee appears to be taking over the Allen Robinson role of target monster, and for fantasy purposes that is relevant regardless of which team that player is on or how bad that team's quarterback is. And while this game should be rather low scoring (current 39.5 projected total) Lee should help the Jaguars move the chains and provide a solid, volume-based performance Week 4.
Tight End
TE: Cameron Brate, TE, Tampa Bay Buccaneers (41% Yahoo ownership)
In 3 games this year the New York Giants have allowed 3 tight end touchdowns and an average of 13.87 half point PPR points against. That would currently rank as the TE2 overall, right behind Rob Gronkowski. so enter Cameron Brate fresh off an impressive 4/33 1 touchdown performance in Week 3. The connection between Brate and quarterback Jameis Winston is well chronicled, evidenced by Brate's 8 touchdown grabs last year. With Mike Evans being the focal point of the Giants defensive gameplan, look for this consistent touchdown scorer to once again find the end zone against a team incapable of covering tight ends.
Flex
Flex: Travis Benjamin, WR, Los Angeles Chargers (5% Yahoo ownership)
The Philadelphia Eagles pose one of the bigger threats against the run, ranking 6th in the NFL in rushing yards allowed per game at 75. On the other hand, the Eagles rank 25th in passing yards allowed per game and give up an average QB rating of 94.0. So expect Philip Rivers to exploit the Eagles mediocre secondary and chuck it to his playmakers. And while you may think Keenan Allen and Melvin Gordon are the only playable Charger skill players, a new face seems to be on the rise. Travis Benjamin already scored one touchdown on the year and last week he hauled in 5 of his 8 total targets for a whopping 105 yards. With Tyrell Williams yet to exceed 54 receiving yards in a game this year, Benjamin looks like the true WR2 on an LA Charger team destined to throw the ball 40+ times Week 4.
Kicker
K: Stephen Hauschka, K, Buffalo Bills (35% Yahoo ownership)
Kickers in a dome. They just go like peanut butter and jelly. As mentioned previously, I expect Taylor and the Bills to move the ball down the field, so I expect Stephen Hauschka to be primed for a big day. After putting up an impressive 19 fantasy points in Denver, with two of his four makes coming from over 50 yards out, look for Hauschka to capitalize off his success Week 4 in the Georgia Dome.
Defense
D: Jacksonville Jaguars DST (43% Yahoo ownership)
We continue our weekly streaming-against-the-Jets this Week 4, and the honor goes to the Jacksonville Jaguars DST! Congratulations! Your owners are about to score double digit fantasy point, guaranteed! Sure, that did not work out so well for the Miami Dolphins last week who frustrated owners with a measly 5 point performance. But this Jaguars defense is a different animal. They already have week of 12 and 28 fantasy points, recording 13 sacks and 8 takeaways. With the Jets projected for a lowly 18 team points, the Jaguars should feast off a turnover prone team lacking skill players and competence at the coach and QB positions.
And that's a wrap for Week 4 of the Fantasy Football Streamers. Be sure to check back every Thursday to see where to turn to next and get the early leg up on your opponent. Until next time, good luck and godspeed, and may the fantasy football gods forever be in your favor.
To contact me with any questions or general fantasy football discussion, please email me at redsocker45@gmail.com or tweet me ‪@AJGamballer‪.