Player Stock Ticker
Fantasy Football Week 5 Mailbag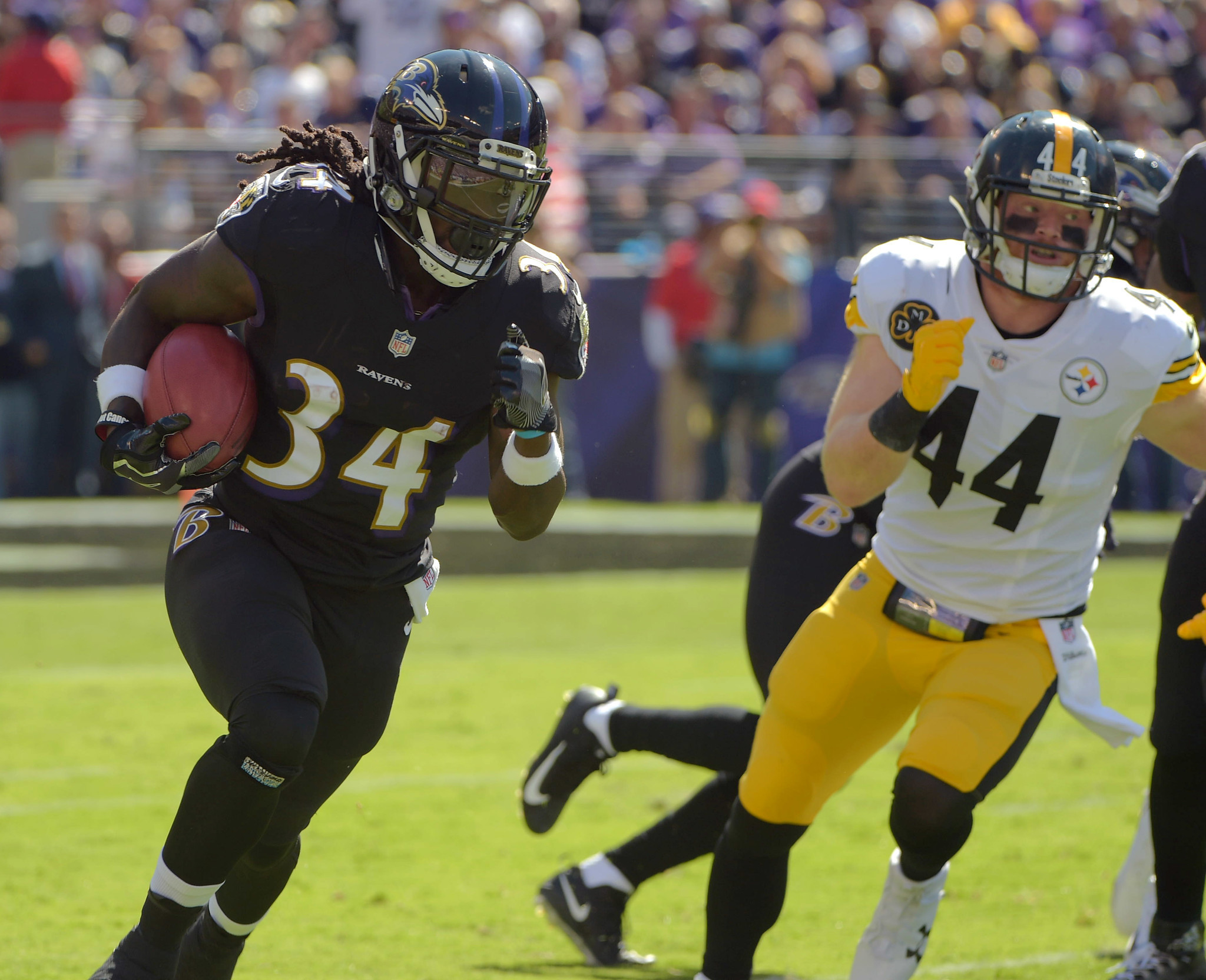 Week 4 was a solid bounceback effort, largely in part to the efforts of Deshaun Watson. Still, we only finished slightly above .500 (20-18), as Chris Thompson and Eric Decker really boned our predictions (Decker being the far more unforgivable recommendation. That bag of shit).
Thus, we are gearing up for our highest win total yet as we get ready for our LIVE Sunday Preview Broadcast @ Fibber McGee's in Beverly.  We want every and all Sit / Start and Trade Questions, so reach out in any of the following ways:
A) Use our Submit a Question Form
B) Hit The Wolf up on SnapChat or Twitter (@RotoStreetWolf)
C) DM our other Social Channels (Facebook here, Instagram here).
D) Tune in to our Fantasy Football Week 2 Sit / Start Show, live on Facebook this Sunday @ 11:30am EST.
Because, as always, though a solid rankings list is the backbone for lineup decisions, they rarely tell the full story. Sometimes, you might be the vehement underdog and need an upside play. Maybe you're gut is screaming against your head. Plus, trade offers are flying all over the place, with people in panic mode wondering who's the magic fix, and savvy owners figuring out who to capitalize on. Whatever the case may be, The Wolf is here to help answer any and all questions he receives in our running Fantasy Football Mailbag.
Fantasy Football Mailbag Week 5
Sit / Start Questions
Gillislee,
D. Martin

, Cohen, or Gallman?

-Bruce K
Roll out the Muscle Hamster! Unless news breaks of a limited workload to ease him in, I LOVE him this wk and moving forward https://t.co/hqXjzkRgXq

— Wolf of Roto Street (@RotoStreetWolf) October 5, 2017
Alex Collins

or Tarik Cohen? 1/2 PPR:

-Charles Smith
Collins – I think he rolls this week. Cohen is sketchy now splitting 3rd down work with Cunningham https://t.co/RD6fGf2kzN

— Wolf of Roto Street (@RotoStreetWolf) October 5, 2017
Austin Seferian Jenkins

vs. Thomas Rawls for Flex, 1/2 PPR

-Tray

Jenkins feels like a lock for at least one score against an abysmally bad Cleveland defense versus tight ends. I rode a creature named Tyler Kroft against them last week, and plan to go back to the gravy train for Week 4. Jenkins should be a monster. I like Rawls as a stash, but would much prefer to wait and see here.
Geronimo Allison v
Jaron Brown

, 1/2 PPR:

-Alex

The matchup is ripe for both options here, so give me the guy I absolutely know is going to see some volume. Jaron has been a 90%+ snap player over the past two weeks, and hasn't scored less than 9 FPs (1/2 PPR) in three straight weeks. The floor feels much safer, even if Rodgers gives Geronimo a higher ceiling.
Tyler Lockett

or Eric Decker, 1/2 PPR:

-A sad owner

How could you throw Decker out after four straight duds? There's only so long you can say "This is the week…"  (Cue 2 TDs for Decker as I hate cut him to the waivers). Lockett has always had freakish athleticism, and has seen his usage increasing each week. Doug Baldwin is getting healthier, yes, but I think Lockett's upside for a deep score is well worth the dice roll here.
Tarik Cohen or
Isaiah Crowell?

1/2 PPR:

-Murray

Ew. Green Puke Face emoji inserted. But I have to go with Crow out of these two. Cohen, the better talent here, is now splitting third down duties with Benny Cunningham. Crowell seems to have taken a backseat to Duke Johnson, but a matchup with the Jets is the best chance at an early lead and clock bleeding he might see the rest of season. I hate both options, but would roll Crow if needed. See if Alex Collins is hanging around?
How much do you trust Jay Cutler as a streamable QB vs TEN?
-CJ
None. Zero. Fuck him. Ever since his dud versus the Jets, I said never trust him again. That was true even against a dream matchup versus New Orleans, which Cutler predictably flopped in. Dream matchup versus Tennessee changes my mind ZERO.  No Cutler. Ever.
Alex Collins

vs Martavis Bryant vs Tyrell Williams? 1/2 PPR

-CJ

This is a real tricky one, because both Bryant and Williams profile as deep ball guys who could explode for 150 and a TD at any point. That being said, the matchup is rough for Bryant, despite a return home (JAX is #1 against WRs right now). Williams has the softer matchup, but can he string two monsters together in a row? That leads me to Collins, who seems the surest of these three to at least see some volume, and he's been very impressive in the limited work he's gotten. His major risk is the fumbling concerns — he could be one carry and on the pine if he puts the ball on the turf — but Collins has a solid matchup versus a depleted Oakland squad. The Ravens will be looking to bleed clock, and it's not even close how much better of a runner he is than anything else on this roster (184 yards on his last 18 carries, versus 43 for other Baltimore backs on their last 20 combined). Give me Collins.
D Henry or
D.Martin

for FLEX?

-Shamus

It's not even close. Doug Martin returns to the field in the best matchup possible. Beat writers speculate he'll see near a full workload, so give me 15+ touches of a fresh Muscle Hamster against the worst defense in the league right now. He should easily find the end zone.
Humphries

, Agholor, R.Anderson or Wright for WR3 streamer

-Shamus

YUCK. Give me Humphries for the floor – any one of those other guys could go deep, and one probably will. Humphries is much more locked into 5-6 catches and 60-70 yards, with the ceiling for even greater versus a putrid Patriots defense that has blown more coverages than ever before.
Brate v.
Ertz
-Josh
The matchup is right for Brate and I thnk he finds the end zone… but how do you bench Ertz after all he's done so far? https://t.co/PmyywtFSaj

— Wolf of Roto Street (@RotoStreetWolf) October 5, 2017
Crabtree v
Baldwin
-Blake
Both come with real concerns, but I'll take the slightly hampered Baldwin in a solid matchup rather than Crabtree who has health AND quarterback concerns working against him. Maybe he emerges as EJ Manuel's guy, which would be great for future weeks. But just typing that made me laugh. Go Baldwin as a far more known product this week.
Buffalo,

Pittsburgh, or Detroit D this Week?

-Rodney
3 great choices. I like Buff the most this wk https://t.co/53GjlGpOYa

— Wolf of Roto Street (@RotoStreetWolf) October 5, 2017
Trade Questions: Answers Coming Soon
Tyreek Hill for Jay Ajayi. RBs would be Gordon, Montgomery and Ajayi; WRs would be Alshon, Watkins, D. Adams and Jarron Brown
DeMarco Murray + Martavis Bryant for Golden Tate and Charles Clay
What do you think of this trade? I trade Frank Gore and Keenan Allen And recieve Dak Prescott and Bilal Powell
10 team league PPR: Sending DeAndre Hopkins, receiving Brandin Cooks and Christian McCaffrey (Deep roster)
T.Hill, Cooks, Coleman, and Clay

for McCoy and Hogan?
You've got the depth to pull it off, but I'd target someone better than McCoy. You're not clearly winning this deal https://t.co/oe7hnqq13l

— Wolf of Roto Street (@RotoStreetWolf) October 5, 2017