Player Stock Ticker
What do new HC Matt Nagy and OC Mark Helfrich mean for the Bears and Fantasy Football owners?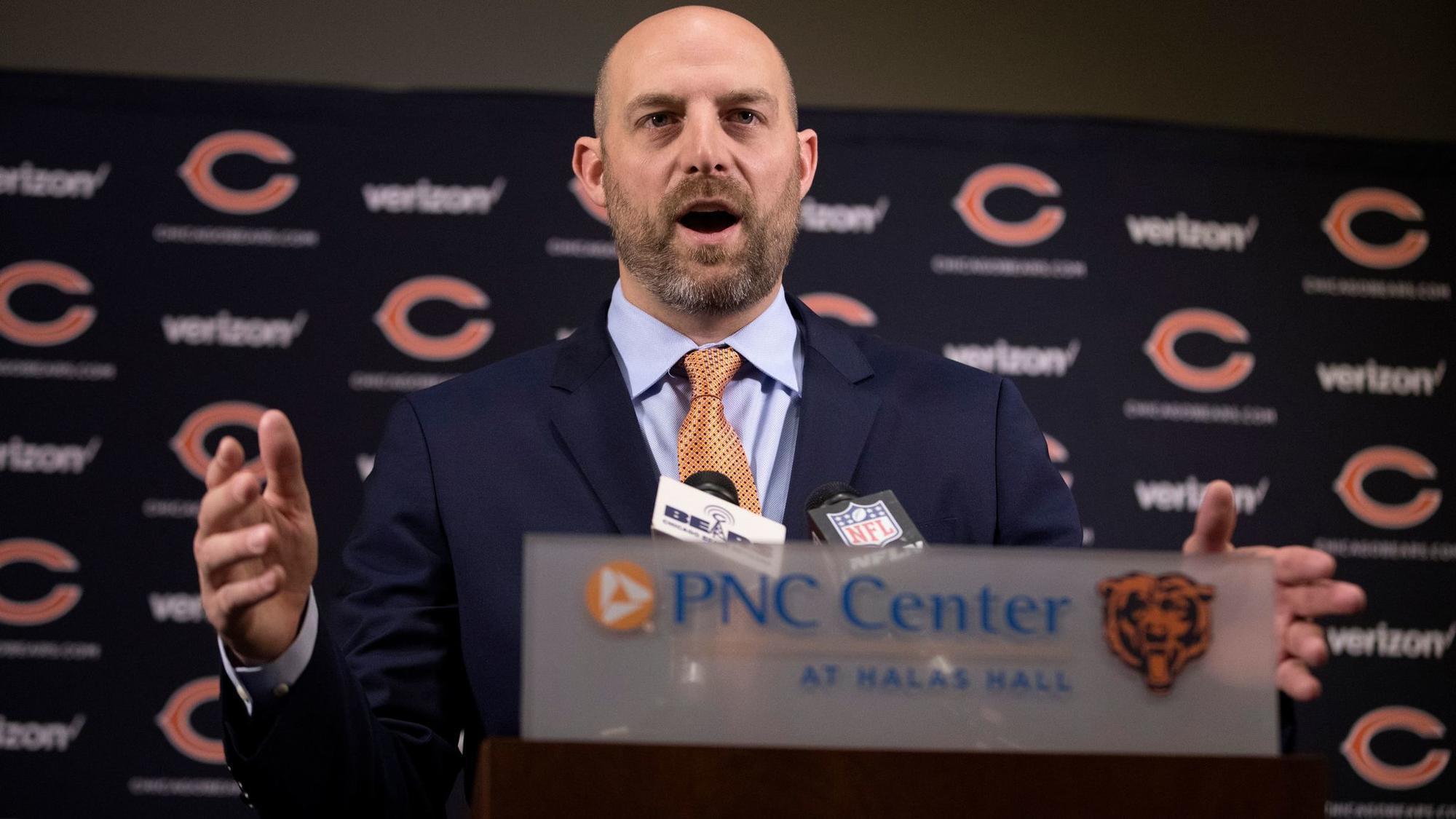 For audio-based listeners, we caught up with Oregon Ducks offensive expert, Charles Fischer, of FishDuck.com to talk all things Mark Helfrich.
For audio-based listeners, we caught up with Chiefs expert, Chris Clark of Locked on Chiefs podcast to learn more about Matt Nagy.
The Move:
On Tuesday, the Chicago Bears hired former Chiefs OC Matt Nagy as their head coach, who promptly tabbed former Oregon head coach Mark Helfrich as his offensive coordinator. Nagy is a relative unknown, with only six games of NFL play calling under his belt, while Helfrich hasn't stepped on an NFL sideline. Still, both have garnered high praise as offensive minds, and inherit a few equally exciting but untapped talents on the Bears. In their hunt for the next "QB Whisperer" ala Sean McVay, the Bears become a crucial fantasy football situation to breakdown and monitor, given the Nagy-Helfrich combination could take a once stale and sputtering offense to new heights.  Let's dive in with our first Coaching Carousel Breakdown of 2018.
General Background / Philosophy
Coaching History:
As mentioned, both Nagy and Helfrich are as green as possible when it comes to NFL play calling. Nagy has already announced he will be officially calling the shots, but will rely heavily on Helfrich for designing concepts and schemes in the overall game plan. 
Nagy earned play calling honors versus the Jets in Week 13 after the Chiefs attack began sputtering. The team put up 31, 26, 30, 29, and 27 points for the remainder of the regular season, and a 21 point playoff performance that included an epic second half collapse.
Meanwhile, Helfrich was the Oregon head coach from 2013-2016, going 37-16 over four seasons and leading Oregon to the first College Football Playoff championship game after the 2014 season. Helfrich's teams averaged 42.6 points per game and 536.7 yards per game, which ranked second and third among FBS schools, respectively, during that time period. Even in his disastrous 4-8 season, offense was never the issue, as the Ducks scored 35.4 points per game. An abysmal defense that allowed 41.4 PPG (126th of 128 teams) ultimately led to his firing.
Scheme / System – Up Tempo West Coast?
This is perhaps the most intriguing part of this whole marriage. Nagy hails from the Andy Reid tree, which is a notorious "West Coast System." In general, West Coast offenses stretch defenses horizontally via a quick-strike passing attack that features plenty of ins and outs, re: slants, drags, and flat patterns. The goal is to minimize the risk, get the ball in your playmakers hands, and let them do their thing. Methodical with the goal of controlling time of possession and tempo, West Coast offenses are somewhat similar to a "ground-and-pound" attack, but through the air.
Contrastingly, Helfrich hails from the rapid fire, frantic spread attack of Oregon that was made famous under Chip Kelly. Outside the pace and some alignments, however, come many similarities. Tons of quick strikes. Allowing playmakers to get in space and rack up YAC. Heavy usage of the running backs in the passing game.
With a severely limited sample size, projecting the exact scheme and shakeout here is near impossible. Still, one common word is thrown around when describing both Nagy and Helfrich: aggressive.
Though "aggressive" is a bit unusual for the more horizontal West Coast scheme, Nagy is credited with bringing tons of verticality to this team in 2017. As explored in this excellent PFF Breakdown,  the Bears' new coach reportedly brought a handful of 'college' concepts to the pro game which led to Smith leading the league with 1,344 deep passing yards.
Former Chiefs coach Brad Childress, who worked side-by-side with Nagy, added further evidence, saying he expects an "aggressive attack." He explained his respect for Nagy while hinting at his tendencies, noting:
"I thought he was excellent as a playcaller," Childress said. "I thought he was able to put together the openers — the first 15 plays each game — and keep teams off balance. He's not conservative. He's a guy that understands that you have to be able to throw the football in the National Football League, but still has a great appreciation for the run. You got to be able to run it when everyone knows you are going to run it."
Nagy himself described his system as "aggressive but calculated about it." Let's dive deep into what this could mean for specific Bears players:
Passing Game Impact
Quarterbacks:
Summary: In Nagy's 6 games as a play caller, the Chiefs sported a 58% Pass / 42% Run ratio, including games where they had large leads early. This suggests that, similar to Reid, the air will remain under the ball early and often. More importantly for fantasy, the chunk plays and deep shots should remain a staple.
Past QBs under Nagy:
A picture can speak 1,000,000 words, and this one is beautiful:
Smith undoubtedly had the best year of his career under Nagy's tutelage, posting bests in yardage (4042), TDs (26), and YPA (8.0). The "conservative" Smith also led the league in deep passing yardage and TDs. He finished fourth in total fantasy points (295) and second in points per game (19.7), behind only Russell Wilson.
It's no mere coincidence that Smith's statistical explosion, especially in the vertical game, occured during Nagy's first year as coordinator.
2018 Expectations – Mitch Trubisky:
The development of No.2 overall pick Mitch Trubisky was undoubtedly the driving factor for the Bears hiring Nagy, and also why the coach selected the Bears. In his brief time with the team, the new head coach has only spoken glowingly of the sophomore signal caller: "After six hours of being with Mitch, it was unbelievable. He did a wonderful job — thought he's a helluva person and thought he knew football inside and out. It was fun talking ball with him. So to see him get here just today, it was neat."
Childress shone light on what those meetings entailed, noting:
"I know for a fact, because I sat in on the Mitchell Trubisky interviews before the draft with Matt and Coach Reid — we had him for seven hours –– I know that Matt still has his notes from that interview. He's very excited about him [Trubisky]. I thought he was a bright-eyed guy. We put him in a tough environment when teaching him plays and making him regurgitate details and specifics. I couldn't have been more impressed with that guy."
More importantly, however will be Trubisky's fit in the system. Arm strength and deep accuracy were Trubisky's calling cards, and he shone at the NFL level in his limited opportunities. According to PFF, only 9.1 percent of Trubisky's attempts traveled at least 20 yards downfield, the fifth-lowest rate of any starter. This, despite Trubisky holding a 108.1 passer rating on those throws — third-best in the league.
Expect a major uptick in deep concepts for this offense in 2017, and for Trubisky to thrive… if the team adds some surrounding talent. He could genuinely be 2018's Carson Wentz with the right weaponry.
Pass Catchers
Summary: The 58% Pass / 42% Run Ratio certainly suggests the opportunity will be there for high-end receiving outputs. Moreover, Nagy's vertical tendencies within the West Coast Scheme, combined with Helfrich's frenetic offensive pace, furthers the upside of said volume. Expect  Nagy's staples of "Out & Up," "Flood," and "Trickery" (outlined here) to be heavily leaned upon.
The question is: is the talent here to capitalize upon this fantastic scheme?
Target Distribution and Yardage Under Nagy:
Noteworthy Stats: 
RECEIVING
NAME
REC
TAR
YDS
AVG
TD
LONG
20+
YDS/G
FUM
FUML
YAC
1DN
Tyreek Hill
75
105
1183
15.8
7
79
15
78.9
0
0
467
41
Travis Kelce
83
123
1038
12.5
8
44
19
69.2
0
0
441
55
Albert Wilson
42
63
554
13.2
3
63
4
42.6
0
0
238
32
Kareem Hunt
53
63
455
8.6
3
78
4
28.4
0
0
410
18
Takeaways: 
Travis Kelce's 121 targets, 8 TDs, and 83 receptions paced the team, suggesting the TE is heavily involved. Of course, Kelce is also an elite talent at the position and was by far the team's top intermediate threat, so this can't be a straight correlation. Interesting stat: Kelce caught more 20+ yard passes (19) than speedster Tyreek Hill (15), suggesting Nagy likes to go vertical down the seams with his big boys.
Despite being miscast as a "one-trick,' "gadget" type of player, Tyreek Hill was utilized heavily and paced the team in yardage.  The team lacked much else to target, but Hill's usage leap and overall production shouldn't be discounted. Nagy knew who his playmakers were and put them in positions to succeed.
2018 Expectations – Don't forget Cam Meredith? Adam Shaheen set to explode? 
The 2018 Bears' pass catchers are tough to evaluate, as this locker room appears ripe for a major makeover. However, let's dive into what we know:
Adam Shaheen stands a monstrous 6'6″ and 278 lbs and can still blaze a solid 4.78 forty. He's another classic "basketball" convert, and thus has impressive foot quickness and solid ups, but is very raw. Still, he drips in moldable athleticism, and could emerge as a legitimate TE1 if Nagy continues to voluminously target his seam stretchers. Shaheen definitely possesses the skillset to get vertical, but will need to refine intricacies like beating the press and becoming more fluid in his routes.
In the WR room, Kendall Wright's paltry 614 yards led the team in receiving, but he's an Unrestricted Free Agent, and would never have done so if the towering Cameron Meredith stayed healthy. Meredith is built much differently than Hill, so comparisons are tough to draw here other than Nagy will heavily target his top options and allow them to make plays with the balls in their hands. Still, an infusion of fresh talent appears likely.
Running Game Impact
Summary:  From Brian Westbrook to Jamaal Charles, Andy Reid's offenses have typically featured one back as a true three-down horse that's heavily utilized as a pass catcher. Entering 2017 and on the back of these workloads, Reid's RB1s averaged 19.5 PPR points per game, and Kareem Hunt only boosted those numbers after a stellar rookie campaign. Nagy falls from this tree and displayed a similar philosophy in his six game sample size.
With a powerful line already in place, some highly talented backs, and enormous opportunity shares up for grabs, the Bears RBs could be 2018 fantasy heroes:
RB Performances under Nagy:
Kareem Hunt: 272 carries, 1327 yards, 8 TDs; 53 receptions, 455 yards, 3 TDs (295 PPR FPs, RB4)
More importantly, Hunt tallied 24+ carries on only four occasions in 2017. Three of these four came from Weeks 13-17, when Nagy became the overall play caller. If he has the guy to ride, Nagy will do so.
2018 Expectations: Will a horse emerge, and would a Jordan Howard / Tarik Cohen committee sustain value if not? 
As mentioned above, Nagy would ride a horse if he had one. Unfortunately, he inherits two highly talented, but role-specific backs in Jordan Howard and Tarik Cohen. Thus, a commitee feels likely, but both backs possess the talent to do damage in a timeshare.
Howard would likely see the early down carries and red zone looks, and stands to benefit from this offense taking a step or five forward under a new coach. He should have more red zone opportunities to capitalize on, less stacked boxes to face, and overall more positive game scripts that allow him to bleed more clock. Expect high-end RB2 numbers, and a stat line similar to his 1,200ish, 8ish TD average, with upside to hit 12+ TDs if this offense really hits its groove.
Unfortunately, Howard is among the worst pass catching backs in the league, closing the door on true three-down horse work. This does cap his ultimate ceiling, but creates a monster opportunity for Cohen to completely explode. Hell, if there's one concern with Howard, it'd be Nagy turning the reins over to Cohen full time.
Cohen drips in insane explosiveness and huge play ability. Though criminally underutilized by John Fox and co., he perfectly fits the "Reid" mold as an elite receiver with underrated power up the middle ala Jamaal Charles and Brian Westbrook. At minimum, Cohen should pile on at least 30 more receptions to his 2017 total of 53. As suggested, there's a fair chance he emerges as an 12-15+ carry guy, given he makes this offense far less predictable. I expect plenty of formations and offensive sets that feature both backs.
In summary, I expect Howard to benefit from the overall offensive improvement, and maintain his high-end RB2 value. However, Cohen ends up the ultimate beneficiary here, exploding with a tsunami of targets while producing similar FPs to Howard for a fraction of the cost. He's the Bear I'm most excited about now.
Summary
Making "locked-in" conclusions on a six game sample size would be foolish. Even so, the Bears seem destined for some major steps forward under Nagy's aggressive, West Coast scheme combined with the frenetic-pacing and spread philosophies of Oregon's Helfrich.
Mitch Trubisky should have far more chances to show off his powerful but accurate arm, and could truly be 2018's Carson Wentz with the right weaponry around him. Meanwhile, Reid's offense historically ticks with the RBs, making Jordan Howard an intriguing third rounder while sending Tarik Cohen's stock soaring. Cohen will be utilized far more properly in 2018, and expect his explosiveness to shine through to massive point production.
Additionally, Adam Shaheen drips in raw upside at 6'6″ and 278 lbs with a 4.78 forty and fantastic foot quickness and hops from his basketball background. Nagy is no stranger to dialing up vertical plays for his seam-stretchers, which creates a script for a real breakout here. Analyzing the remaining pass-catchers outside of Shaheen is difficult until we know more on Cameron Meredith's health and who will even be catching passes here. Expect some major talent upgrades who'll come with serious upside given the high passing volume and Nagy's vertical tendencies.
Sure, this may all seem hyperbolic, but similarly built teams have taken quantum leaps forward under the right guidance. The line is already strong, the defense is underrated, and, with the right infusion of receiving talent, the Bears could be the next team to genuinely explode with Nagy steering the ship. Given their lackluster 2017, this could create some insane investing opportunities for fantasy owners.
Tune in to the Fantasy Fullback Dive this Tuesday as we interview Chiefs Insider Chris Clark to learn even more about Nagy and what to expect from him with the Bears. Plus, continue checking in as we capture every spin of the Coaching Carousel.